Quick Big Brother Spoilers
Big BroChella SIDE
Brochella HOH (Inside the House):  Michael
TEAM BroChella:  Brittany, Jasmine, Monte, and Taylor.
Nominees: Jasmine and Monte
POV Players:  Michael, Monte, Jasmine, Brittany, and Taylor
POV Winner: Brittany
Veto Ceremony:
Havenots:  None this week
Dyre Fest SIDE
Dyre Fest HOH (Backyard):  Terrance
TEAM Dyre Fest: Alyssa, Joseph, Kyle, and Turner
Nominees: Joe and Turner Kyle
POV Players: Terrance, Alyssa, Joe, Kyle, and Turner
POV Winner: Terrance
Veto Ceremony: Terrance used the power of Veto on Turner.
Havenots:  None this week
Lock your ranks in before midnight
The situation
The feeds are essentially useless at this point. Due to people not being able to cope with their favorite character on a TV show getting evicted. The result is the best season we've had in at least 3 years is being slowly ruined.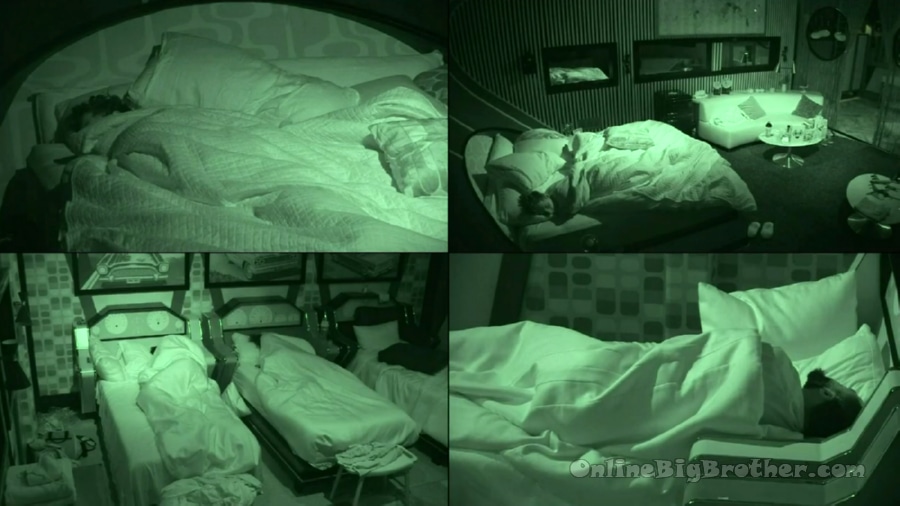 10:01 am Everyone sleeping..
10:40 am Taylor Making breakfast. Chit chat with Monte. Dreams, music, routines, ..
Monte doesn't think Terrance will let Alyssa go home if he's got Joe, Turner, and Kyle over there. He's going to take a shot at one of those.
Taylor – Maybe Turner was his target which doesn't make sense considering you and Kyle. (HU?)
They agree Terrance tells everyone what they want to hear.
Taylor goes on about working at "Trunk Club"
Taylor – I loved the job I was really successful at it. Nordstrom who ran the trunk club closed down all the locations. They had the oppurtunity to work at a Nordstrom in the mall.
Taylor explains what it's like for a client walking into a trunk club.
11:20 am Feeds go down.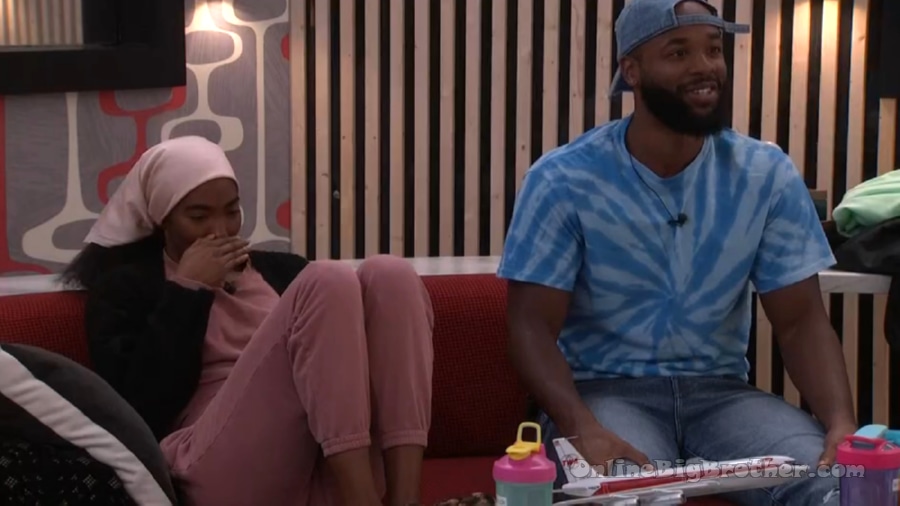 12:50 pm HOH chit-chat about reality TV shows.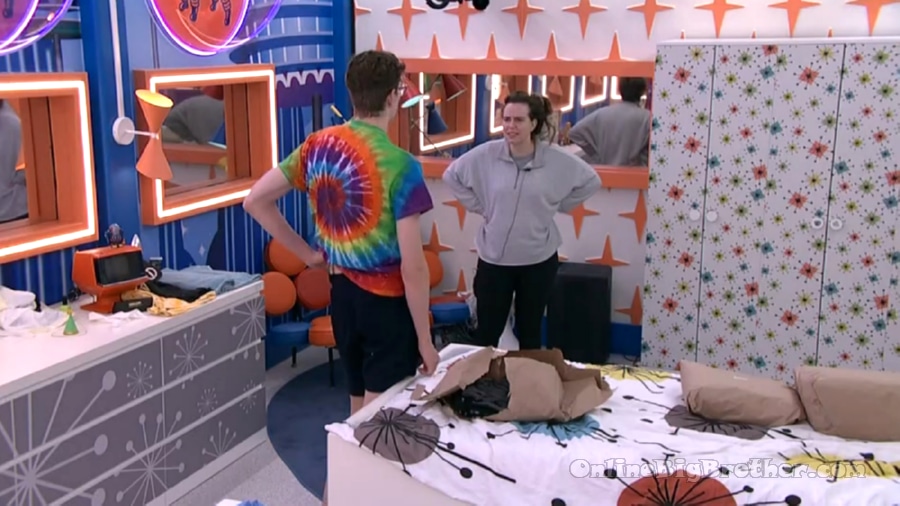 1:35 pm Michael and Brittany
Britt – you didn't get any feelings 'this feels odd'
Michael – there were a couple of things that I was concerned about.
Britt – when I got called I was like OKAY I'm really happy I got called.
Michael pulls out his HOH laundry "Who folds something like this.. like what is this?"
Britt – what do you mean
Michael – like this is folded nice..
Britt – yeah it's a little odd a little angular
Feeds cut.. when we're back
Britt – do you not trust us
Michael – after you had left we had talked.. There's nothing you can say that is going to make us.. She's going to try and lie and throw stuff at us. She's going to try and Claim I was in this stuff and throw me under the bus. She's just desperate.. I don't know. (Jasmine?)
Britt – I'm more concerned about Terrance. As long as Terrance is in this game no-one is going to waste their HOH to get him out. They will need that to take a shot. Whether that be a Kyle/Turner or me/you or a Monte/Taylor. He's going to go all the way to the end.
Michael – if Alyssa does come back. maybe there is a chance it's Terrance and Alyssa next week and we vote for Voting Terrance out. he has won more comps. He's mad at us.
Britt – Monte is doing with Terrance exactly what Kyle is doing with Alyssa. Only Alyssa is more likely to work with us than Terrance is.
Michael – I sent his two best friends home, I would feel more comfortable if he weren't left in the game. Alyssa has not won anything.
Britt – Monte needs to hear jokingly from me that he's always focused on the leftover vote in Jury if anyone is up against Terrance final 2 or final 3 you don't have my vote. I'll be petty..
Michael – Terrance has had a week outside with Kyle, Turner, and Joe. in that bonding environment do you think any of them are like let's drag Terranec along?
Brit – yeah
Michael – for all of us it might be the smartest thing to get rid of him
Michael says someone from the outside has to go next week "if they created something and one of us goes we're down the numbers"
Britt – I wish I could shake this uneasy feeling.
Michael leaves. Brittany starts to meditate.
1:55 pm Meditating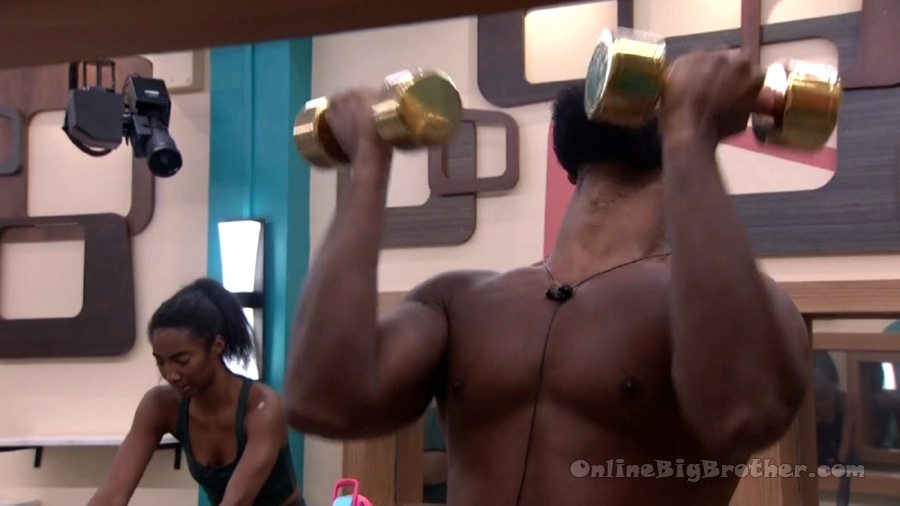 3:20 pm Taylor and Monte working out.
3:50 pm Feeds go down..
4:52 pm feeds still down.
5:50 pm Feeds return Showing the backyard. Turner and Kyle Chit chat about Simpsons and Rick and Morty
A cover has been placed over the backyard it shades the sun and blocks the wind and Stars. This is to keep the drones from entering the yard.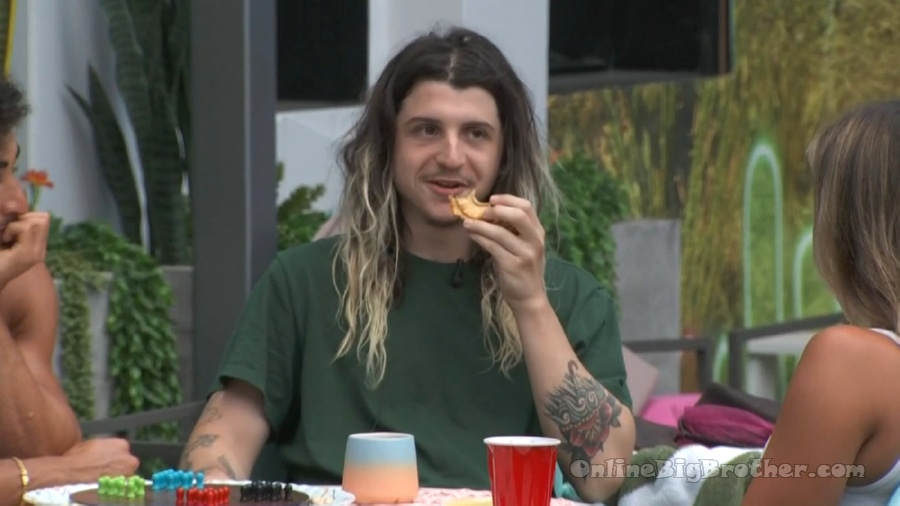 6:43 pm Alyssa, JOe, Terrance, TUrner
Turner comes back to the Chinese checker's board.
Turner – Feels a little tense right now what up dude?
Alyssa – we may need to talk to you.. I'm just kidding..
Turner – I'm off the block, MotherF***ers I don't care BRO
Terrance- ohh damn..
Joe – Must be nice
Alyssa – just kidding we're just b1tching about the tarp being on.
Turner – I asked them about it. Hypothetically it seems like it would make our lives better. 'I said NOPE'
Feeds cut ..when we're back they talk about how hot it gets with the tarp.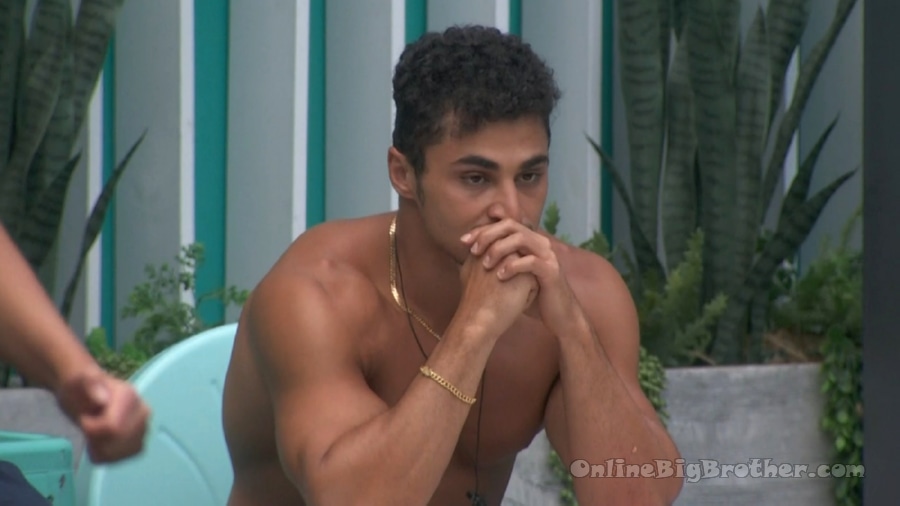 6:54 pm Terrance and Joe
Terrance – I just want one more time to play bro.
Joe – the same way you are going to give it to me the debt will be repaid with every debt I'll make sure you get it even if it costs me going home next week.
Joe at long as Alyssa is willing to listens to me.
Joe – I'm not going to tell you to trust me anymore I'm going to show you.. Good thing I have Turner he's trustworthy. He'll keep me.