Quick Big Brother Spoilers
Big BroChella SIDE
Brochella HOH (Inside the House):  Michael
TEAM BroChella:  Brittany, Jasmine, Monte, and Taylor.
Nominees: Jasmine and Monte
POV Players:  Michael, Monte, Jasmine, Brittany, and Taylor
POV Winner: Brittany
Veto Ceremony:
Havenots:  None this week
The Situation: As it stands now Brochella won't be using the veto and Jasmine will be sent out.
Dyre Fest SIDE
Dyre Fest HOH (Backyard):  Terrance
TEAM Dyre Fest: Alyssa, Joseph, Kyle, and Turner
Nominees: Joe and Turner
POV Players: Terrance, Alyssa, Joe, Kyle, and Turner
POV Winner:
Veto Ceremony:
Havenots:  None this week
Lock your ranks in before midnight
8:58 am Terrance and Alyssa
Terrance – after today it'll be awkward again. But then we'll be back getting into a rhythm. Then we're back inside.. I'm just hoping they do what the f** they are supposed to do if I go in there and Jasmine is gone I'll be F****ing furious. If she's gone we have to f***ing win now.
Terrance – we know what the game is now.
Alyssa – what the heck? Why are we on this side of things?
Terrance – we caught on too late and we didn't unify. WE were trusting people we shouldn't have been trusting and part of it was we had two different sides manipulating us. You see what I am saying Using us numbers and not really working with us.
Alyssa – now it's a different story. If Jasmien isn't in there I will be so mad.
Terrance – use that energy to keep winning. We have a whole list of people in there we can knock off.
Alyssa – a very clear list
Terrance- crystal f***ing clear list. The one we're keeping HE better line up cause we're going to need him he better pick a side.
Terrance – we're doing the right thing we got to get rid of him (Joe)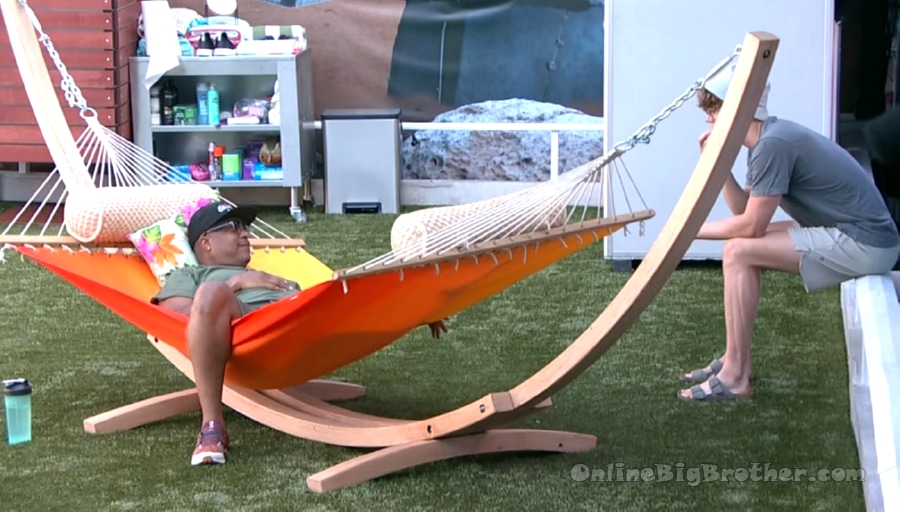 9:03 am Kyle and Terrance
Agreeing if Kyle wins keeps nominations the same if Turner wins put Kyle up
Kyle – the only issue is if Jowe wins
Terrance – that can't happen and won't happen that's not even in the equation at this point. We have a mission and we're going to accomplish it. That's it that's all.
Terrance – let's go!
Kyle – it's a big shot dude
Terrance – if he takes out Jasmine that will show weak.. and that's going to exploit everything that's about them.
Terrance – they're thinking Turner and Joe would have persuaded me to knock you. They think everything is going to be sweet and they will still have the system they have in place.
Kyle – you can't split the cheque 7 ways.
Terrance – I'm purely here to make sure the right person wins at this point. I want to be the disruptor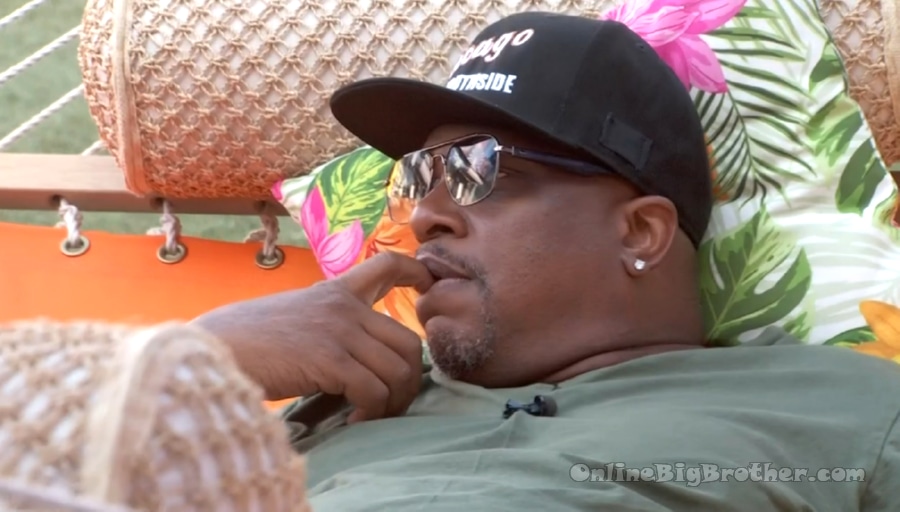 9:06 am Terrance alone on hamock
Terrance – even if Turner wins and takes himself down put up Kyle Turner votes out Kyle, and Alyssa votes Joe.
Terrance – I'm the tie-breaker and I send Joe on his way. That's the plan of the day people
Terrance – What serendipity go from being on the block 4 times basically not placing in comps to winning the HOH and taking out a BIG target. That's how life happens. My favorite saying in the whole wide world. Anything can happen. Anything happens all the time.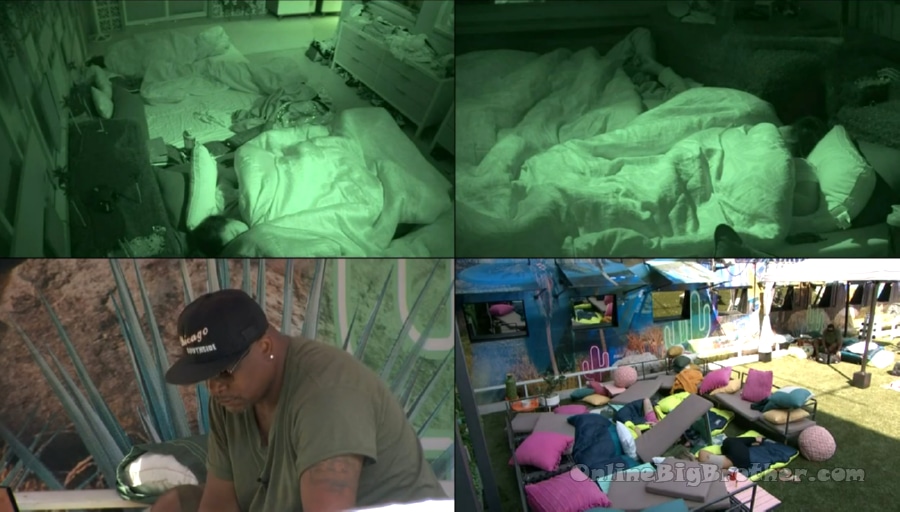 10:00 am Quiet.
(One complaint about the season is production not enforcing the no napping rule. The result is what we see now a house full of vampires)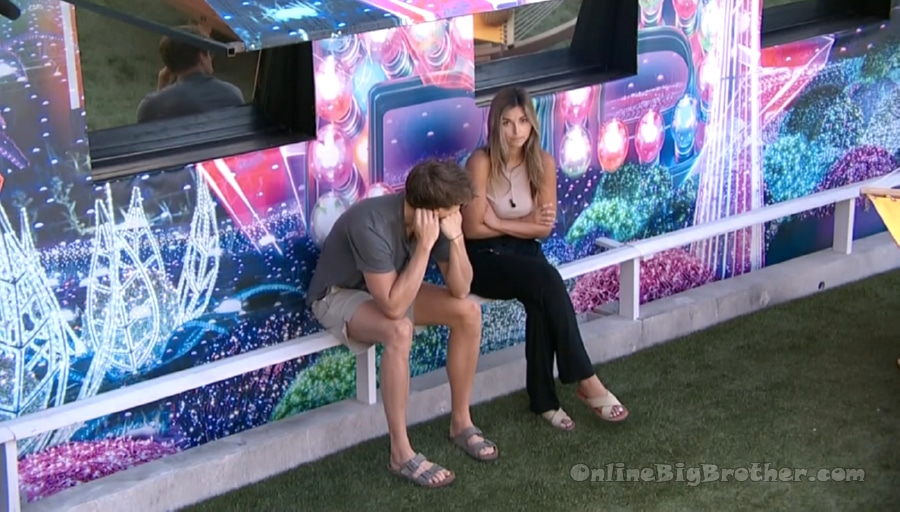 10:18 am Kyle and Alyssa
Kyle – hopefully, Jasmine wins Veto and Monte or Taylor goes home.. Oh my god, I will lose my sh1t if both Monte and Joe are both gone.
Alyssa – Jasmine is going to have to save herself
Kyle – At this point she kinda.. He brought it on herself with how poorly she treats the house and like never does dishes. There's a lot of things that rub me the wrong way about her.
Feeds cut.. when we're back.
Kyle says the reason Taylor picked Alyssa to play in the veto last week was for the chance Alyssa wins it uses it on INdy giving Taylor a chance to put Kyle up.
Kyle – I think she regretted not putting you up initially. Indy called her a bitch Straight up. She at least had a personal relationship with you that she wanted to keep. Indy she had no relationship with
Kyle – Terrance was going to be the one that went up week after week, Against you against Jasmine.
Kyle – you were actually nice to her but Indy was a straight-up jerk. (To Taylor)
Kyle adds that Joe wanted Indy to stay because he could manipulate her whereas if Alyssa wins HOH she's taking out Joe, Taylor, and Monte. "You're taking a BIG shot"
Kyle – if you had won that (Veto) I would have probably gone home
Alyssa asks him what does he tell the other side about what they do in the have-nots.
Kyle – The know, I think Turner told them.
Alyssa – no way..
Kyle – maybe not.. I think maybe they pieced it together. I said we're not doing anything BAD we just like our alone time (Bad?)
Feeds cut.. when we're back.
Kyle – Joe has Jasmine under a freaking spell. She thinks she can control him and manipulate him but really it's the exact opposite. He was getting so much information from her. That is why it's scary He is amazing. He's the best player in the game 1000%.

10:40 am Feeds flip to pound. Dyre Fest is having their veto competition.
1:17pm The live feeds are still blocked.
For some reason this poll is showing up blank. Here's the link https://poll.fm/11182196
Who do you want to win the Dyre Fest Power of Veto?