Quick Big Brother Spoilers
Head of Household: Turner
Nominees: Brittany and Michael Ameerah and Terrance
POV Players: Nicole, Taylor, Michael, Brittany, Turner, Jasmine, (Joe is host)
POV Winner: Michael/Brittany
Veto Ceremony: Brittany/Michael us the veto and Turner puts up Ameerah/Terrance
Havenots: Alyssa & Indy
Lock your ranks in before midnight
Festie Besties:
Turner & Jasmine
Joe & Monte
Daniel & Kyle
Brittany & Michael
Alyssa & Indy
Ameerah & Terrance
Nicole & Taylor
How Nominations will work: One pair will be nominated
How the Veto Player Pick will work: Turner/Jasmine, nominated pair, and drawn pair
– If one of the pair wins the veto, the other is also safe.
– If the nominated pair comes off the block, Turner would nominate another pair.
– Eviction: One of the pair on the block will be evicted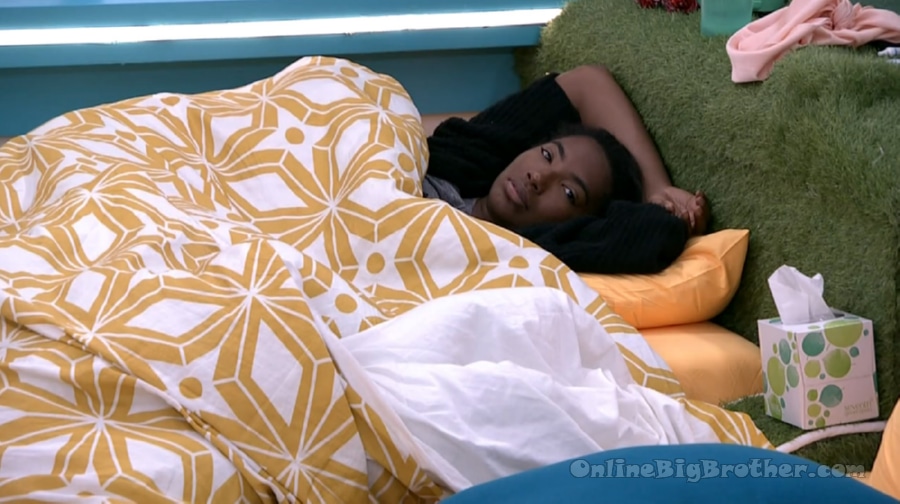 11:20 am Taylor alone
Taylor – It's been hard for me. I miss home a lot.. I miss my friends a lot.
Taylor – I refuse to call Ameerah a Threat. I think you know why. I will never call another black women in this house a THREAT I will only call her a competitor. I made that mistake in here before. I will be very careful with the language I use with Ameerah I respect her a lot. SHe's an awesome person. I would have loved to partner with her. I don't feel good about me and Terrance and Me and Ameerah being on the block in two weeks. I don't feel good about it at all.
Taylor – we're going to grab power in this house and we're going to run to the end.
Taylor – All I have to do is stay quiet and when people ask for their votes I cast my vote come Thursday. Just need to lay low till Thursday.
Taylor – I didn't expect to have an easy time in the Big Brother house but I never expected a group would dislike me so much so early on
Taylor – I was very hurt by the way that he spoke to me. VERY HURT. He wants to have a conversations DANIEL. I'm open to hearing an apology because I am owed an apology but I'm not ready to hear it yet. I need the space before I can take an apology seriously. That makes me sad because I really do like him as a person. The level that he stooped to is so telling. I would never throw something like that to somebody's face ever.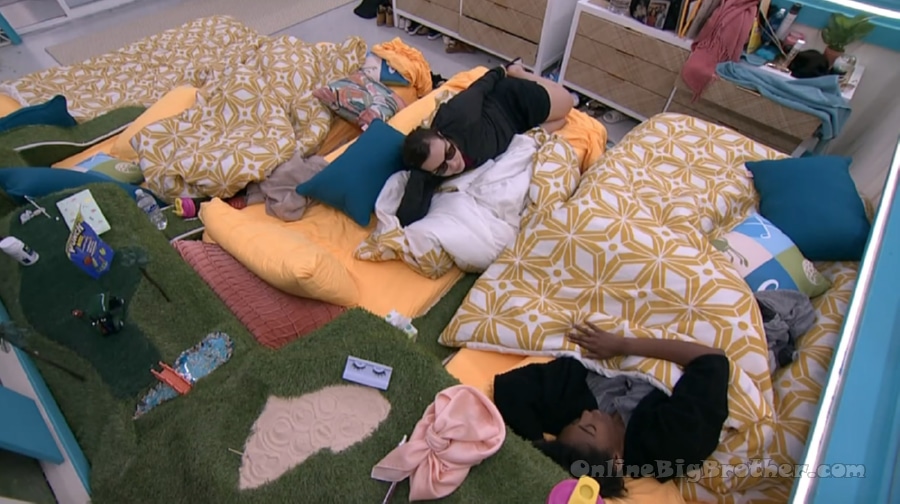 Brittnay joins them.
Taylor – I'M CHILLING
Brittnay asks her how she's feeling
Taylor – Great.. Finally I can breathe. Daniel and Nicole have to go. It'll be Ameerah. Personally I would rather Daniel then Nicole I don't want to go up on the block next week and I don't want to play in a veto I NEED A BREAK
Britt – Daniel is stronger too
Britt – Jasmine and I are more competitive than she is (Nicole)
Britt – she's been trying.. she can never throw anything because she's too competitive. (HUH?)
Britt – we have the votes to safe Kyle and the votes to save you .
Taylor – We'll have to see what happens with Terrance when he's alone. We can take care of him.
Britt – I was talking to him last night.
Taylor about Terrance's vote – He has me, he has you, he feels good about Monte.
Britt – funny because it's pretty much our group *that will vote for him*
Britt – we can't let him know that exist yet.
Britt – Ameerah thinks she has it in the bag. We actually don't want it to be a landside majority. The girls will be looking at each other asking 'who flipped' If they win HOH next week they'll target each other.
They laugh
Taylor – I thought for sure this girl thing was going to be real weather or not we got along.
Britt – me to. It sucks.. I was all in on that coming into this house. Even up to middle of last week. They ghosted me.
T – they never included me.
Britt – why can I not make friends it does not make sense.
Taylor felt the same way.
Britt goes on about how "damaging" and "hurtful" Cliques can be "they make themselves superiors and make you feel not worthy of being in this house"
Britt – we banded together and now we're the bigger group
Taylor – I will never forget how Daniel spoke about me. We're going to talk today when I'm ready.
Taylor says Jasmine came to her saying that she wasn't the one talking about her.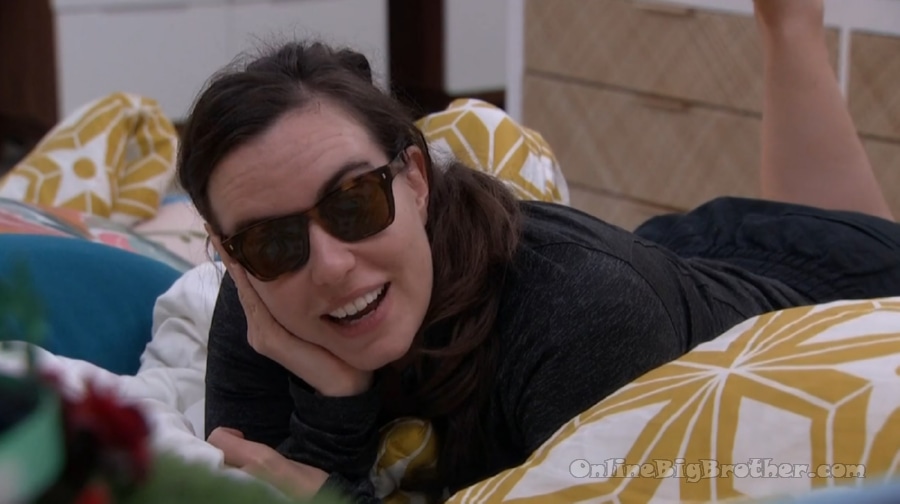 Britt – Day one night one.. she was 'She's not a girl's girl she's a boys girl.. she rubs me the wrong way..'
Indy walks by
T – Even she said yesterday everything I said about you I said to your face not behind your back. I was like OKAY
Britt – Not true
They talk about the final three being Michael, Brittany and Taylor. They don't take that their final 7 is a "Strong seven"
Britt – they will be ready to take shots and I don't think those shots will be us.
T – they each see that they need at least one of us to get to final 2
Britt – that's why I'm like how did I get into this group. The other side is weaker.
T – it's so weak.. how did the weaker group become the people that run the house and they alienated the stronger competitors
Taylor wants to put up Daniel and Kyle to take out Daniel but it'll get weird if her or Nicole win the veto.
Brit suggests a backdoor. Suggest Alyssa and Indy.
Taylor – I don't want to win HOH but I REALLY WANT TO WIN HOH
T – I want Nicole out first. I know Monte wants Nicole out first.
B – interesting Okay
Taylor about Daniel "No man to speak to a woman the way he did"
B – how close is Terrance with Daniel? he didn't could him as a vote when he was giving us a rundown
T – Daniel showed his cards when he said who he preferred to keep in the game.. to Terrance. "Terrance always knew where he was on the totem pole"
Britt – So Daniel made it clear that he would be keeping Ameerah over Terrance.
Britt is trying to get the other side to self implode so that they target each other.
Taylor – I never thought I would be so happy for Turner to win
Taylor says she had no clue the guys where forming the leftovers she thought they were spending all the time plotting against them.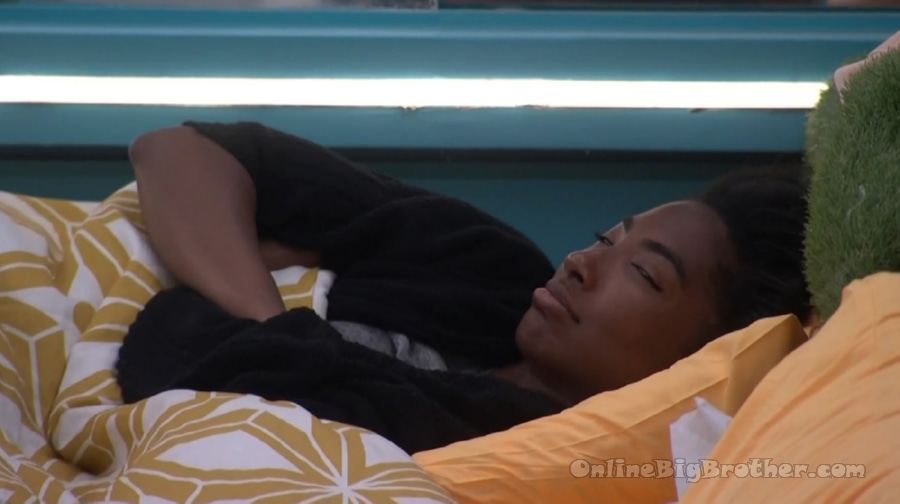 T – Monte would walk by, Kyle would walk by I was like 'HEY' (See image)
They agree they both wanted a girls alliance but that's not how it worked out. They go on about not understanding why the other girls didn't like them. Taylor comments that all the girls are "SO COOL" They would have liked to team up with them.
Taylor – what happened in the Living room was Not Funny.. The way it started is kinda funny.. I totally thought he was joking. I walk into the room he was like will you QUIT. (hard to hear what she said)
They laugh
T – I thought he was joking.. I thought Nicole and I were good.
Taylor says Daniel called her Fake in the Livingroom he said "All America is watching you think you can get away with this you can't be like that"
T – I walked over and said I'm sorry I thought you were joking I didn't realize what was going on. He said 'Don't speak to me until finale'
B – he was cussing you out too which is not okay
T – he called me a b1tch
B – oh my god
T – He called me fake..
feeds flip when we're back
T – for Daniel and Nicole to believe that they are so close to Turner and for Turner to say cut that shit out.
Britt – I never heard the living room part
T – that the the worst of it. It was UGLY
Taylor – America see the truth. You can't edit that..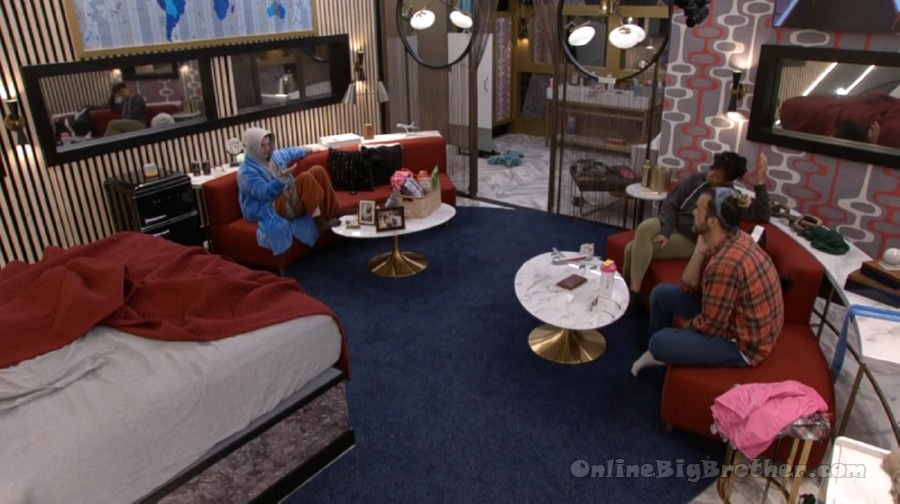 2:00 pm Turner, Nicole and Daniel
Turner says there's two different caliber player on the block if they keep Ameerah the best they can do is second place, "If you want second place then fire.. one of those people have no trouble winning this game"
Turner adds that the reason he put them up is Ameerah's refusal of any game talk
Nicole – I've been very honest with both of them..
Turner – I never knew you were so tight with Ameerah.. I knew you were tight with Terrance.
Nicole – for me it's the older people in the house
Turner – Sometime I forget Ameerah is in her 30's (YIKES I forgot that too)
Daniel says they share a room so are "Forced to talk"
Nicole – She's lived life a little bit more.. I've Been tighter wit Terrance but Ameerah and I have built on something else. For me it's difficult because they both can benefit my game in some way.
Daniel says he's leaning on keeping Terrance.
Turner says him, pooch and Ameerah would stay up until 4 am every night chatting but once POOCH left she stopped talking to him "The day POOCH left was teh last day we spoke"
Nicole says the vote this week is a full split down the middle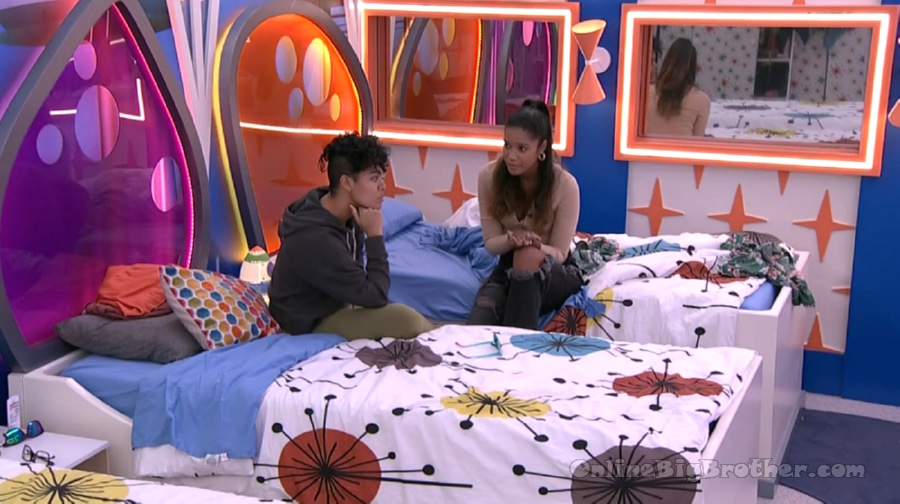 2:21 pm Ameerah and Nicole
Nicole says she was up in the HOH for an hour and Turner told her nothing of substance.
Ameerah – if they are trying to take out the girl.. it does make sense ,.He told me his plan was Taylor, Indy, Brittany and he say this as a movement he could take out a stronger girl.
Nicole says Turner may be waiting to leave the weak girls in the house and wants the strong ones out first. "I'm next or he wants to be on the block so Jasmine is next"
Ameerah – yes.. I strongly feel that to.. I talked to Michael today and he said PO's PACK is good. If they do not vote for me that is what's happening you be careful.
Nicole – I told Turner 'I'm torn' and he said 'ohh I never thought you were close'
Nicole – because you DIDN'T ASK .. f***. I told him that I told both of them that I'm 50/50. If these f***ing a$$holes vote against you than we don't have the numebrs to keep you. What do we do?
Ameerah – Ok.. even if we don't have them. I should still have the numbers. Even if I don't have Monte and Kyle.. I still ahve the numbers. I trust everyone else. I just need for you and Daniel to vote for me.
Ameerah – we need to win F***ing HOH they cannot win HOH. My thinking is it's really just Turner. I trust Monte and Kyle.. I DO
Nicole – okay.. I'm stressed about it.. more than you are
Ameerah – if I go you go next. But I don't think I am. Alyssa and Jasmine tell me I'm not going anywhere.. so does Joe. they say it's not happening.
Ameerah – you are my number ONE.. PO'S PACK that is my crew that is who I want to ride to the end. I want two minority women in the end. That sh1t will make headlines.
Nicole – I swear to God if these f**8ing guys don't vote for you..
Ameerah – I talked to Michael and he said there's no way they don't vote for you if they don't that means that the PACK IS DONE.. that quick.. it's too soon it's like week 3.
Ameerah – I don't know what Turner was thinking. I don't think he knew I had the numbers
Nicole – the house is split there's a few votes we don't know
Ameerah – Brittany, Daniel, Taylor.. Taylor isn't voting for me. Those are the only ones I think I don't have.. which is fine (LOL)
Nicole says she knows people in the house want Taylor out but it's not going to be her. If you want her out do it yourself.
Nicole – turner is a single entity in this house. When you stay what can he do? he will complain and bitch which he will do.. I see us going to the end Ameerah I mean it with all my heart.
Alyssa joins them. chit chat
Indy joins them. Chit chat
Daniel joins them. Chit chat.
3:19 pm Kyle, Turner and Monte
Turner updates them on some of his talks today.
Monte – Terrance has started campaigning for himself to me (LOL)
Turner – ohh dope was it a good one?
They talk about how Terrance is starting to realize why Ameerah picked him as a festie beastie.
Kyle – do we ever let him know he's safe leading up to the Ameerah vote
Turner – we couldn't. if Info leaks depending on who said that the other side will be suspicious of that person.
Monte says Terrance is close to Nicole and Daniel.
Monte says Terrance and Daniel don't have a lot of input into the old Skool alliance, "I think Nicole and Ameerah are telling everyone what to f***ing do and everybody falls right in line. It's sad man.. that's why I like our group it's not like that"
Kyle says last night he broke the new to Alyssa that he's not wanting a showmance he did it because Joe was Freaking out about a showmance impacting the alliance.
Kyle says Alyssa told her that "Jasmine is rich"
Monte – she's a big thing
Kyle – that is something we can leverage if we need to create some cracks we can leak a little bit of that.
Turner – would it be better for me to say that because we're Besties?
Kyle – creating distrust between her and Alyssa. We have to think about that.. Same with Daniel how Alyssa said that Daniel started OLD SKOOL we can leverage that information. I'm BEstie's with Daniel and he thinks I'm a idiot.
Kyle – He does 100% .. I play it up
Monte – the blowback will be on you and Alyssa's relationship.
Kyle is thinking if Daniel wins HOH then they use that information.
They talk about how Ameerah thinks she has the votes.
Kyle says Ameerah told him she was in 5 alliances.
They laugh that Alyssa fed so much information to Kyle which helped them to formulate the Ameerah out plan.
Kyle mentions how Shady the Ameerah was last week.
Kyle says if they win HOH and nobody in the leftover is happy about goin gup then they will Nominate Alyssa and Indy.
Monte – Daniel and Nicole should be he next targets
Turner – you think Taylor would be fine? I think we should wait a week before Taylor goes up. She might think 'already… already I'm the pawn'
Monte – If I win HOH and put Taylor up it keeps the narrative that me and Taylor don't bang with each other.. She's going to backdoor me first chance she gets.. I've been feeding them this
Kyle – true you and Joe. once Ameerah goes they will be scrambling for numbers.
Monte – next week I'll be fine to show our cards.
Monte says he can put up Taylor/Nicole Veto is played they can backdoor someone
Kyle – Alyssa or Daniel
They talk about how good Taylor is playing her role this week.
Monte – The Oscar goes to Taylor
Turner – I hope she's not playing us
Monte – that could be the only crack in the ship. The worst thing that could happen is Ameerah stays this week and Taylor flips the vote.
Turner – BRo after I stuck my neck out I would be so F***ing pissed
They agree leftovers is the first official thing Taylor was in.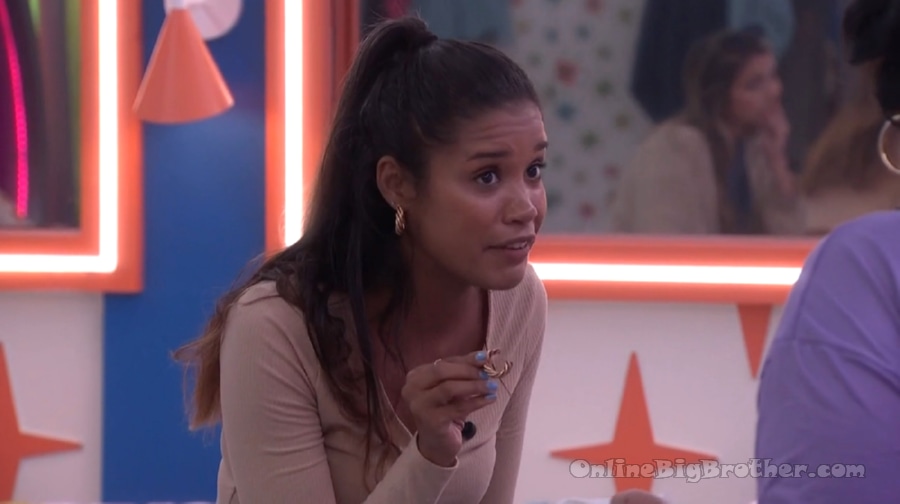 4:30 pm Indy, Ameerah, ALyssa, Brittany, Jasmine
Indy says Nicole is fishy she's the one talking bad about people.
Ameerah – we have to stick together. If I go out this week they're going after the girls. The guys already came to me telling me I"M GOOD so If don't have the votes . Nicole is worried they're coming for her next
Ameerah- Nicole said they are trying to take out the strong girls first.
Indy says Daniel is the one that is feeding information to the guys.
Jasmine agrees.
Indy leaves..
Ameerah – I have the votes this week between you guys, Joe and Kyle.. I'm good. We have to be so f**ing careful.. listen don't speak game to Nicole she's close to Daniel.
Ameerah – she doesn't know there is a girls alliance.
Jasmine and Alyssa says Daniel doesn't talk to them anymore.
Ameerah – Nicole and Daniel don't trust them.. INDY I 100% trust.. She's a real one.
They talk about how the guys are spending more time in the HOH.
Ameerah says Turner and Nicole were outside last night.
Jasmine – she knows what she's doing
Ameerah – Don't say anything around her we still need to act like we're protecting ourselves
Ameerah – we have each other and Michael is with us too. We have the numbers we're f***Ing solid
Jasmine – you have 7 we're good.
4:50 pm The girls meeting ends..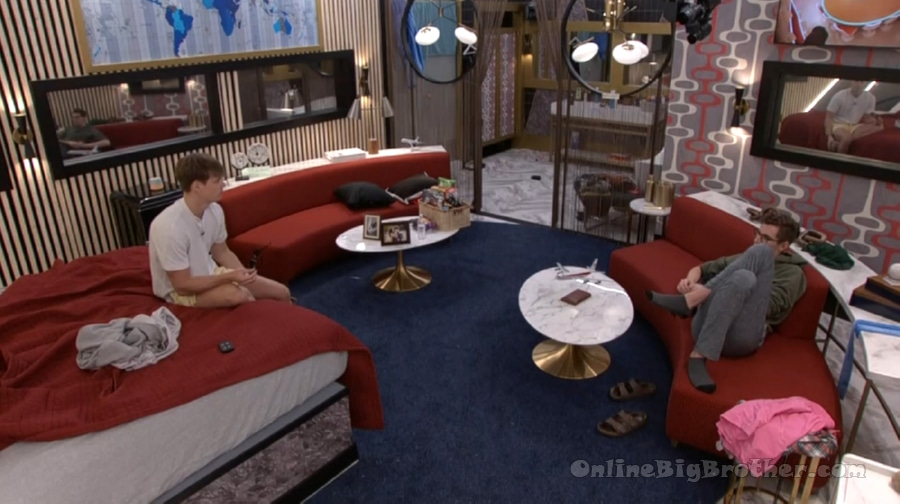 4:46 pm Kyle and Michael
Talking about possible nominations strategies.
Michael says Taylor really wants Daniel out pre Jury "if we can get him out pre-jury that would help to build trust"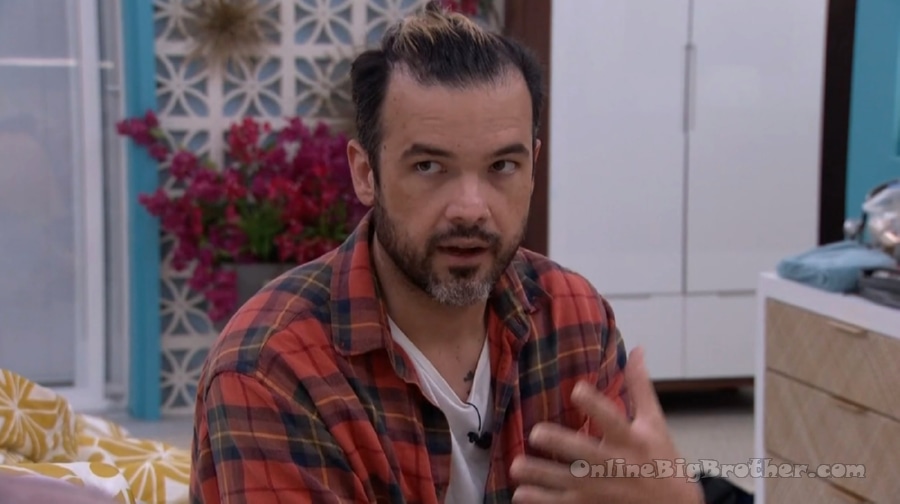 6:00 pm Taylor and Daniel
Daniel wants to clear the air.
Daniel says the other day emotions got the better of him. He acknowledges they butt heads. If they are ever in the same room together he doesn't want it to be negative.
Daniel says their games don't align and that's ok but he could have handled it better.
Daniel says he doesn't think Taylor was the root of Paloma's crazy breakdown. He was just trying to say it was a contributing factor.
Daniel – I don't want you to think you are the cause of it or the reason she left that would be terrible to live with and I don't want that coming from me to you. I don't know someone brought the idea up and it sat with me.
Taylor thanks him for having this conversation with her. As a person she likes him. "The Paloma thing is where it went way to far for me. I know heat of the moment things get ugly"
Taylor – I am nervous that when we get out of this house America isn't going to be kind to you because of this moment. I still want to be your friend I still support you. Regardless what the reaction is out there You have my support.
Taylor – when people are on the feeds and see a WHITE man raise their voice at ME. It's not going to go well.
Taylor – I want to be your friend you are an awesome guy and I want to be around you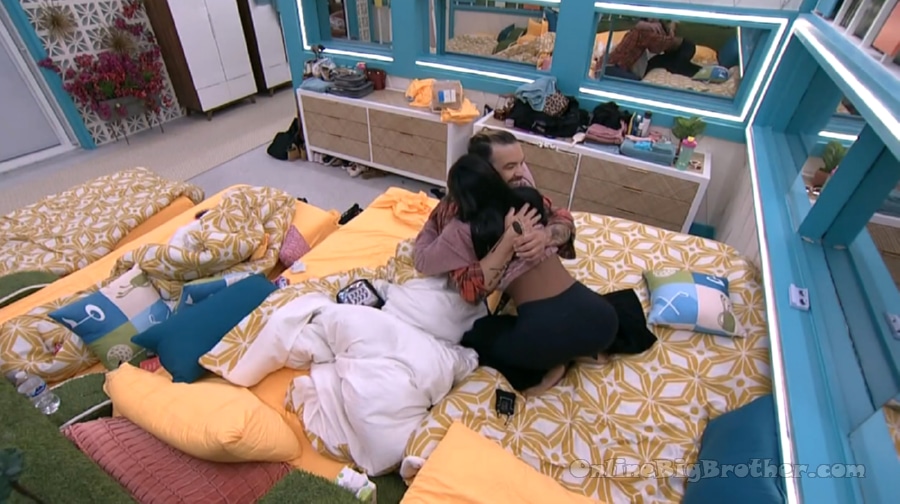 They hug
6:14 pm Taylor alone
Taylor – Daniel is a real sweet, thoughtful, sensitive guy. While I completely disagree with the way he spoke to me and the way he raised his voice at me. the content of the things he said.
Taylor – people are not defined by their worst and ugliest moments.
Taylor appreciates he gave her the space to process it and accept or not accept. "I don't want you to hate Daniel I don't want him to lose out of opportunities because of that moment.. that guy is going to be a friend of mine for while"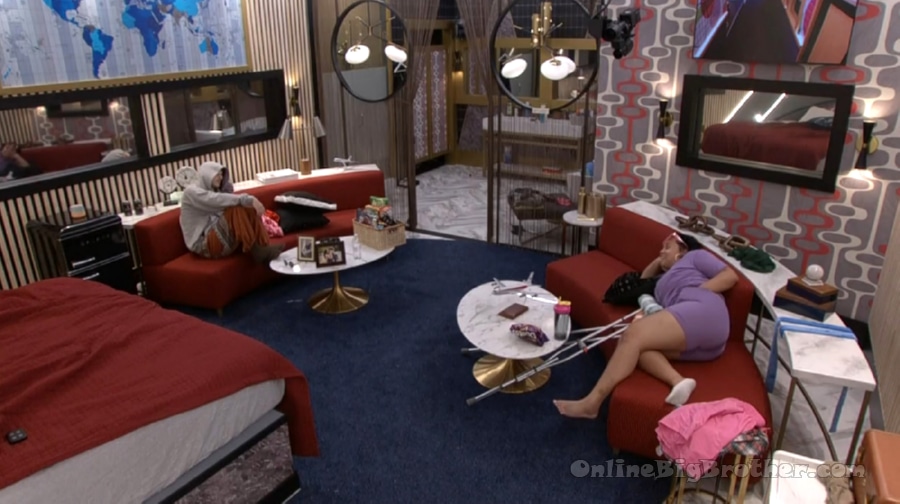 6:25 pm 6:40 pm Turner and Jasmine
Turner tells her he use to talk every night with Ameerah then once POOCH left they stopped. "That sucked show you true colours"
Jasmine still plays up the ruse that she didn't know POOCH was going to be evicted last week. Says she never talks game with Ameerah and Terrance. She see Terrance as a father figure and Ameerah and her chat about girl stuff, painting nails, doing hair in the back room.
jasmine – I haven't talked to her yet maybe she's not coming to me cause I'm festie bestie with you
Jasmine says she's going to spend the day moving around talking to the people "I really like"
Jasmine – after today I can come to you and tell you this is where my heads at.
Jasmine asks him if anyone knew he wasn't putting Taylor on the block.
Turner says he told Daniel and Nicole. "I wanted to tell people that were the most affected by it. I didn't say who I said I was having second thought on putting Taylor up"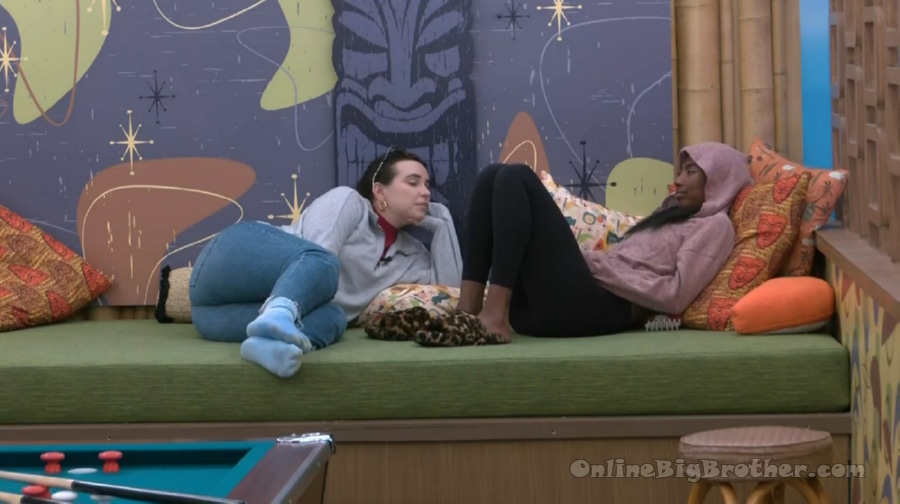 6:46 pm Taylor and Brittany
Britt says they have to be careful Monte and joe don't get on the block they won't be able to safe them
Taylor – I trust our alliance
Britt – I do to
Taylor lets her know about the conversation with Daniel.
Taylor doesn't know where the spin was when she told MOnte the girls were nervous about the guys.