Quick Big Brother Spoilers
Head of Household: Turner
Nominees: Brittany and Michael Ameerah and Terrance
POV Players: Nicole, Taylor, Michael, Brittany, Turner, Jasmine, (Joe is host)
POV Winner: Michael/Brittany
Veto Ceremony: Brittany/Michael us the veto and Turner puts up Ameerah/Terrance
Havenots: Alyssa & Indy
Lock your ranks in before midnight
Festie Besties:
Turner & Jasmine (She's also safe)
Joe & Monte
Daniel & Kyle
Brittany & Michael
Alyssa & Indy
Ameerah & Terrance
Nicole & Taylor
How Nominations will work: One pair will be nominated
How the Veto Player Pick will work: Turner/Jasmine, nominated pair, and drawn pair
– If one of the pair wins the veto, the other is also safe.
– If the nominated pair comes off the block, Turner would nominate another pair.
– Eviction: One of the pair on the block will be evicted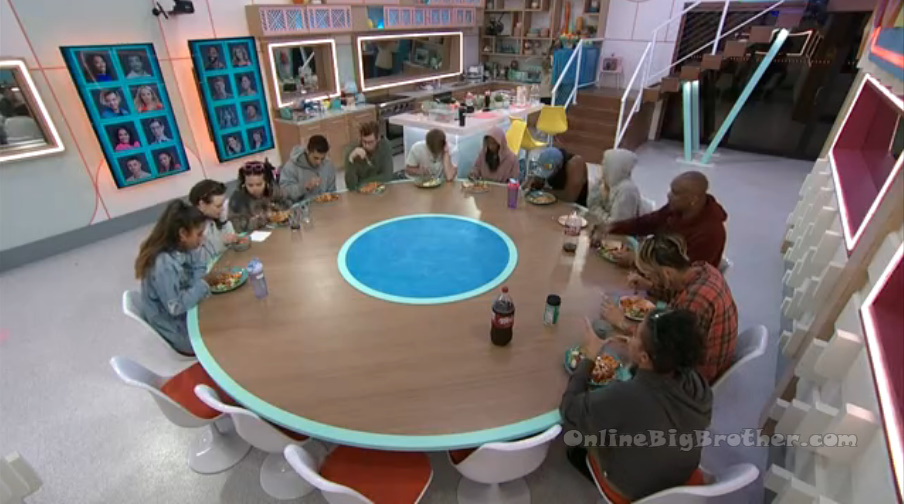 7pm Bedroom – Kyle and Michael.
Kyle – its just the quiet before the storm in the next couple days. Michael – Brittany I and I were talking about how Joseph and Monte are most at risk. If things get exposed what do you think would be better having a 6-5 vote? Or a unanimous vote? Kyle – I don't think a unanimous vote… I think exposing the alliance by trying to get a unanimous vote is a bigger risk. Like how would we even approach the girls? Michael – something like Pooch last week… like I don't know if the votes are there. Kyle – I don't even know how we would do that. I just know with PO's Pack its so simple that she has the votes for us to be like hey I don't know if the votes are there… she is going to be like well who!??! What do you think? Michael – yeah. Kyle – I am open to it but I don't know how we could execute that. I think the best shot is Daniel and Nicole voting to keep Terrance and then instead of having it be 6-5 .. have it be 8-3. Michael – yeah. If it does come down to that the three would be Alyssa, Jasmine and Indy. Kyle – yeah. Michael – we would just have to make sure one of those three didn't win. Kyle – right. So the risk of having it be 6-5 is having those 5 piece it together with us 6 are the ones that got her (Ameerah) out and then us become the target. Michael – it sounds like they don't trust Daniel and Nicole. Kyle – that's what I was thinking .. if we could get Daniel and Nicole to flip that's their own alliance flipping. Michael – yeah and I guess they would be more mad at Daniel and Nicole.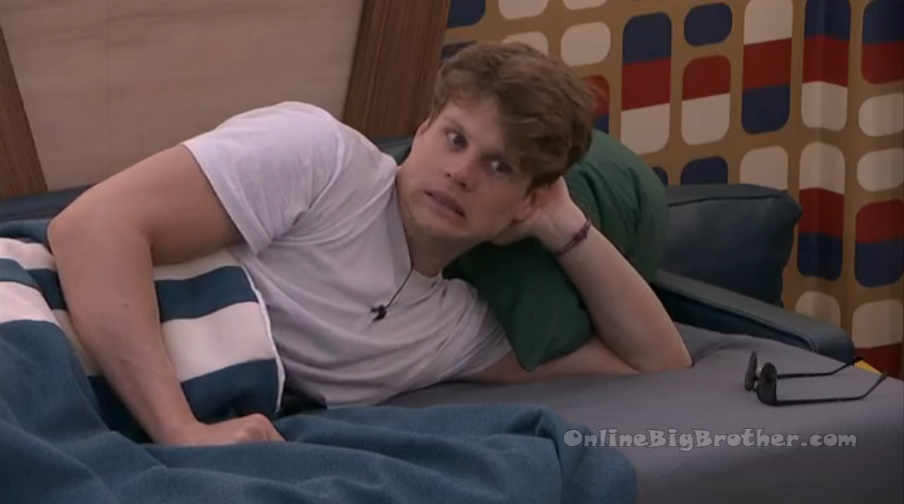 Kyle – do you watch survivor? Michael – yeah. Kyle – I don't know if you've noticed but a lot of times with big votes at tribal council people get up and start talking and chaos ensues which forces people to make split decisions that they're not prepared to make similar to the Pooch thing. All of a sudden on the day of eviction chaos ensues and Turner ends up flipping on his best friend. That method could be leveraged in big brother where like the day of everything is good and then all of a sudden chaos ensues. "I don't think she has the votes?!" "Why?! Who told you that?" bla bla bla bla… "I think Daniel and Nicole are flipping.. Michael – they would probably still think they have me, you, Monte, Alyssa, Indy and Jasmine. Kyle – I hate to say it but .. I really don't want to do it but you and Monte say ahhh.. Kyle's flipping. Brittany joins them. They float the idea by her. Kyle – they're going to know we flipped either way. If you guys go and say Kyle .. something or other .. promised Terrance his vote or something. And then they would be like oh sh*t if Kyle flipped what are the numbers now.. You, Monte, Indy, Alyssa, Jasmine … and if Nicole and Daniel flip. Michael – So it would be like the votes aren't there. Kyle – exactly. But then it would put a lot of pressure on me which I don't know if I feel super comfortable about. Michael – what if one of the girls spilt the beans on the girls alliance or something?? Kyle – we just don't have a name. Brittany – they would assume its me. Kyle – but we just don't know the girls alliance name. Do you know what its called? Brittany – I do know. "The Girls Girls" I was formerly a member but have since been ghosted but now conveniently a member as of today again. Kyle – of course. The stuff that Alyssa has told me is legit. I could be like Alyssa told me about Girls Girls and she told me about Old School. Terrance joins them and the conversation ends and then he leaves. Kyle – at what point do we tell him that he has the votes. Michael – I don't think we tell him at all. I don't want him to say anything to anyone else. Kyle – because we have to think about after when he stays because I wanted to tell him too because I want him to know that we're the ones that kept you. Brittany – Ameerah is feeling VERY safe. VERY safe and I just think we keep it that way.
7:45pm – 8:20pm Dinning Table – Everyone is eating dinner.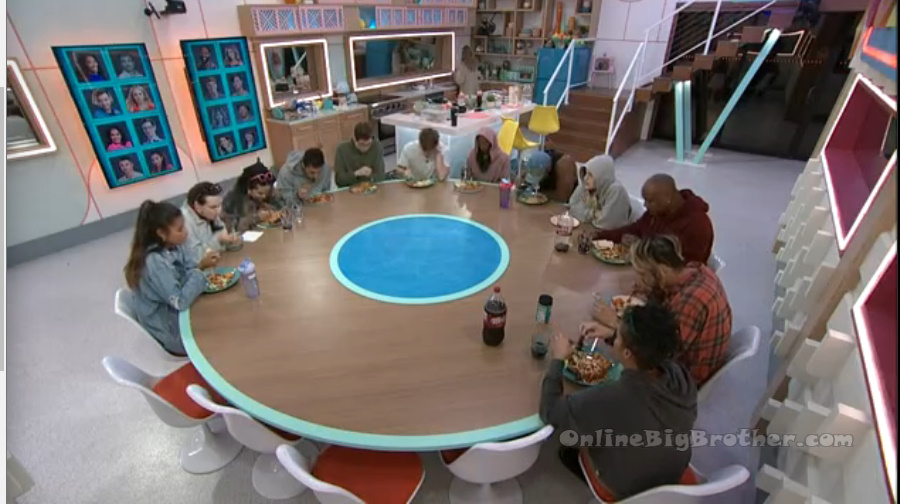 8:25pm – 8:40pm HOH room. Ameerah and Nicole.
Nicole – this is the only quiet place to talk. Ameerah – I don't have anything. Nicole – no, that's okay. I'm just checking on you. Ameerah – I really want to talk to Monte. Nicole – really have to talk to Monte. Ameerah – he is laying on the couch with Turner. Nicole – that's the part that I.. Ameerah – Turner feels comfortable with him. I can see Monte making him feel comfortable. Nicole – yeah for sure.. I think the whole Oasis thing is fine.. BUT they're going to blindside Turner on Thursday?! That's what I want to know. Ameerah – that's what I want to know too. That's why I want to talk to him. Nicole – here is the thing.. I WANT YOU HERE! Ameerah – I know. Nicole – I am looking you in your eyes and telling you I want you here. I want to see where that goes. Where Monte.. What happens with that. Like if you guys flip this vote its going to be f**king ugly in here .. it is going to get crazy! I already know that Jasmine is not going to keep her mouth shut if the vote is flipped. Ameerah – If the vote gets flipped I don't think Alyssa will keep her mouth shut either. Nicole – I don't think any of them will. Ameerah – Monte might think he has Joseph which is fine but.. Nicole – but like since you trust him, what is he just going to start replacing people? Ameerah – and if that happens, he can't be trusted. Nicole – if you go home on Thursday, I can't trust him at ALL! Ameerah – should I just blow up the whole thing when I walk out. I am not even going to blow it up because I know you guys got it covered. I don't want to do that because I would be throwing you and Alyssa under the bus. Nicole – oh no, I don't care! You can do whatever you want to do. Ameerah – OHHH I would shut that sh*t down!! Nicole – you should. Ameerah – because he is doing me dirty. Nicole – if you go home its because he did you dirty. Ameerah – correct! 100%.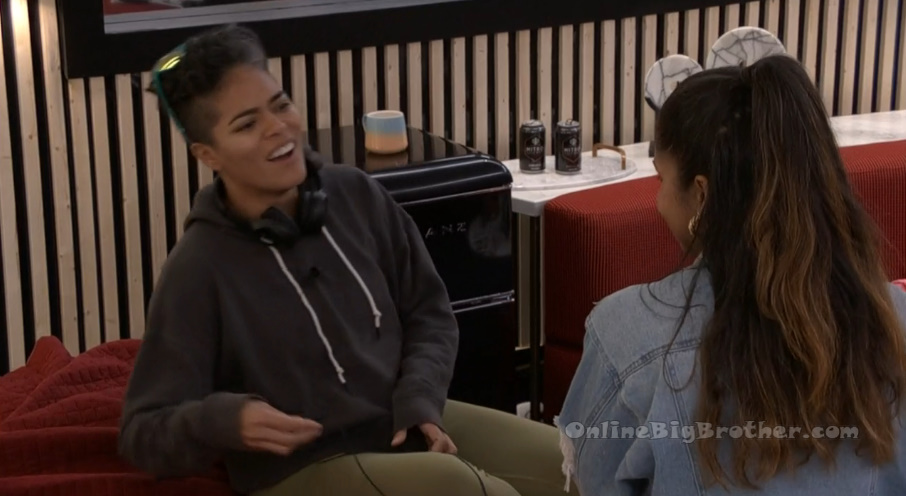 9:25pm – 9:50pm Bedroom. Nicole and Taylor.
Taylor – how are you doing? Nicole – I'm good how are you? Taylor – I'm good. Nicole – I mean, I am pretty shitty. Lets be honest. I am very torn. Taylor – torn? Nicole – yeah, between f**king Ameerah and Terrance. Taylor – well yeah. Nicole – I feel like I am the only swing vote in the house but I am also feeling like there are a lot of rumors going around. Taylor – like what? Nicole – just like there's bullsh*t.. like somebody said that yesterday Monte was crying.. Taylor – about them being on the block? Nicole – I don't know. We had all gotten into a little thing in here and then I f**king got pissed and then I left. Something was said and I took it the wrong way. (When does Nicole not take something the wrong way!?) And then I was like I am f**king done! I went outside, they came out and we hashed it out.. we were all fine but then somebody said Monte was crying. No he wasn't! Taylor – okay!? Nicole – Ameerah and Terrance are my two closest people in the house so like how do I choose? And it all has to do with who is better for my game.. and they're both better for my game. So for me its like f**k I am just going to have to say goodbye to somebody. I am not mad about it because we're not on the block. I am in the middle. I'm torn. Taylor – I won't judge you for whatever decision you make. Nicole – I don't think I will be able to decide until the day of. What have you told Terrance. I'm asking because he thinks he has your vote? Taylor – I told him the whole reason why I came here was so that black women wouldn't be villainized for being good at the game and it doesn't make sense for me to vote out Ameerah. Nicole – then why does he think he has your vote? Taylor – because I told him earlier when we were on the block together that I would always have his back. Nicole – oh okay, so you haven't spoken to him since? Taylor – not about yes I will give you my vote. Nicole – we don't need any of the guys votes to keep Ameerah. But the problem is it will draw a clear line in the sand to Turner if we do that.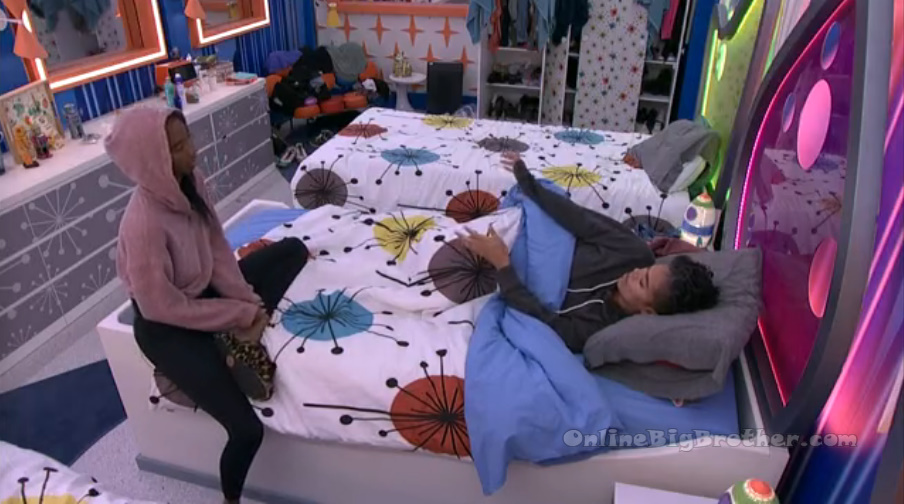 9:55pm Bedroom – Michael, Ameerah and Monte.
Ameerah – he (Tuner) kept Taylor but didn't give her the bully.. that's why I'm confused. Like he made a big speech about bullies and then put me and Terrance on the block. Why not just put the bully on the block? Monte – I am not really sure what his thinking was on that. It doesn't make a whole lot of sense. Turner is a unique individual. I can't really get a read on him. Unless you have some theories? Ameerah – I have a theory that he is America's Player. I think he had to get Taylor off the block. Monte and Michael – Oh I didn't think about that. Ameerah – keep it between PO's Pack because I don't want anyone else knowing. I am watching him to see what kind of weird sh*t he does. Monte – I thought that was old seasons. Ameerah – they haven't done it since season 16. Michael – but then why would he put you and Terrance on the block. Ameerah – I don't think it was that, I think it was take Taylor of the block.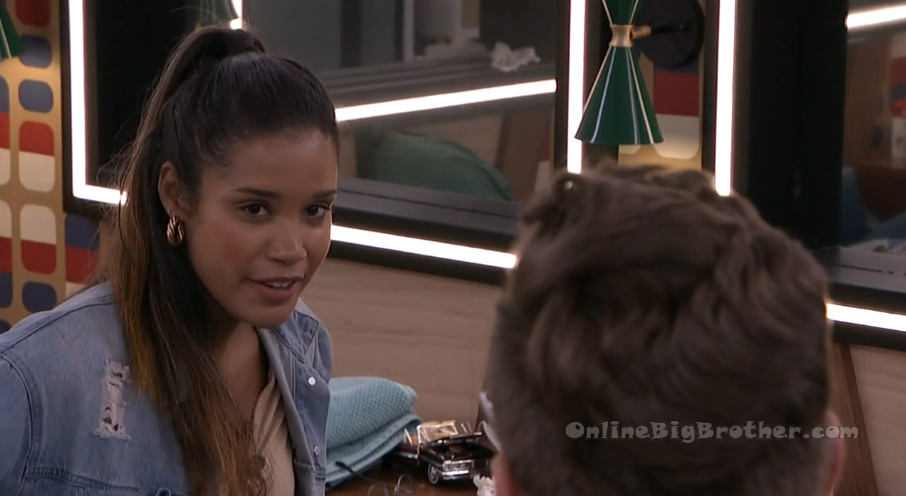 10:25pm Bedroom – The house guests are hanging out chatting.
10:23pm Bathroom – Taylor and Monte.
Taylor – we're still good right? Monte nods and says yeah. I got you because Nicole was telling everyone oh I need to talk to Taylor. And I am like what the hells is she.. Taylor – She wants to get on the same page of who we don't want to see on the block next week. I told her I don't want Brittany and Michael. Taylor – she everyone knows I'm close to them. Monte – I think that's a pretty good bet. Taylor – she said Kyle and Daniel. I told her for now I would honor that. She says if I change my mind if I'm HOH she respects that.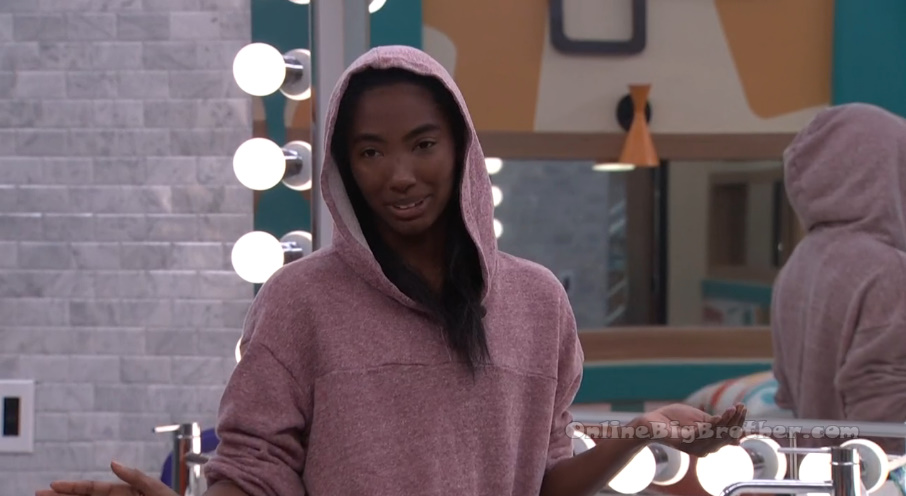 Alyssa party trick @bigbspoilers #BB24 pic.twitter.com/FpPzvab6Zf

— Dawg (@DawgsBigBrother) July 27, 2022
10:50pm Bedroom – Jasmine is doing Alyssa's nails.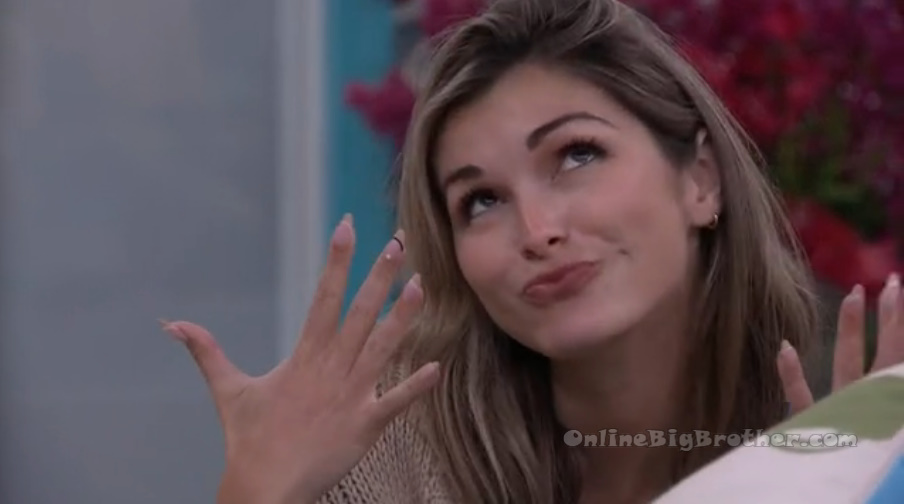 11:11pm Bathroom – Nicole and Monte.
Nicole – between you and I what have you told Terrance? Monte – I've entertained his conversations. Nicole – but have you told him he's safe? Have you told him that you would vote for him to stay? Monte – I didn't give him any direct.. Nicole – he knows I am in the middle… here is the thing, I'm his number one and he is not my number one.. and he knows it. Now he knows it for sure. They're both beneficial for my game in the long run. What do you want to do? Monte – PO's Pack is all I really have. Nicole – if that's what you're telling me, then that's what we do.. because we have the numbers as females to keep her.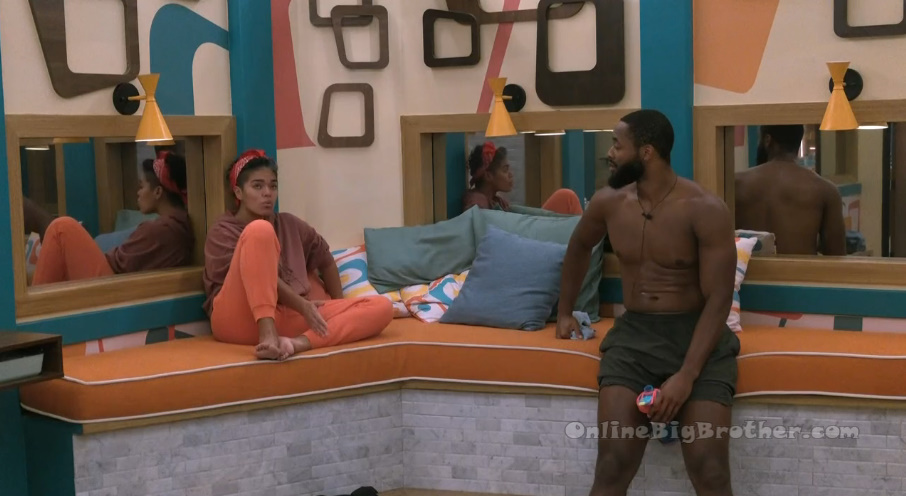 11:50pm – 1am Storage room. Kyle and Ameerah.
Kyle – I think they're all trying to get on Taylors good side. Or like maybe just make amends? Ameerah – no, everyone is scared because she might get HOH next week. Kyle – oh yeah. Ameerah – I noticed it too. I'm like oh now everyone talks to Taylor! Kyle – and I was like how are Nicole and Daniel going to build that relationship again? You literally yelled at her two days ago .. don't talk to me till final. Ameerah – people literally geta away with that stuff. Kyle – no people forget. Ameerah – Taylor is not dumb. She might use them to her advantage but she will not trust them. Ameerah – so I have the numbers this week. Kyle – do you think it will be unanimous? Ameerah – it won't be unanimous. Terrance doesn't think he has Daniel and Nicole .. but I don't think I have them either. But I should have Nicole because of PO's Pack so she should not be doing that. Kyle – has she confirmed with you? Ameerah – she has. Kyle – okay, that's good.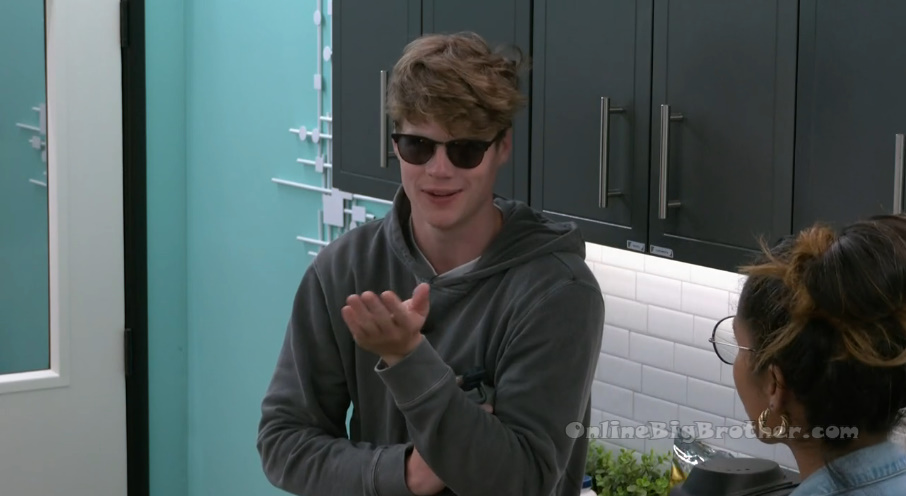 1:20am – 2am Bedroom – Daniel, Nicole and Ameerah.
Nicole – so basically Turner put you up without realizing that he didn't have the numbers to get you out. Ameerah – I am definitely the target. Nicole – of course you are. He clearly thought that everybody was going to vote you out. Daniel – he is going to be f**ked when we keep you. He's going to be like oh sh*t. Ameerah – because I am going to be out there stretching for the H-O-H! Here is the thing the house still wants Taylor out. I am afraid she will come for you (Daniel). Nicole – I am worried about Taylor getting HOH. Daniel – but what is good is every single one of use are playing for HOH. Ameerah leaves. Nicole to Daniel – good job Turner.. you literally made a move that non of us would have made. Daniel – nope! Facts! And hopefully America knows more and is like wow what a big move because right now it ain't sh*t. That's not a big move. Nicole – its not! A big move would have been to put up Monte and Joseph. Period! F**k, I have to say goodbye to Terrance tomorrow. Nicole starts crying. Daniel – I f**king love that guy. Nicole – tomorrow is going to suck real bad. I hate f**king crying. Daniel – cut that sh*t out .. only with me. I am just joking cry all you want to. He's not gone yet. Now you're making me change my mind again. Nicole – this game is wild! Daniel – what a sh*tty f**king replacement… it makes no sense! None! Nicole – when I get HOH and I put them on the block.. Votes to get him out would be Ameerah, Indy, Alyssa .. no I don't think Alyssa would vote him out… Monte, Joseph, Brittany and You. That's 7 votes to get him out if I put up Jas and Turner. The talk turns to past BB comps.