Quick Big Brother Spoilers
Head of Household: Turner
Nominees: Brittany and Michael Ameerah and Terrance
POV Players: Nicole, Taylor, Michael, Brittany, Turner, Jasmine, (Joe is host)
POV Winner: Michael/Brittany
Veto Ceremony: Brittany/Michael us the veto and Turner puts up Ameerah/Terrance
Havenots: Alyssa & Indy
Lock your ranks in before midnight
Festie Besties:
Turner & Jasmine (She's also safe)
Joe & Monte
Daniel & Kyle
Brittany & Michael
Alyssa & Indy
Ameerah & Terrance
Nicole & Taylor
How Nominations will work: One pair will be nominated
How the Veto Player Pick will work: Turner/Jasmine, nominated pair, and drawn pair
– If one of the pair wins the veto, the other is also safe.
– If the nominated pair comes off the block, Turner would nominate another pair.
– Eviction: One of the pair on the block will be evicted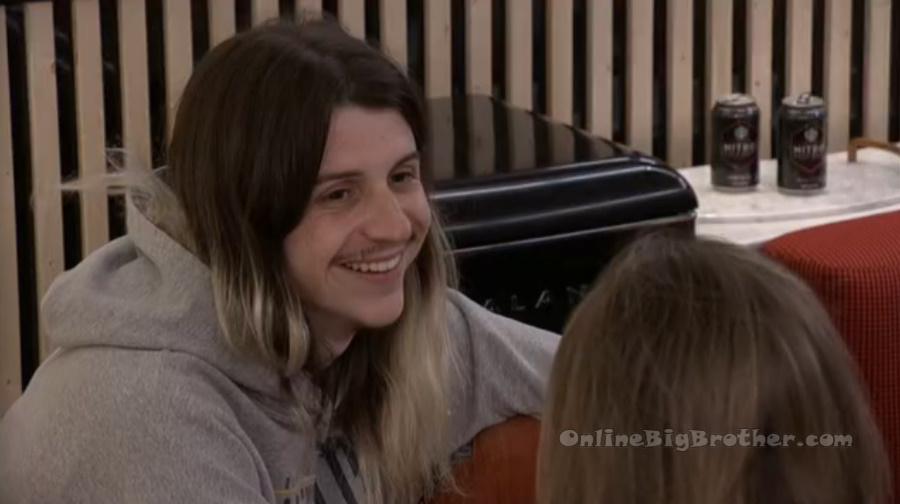 9:30pm HOH room. Alyssa and Tuner.
Tuner – what's up dog?! Alyssa – I will state the obvious.. I f**ked up today. Turner – I heard. Alyssa – and I obviously don't know what you heard.. Tuner – I can tell you what I heard .. I don't know who was in the room but that it was comical. I heard that you said that I said that Indy said something about Taylor in the room. Alyssa – Whoa!? That's not it at all! Who told you that? Tuner – why don't you tell me first and then I'll tell you what happened. Alyssa – so we were in the room and Nicole had mentioned that if Indy would keep complaining you would probably throw them up on the block. Turner – oh wait!? That's what it actually was? I f**Ked it up. Alyssa – I didn't know that Indy was in the room.. Turner – wait wait wait.. here is what I heard. I heard that you said I would put Indy on the block if it wasn't for you being her Bestie.. and then Indy was in the room. Alyssa – no I said that everyone was getting annoyed with Indy complaining and you would have probably would have put Indy on the block and I was like its really freaking me out because that's my Bestie and I don't want to go on the block. I heard you said that Indy was annoying the F**k out of you. Tuner – I wouldn't have said that but I have in the DR. Alyssa – that's frustrating for me but I was not saying it in a way like F**K Tuner. I didn't know she was sitting behind me. I was just being like its stressing me out, I don't want to be on the block. I smoothed it over by saying that you have our backs and then it was over but then Nicole got pissed and then it became a huge blow up. Michael joins them and then leaves. Tuner – I'll be honest because my feelings were hurt. That you told Indy something that I told you. And my feelings were hurt because I was like unfortunately I can't tell Alyssa anything because you're just going to tell other people so my feelings were hurt part of the day. Alyssa – I can see why you would think that but you are literally one of the only people in the house that I actually like as a person. I feel like you're my friend. Turner – I feel the same thing. I also heard and I don't remember who from .. and this hurts me to say but I heard that the only reason you've been talking to me this week is to get an in with the girls. Alyssa – that is f**ked up! And I hope that you know that I don't even talk to you about game. Tuner – I was like well that sucks. Alyssa starts to cry – I feel like you're my friend. Tuner – as long as what you're saying is accurate I have no reason not to believe you. Alyssa – I really enjoy hanging out with you. Nicole thought I was saying something about her and then she blew up and now Kyle won't talk to me. Turner – he does really like you but he doesn't want it to affect your games. Alyssa – that makes me feel better. I was worried that he didn't want to talk to me because I messed up. I just really really don't want to be alone in this game. I just get overwhelmed and I'm just really shaken up. I could really use a blunt right now. Tuner – Dude! Facts! That would be FIRE! Alyssa – I just need to chill out bro! I can't even f**king think. Turner – You should ask for it in your HOH basket. Get that brick oven!
9:55pm HOH room. Terrance and Turner.
Turner – I hate that I had to put you on the block next to her. Terrance – hey, its okay! I'm going to fight and get myself off the block. Turner – oh yeah, you're going to be here on Thursday! I know that for a fact! Terrance – oh yeah we're going to play big brother. The way that you went for that HOH, that's the fire in me right now. Turner – yeah dude! Terrance – and you're going to tell me what we should do going forward to make some sh*t really f**king happen.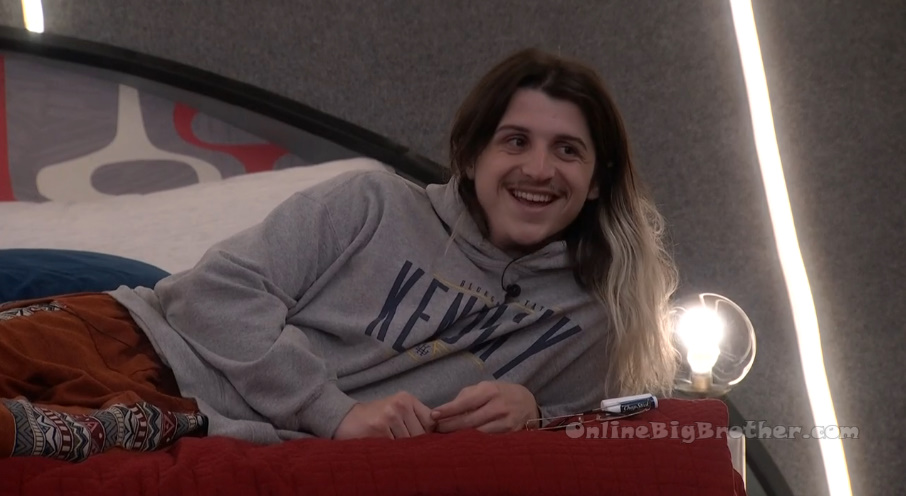 10:25pm HOH room. Kyle and Turner.
Turner – what she said was that I wanted to put Indy up but I was to close to Alyssa to put them up. Ameerah was next on the totem pole and he really didn't want to put us up and he can't stand Indy. I'm like Okay?! Like what does it mean to put someone on the block by accident?! Like Bro you had a whole speech.. what do you mean by accident?! How could he have made that sh*t up!? Kyle – I didn't want Ameerah to feel like she was the big target. So Joe and I were in the bathroom and she was like I just don't understand it and she kind of came to that realization on her own. Like why would he put you up… and she just came to that in her brain. She like came up with this …like I don't know dude! BUT she thinks.. she is crazy dude! She was like you're good.. I know. She was like I have Monte and then she basically names off everyone in the house. This is like ideal so that she is not freaking out the next few days.. as long as we don't make it obvious that we're working together.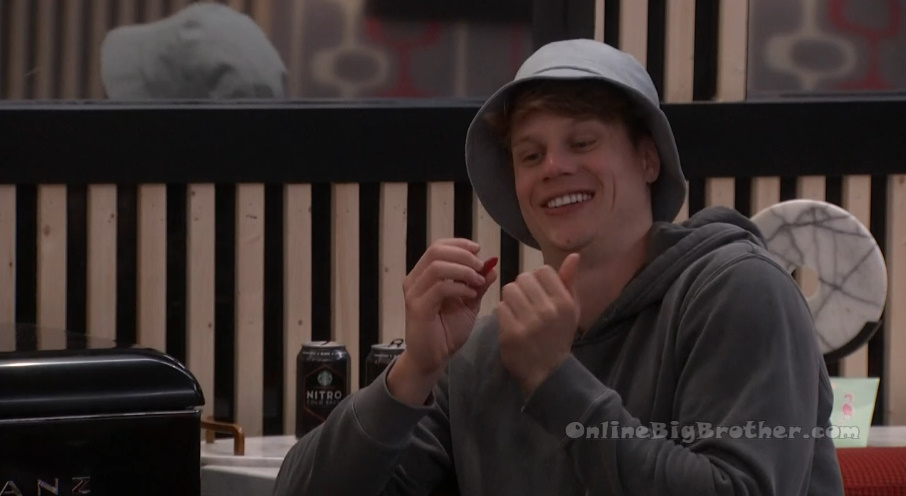 11:30pm Bedroom. Terrance and Taylor.
Terrance – I was talking to Michael as to why we were put on the block and he said she was saying it was a mistake. Taylor – who said that? Terrance – Ameerah. She was asking Turner and he said it was a mistake, he meant to put up Indy and Alyssa but he didn't want to. Taylor – do you believe that? Terrance – I talked to Turner twice. Once when he voted us up and he said why he put up me and Ameerah. And he said Ameerah only picked you in the lighter comp because you're my guy. So she felt like picking me would have kept her safe. I've got three (votes) but I need three more. Nicole was like I don't know.. so I don't want to count her. So Kyle and maybe the boys. Taylor – I think they'll get you because they're probably scared of Ameerah. Terrance – he was like if you want to win second place, let her stay.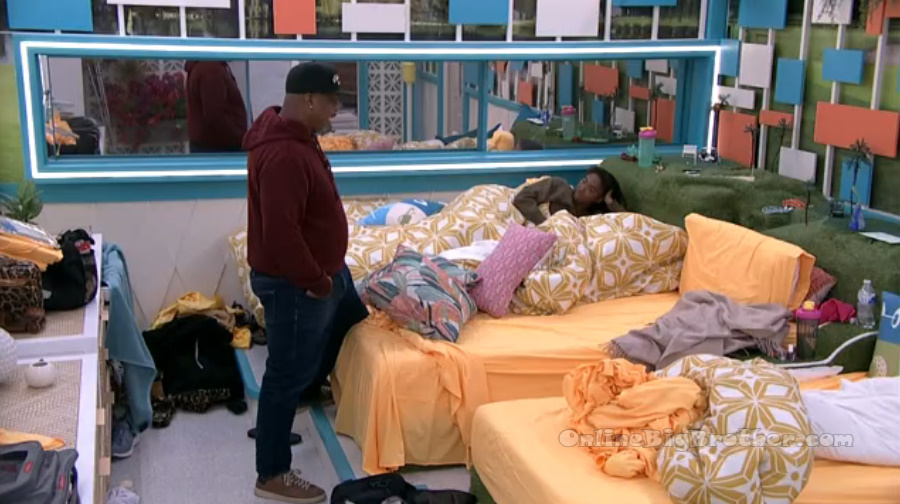 12:30am Bathroom. Ameerah, Daniel and Nicole.
Daniel – I havne't made out with anyone. Ameerah – I have. Daniel and Nicole – WHO? Ameerah smiles. Daniel – no you haven't. Ameerah – I'm not telling. Daniel – have you? Ameerah – yup! Nicole's jaw drops. Daniel – in this house? No you haven't? Pooch? Ameerah laughs. Nicole – ewwww! Ameerah – not telling. Daniel – Joseph? Ameerha – nope. Just kidding you guys, I haven't made out with anyone. Daniel – do you want to? Ameerah – no. I feel like the fun happens in the jury house. Ameerah talks to them about why she thinks she is on the block and how she think Turner really wanted to put up Indy but couldn't because he is close with her Bestie Alyssa. So even if I get the votes… wow you sent home Terrance! Good job! And the person (Indy) that was bullying is still here and the person (Taylor) that was bullied who was bullying people is still here. Nicole – great, yeah you backdoored someone but give the real reason why you backdoored someone. Its a big brother copout.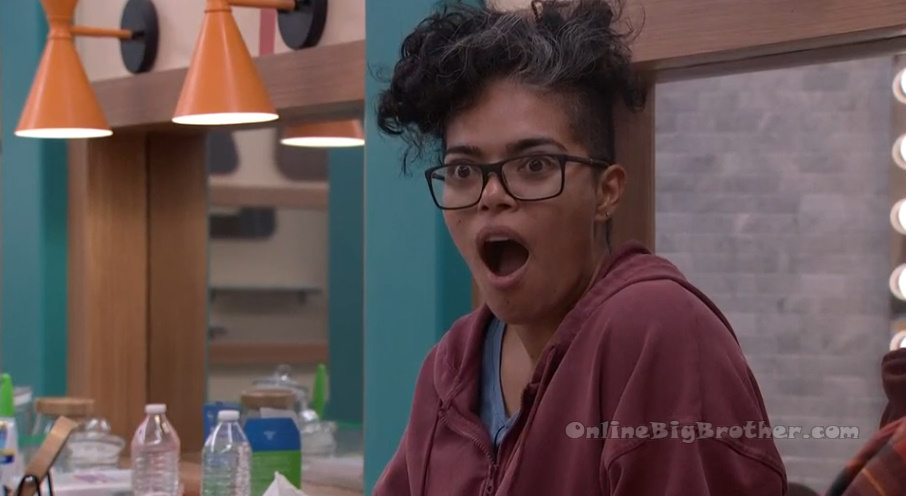 1:15am HOH room – Brittany and Michael.
Michael – Turner he had something that he slipped up on. We were talking about Teslas and he said that he's driven then for other YouTubers ..and he was like I've never owned one. They give you like a rebate when you own one and he was like I got $2500 back .. and then he was like ahh.. I slipped up. I had one. Brittany – he has a Tesla? Michael – he said he had to save up 15K for it. Brittny – he is 22 and he has a Tesla? Michael – he said he doesn't have it any more. He sold it but said he made like $7500 on it. Brittany – he said he is into Crypto. I think he has a lot of money. Michael – yeah I mean I don't care but .. like I knew before he slipped up. Brittany – that is so funny. Turner joins them.
1:23am Hammock – Joseph and Taylor.
Joe – I don't even want to talk game. Tell me who Taylor is? I feel like I never got to do that talk with you because you were always fighting for your life. Taylor – I mean I hate to say the same person that people see in the house because apparently people see this monster. Joe – I definitely think you're this strategic, smart, independent girl.. which comes off intimidating. If you truly were a bad person, everyone would have been like f**k that. Taylor – and get me out.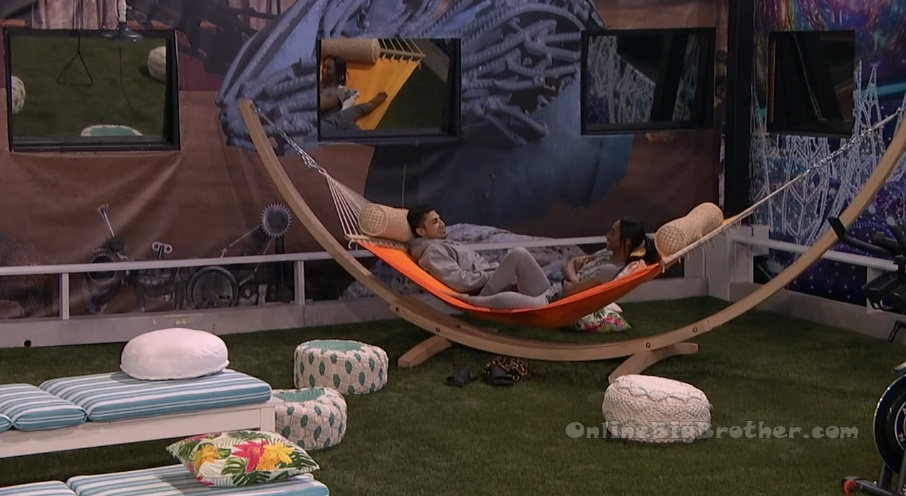 1:30pm – 1:44am Bedroom – Michael, Nicole and Daniel.
Nicole is struggling with who she will vote out since she cares about Terrance and Ameerah equally. Nicole – I'm torn. Daniel – its tough to tell them that you love both of you and we don't know what to do. Nicole – It sucks! Like I don't think I will be able to make a decision until f**king last minute. It sucks that I won't be able to give them clarity. Daniel – I will try. Michael – like I don't even know what to base it on. It was not a decision I was prepared for. Nicole – I thought I was going to be on the block. Ameerah joins them. Daniel – hey can we have a minute? Daniel laughs. Hey can we have a minute in your own room.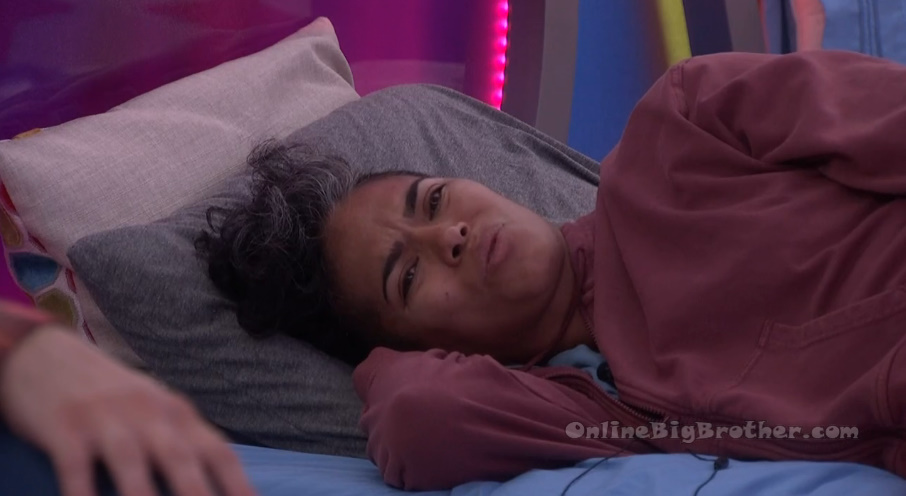 1:45am – 1:56am Bedroom – Ameerah and Nicole.
Ameerah – we were able to talk about the right terms of everything so there is no way I am lying. Like why does everyone think I am .. Nicole – I don't give a sh*t what you do. Ameerah – yeah, I think its more of like a fun element to it but I am not even lying about what I do. Nicole – people have their reasons for saying what they do. I just laugh about it. Like its funny. It really doesn't matter what you do. Ameerah – the only time it would matter is if it was like a private investigator or like a cop. (Nicole is an ex-cop and hiding it. She's only told Daniel.) But do y'all really think I am a private investigator or a cop? Nicole – well you are really sketchy. Ameerah – really? Nicole – no.