Head of Household Winner – Tommy
Have note are: No Have nots this week, Jack, Tommy, and Jackson were given punishments as part of the veto.
Nominations are: Cliff, Kat & Christie
Power of Veto Players are – Christie, Cliff, Kat, Tommy, Nick, Michie
Power of Veto holder – Tommy
Power of Veto Ceremony – Tommy used the Power Of Veto on Christie the season continues to rule
Grab your live feeds —-> BB21 Live Feeds Subscription Link
Rank your houseguests —-> Big Brother 21 Ranking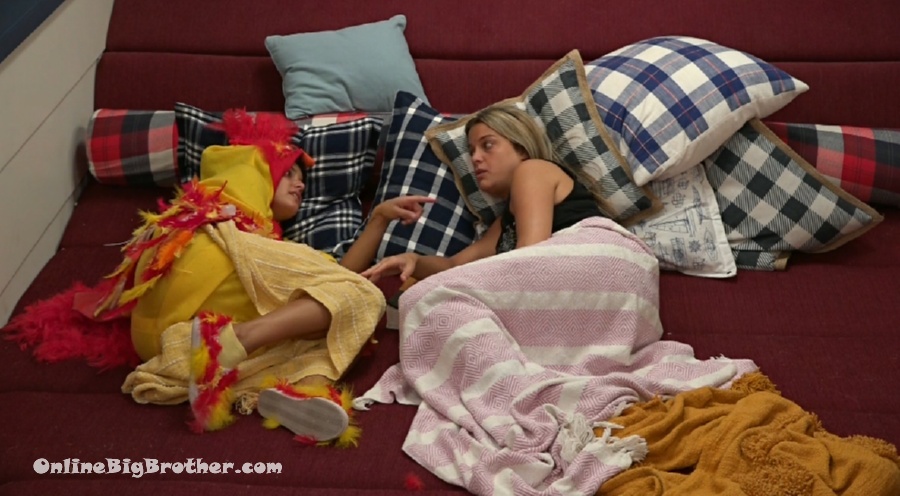 12:55 pm Sis and Christie
Christie says she plans on talking to Cliff and making sure her, Sis and Tommy are all safe and they all have the same target
Christie – I want to make sure he is going to GUN for the HOH
Christie says Cliff is a gamer he wants to win and make moves.
Christie says Holly and Michie are a showmance "they are very strong it's obvious that everyone will want to split them up"
Sis – the only thing that is scary about the deal with Cliff is that like Cliff will go after Tommy when we hit the 6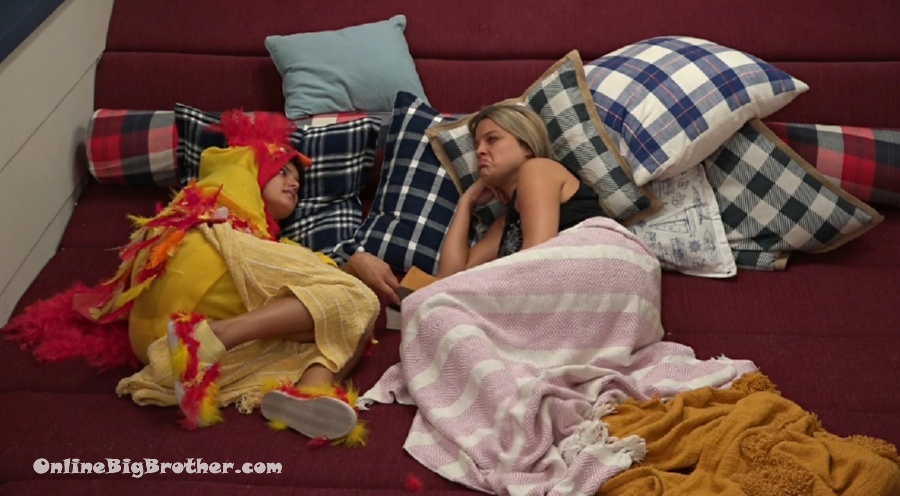 Christie's face. says that's the case with everyone when they get down to six they all have to start taking shots
Sis – I wouldn't take shots at you, Tommy or Nick.
Christie – I wouldn't take shots at you, Tommy or Nick.
Christie says the 3 of them will all take shots at Cliff and Nicole.
Sis says Nick will throw that HOH
Christie says Nicole and Cliff would take a shot at their 3 (leaving Nick to creep on through)
1:00 pm Christie, Sis and Jackson
Christie – it's so scary I don't have a clue (about who she's voting for)
Sis asks him what his pros and cons for both noms are
Jackson – the same
Sis points out how "F*ing" tired Cliff was during OTEV
Christie mentions that Cliff said when Kat was crying he played it up because he didn't want her to feel guilty
Christie says Kat could be scary moving forward.
Jackon – I don't know who I would put up in a double.
Sis – I know
Christie – that's the thing. I don't know who to put up at this point. There's pros and cons everyone has their little things. What do you base it off of
Sis – I would put up one of the people that got saved.. (Cliff or Kat)
Sis – with lesser numbers nobody talks game anymore jit's so small everyone is in the same room (as the three of them talk game alone in the boat room)
Christie – there's nothing secretively literally nothing.. it's weird
Tommy comes in .
Christie continues to go on that nobody talks game anymore or schemes
Tommy – it comes down what is best for your game … this is a game. (thanks)
Tommy wishes he could play in the HOH "just so it's a fair game"
Jackson mentions they just need to be America's most hated and maybe they'll have an extra competition to play.
Sis – it really stresses me out that America hates me
They bring up Jess saying she heard the six is getting back together.
Tommy – I gave my word I'm not making any alliances this week (except for the 6 person you made with Nick, Cliff and Nicole to target Holly and Jackson)
Tommy – the way this week is going everyone is just hanging out that is what's best for this week moving forward
Jackson says he's continuing to lay low for the next two or three days, "the block was HOT"
Jackson to Tommy – you were part of it but you were not centre stage.
Christie says going on the field "was probably a fluke" she doesn't care about being "relevant" she would rather set herself up with a good game, "Advice from Nick say less"
Jackson – I've been pumping the brakes.
Christie says it's a "even playing field" now that they are all "doing their own thing"
Tommy going on about Holly and Jackson becoming secluded and he really doesn't want that because then they become the target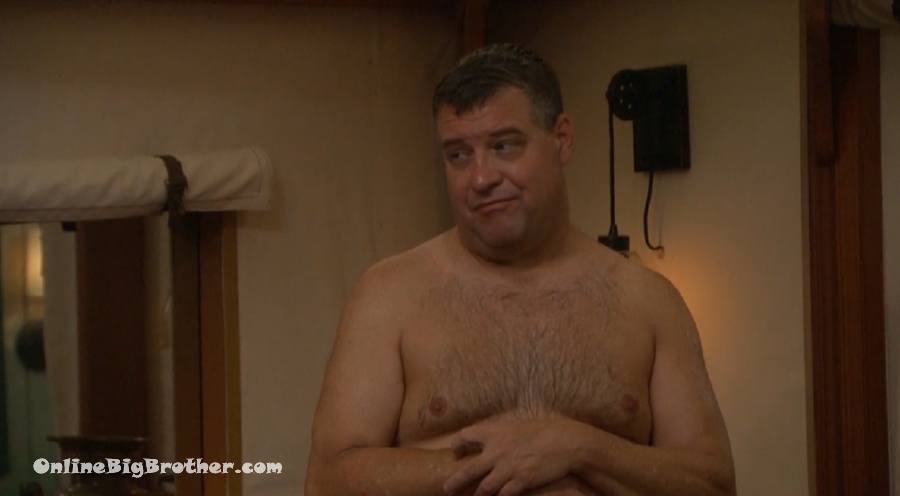 1:14 pm Cliff and Tommy
Tommy – we are on the same page I want to pump the brakes a little bit.
Cliff – I have respect for you and your game
Cliff goes on about being happy to coordinate and get "certain" people to the end
Tommy – umm.. I am very happy .. you know it's so crazy. I am so gr8eful that I won this week. I was scared to win this week now looking back I had to win this week and I didn't even realize going into it.
Tommy – I've heard from multiple people I was the number one target going into this week. I didn't know that
Cliff – you were pretty much
Tommy – I thought I was good
Cliff – it had less to do with you and more to do with Christie. If you were gone Christie would tailspin. it was never anything definite
Cliff says he's never had a p[roblem with Christie or Tommy.
Tommy – I'm open to anything I really really mean that I don't have final 2's with anybody
Cliff – I don't either
Tommy – I have no deals, I'm a lone wolf. I'm similar to you I want to get to the end with people I respect.
CLiff – I would be happy with you winning the game
Tommy – we're f*ing gamers and we love this game
Cliff – yeah that's right. It's more than guaranteeing safety it's coordinating votes, watching your back I mean .. I don't want it to be a situation where I don't vote for you but someone comes along and puts you up. I don't plan on jumping ship
Cliff – I think we can take this a LONG way
Tommy- I'm scared to pull the trigger right yet just because how much time there is (Final 2 with Christie, Final 3 with Sis/Christie)
Tommy – we are on the same page.
Cliff says Kat is emotional and the last thing they want is her to get a whiff that things aren't going well for her

Tommy – Love you Cliff.. you're the best. I'm gr8tful.. I love you and I love playing this game with you
Cliff – I love who I have been living with these last 2 months it's been amazing. I love watching you do everything you do whether it's game or just anything.. you're so much fun. it's a lot of respect Tommy
Christie comes in Tommy leaves.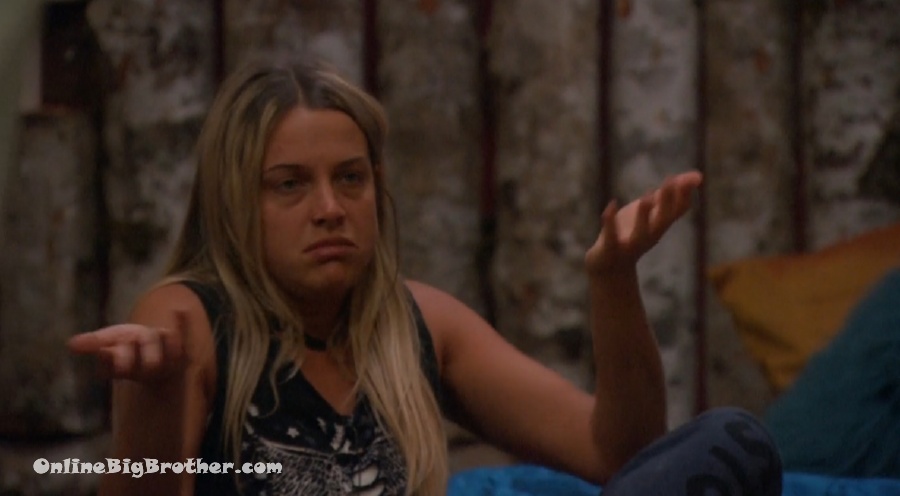 1:25 pm Cliff and Christie
Cliff brings up Tommy telling him about this whole idea they have of watching each other's backs
Cliff – I wanted Jack out because he's so powerful he was the lynchpin for the whole group now that he's gone I have zero problems working with y'all
Christie – Jack was literally gungho about it.. he said Cliff is my only hope
Christie says that Jack would have stuck by his deal with Cliff, "in terms of in your head I understood why it didn't seem enticing"
Christie goes on about now that Jack is gone it "feels like a more even playing field", "now you create new groups"
Cliff points out that Jack only saw one season but Tommy and Christie are fans like him.
Christie goes on to claim she's a "Diehard Fan" along with Nick.
Cliff – if any one of us won the end I would be happy. (nobody else will be happy)
Cliff – it would seem (in) appropriate
Christie says that even sis has been watching since she's a little kid
Christie says Nicole is "solid and consistent", Nick is a "Wildcard" but they all are on the same page about him.
Christie adds she trusts SIS and Tommy
Christie says Kat is in a trio with Michie and Holly.
Cliff agrees.
Christie then says about kat "she says she's targeting Michie which in the back of my head I believe" (ZOMG)
Christie – I want to win HOH's I want to be working with people that are equally gunning for power. You can't just slide by you have to make moves.
Cliff says he's looking to win HOH's and build his resume. He wants more than safety he wants to build working relationships.
Christie – you were always the person I said I would like to work with. During you're HOH I had to pull some sh1t but I did believe the longevity it would allow us to build trust together
Christie – you were never a target of mine (WOW the lies in this entire morning post are awesome)
Cliff – you and Tommy weren't either. There is a reason why neither of you went up when I had that chance
Christie – it seems fair.. the 6 people. Everyone knows My Sis and Tommy are close. You, Nick and Nicole, are tight. It's fair
Christie – Nick is friendly with all of us so he kinda sits in the middle somewhere.
She goes on about being happy for anyone in their new six-shooters winning.
Christie – do you see yourself gunning for this HOH
Cliff – If I can yeah. I don't mind doing it especially if I feel like I have a group behind me and I would nominate the way y'all wanted because then if I can show y'all some trust and y'all got my back it feels like it solidifies everything that's gone on.
Christie – I want to keep you I trust where you stand more. with Kat I love her so much but I don't think she wants to win HOH's .. I'm not an idiot I know Michie and Holly are coming after me
Christie says Michie is trying to get back with everybody
Christie says she doesn't trust Michie and Holly "I'm not telling anyone how I'm voting this week it's not anybody's business"
Christie says she hasn't talked any game with Michie and Holly since day 43.
Cliff says Holly told him if she won veto she wouldn't take Cliff or Christie down.
Cliff – I don't think she would have taken anyone down.
Christie – If I stayed on the block I would have gone home ( I know)
Christie says Holly isn't even trying to act like she's on Christie's side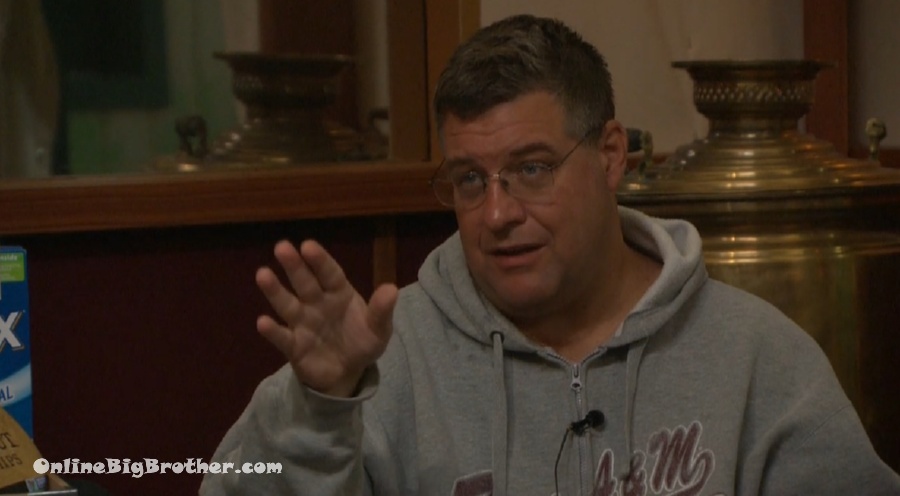 Cliff – if I would win HOH I would want to ask y'all where the nominations should go and I pretty much already know so.
Christie – they are a very strong showmance. It's time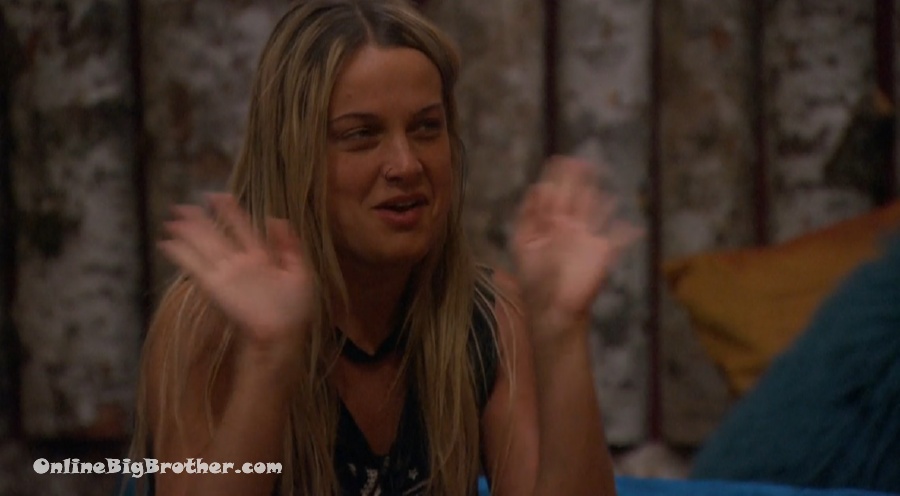 Christie claims to be a "Big Brother nerd" goes on how happy she is to have played in OTEV
Christie says she's much safer in the game with Sis, Tommy, Nick, Cliff, and Nicole
Christie goes on about how Holly was trying to get the 6 back together but she told Holly she could never trust Michie again. She tried to get Cliff and Nicole on the block and suggested Michie and Christie make up
Christie – they don't have your back
Cliff knows says he's just a tool and a vote for Michie and Holly
Cliff – if I win HOH I'll prove it to y'all (the new six)
Christie again mentions she understands why Clif fand Nick voted out Jack
Cliff says at that point "I would have kept Satan himself"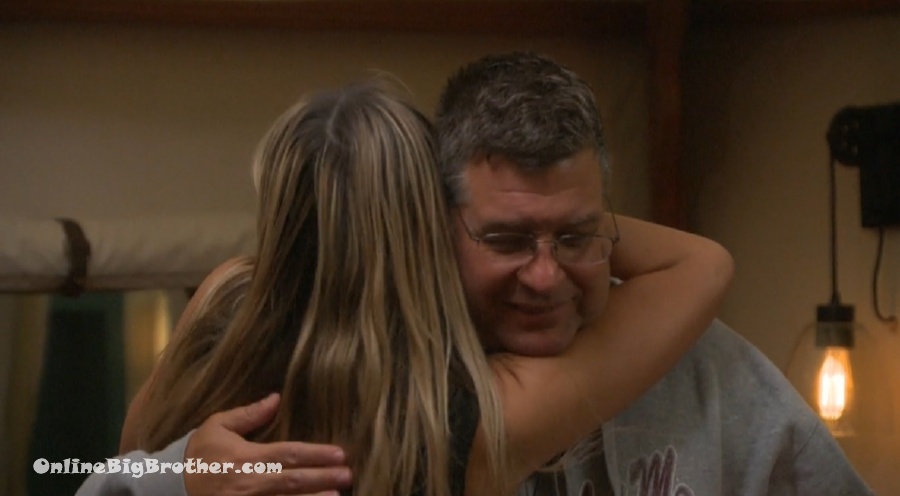 They hug
Cliff – it's so much fun to play with people I have respect for the way they played.
2:37 pm Nicole and Jess scrubbing the showers
(I believe Jess started the cleaning party)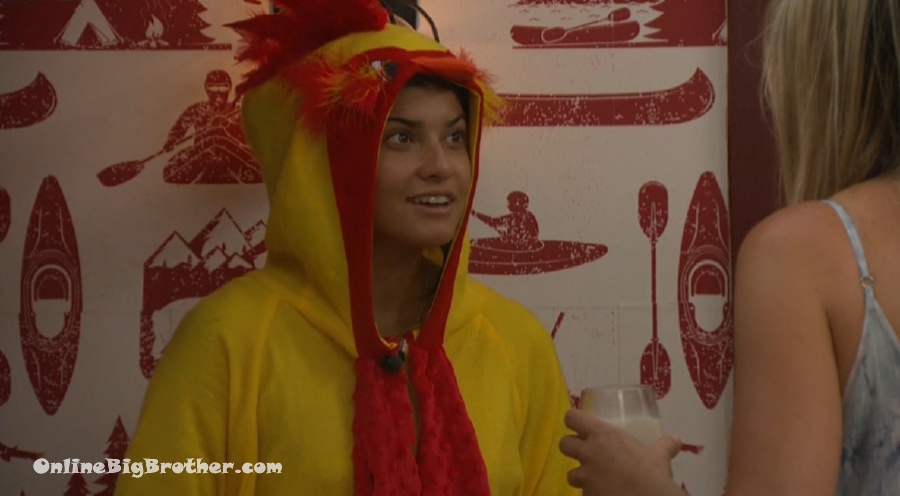 2:43 pm Christie and Sis
Christie going over her talk with Cliff and how he wants a fan to win this season and since they are such HUGE fans they're good to go.
Christie says the reason Cliff wanted Jack gone because jack only watched Season 20 over the course of 4 days after he got the callback.
4:33 pm Tommy and Nick
Nick says he doesn't feel Jess will target the two of them as long as Nicole is in the house.
Nick – or Sis probably.. Christie is good with her to
Tommy – right now I'm good with Holly. I'm scared to make this deal because of two reasons. Number 1, it feels like an alliance and I gave my word I wasn't going to build an alliance and I know it's so stupid. I kinda wish I didn't but I did I would be going back on my word.
Tommy – Number 2, I kinda feel like in the position I am in right now I'm scared to make this deal premature like I want to make it maybe next week and see who wins. Because I.. Of Course you are out of the equation. If Holly or Michie win I don't know what their plan is and I know it probably wouldn't be me
Tommy – if I choose to burn Holly nad Michie now the position I'm in that's basically negating two jury votes for myself.
Tommy – I feel like one of us needs to win it and take them out. Once one of them is out it's not my fault I can't lose their jury votes
Tommy – I'm scared to lose two jury votes by making a final 6 right now. We already had a deal with them from g8tful to sixshooters there's no reason why I should be breaking that right now
Nick – you still feel good with them
Tommy – I'm good with them I think
Tommy says Michie and Holly are not "good" with Christie.
Nick points out he's close to Michie and Tommy is closer to Holly.
Tommy again goes on about burning Holly would be "Screwing" himself out of jury votes.
Tommy says he might make an individual deal with Cliff.
Nick – sis should do the same thing
Tommy – YES.. it should be individual deals. I can't make a six this week
Tommy – I want to go to the end with you and with Sis. I love Christie to but Christie, Michie, and Holly have a thing I don't know what is going to happen with that
Nick says he has to beat two people next week.
Tommy – between you and I if it was between you and Christie I would keep you. Please don't even tell Sis that
Tommy – what if they put Cliff up next to you I don't want to save Cliff because I've made a deal with him
Nick – Ohhhh like if they put him and me up (ZOMG? isn't Nick part of this Cliff deal)
Tommy – Like if they put you and Christie up say and she took herself down and then you and Cliff are up .. I don't want to have to make a deal with him if it makes me keep him over you
6:10 pm Nicole showing off the cleaned bathroom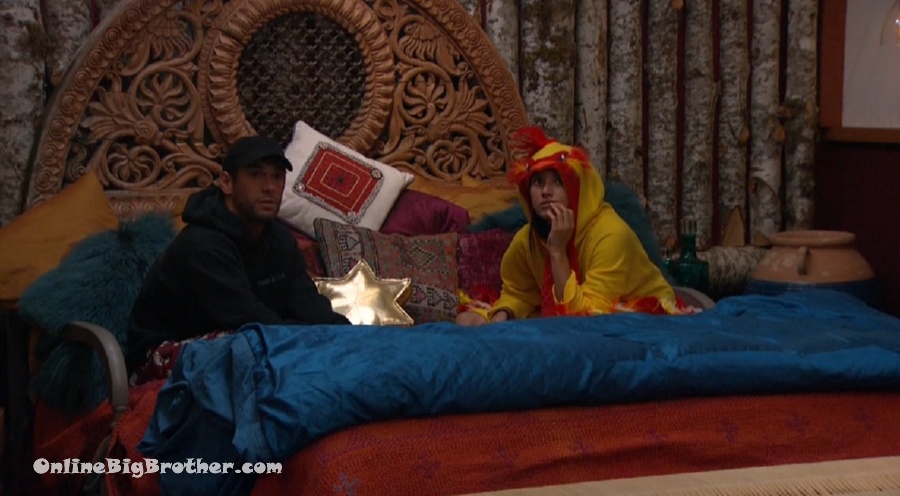 6:53 pm Sis and Tommy
Tommy going on about not wanting to form the 6 right now. "Scared to make this 6 deal prematurely"
Tommy wants to cut a deal with Cliff one on one, not a 6. thinks they should be making deals next week.
Tommy says if Michie or Holly win HOH they will come to them to find out what to do. They can push Jess.
Tommy says holly/Michie really think Nick and Nicole replaced them.
7:21 pm Chrisite, Holly, Sis, and Tommy
Holly tells them she feels like Nick was trying to get her and Michie in with Cliff, Nicole and him
Holly says Nick told her a few days ago that Christie would put her up.
Christie starts getting rilled up
Christie – that's f*ing annoying. You were never my target never..
Christie goes on about before her and Jackson had a "good talk" she told Nick she was targeting Jackson because he was targeting her "His campaign speech was him coming after me" and Nick asked her who she would put up with Jackson and she said, Holly. "the only person he wouldn't use the veto on himself is Holly and I would be clear with Holly that you are not my target it's just to assure he would go because I knew he was coming after me"
Tommy says Nick doesn't do it on purpose he can't help himself "he's trying to know where everyone's at he's a planner"
Christie – the fact that he's telling them this week is pissing me off
Holly – I felt Slightly recruited
Holly agrees says Nick can't stop planting seeds.
7:40 pm CHrsitie, Holly and Sis
Christie mentions Cliff's leg/foot really hurting him he asked the diary room for a different tension band but they told him no
Feeds cut
When we're back Holly is saying that Cliff tells everyone the same thing
Sis doesn't know what Cliff would say mocks him "ohh we're good you were never a target of mine"
Sis and Christie tell Holly that Kat doesn't want to win HOH's.
Holly – I don't think she would put any of us up
Christie – I'm just not looking for someone to not put me up I need someone who will gun for it.
Christie – I wouldn't think for a second Cliff wouldn't put me up
Sis agrees says Cliff would put her up he already said
Holly says Cliff is like a trophy hunter.
Holly leaves.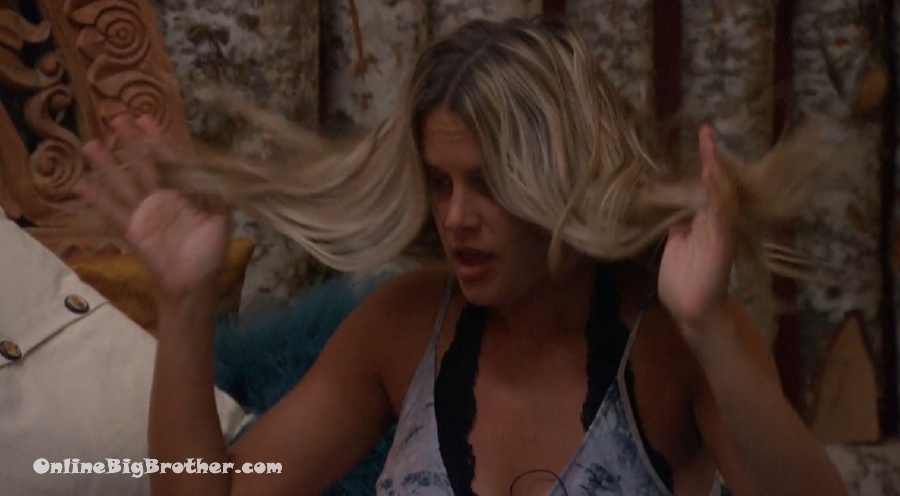 Christie – there was so much bullshit in that entire conversation, Its frustrating. All the things she said was last week.
Christie says she's pissed that Nick goes back and forth but she thinks the things Holly said were more the end of last week.
Christie says nick is getting close to Kat because he wants her Jury vote.
It's Taco Tuesday Time #BB21 pic.twitter.com/DIamPpBwtt

— OnlineBigBrother.com (@bigbspoilers) August 14, 2019
7:51 pm it's Taco Tuesday time.
Keep the site Kraken consider donating. thanks!
https://www.onlinebigbrother.com/onlinebigbrother-members/
In case you missed it last night Nick and Sis did some cuddling.