Head of Household Winner – Tommy
Have note are: No Have nots this week, Jack, Tommy, and Jackson were given punishments as part of the veto.
Nominations are: Cliff, Kat & Christie
Power of Veto Players are – Christie, Cliff, Kat, Tommy, Nick, Michie
Power of Veto holder – Tommy
Power of Veto Ceremony – Tommy used the Power Of Veto on Christie the season continues to rule
Grab your live feeds —-> BB21 Live Feeds Subscription Link
Rank your houseguests —-> Big Brother 21 Ranking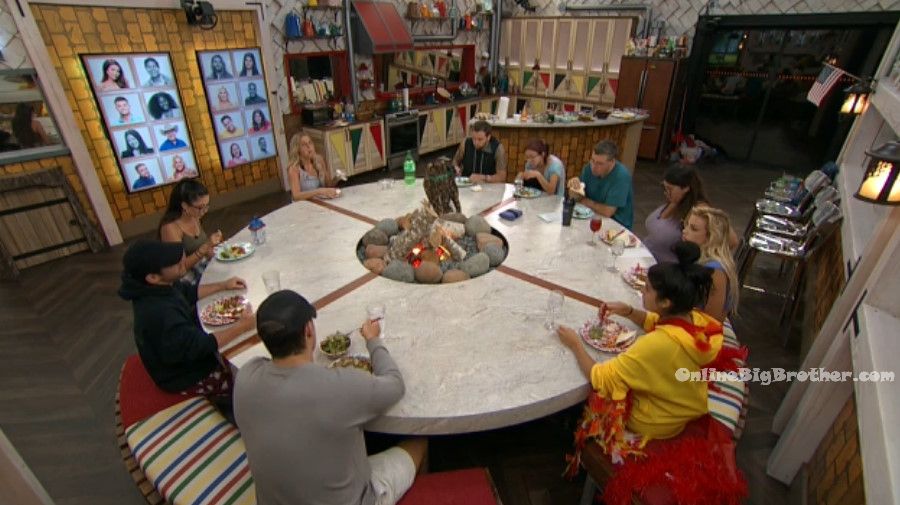 8pm The house guests are eating dinner and saying what they're grateful for.
8:36pm HOH room. Christie and Sis.
Sis – That was so funny. Bullsh*t puts me in a bad mood. Christie – it just ticks me off. Like it just doesn't make sense to me because like… so like I understand how we are "torn". But like how are you "torn" if she is blatantly telling everyone that her boyfriend is your target. Like that doesn't want to get someone out on their own.. like that is straight bullsh*t. I feel like Tommy delicately tried to say it.. like Michie is the target .. and Holly is just like ahh.. I don't know… like she just tip toes around it. I'm like dude.. Kat is telling everyone in this house that she is going to put you guys up .. like you don't want her out?! Like it is straight bullsh*t!! Sis – I don't know why I never thought of saying that to her. Christie – because it is better that we don't .. let them vote how they want to vote. Let them vote to keep Kat.. it will be even more of a reason to be a target for everyone next week. Sis – true. Christie – I love Tommy so much and I want to make him happy but I have to play my own game too and I am not going to sit in a room and rekindle an alliance that failed because they were dishonest. They straight up told Jack not to trust the two of you and they straight up told the whole house that they were coming after me. Like I am not going to sit in a room and pretend to be in an alliance again so that what!? When I do put them up next week, I am a liar!? I am not going to do that. Like I am not going to lie. I am not going to be in on a meeting. And the only reason they gravitated to us today is because they have no one right now and they rubbed everyone wrong. And she (Holly) was so shocked that they know they have Nicole and Nick's vote. She is probably like Nicole's vote?! Me and Nicole were good. I buttered Nicole up all last week like how can Nicole and Jess be .. possibly keep Cliff. Well yeah, that's because she sees through the bullsh*t too now! Do you know?! Sis – totally! Christie – so count me out of an 5 person meeting that is going to go on. I'll be in bed by ten! Yeah, no .. bullsh*t just puts me in a bad mood. Sis – I am just nervous that if you're not here.. they're going to see it as like.. Christie – I just don't see why it is necessary like I thought that Tommy said he doesn't want to do an alliance. Sis – maybe he will say that. Christie – so what I am going to say that we're in an alliance and then we're going to make a fake alliance with Cliff going forward? I am not going to do that! I am not worried. Like if we're saying we have each others back until six, so what then everyone is just going to be throwing HOHs going forward!? Like I am not here to play that game!! You know what I mean?! I would rather be honest with people I want to work with. Like I am just not here to keep tip toeing around everything. Like I am keeping my words and not being aggressive with things. Like I am not going to call Nick out for X, Y, and Z. Like I don't care. Like literally a month ago I would have. Like Nick, you're a f**king two timer! Let everyone play the game how they want to play it, I don't care.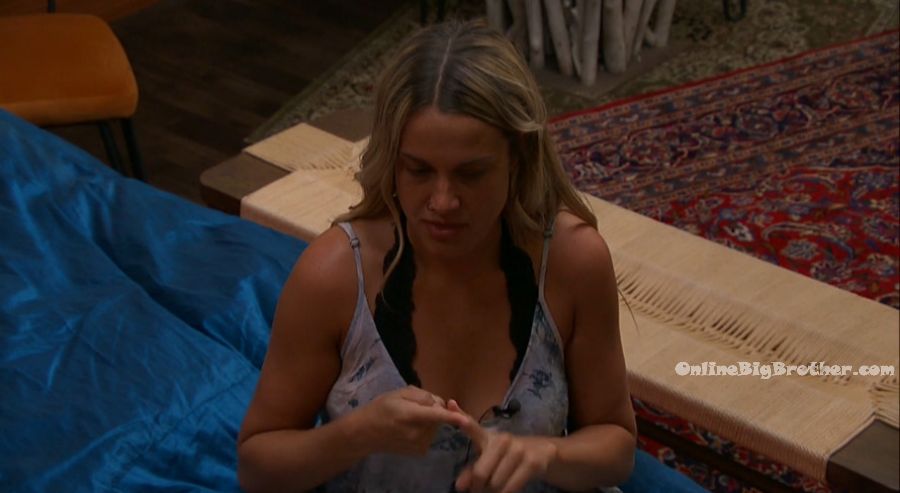 Christie – The only people I say things to are you and Tommy and not even as much Tommy because I know he is in a weird spot. You I vent everything to. Like I don't want to be caught in the middle of two people .. one that I don't trust. Like I would rather just play a straight forward game and win HOH's and go after the people that are coming after me. Like I am not going to play pretend .. like if they won HOH and they felt comfortable with that side of the house still like they would be gunning for us! Like I am not stupid! Especially me! Of course they want to solidify it because they don't have numbers now and they know that they're next. I just hate that, like that's so corny to me. And they know that Kat's probably going to go and they don't have anybody. Sis – yeah I just feel like I am in a weird position. Christie – no you guys do what you need to do. I am obsessed with you, like you can do no wrong in my eyes. Like I like my chances better with Cliff and Nicole and even Nick.. than Michie and Holly. Sis – that's what I told Tommy too because Tommy was getting a little anxious about making this deal with Cliff. And I said to be honest Tommy, I feel like I can get farther with Cliff and Nicole… then Michie and Holly. But for now I feel good with Michie and Holly and I feel good with the other side too. So that's why I feel like I am in a tricky position. Christie – I don't see why Cliff would be hesitant to make a deal with Cliff this week because if he doesn't make a deal with Cliff and we keep him anyway and he has no deal made. Cliff could easily put Tommy up. Like that is so stupid!? Why would be not want to make that deal? Sis -I know. He keeps saying something like if Jackson goes .. where is Holly going to land? But I don't care where Holly lands. Christie – yup but no.. they have something. And that is fine! I don't care. Sis – I don't care either. Do your thing. I just don't trust Holly. She is not trustworthy to us so why am I going to trust her. Sis – I am scared for Tommy if he doesn't take it. Christie – I am not going to protect people that are not going to protect me and people that are not being honest with me. Jackson joins them to listen to music.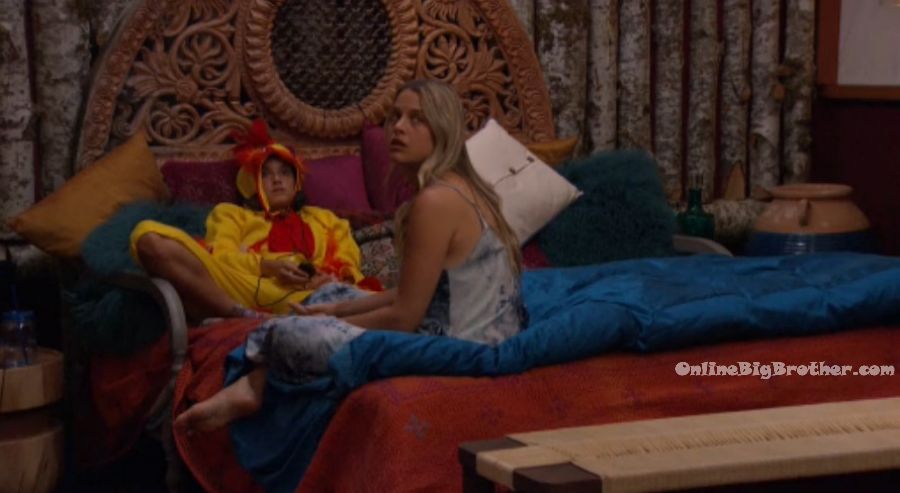 9:13pm Boat room. Christie and Jess.
Christie – bullsh*t just puts me in a bad mood and its nothing specific. Its not a big deal. Jess – did I tell you I love you. Christie – I love you too. Jess – I just feel so confused about everything. Like everyone is telling me the same sh*t and no one knows anything. Christie – it is a big decision and everyone is just waiting to see what everyone is doing but no one wants to say what they're doing. Jess – a lot of people have played on an individual basis .. like outside of the six and the eight but now that the six have broken up.. but now some people are still saying that the six still exists to create fear. Christie – no, it doesn't. So what I am summarizing .. they f**ked up last week. In terms of spreading sh*t that necessarily wasn't true. Staying up there and sucking everyone's a$$ just to make sure he stayed. Which fine, they got that.. but now they have completely pulled away from you guys because they got what they needed. And now they feel like they've isolated themselves from everyone and now they have no one so now they want to come suck our A$$'s again. But to be completely honest, once I don't trust you… that is kind of it for me and I get that you guys realize that you're probably everyone's next targets and that sucks but I am not going to play happy family and lets make up again because I don't trust you (Michie & Holly). I like my odds better with people that I trust. What is hard is maybe a couple people that I do trust still trust them. Jess – yeah and that's what's confusing. Christie – And I don't want any part of it!
Tommy Joins them. Christie – that is why its a confusing week. You know what I mean!? Jess – I am about ready to just scream to the top of my lungs and be like I don't give a f**K, everybody leave!!!! Not really, but really! Tommy – I know. Jess – like Michie kept trying to talk to me and be like where is your head at.. Big Brother switches the feeds. Nicole joins the. Christie – now going forward it is going to make it so much harder that there are no clear cut sides. You have to go with what is going to benefit you personally. Nicole leaves and Holly joins them. Soon after Cliff and Sis join them too.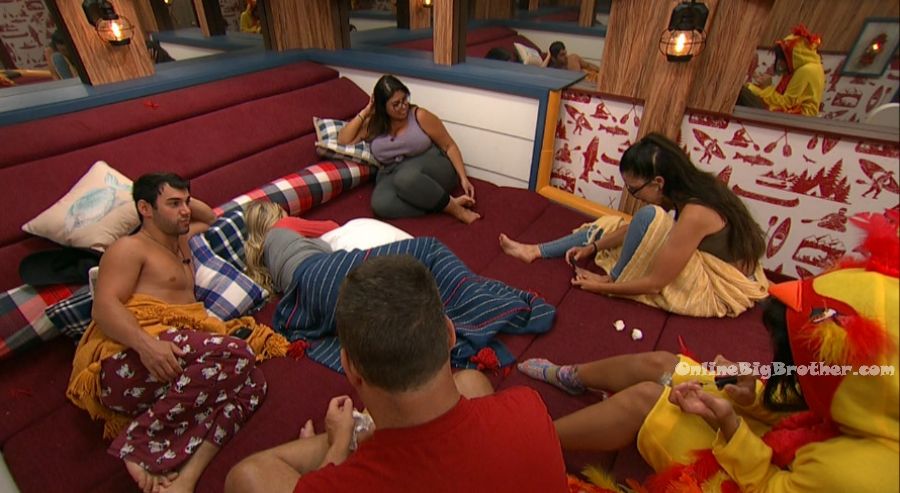 9:55pm -11pm HOH room. Christie and Sis.
Christie – yeah apparently it is a major rumor that we're all still working together. So I am going to distance myself. Sis – why do you say that?! Christie – because Jess just told me. She said I feel so confused and so scared to vote. I don't even know what to do or who to trust. Everyone is saying that there is still a five. I am not .. like I can't .. and like why is Nick with Kat ALL day today!? Sis – isn't that weird?! Christie – I like I am a little weirded out by things. Like I am literally not saying anything! (What?! All you do is talk!) Like if I am in a group with people I am not speaking. Sis – that is what I think is really weird. Christie – I said maybe its just a rumor … like the five of us have not even been in a room together. I said that you and I just hang out and bop around from room to room together. Everyone knows where I stand with Michie and Holly. There is no six, there is no five. I don't know where that is coming from. Sis – I think its Nick. Christie – yeah I think a lot of things are Nick. Its just his personality, Like I don't think he can even help himself. It terrifies me .. I am afraid to say anything in his presence. I don't fully trust Nick. I don't. I just see right through it. Tommy joins them. Christie tells him that Jess still thinks there is a five. Like maybe that is her own worry. I am trying to not get worked up about Nick because whenever I do it is a waste of time. I think she (Jess) is trying to pitch Kat staying. Sis – the more she pitches it, the more I am like no! Christie – because she is trying to probably get us to not trust Cliff and Nick so that we still want to work with them because they have no where to go now. She is also worried that Cliff is certain that he has Nick and Nicole's vote .. and she is probably like what the hell I did all that work last week with Nicole.. why is she working with Cliff and Nick. Tommy – we can't be like this much longer .. next week we are going to have to make a move. Are you going to be gunning for this HOH? Christie – probably not. I would rather Cliff or Nicole win it. Sis – no one is coming after you though. Tommy – I just worry that this could all blow up and people be like its them! Christie – that's why I don't want to be too tight with them. Nicole, Kat, Jess and Nick join them.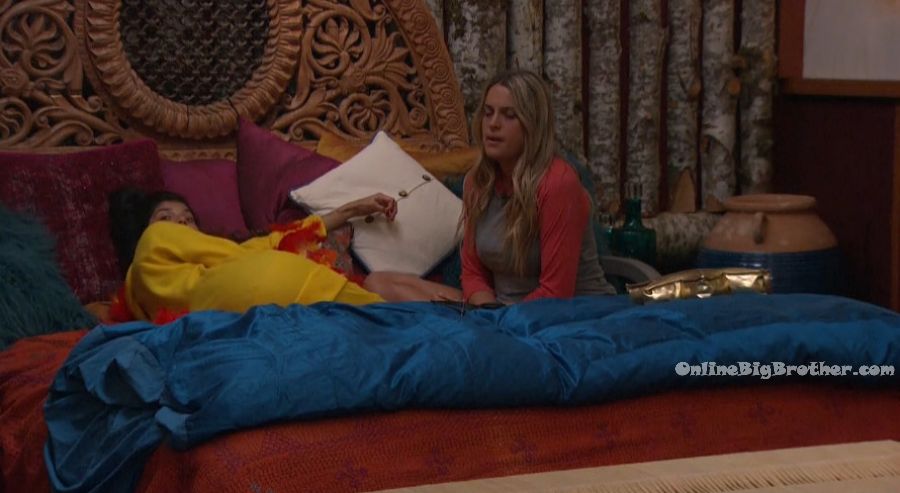 11:10pm – 12:40am HOH room. Tommy and Nick.
Tommy – I think thats good for our game moving forward. I like that six but I can't make the six deal yet. I want to tell him (Cliff) the truth that Kat offered me a better deal. Nick – did she? Tommy – her deal was more simple .. her deal was I won't put you up.. promise. Nick – ever? Tommy – no not ever, just like I won't put you up. Open ended! And I don't want to say never put me up that is a stupid thing to say. Nick – right after the six. Tommy – I don't want to make us a group deal yet and that is what he is asking for. Nick – so why not just make it individual? Tommy – right thats what I have to do. The other thing is Christie and Sis are trying to deal with him too. Like if we vote for you to stay, then we need to know that you're not coming after us. Nick – he can give them a shorter deal. Tommy – he can make a deal separate but we can't make a deal connected with them. Nick – you have to do what is best for your game. Like I am not even gassing you.. that six is probably better for me than anyone. Tommy – I am worried about losing two jury votes if I burn Michie and Holly. Nick – I get that. If I didn't put up Michie and Holly .. just per say… I can't put up Nicole. I am not putting up Cliff. And I am not putting up you, Sis or Christie. So that leaves me Jess, Holly and Michie. In an idea situation I am closer to Michie. I would put up Holly and Jess but I can't do that because if Michie wins the veto and takes Holly down, then I would have to put up one of us. And I love Holly as a person but I have never talked game with her. Tommy – what I hope wins is that someone wins, puts Michie and Holly up and then I am forced to pick between the two of them. And then I don't have to feel guilty for making this new deal. Nick – its protecting your game. I think Nicole, Christie or Cliff winning would be ideal. Tommy – Christie said that she doesn't want to win it. Nick – why? Tommy – she said I don't need to, I am in the middle. And I am like you're not! Nick – she thinks she is good with them (Jackson & Holly) now? Tommy – because they have no one. Nick – so that means I am f**ked. Tommy – no, that's not what they said. I can tell that they have no where to go. Nick – I get it. Tommy – I think Cliff is going to win. Nick – If they both guaranteed they wouldn't put me up I would let them win.. but I would need a handshake deal. Sis joins them. Tommy tells Sis that Christie wants to throw this HOH. I am worried about juggling the Michie/Holly thing. Sis – Christie says that she doesn't want to win because she doesn't think that they will win. Tommy and Nick both say that makes them feel better. Cliff has been my number 1 target since day 1 .. why wouldn't I put him up. Like I am going to keep my target safe till six only to have him win HOH then and take me out.. then I get sixth?!
12:40am – 1:30am Tommy is explaining to the house guests that he thinks we can't categorize what water is. Water is temperature and pressure. If the water was room temperature, there was no movement would you know if your hand was in water? Over time would it be possible to get confused with the ring around your wrist .. is your hand in water or the rest of your body.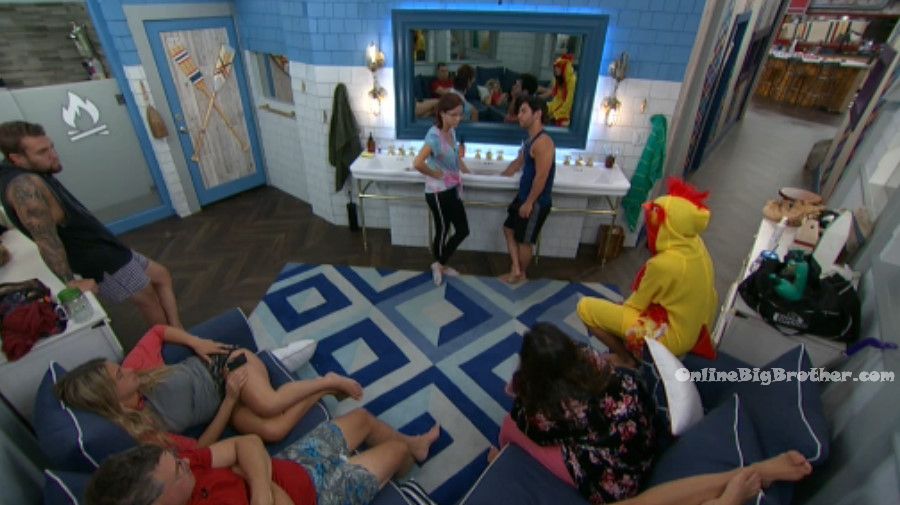 1:50am – 2am Christie climbs into bed and realizes there's rice in her bed. That was f**king funny honestly. I thought it was bugs in my bed or that Nick had his crusty slipper in my bed.
Keep the site Kraken consider donating. thanks!
https://www.onlinebigbrother.com/onlinebigbrother-members/