Head of Household Winner – Tommy
Have note are: No Have nots this week, Jack, Tommy, and Jackson were given punishments as part of the veto.
Nominations are: Cliff, Kat & Christie
Power of Veto Players are – Christie, Cliff, Kat, Tommy, Nick, Michie
Power of Veto holder – Tommy
Power of Veto Ceremony – Tommy used the Power Of Veto on Christie the season continues to rule
Grab your live feeds —-> BB21 Live Feeds Subscription Link
Rank your houseguests —-> Big Brother 21 Ranking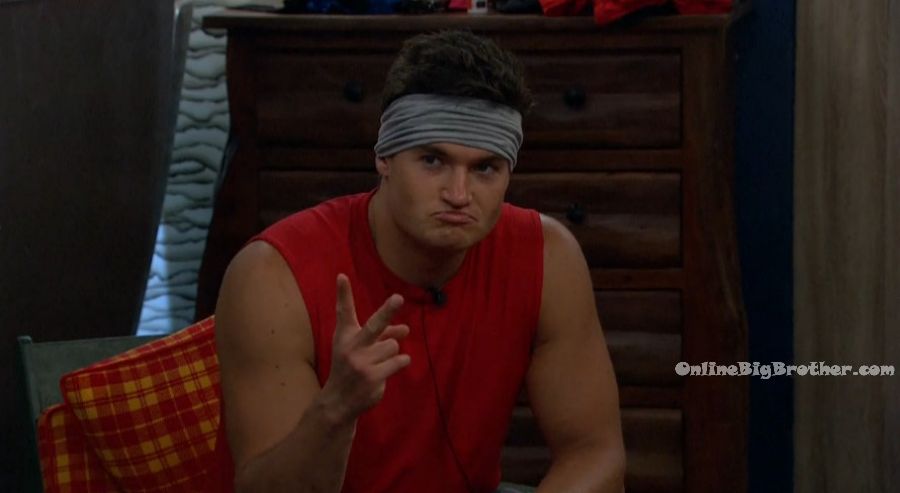 7:30pm (Actually 8pm – the feeds are a half our behind) Bedroom. Holly and Jackson. Holly – I couldn't tell when we were talking to Sis and she said that she was going to start playing her own game. I don't know if she really feels like that or if she just wants us to think that. Jackson – we don't think that they're making a new five or. Like if we what to take shots at Christie .. we can but she doesn't have to. And because I think they're forming something else. Honestly, Nick and Nicole might have just replaced me and you. Jackson – I think they did. Holly – do you think they like for sure did? Jackson nods. Holly – if they like for sure did then we are f**ked. Jackson – if they did, then we have to win HOH. Holly – Duh! Jackson – Because if not then I'll see you in jury.. I'm going out the door. Holly – I am going to straight up ask Tommy if they have. Kat joins them. Holly – you have to campaign for yourself. Kat – his (Cliff's) campaign is going to be good. How am I supposed to compete with that? Jackson – don't just throw in the towel. Kat – I'm not. Jackson – you're not alone in this house. We care about you. Kat – I don't feel comfortable throwing you under the bus. Jackson – no, throw me under the bus if that means you're staying. I don't care. Just don't go home! Holly – I think you could get Sis's vote. Make deals with people but deals that you can keep. Holly – I had to describe the summer solstice to her today. She had no idea what that was. Jackson – okay mean girls. Back to game play. Holly – its true. Jackson – I know, I'm just saying y'all don't want to be known as mean b***hes. I am trying to look out for you. You just vented to me. Holly – she said that she is going to vote independently this vote.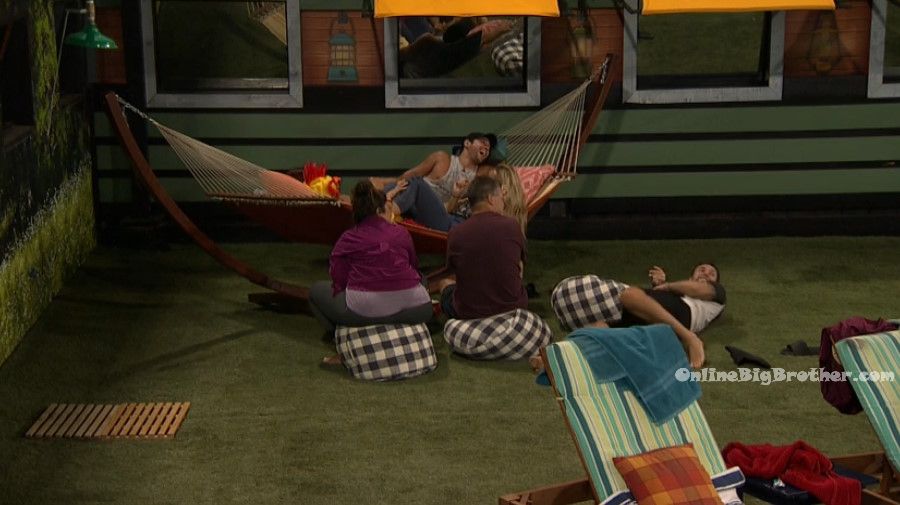 8:25pm Boat room. Holly and Jackson.
Holly – I think we need to relay to people that we're keeping more to ourselves because of game reason. Jackson – which is fine if people think that you and I are all that we have. Its great. We will go after alliances as 3 or 4 people and not two. At this point in the game if you're in a showmance the best thing to do is to be able to profile and make it look like I'm in an alliance of plus 1 because why would they come after us if its just you and me. What numbers do we have? Unless there is an alliance of 7.. Holly – and we're just idiots. And we could be idiots. I am wondering if Kat should try and work out a deal with me, her and Sis. And then eventually .. Sis says that she doesn't trust Christie but she does still want to be apart of the cool kids club. I think she feels lost without Jack. Even though she wants to get Christie out. Even though she says she hates Christie. Even though all of these things and she doesn't trust her. I am afraid she will go back so quickly and never betray her because she does still want to be apart of the cool kids club. And she is lost without Jack and doesn't know where to go. I do worry that she isn't going to take a stand against anything. Jackson – if I win HOH I am putting Christie on the block. I am taking that shot. Holly – I think Nick and Nicole with Christie as my backdoor target. I want to get out Nick sooner than later because he is smart ..before we start getting to these highly mental comps where he is just going to plow through everybody but I would tell Nicole that she is the pawn. And if Nick takes himself off Christie would go up. I want to tell her that Nick told me she would put me up but I feel that would get back to him. I mean Sis also told me that.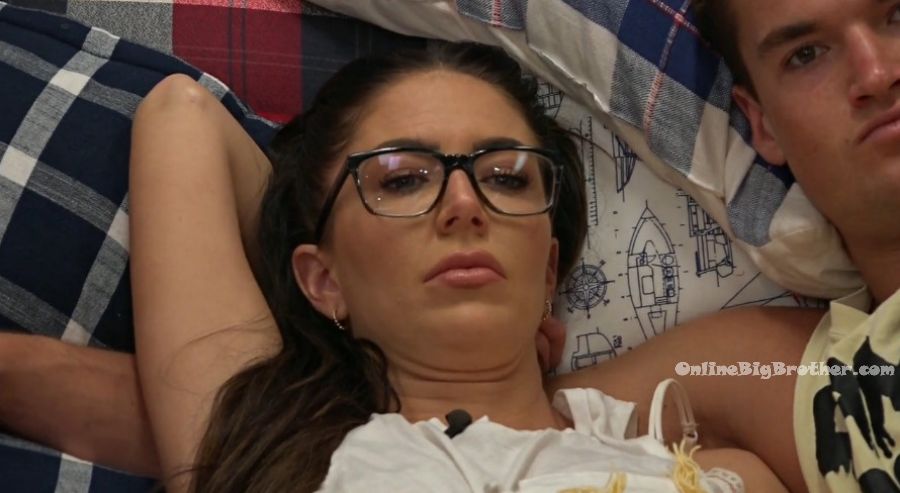 8:30pm Kat – I don't think I've ever looked this ugly in my life. Christie – I'd still hit it!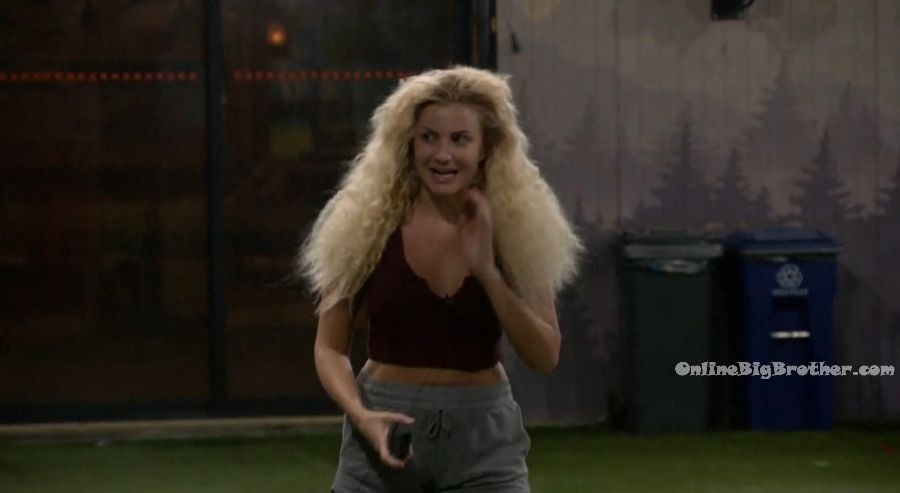 9:20pm Nicole makes crepes.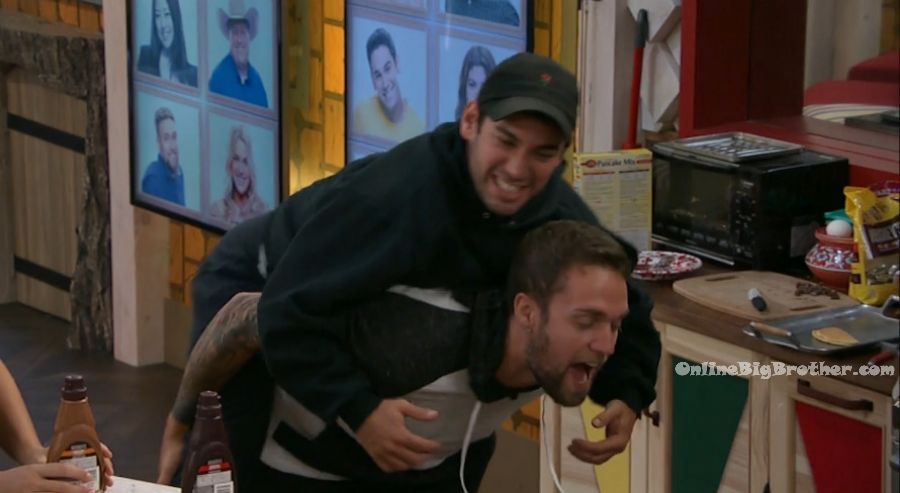 10pm HOH room. Sis scares Tommy. They both fall down laughing at how scared he was.
Chicken scares TomTom #BB21 @bigbspoilers pic.twitter.com/M0jKPwVBtb

— Dawg (@DawgsBigBrother) August 13, 2019
Christie and Cliff. Cliff – I think it will be fantastic. Christie – and we'll talk details and it feels good. Cliff – and you know I am good for it. I do swears. Christie – and so am I. Cliff – and we trust each other, that's what this is all about. Christie – alright, we will chat later.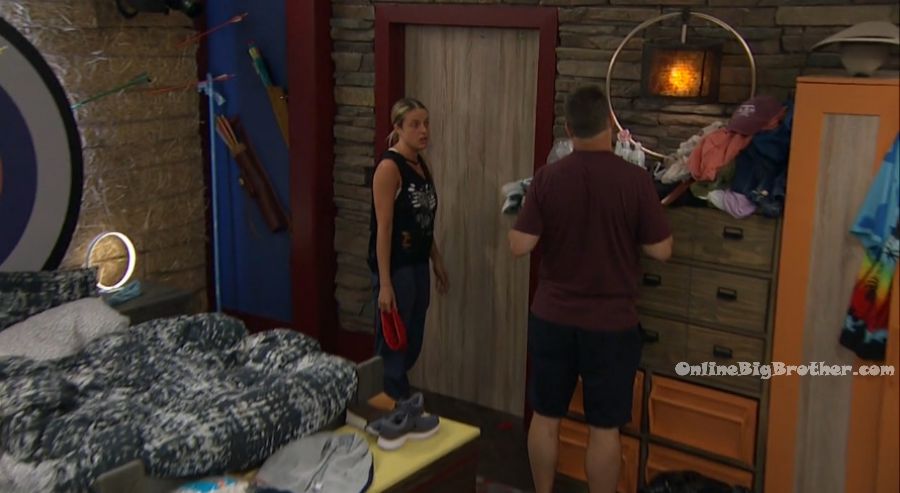 10:23pm HOH room. Nick, Sis and Tommy.
Nick – I really didn't think I was going to make it and now I am in a spot where I could make it and it feels good. I can really see all three of us making it to the end. Sis – I really feel like we are going to get far. Nick – like honestly me, you, Cliff, Nicole, or Christie win.. Did Cliff talk to you? Tommy – yeah. Nick – did he shake on it? Tommy – no I didn't want to didn't want to shake on it yet. I wanted to wait till.. Nick – and I was like listen this is not an alliance.. I know that Tommy doesn't like that word. I was saying that we're all good until 6. And he said I will take that in a heartbeat. And Christie did want to ask him are you going to be gunning for this (HOH). We want him gunning for this .. and not like oh.. Tommy – everyone has to. They think the next HOH will be an elimination HOH. Nick – I would do Michie and Holly first. Sis – I don't know if I could do both of them. Tommy leaves. Sis – if I am being honest, I feel like I don't need to win anything until the six. Nick – for sure. Sis – but if it was down to me and someone that I thought would put up me or you then I would win it. Nick – I feel like I need to win.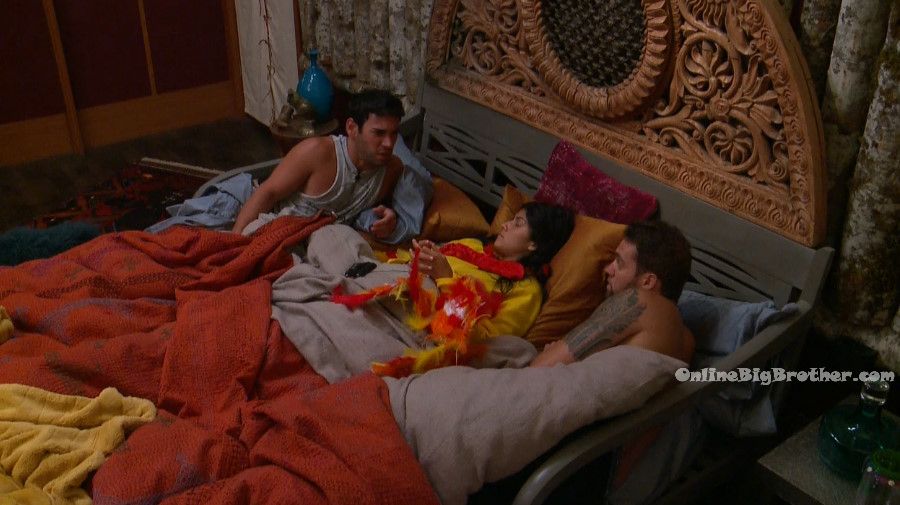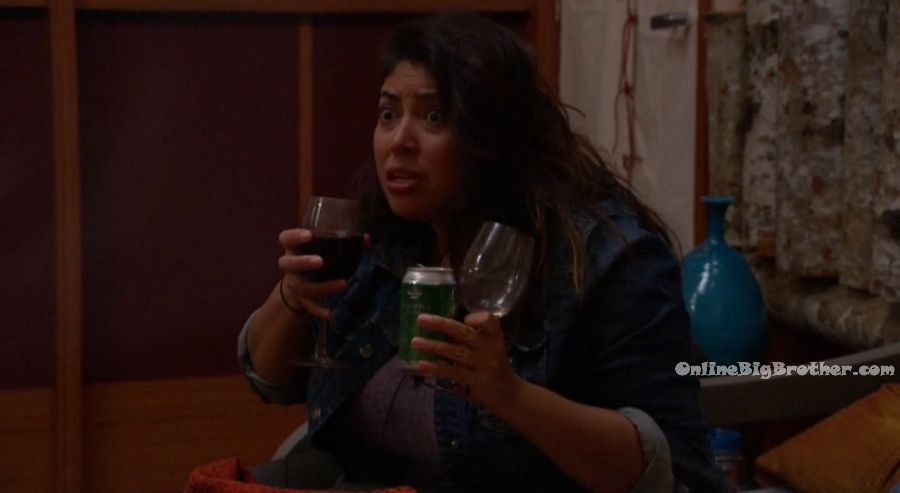 10:50pm – 12:25am Big Brother gives them alcohol. They all head up to the HOH room to drink. They all chat about random things. They sit in a circle and play the never have I ever game. Nick – never have I ever had a threes*me. Tommy – I was blacked out and then woke up to getting he@d from two guys. Cliff – thanks for the alcohol POP (tv). Kat – never have I ever done butt stuff. Cliff puts down a finger. Christie notices that Cliff changes his fingers to two in the p!nk one in the st!n*. They all laugh. Cliff – I can't wait to get home Sharon! I hope my kids aren't watching. Jess says he husband is too big to fit.

Tommy "Okay Nick! (Bella's watching)" #BB21 @bigbspoilers pic.twitter.com/9LpCI9JL00

— Dawg (@DawgsBigBrother) August 13, 2019
Nick demonstrates how he kisses on Tommy #BB21 @bigbspoilers pic.twitter.com/OjHDkBXGeR

— Dawg (@DawgsBigBrother) August 13, 2019
12:40am HOH room. Nick – Bella never let me go down on her. Nick goes into detail about how he goes down on a girl. Christie disagrees with all of his technique. Christie – you've already wasted too much time! Nick – its quick bro! Christie says that its not that she thinks he can't do it well .. she can just do it better.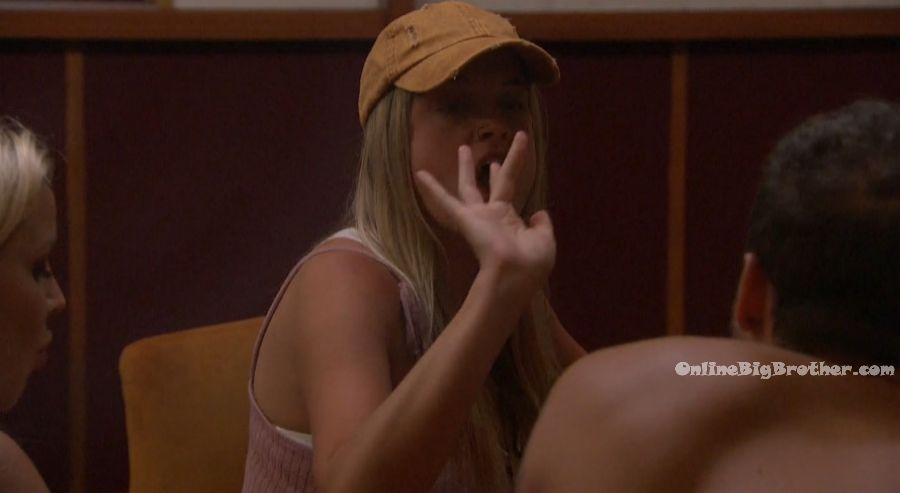 1:30am HOH room. Nick, Sis and Tommy.
Nick – I will trust you guys to three. If I get put up at 4 or 5 and you guys get me out I would respect it.. and I would still vote for you guys if you got to the end. Sis I would love to see us three. If we got six, I would love for us to get to three. Tommy – I feel like we are all just well rounded players. Sis – I honestly wouldn't mind losing to you. Tommy – same. Nick – I wouldn't either. If I got to the end I would be like just vote for who played the best game. If you don't pick me .. I don't want it to be season 19.. don't pick me because you don't like the person I am sitting next to. Vote for the integrity of the game. We're all fans of the game. Vote on who played the best game. If you truly think I played the best game, vote for me. If not, then I don't want your vote.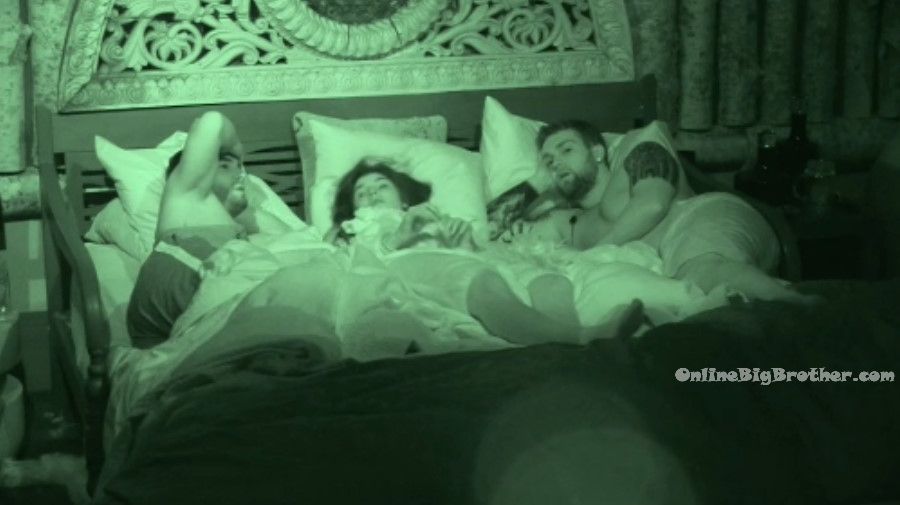 Share it YO!!
Tweet