Head of Household Winner – Tyler
Have nots – Bay, Janelle, Cody and Enzo
Nominations – Janelle & Kaysar
Power of Veto Players are -Janelle, Tyler, Kaysar, Cody, Bayleigh, Memphis
POV Host: Christmas
Power of Veto holder – Cody
Power of Veto Ceremony – Cody Doesn't use the power of veto Nominations stay the same.
Safety Suite – Enzo wins Christmas is his plus one.
Live feeds —-> Grab your Live feeds here. Try it free.
Rank the houseguests —-> Big Brother 22 Ranking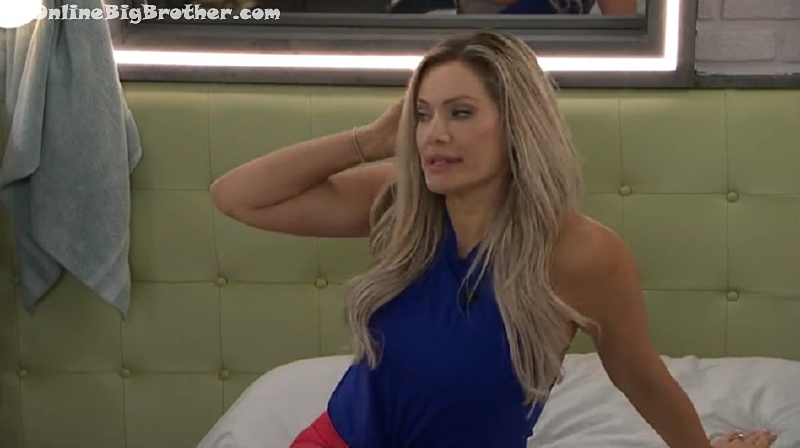 1:54 pm Janelle and Ian
Janelle saying that last night the votes weren't going her way but they'll see what happened. Adds that the good news is she'll get to see her family
Feeds cut..
Ian says the HOH will be Athletic, "What they're building out there is not a quiz"
Janelle – endurance comp seems so early
Ian – same as ours round four.
Janelle says as she's gotten older she's not been as good at remembering all the details. When she was on Big Brother 6 she was a "Superfan that got to play". She new everything.
They talk about season 6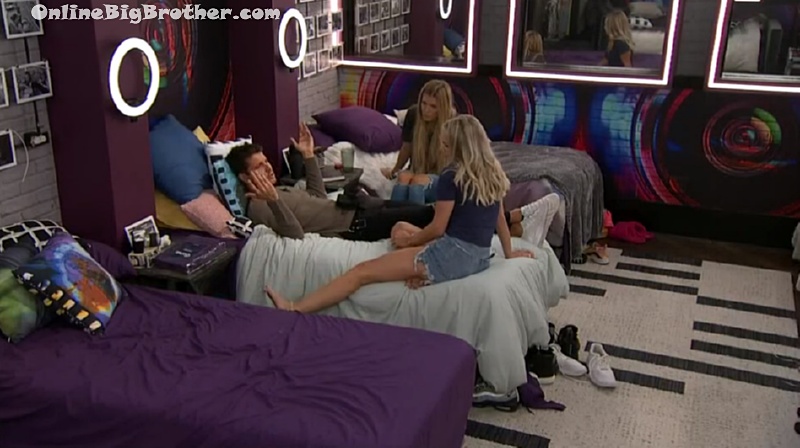 2:00 pm Nicole, Cody and Dani
Spinning their wheels about David.
Cody gives them a debrief about the drama.
Cody – hew as like Da and Bayleigh cornered him
Dani – Cornered him
Cody – he tried to crush me
Nicole – no he panicked he doesn't know what he's doing..
Nicole – Christmas was trying to help David with the game.. I was thinking this is bad
Dani – she was
Cody says that Christmas went to Kevin and told him that she had pull in the house.
Nicole -that's so stupid
Dani – you can't do that
They talk about Nicole's first season and how Christine thought Nicole put a knife in her back..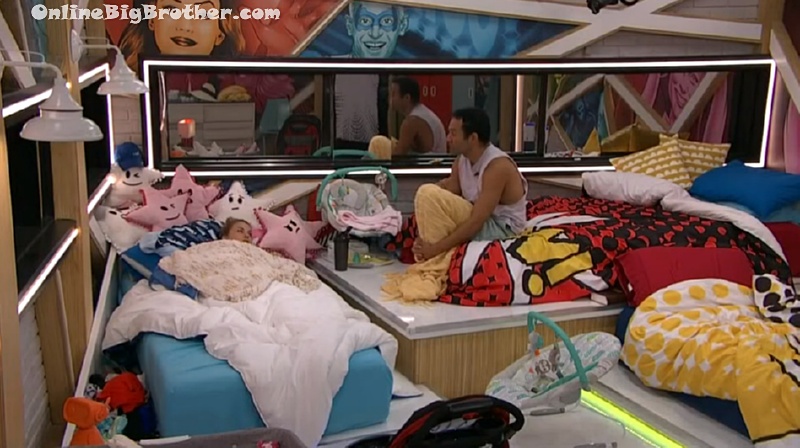 2:10 pm Christmas and Kevin
Christmas says last week Memphis' target is Kevin. Brings up that they get a new power next week (She's talking like it's a certainty)
Christmas – they might tell us Thursday night about the twist. Ibsvisoluy it's not going to be safety which means that HOH is more important.
Christmas – can you imagine if J/K didn't go on the block this week? imagine how wild the house would be (Yeah the feeds would be watchable)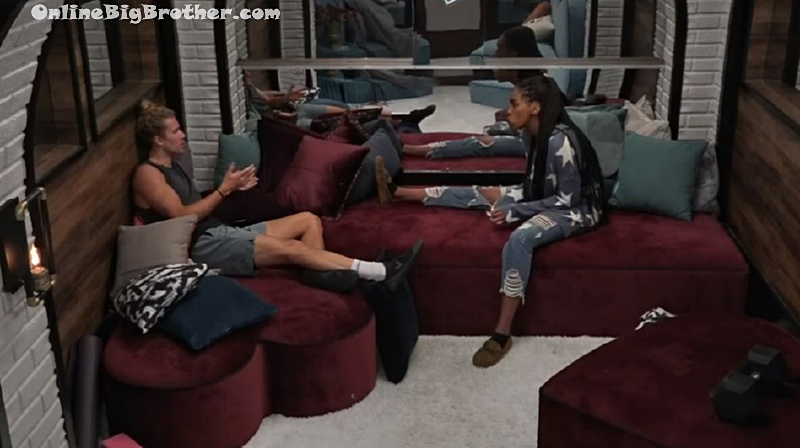 2:18 pm Bayleigh and Tyler
Going over the David Drama. They ensure they're solid with the 6.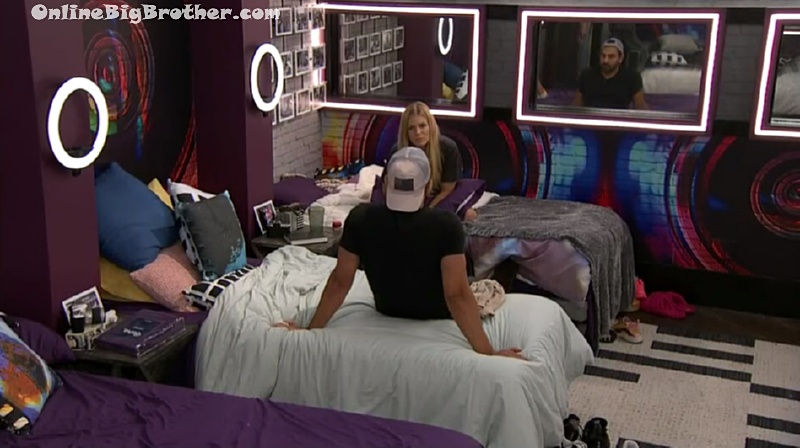 2:30 pm Dani and Kaysar.
Kaysar is campaigning
Dani tells him that she's not coming after him at all if he stays she wants him to know that.
Kaysar – If I stay I need to regroup and reconnect with my friends and see where my standing is in this hose. I feel for me it would be week 1
Dani says it would have been better if Kaysar and Janelle didn't start the game paired up.
Kaysar wonders why there are no other pairs in the house.
Dani thinks there was supposed to be but it didn't work out that way in teh casting.
Kaysar – do you have a sense where your vote at
Dani – same as I told Janelle I'm up in the air. You know realistically I'd love to have you here. I Actually enjoy you as a person. take the game out.
Kaysar – thank you the feeling is mutual.
Dani – I feel right now that the house is leaning to keeping you. Janelle is trying really hard but as it stands now the house is keeping you
Kaysar – I never expected to get a call again I wanted to make it matter.. make it count. I want to connect make friends. Hopefully, I can change that.
Dani – you integrate well, everyone likes you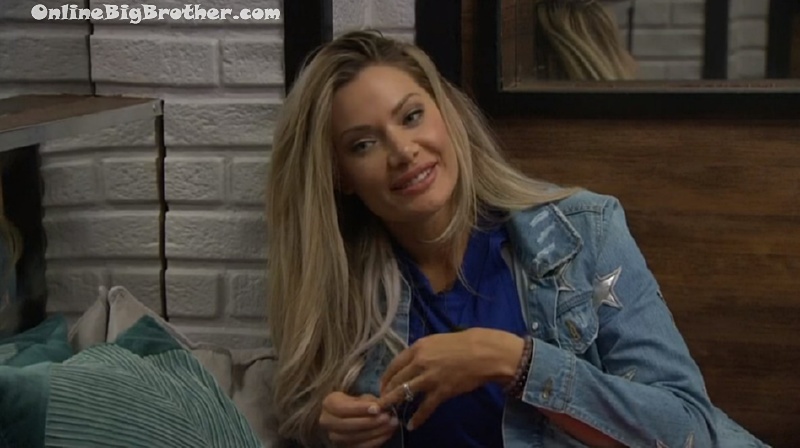 2:30 pm Janelle and Tyler
Janelle – I'll make a deal with you right now. If I'm HOH you're not going to see the block 100%.
T – ok, until final 3
he laughs
Janelle – I want to work with you if you truly are along if you're not working with the whole house.
Janelle – there's a lot of people in this house. we can work out a thing where I don't touch you
T – alright, who are you touching
Janelle – I want the floaters out I want to play Allstars like I did last time and be my OG self
Tyler – how's that
Janelle – I targeted the floaters then when we get to final 8 it's a real game
T – ways it 4V4
Janelle – no I was by myself I play best by myself .. I just do my own thing
Janelle – Floaters disgust me I don't like their gameplay if this is an Allstars season I would love for some of the bigger heavy hitters great for the show great for the fans.
Janelle – the fans love when I target floaters
Janelle – tat will be my position if I stay in this house. I want to go out leaving the best players in this game I don't want it to be a blow out where the people that didn't make it very far or are here for a different reason that isn't to win Big Brother. yOu know what I mean
Janelle – I F***INg hate floaters that's it
T – so do I
Janelle – they're the worst they're a parasite in this house and they feed off people like me and you
T – they got me this time
Janelle – they got me two
Janelle says she would need Dani and Enzo to help move the house because nobody is saying anything nobody wants to voice up because they don't want to be a target.
Tyler says if Dani doesn't to it he'll do it.
Janelle – same thing about my power
Tyler- you're power?
Janelle – if I win a power .. whatever.. these floaters are all worried about me winning a power .. you should be nervous it's not going to work to your benefit.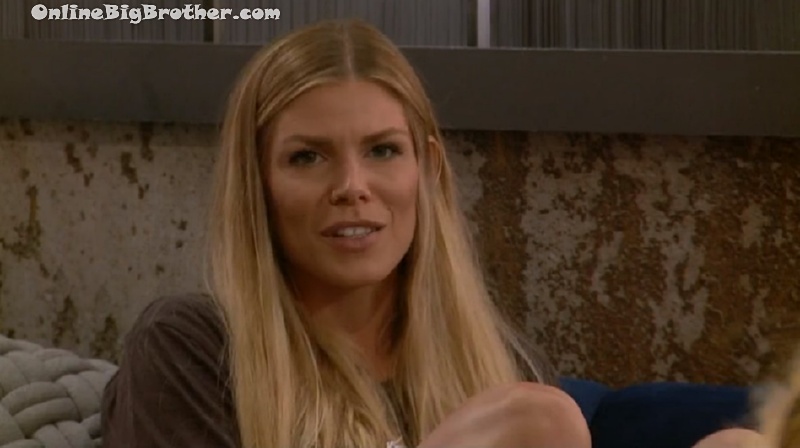 2:46 pm Dani and Tyler
Dani says Cody told her everything that happened with David, Tyler, and Da'vonne
Dani – fricken David
Dani says Da'Vonne is really pissed at David now.
Dani – you told me that Da'Vonne was going to flip
Tyler- yeah and you're the one that told me.
Dani says she didn't think Tyler was going to say anything to David.
Dani – she's mad at him and he's mopping around.
Dani – she said you all want Janelle to leave now Nicole wants Janelle to leave why wouldn't keep her.
Dani adds that Da'Vonne went on about a guys alliance. "Da'Vonne was 100% trying to flip the vote"
Dani – friggin Janelle keeps coming to me over and over and over
Tyler – David might be one f the worst players I've ever seen.. at this..
Feeds keep cutting in and out all day it's been a nightmare.
Tyler says the fact that Da'Vonne seems fine about everything makes him nervous.
Tyler brings up telling Janelle if Dani isn't going to lead the charge he'll lead the charge to save her
T – we definitely want her to go right?
Dani – yell yeah
Dani complains about how exhausting it is Janelle keeps coming to her, 'Over and over and over"
Tyler says this isn't the best move for him she's a bigger target than him
Dani – she's coming after, you, Cody, Nicole and Me
Tyler says Bayleigh might be able to help him with Da'Vonne.
Dani – I don't know what those two are doing
Tyler doesn't either
Dani says Da'Vonne is listening too much and all Bayleigh cares about is getting the guys out.
Tyler – we should have stuck with you me and Cody
Dani – that's where our hearts are
Tyle r- I didn't make any alliances..
Dani mentions how they keep getting pulled into alliances.
They talk about how Da'Vonne isn't tight with David but she's made him think she's his number 1 "For sure"
Tyler says that David is getting doubts about Da'Vonne because she came to talk to him first.
Dani says Kasyar didn't say much on his campaign "he just wants to sit back and be quiet and try to make friends"
Dani says that J/K hung out in the key room for three weeks she goes on about how Kaysar doesn't see this.
Tyler says Kaysar wants to target you.
Dani – they tell you and Cody everything they are saying because they think you are the same.
They talk about how paranoid David is getting
Tyler – that's the rookie paranoia you go through especially when you're on the block week 2.
Tyle r- do we now have to get out Da'Vonne or do we get out David to weaken Da'Vonne
Dani – Da'Vonne is more dangerous. People listen to her too. Her whole game is talking and deceiving
T – that is what she's doing to me and Cody.. she went straight to me
Dani says they have already caught Da in a lie and she's already not trusting them.
Tyler says they should let Enzo strike first.
Dani – do you think he would
Dani – Nicole told me she wants Bayleigh gone. But I think she would be scared to put her up with a Kaysar
Tyler- Nicole isn't going to win HOH
Dani – she's telling me she's trying
Tyler – I don't think she wants to now that Janelle's gone
Dani – she says Ian really wants to win
Tyler – I wonder what Ian will do
Dani – she said Ian would put up Kasyar and Bayleigh
Tyler – I think Christmas will do it
Dani says they should get Kaysar out. "Da'Vonne should go before Jury"
Dani – if we're already in jury and one of us throw her up there we're losing a vote there's no question
Tyler – Christmas needs to win this HOH
Dani says if they get rid of Da'Vonne it breaks the tie between David and Bayleihg. Adds that Da'Vonne has ties with floaters.
They agree Ian or Christmas for HOH. They don't want Memphis to win
Tyler – if Da'Vonne and Bayleigh and we save Bayeligh then we're slick 5
Dani says she'll put up Kaysar and David.
Tyler says she should win throw it to Christmas
Dani wants Christmas to get a bigger target on her back "We'll need that in a few weeks"
Dani – the main person that can't win is Kaysar right.. you think he would work with you and Cody?
Tyle r- I told him if he didn't put me up we'll talk
Dani – it'll be you, Cody, me or Nicole who else would he put up
Tyler – I don't know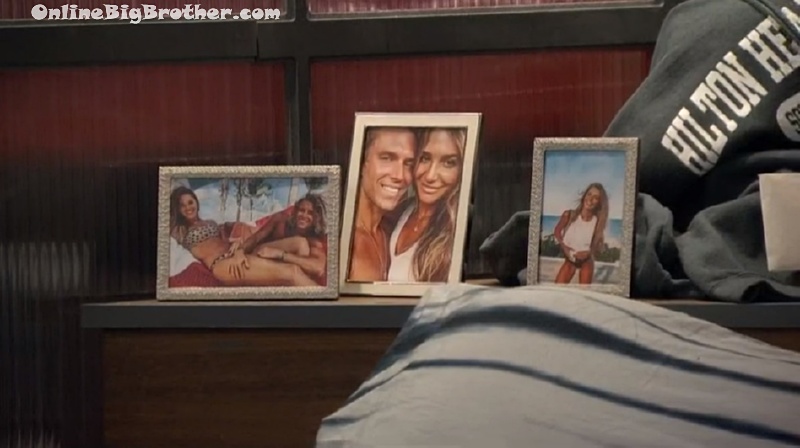 3:29 pm Dani leaves..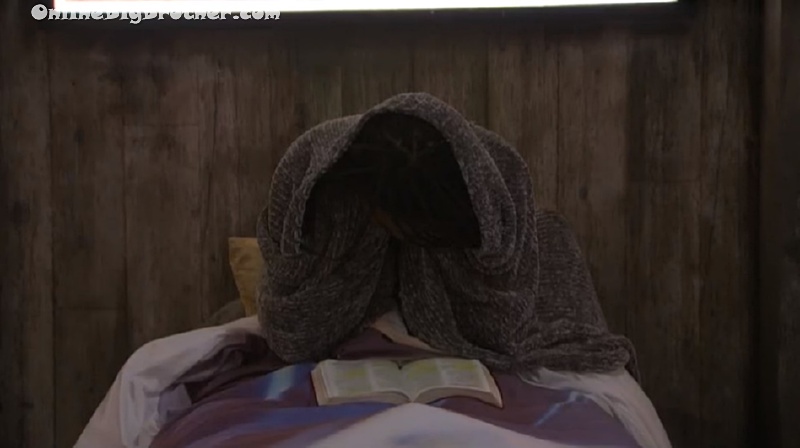 4:13 pm Bayleigh hiding from this ridiculous house.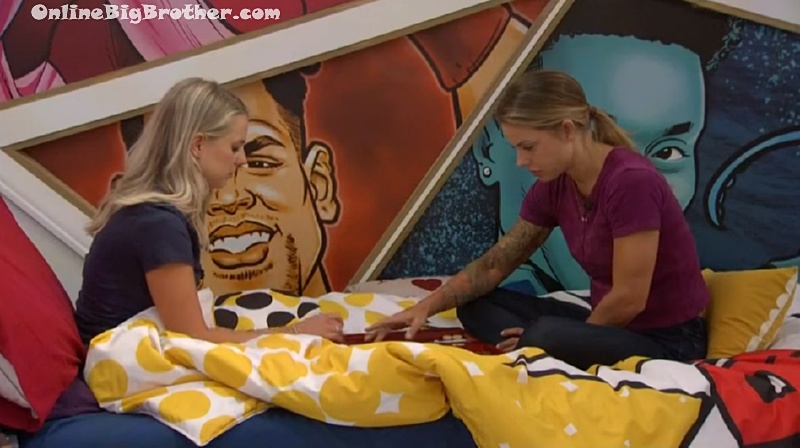 4:21 pm Nicole and Christmas
Nicole says she'll throw the Hoh to her.
Christmas says she'll start negotiating then Nicole will know to drop.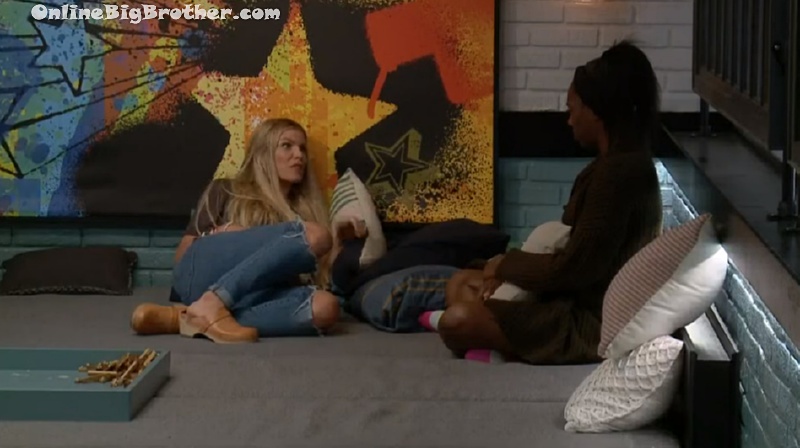 4:36 pm Dani and Da'Vonne
talking about David..
Dani – I don't get it
Da'Vonne – I don't get it at all.
Dani asks if David was trying to get Cody and Tyler against her.
Da'Vonne doesn't know. Da says she almost blew up her game for David last week trying to keep him.
Dani says he thought David liked Cody.
Da'Vonne says out of all the season she's been in this is the first one she "feels secure".
Da'Vonne says she realizes now that David is not her friend.
Da says she's gotten close with Nicole now at first she was saying if Nicole was on this season she would take Nicole out for what she did to Da. But now she's not feeling like that once they got a chance to talk. 'She's a good girl"
Dani says that Ncioel LOVE Da "She's a got a big heart"
Dani thought they would have more pairs of people that didn't get along.
Da'Vonne thought Paul was going to be on this season "that was going to be the one for me"
Dani says Kasyar is a really nice guy he's just bad at the game. "He's an easy target for everybody. If he gets past next week he'll hide for awhile"
Dani complaining about going to Jury how she'll lose her mind.
Da'Vonne says in the jury house they get Phone calls
Dani says that is what people are saying but she hasn't heard anything official yet
Da – yeah we get phone calls this year.
Feeds cut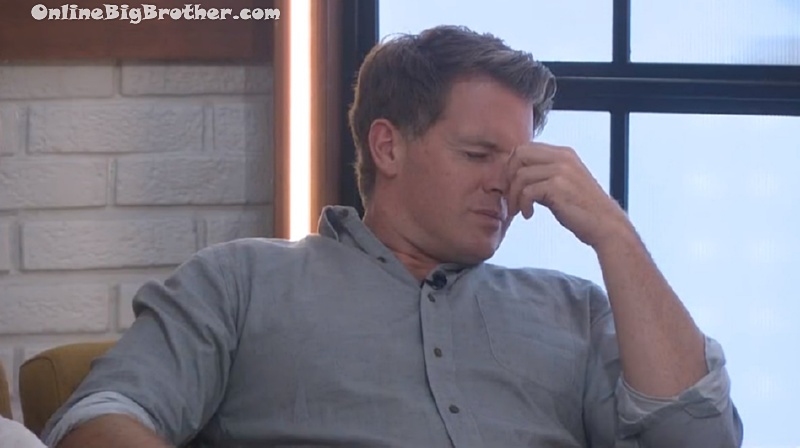 5:08 pm Memphis and Janelle
Janelle – do you think this game is as boring as when you played it
M – yes
Janelle – it's so boring Memphis
Memphis says he was telling himself "don't go back into the house"
Janelle – why did you come back
Memphis – I have no idea.
Janelle – are you happy you're back
Memphis – no
Janelle – what do you think of this young horrible players.,
Memphis – the reason I came back is what's going on in the outside world.. I have to keep reminding myself that it's not normal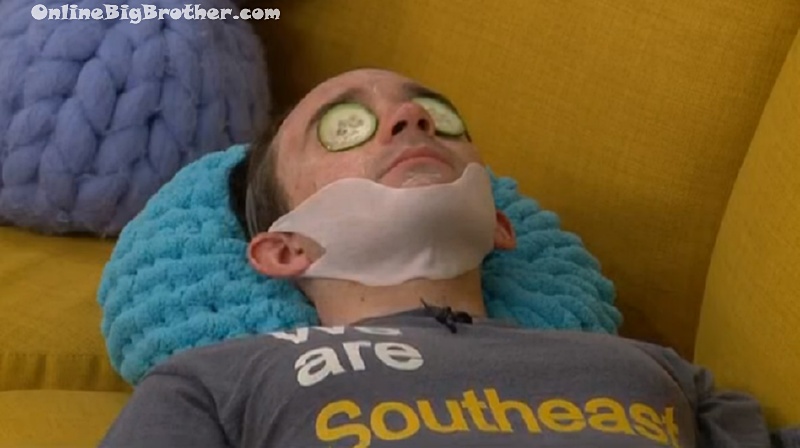 5:20 pm Ian getting some spa treatment.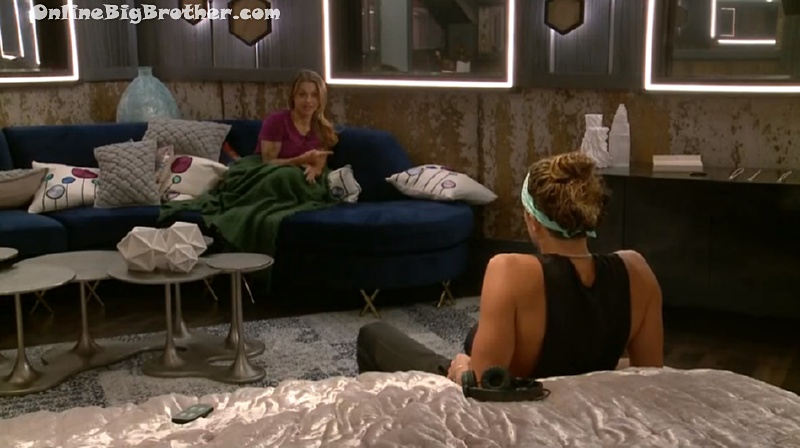 5:30 pm Christmas and Tyler
They talk about David never watching the show before. Tyler brings up that David said he never saw his season and watched only 20 episodes of Tyler's season
Christmas says that David thinks he's the swing vote this week
Tyler – why does he think he's the swing vote
Christmas – He's a f***Ing idiot man
Christmas – Janelle is telling him she has a couple of people and he would be the swing vote.. to boost his ego.
Christmas – Janelle thinks she has Bayleigh, Memphis, I told her I was voting for Kaysar, She thinks she has Da'Vonne, Kevin and Maybe Dani. She's been working on Dani really hard.
Christmas says that Bayleigh doesn't talk any game with her and Da'Vonne only does when she needs to.
Tyler floats the idea about them putting Da or Bayleigh up against Kaysar.
Christmas says if Kevin wins HOH he'll do what she asks.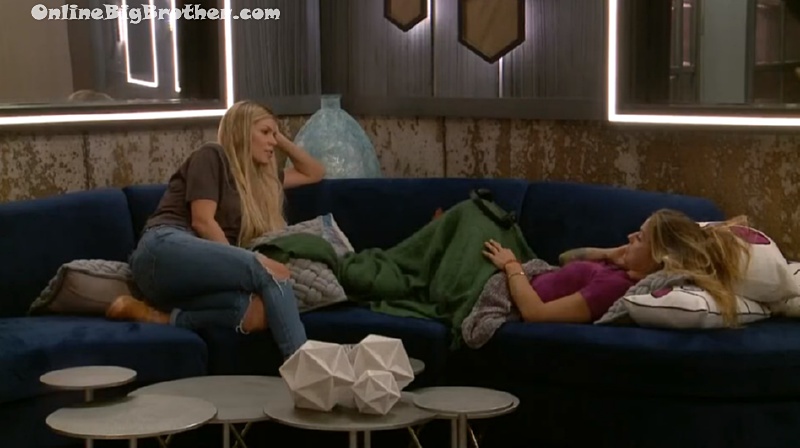 5:50 pm Dani and Sh1tmas
Dani says she doesn't want Kaysar or Memphis getting the HOH
Christmas says if it's endurance the people with the best chance to win will be Nicole, Ian, Dani, Shtiz, "and even Kevin"
Dani asks who she thinks Da'Vonne will put up
Christmas – she wouldn't put up you or Nicole. Ummm. . . I have a weird suspicion she might put me up. She doesn't talk any game to me.
The talk about Da'Vonen only talks game with Bayleigh, Janelle, and Kevin.
Dani – I feel like she really doesn't trust me.
Dani says Bayleigh told her she's picking Dani as a have-not "so shes on the top of my list"
Christmas – you didn't ask her
Dani – hell no
Dani – she talked to Enzo and Enzo goes he doesn't want to pick her because it'll make her upset. so Bayleigh said I'll pick her then.
Christmas – she's starting to get sassy
Dani says Bayleigh offered to be a have-not because she knew Jaenlel was going to be there.
Christmas out of the two I thin Da is better to stay
Dani – Bayleigh is the better competitor but Da'Vonne is less trustworthy and she gets the people.. she has the Kevin, Bayleigh she pulls people in she's a talker. Ther'es advantages to both.
Christmas – you can read when Da is not feeling you
Dani – Bayleigh's the same too
Dani brings up Tyler saying when Bayeligh doesn't et her way she starts going off on people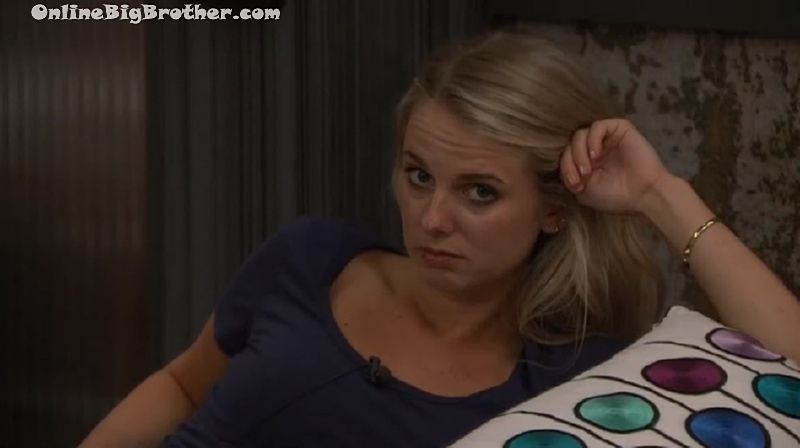 Christmas says she's going to get extensions when she gets out.
Dani – I've never had extensions
Christmas – week one I was like Janelle you're hair it's always in place ..
her babies start crying
Dani – just finish the story
Christmas says that she asked Janelle and she lied said her hair is just naturally thick
Christmas – why lie about that
Dani – it's so weird.
Nicole – that is why she drys her hair up here.
6:15 pm Janelle and Tyler
Talking about getting the call to come back Janelle said she told them maybe,. Tyler says he told them no at first.
Feeds cut.. when we're back
Tyler says he didn't want to play the game without Angela
Janelle – I'm surprised they didn't ask you both
Tyler – they said it would be unfair..
Feeds cut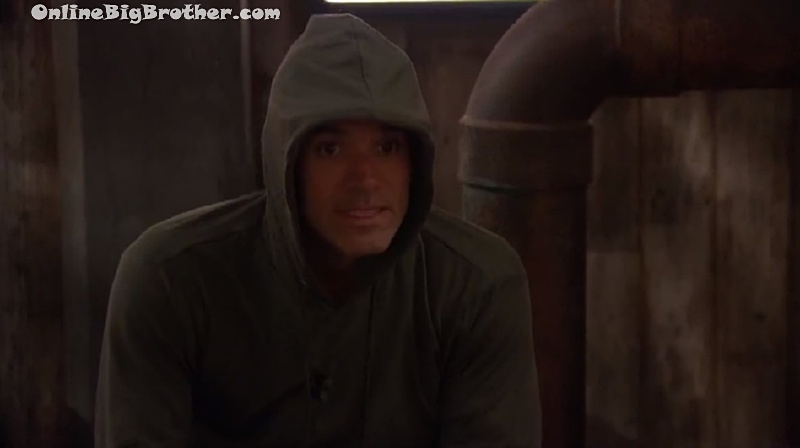 6:20 pm Cody and Enzo
Cody finally filling Enzo in on all the David stuff.
Enzo – WOW yo
Enzo says once Janelle goes Day and Bay have no one they'll have to stick with them.
Enzo – yo Bayleigh and Day are going to snap
Enzo – Dani told Da'Vonne that I wanted to make her a have not
Cody says the person that told them about Da'Vonne flipping the vote was Dani.
Enzo – I'm telling you I'm backdooring Dani for real yo
Enzo – Nicole and Dani want Bay and Day out.. that's good for us.
they talk about Dani playing "So hard"
Enzo says he doesn't trust Dani.
Enzo brings up again Dani telling Da'conne that he was going to make her a have not. Enzo explains he never said that it was Dani that said it to him.
Enzo – you gotta watch Dani.. She says sh1t then she goes around saying you said it.
Cody says Da'vonne does that
Enzo _ I like bayleigh the most of all of them.
Enzo – Dani knows too much about our game she's got to go yo. Now it's too early within two or three weeks I'm backdooring her I'm getting her the f** out
Enzo about Dani "She's everywhere.. everywhere"
Enzo goes on about Dani being a rick.
Enzo – you're my guy to the end if we can pull in Tyler..
Enzo – you're my only alliance everyone else I'm using.
Enzo about Memphis – there's something wrong with that guy yo.. he's going to snap he's a ticking timebomb
Enzo says the problem is some of these girls. They need their girls to take out some of the other girls and the other girls to take out their games.
Cody warns that the girls will want guys to go.
Cody says he's putting up Kasyar and David.
Enzo warns Tyler is a smart player if they get near the end he'll make a move against them.
Cody says Nicole told him she can not go after Da'Vonne because of what happened to their season. Cody is getting tired of these girls.
Enzo – that's why it's stupid for us to take out Janelle.

Enzo explains that Dani and Nicole want Janelle gone because they know Janelle is coming after them.
Enzo says she is going to fill Bay with so much shit about Nicole F and Dani
Enzo about Bayleigh "that's my girl yo, she'll be my pitbull in this she's going after them"
Enzo – I went like this Dani doesn't want to be a have-not she said not to pick her so I'm like stuck
Enzo – she (Bay) was like I'll f**ing pick her f** what she's going to do I'll f**ing fight her
Enzo – I was like YEAH BAY that's it.. Dani's going to be a have not.. that's why I love her for real
6:46 pm Tyler joins them they compare David and Dani notes.
Cody says David is untrustworthy, Da'Vionne is wildly paranoid and Dani is saying shit and popping back.
Cody says the problem is Da'Vonne with her paranoia and Dani with her talking says bayleigh isn't a problem. Enzo and Tyler agree.