Head of Household Winner – Tyler
Have nots – Bay, Janelle, Cody and Enzo
Nominations – Janelle & Kaysar
Power of Veto Players are -Janelle, Tyler, Kaysar, Cody, Bayleigh, Memphis
POV Host: Christmas
Power of Veto holder – Cody
Power of Veto Ceremony – Cody Doesn't use the power of veto Nominations stay the same.
Safety Suite – Enzo wins Christmas is his plus one.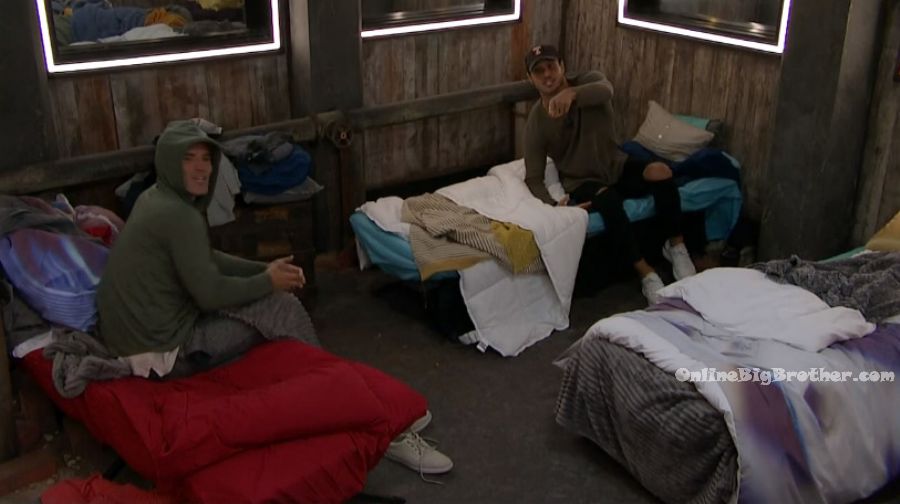 7pm Havenot room. Enzo, Tyler and Cody.
They talk about the havenot beds and how its not that bad. Enzo – sleeping in here at night is dope yo! Cody – sleeping in here isn't the issue. They hear production in the walls. Cody – that's the issue! Enzo – you got Production coming in and out. I swear I am going to catch one of them one day! I am going to grab one of them by the leg. I'll bring him right in. Watch ..I'll be waiting! I'm a set a trap!! I'll set a trap and grab one of them YO! Cody goes out side the door and tries to see if he can hear Tyler and Enzo talking. Tyler – yo f**k Cody! Enzo – Dani is spreading all types of mad sh*t! Tyler – I wish we had Pauli. Cody comes back in and says – I think I heard F**k, Sh*t and Cody. Tyler – I wish we had Pauli instead! Tyler heads out to see if he can hear. They agree you can't really hear anything with the furnace vent blowing above the door.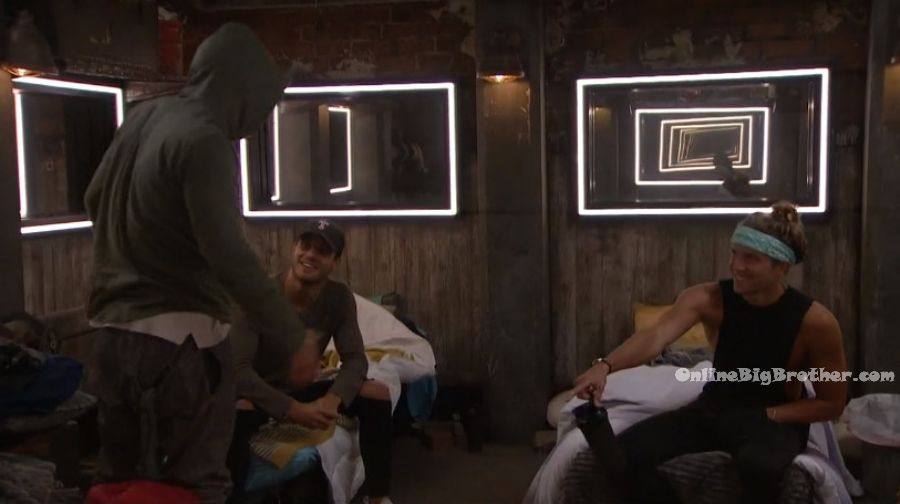 7:50pm HOH room. Cody, Dani, Enzo.
Enzo – I already talked to Janelle yesterday.. I don't want to talk to her again. Dani – oh she will talk to you again. Be prepared. Cody – I feel like every week no matter who is on the block ..the group of people that are there are going to decide with nothing that you say to them. Dani – but that's not a typical Big Brother season. That's not how it normally goes. Like I personally have flipped votes the night before. Cody – when were on the block.. Dani – yeah. Cody – well that's you. Dani – I think the newer Big Brother is not like that. It is very group mentality. It didn't used to be like that. In general everyone just goes with the flow. Dani – He (David) looks so depressed today. Cody – because he f**ked up! And the thing is I would normally just go up to him but .. you just dogged me. Dani – you (David) don't know how to play this game.. just stop! Let me get you the rule book one more time! Cody – the thing that pissed me off the most is that Tyler went out on a limb for him. Dani – to help him yeah. Cody – and then he dogged Tyler and I got dragged into it. But my basses are kind of covered because if I sit down with David and Day .. I'll be like who brought up Day's name first?! I'd be like did I bring it up or did you bring it up? Dani – you're like waiting for this conversation. Enzo – just say less YO! Take a nap! Cody – you have to be like Dani .. I'm the best player here just shut up.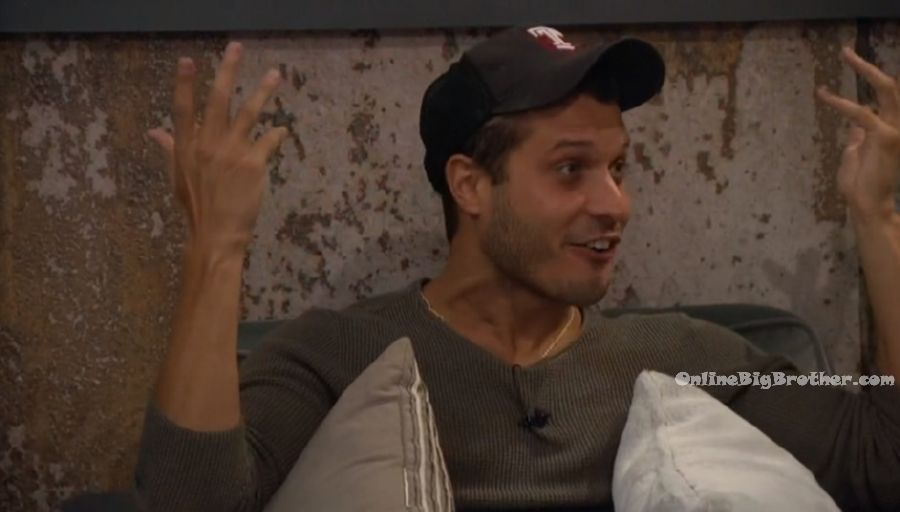 8:30pm HOH room. Memphis, Cody and Tyler.
Cody – I feel like I should go find David.. Memphis – let him sweat a little bit. He doesn't have anyone in the house .. let him run and then pull him back in again. Tyler – I can't believe he did that. Cody – I a pissed. Memphis – its crazy to me that he would do that. Cody – I didn't expect him to go to Day and hit it hard. Tyler – And then come straight to me and admit that he did it. F**k .. at least throw me under the bus and keep me there! Don't tell me you did it. Cody – I hate that he made it sound like I pulled him into a room. Memphis – you're not on the block .. what the hell are you doing!?
9:25pm Bedroom Janelle and Cody.
Janelle – people are like if you have the votes .. we will vote for you to stay. They're waiting for someone to say a name. Cody – oh great! Janelle – do you have any questions or concern. Dani told me as long as I have the votes her vote. Janelle – its better for your game if I stay. I want to work with you and Cody.
Lounge room. Enzo and Janelle.
Janelle – have you heard anything>? Enzo – I am hearing that people are shook of you. Have you talked to people too or are they still feeding you the same bull sh*t. Janelle – I talked to Cody and he said well I don't want to be the first person.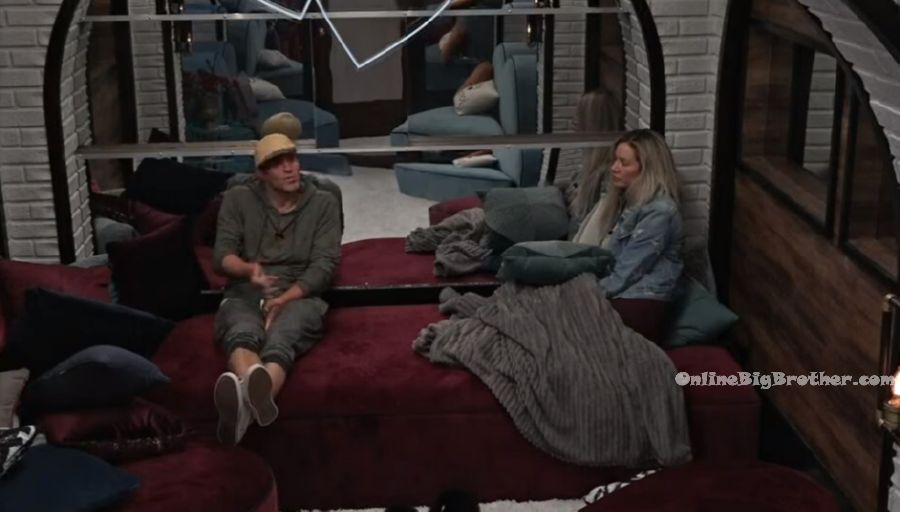 10:55pm Lounge room. Kaysar and Enzo.
Enzo – you're not a target of mine bro! I like you. Kaysar – you have no idea how much I like you. Enzo – I like you and Janelle. You've never heard me say anything about you. And I've never heard you say anything about me. You're in my good graces. Kaysar – and you never would hear anything. Enzo – I like both of you guys. I am torn. And in this house right now if I say what I'm doing …people will use it against me. Kaysar – I respect that. Enzo – there are a lot of wild cards in here. I am not falling for any traps! I know you and me have that connection .. we're always breaking each others balls.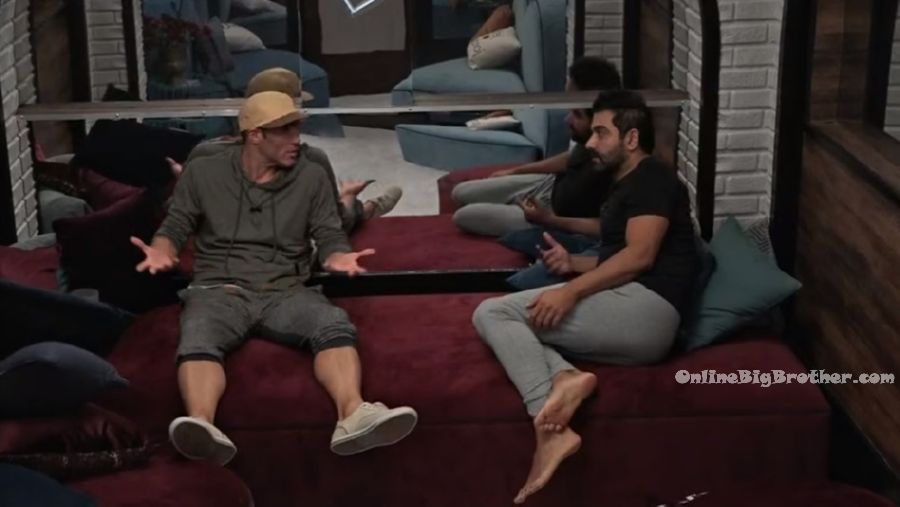 11:17pm Bathroom. Nicole and Dani.
Dani – this season is way more boring than your other season right? Nicole – yeah. Dani – ok, just checking .. Same! I'm just bored!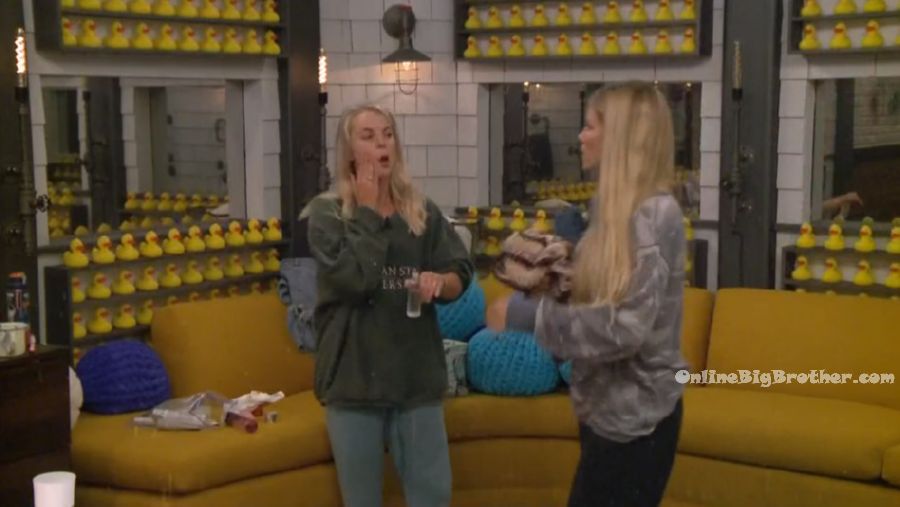 1:12am – 1:45am Lounge room. Day and Bay.
Day – I think I figured out a plan. Bay – what? Day – I'm still working on it. If I win HOH ..to make them have to choose a side. Bay – explain? Day – I'm still working out the details. Bay – Janelle told Kaysar if he wins HOH he has to put up NicoleF and Dani and he was like are you sure I shouldn't put up Dave? And she was like KAYSAR!!! Day – Up put them up and if one of them should take themselves off the block.. then put up.. Bay – MMmmmmHHHmmmm… yup because she is the link and she didn't play safety suite this week. And so if that is the case that is brilliant. My original plan was put up Ian and Nicole. If I put Nicole up next to a Kevin or a Dave .. they're going. Nicole next to anybody other than someone on our side .. Nicole is staying. I don't think Kaysar is going to win anything. The only person that can pull it off is Janelle. Bay and Day go and get Enzo and Cody. Bay – the vote .. still a little bit torn. You know how I feel because we need a little bit of stirring up. And I am not really sure if Kaysar is going to be the one to do it. But we need your opinions. Enzo – I don't want to flip because if we flip ..our alliance is done. Cody – we don't have the numbers to do that anyways. Enzo – I like Janelle because she will go after the other girls. Bay – I know Janelle has a problem with Dave and Nicole. Enzo – part of me does want to keep Janelle.. but then it will f**k up our alliance. Cody – NicoleF feels like if people keep Janelle she is going to take it personal. Bay – but why do we care what Nicole thinks.. she isn't in our alliance. Cody – but we don't want to alarm people. Enxo – if one of us gets on the block we have five votes. We just can't have both of us on the block. Cody – you have to stop running around saying I like CODY!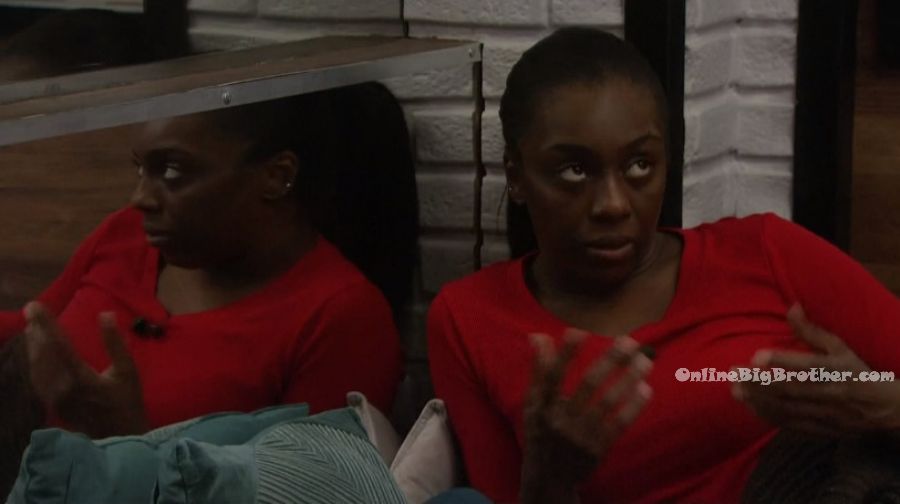 2am – 2:45am Havenot room. Enzo and Cody.
Cody – Did you see that .. Day and Bay just want to have convos so that they feel like they're in the loop. Did you like that cover up with Nicole. If we did that NicoleF would blow a f**king fit! Enzo – its not the time right now. Cody – and NicoleF knows about the slick six. Cody – but I said the right thing .. Day wanted to hear that I would go after David.. because she is still paranoid about the guy alliance. And you know what I will f**king put him up so that she doesn't get paranoid. I have no problem doing that. Enzo – yo we're going to get caught in their lies yo! Enzo – Day and Bay have nothing but us. I think if Christmas wins HOH she is coming after them. Cody – Christmas comes to me and is like .. can I talk to you.. She asked what was going on with David. So I told her .. Then she says I am pretty good with Kaysar .. I might just put up Day and Bay. I was like holy sh*t! Enzo – That's our pit bull yo! Cody – I was like holy sh*t it is going down! If that does happen and one of them comes down .. they're going to expect us to save them. What do we do? Enzo – we get the whole house to vote her out and we vote to keep her. Cody – That's how next week could go! That would be insane! Enzo – I just don't want Ian to win HOH. I don't know where his head is at. Cody – why.. Dani, NicoleF, Ian and I have have something going, we're fine! We're going to have to pick and choose our battles. When we have to draw a line in the sand. Enzo and Cody talk about shows and other random things.