Head of Household Winner – Cody
Have nots – Ian, Kevin, Memphis, NicoleA
Nominations -?
Power of Veto Players are -?
Power of Veto holder -?
Power of Veto Ceremony -?
Safety Suite – Kaysar & Janelle
Live feeds —-> Grab your Live feeds here. Try it free.
Rank the houseguests —-> Big Brother 22 Ranking
The Nominations will be today. Keesha and Kevin are going up. The power of Veto should be Tomorrow. Alliances are forming all over the place.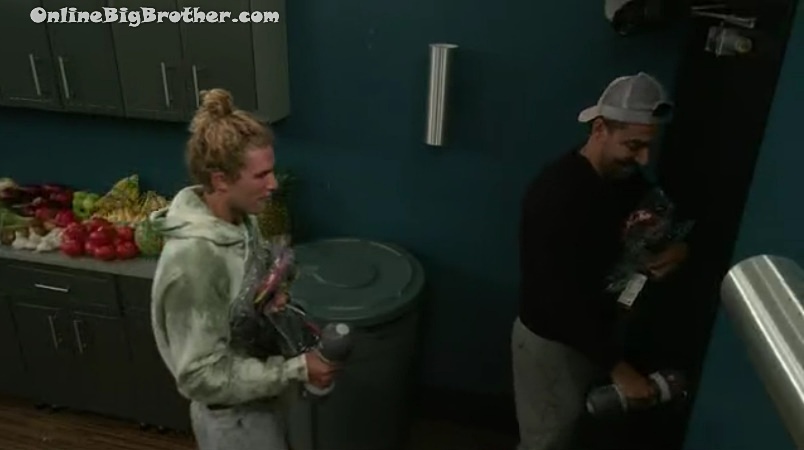 9:15 am Houseguests have woken up for the day
Kaysar telling Tyler he feels like he's camping "freezing my a$$ off" (in the Have nots)
They found a bunch of workout equipment in the storage room.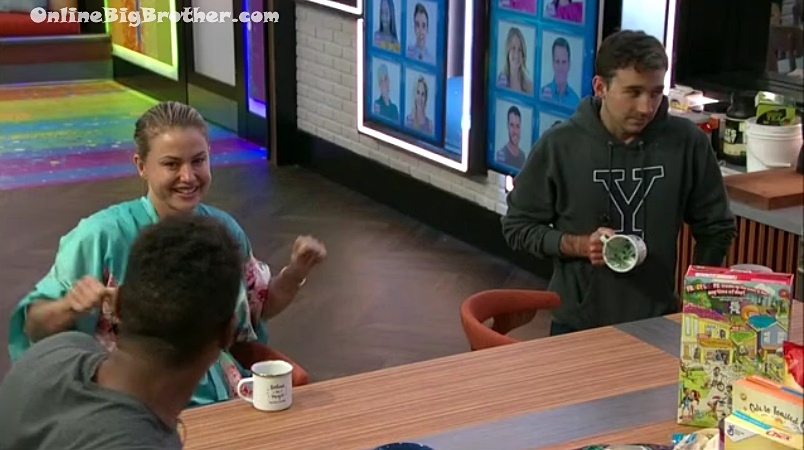 9:35 am Around the Kitchen chit chat. Talking about their houses they got to stay in while in quarantine before the show. Christmas says she had a pool.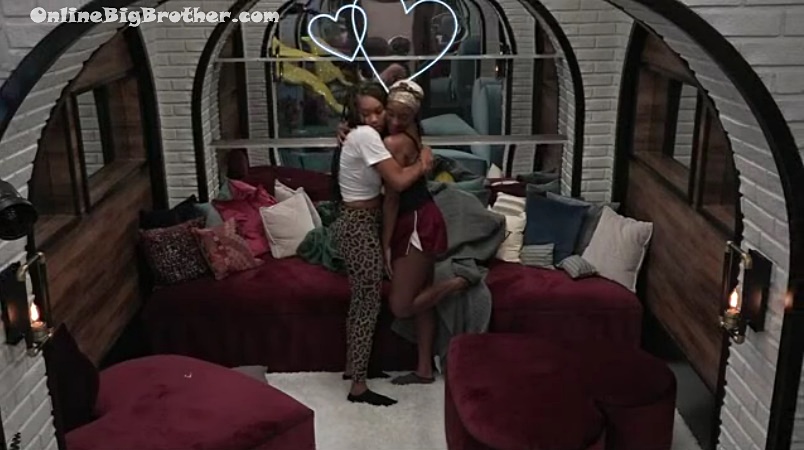 9:40 am Bayleigh and Da'Vonne
Da saying it's the two of them "Obviously"
Da – it's me and you in this game we shouldn't be like this should be quick. I feel like you should work your side I'll work my side
Bay – me and you are on the same team
Da says her only goal is to get them both in final 2
Bay – the only reason I want to come back is for this purpose so your victory is my victory I really mean that.
Bay says she hasn't seen a big group form yet. "I see the OG's kinda mingle. I did feel comfortable with Cody"
Da – Me too, I felt very comfortable talking to him
Bay – the movement it's happening
Bay – I don't know what we are going to do about David. He's oni his own wavelength
Da – he won't talk to me he's very distant
Bay says she'll bring David in and they'll talk
Bay – I'm excited
Da – you should be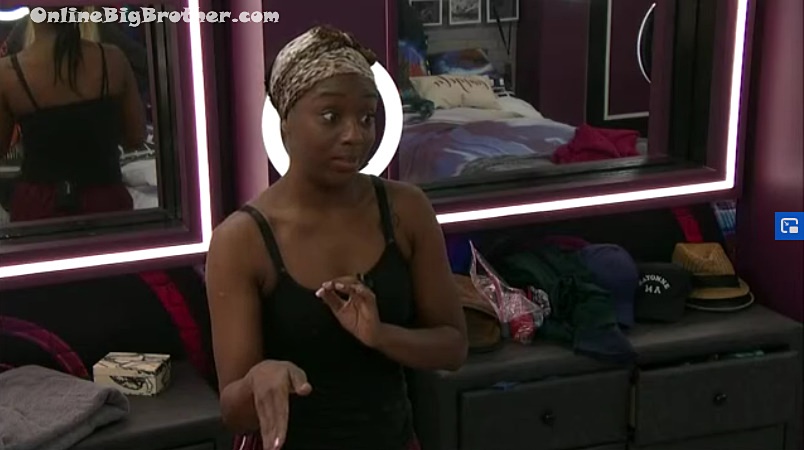 9:51 pm Dani and Da
Da says she doesn't feel that Cody was going after Janelle and Kaysar she thinks Janelle and Kaysar wasted their power
Dani says it was weird for her.
Da says she talks to Kayar he's really nice "He's a good guy like a really good guy"
Dani "Kaysar's great"
Dani – what do you think of NicoleA
Da – she's cool
Dani – I feel like she doesn't like me
Da – she's trying to find her space
Dani says NicoleA feels a lot younger than she really is.
Da says people treated NicoleA tough on her season.
Da – her and Ian are about the same. They came in here to decompress from their season
Dani – Ian, why. I thought Ian had a really good time
Da – he wasn't happy
Dani – NicoleF said her least favorite season was the one she won. She's like I'm embarrassed to watch that (Laying in bed with Cory.. wonder why)
Da doesn't think Enzo is going up "I'm watching for this Man's alliance. Maybe Enzo, maybe Cody they will pull in Tyler and Tyler is a BEAST in this game. I would want to work with Tyler as a shield I wouldn't want to work with him directly because he's sneaky"
Dani says she didn't like Tyler on his season.
Da – go win comps keep me safe and I will tell you the bare minimum
Da says she feels good about Dani, Christmas, and Bayleigh "I also feel good about Keesha. she really out of place she's looking for somebody so throw her a life vest"
Dan says Keesha, NicoleA, and Janelle she's talked to least with
Da thought for sure MEECH was going to be cast (Wish she was)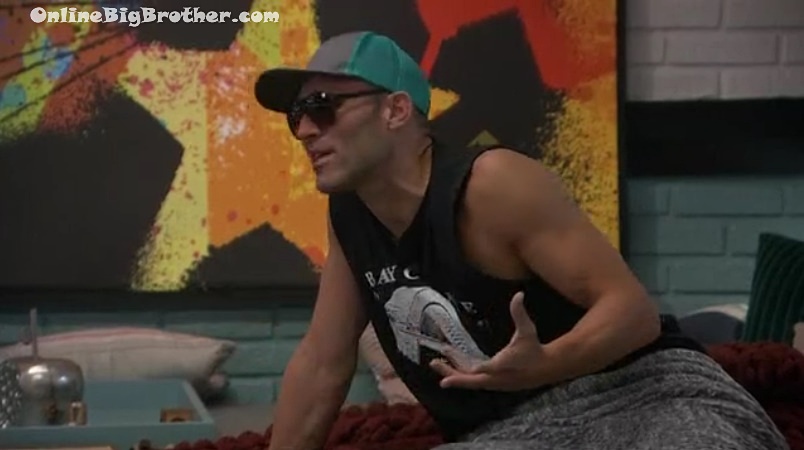 10:00 am Cody and Enzo
Cody says he would rather Keesha goes over Kevin.
Cody says he likes Tyler.
Enzo says he likes Tyler "But watch out"
Enzo – Kaysar, and Janelle are together
Cody – if Janelle starts playing in COmps and gets into the groove and starts winning she's not going to f***iung lose
Enzo says he doesn't trust Kaysar at all "I don't trust him at all He looks like count Dracula"
Cody – he talks a lot he wants a big group an alliance. I want to be honest I think he's trying to send an olive branch to me
Enzo – that is why he was scared.
Enzo and Cody both say they like Memphis.
Enzo – dave is a good guy he's a good kid
Cody agrees says "he's a number"
Cody – you, me, Dani and Nicole F
Enzo – right now Tyler thinks he's with you and me let him think that
Cody – I like Kevin a lot it's not like I don't like Keesha
Enzo – she's not doing nothing she's acting like the old mom in the house
Enzo says Ian likes him a lot they met in New York.
Cody says he's putting Keesha and Kevin up and they'll see where it goes.
Cody – I know you and I are straight up
Enzo – I'm telling you with you it's to the end
Cody – I really think you and I could do a similar thing you did in your season and just be like.. Hayden and you were just liked by everybody.
Cody – on mine I was playing with Derrick he was BRILLIANT like that's not going to be what I'm doing
Enzo – keep it light
Cody – yes
Enzo – cause no drama with nobody that's the way I play calm cool MEOW MEOW never show weakness never show fear. You think I give a f** you put me on the block. HELL no I'm going to win the POV and if not that's it
Cody says if he makes it to the end he's not going to be talking about the moves he made week 1 he won this first HOH was to make relationships.
Cody says people like Janelle and Christmas are going to fight in competitions and also clash with people. They'll want one of those on their side.
Enzo says talking to Christmas doesn't feel genuine (surprise) He calls her a wild card.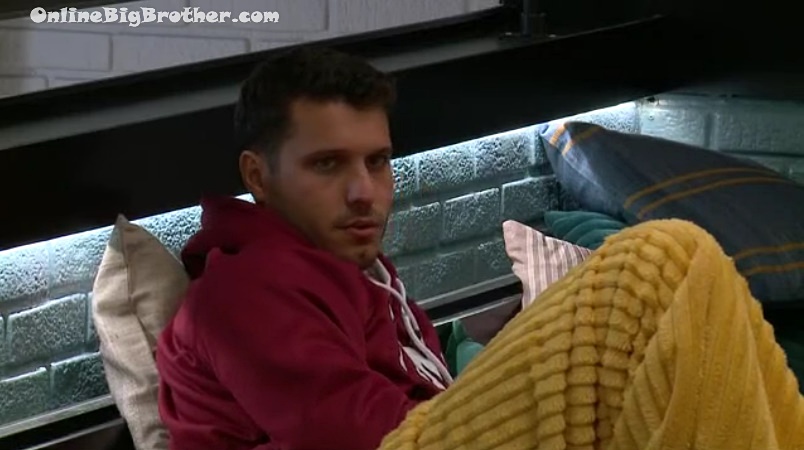 Cody says preseason he was "talking to Derrick" but didn't talk to anyone else.
Cody – he got called but couldn't do it.. he had a NDA he didn't want to get in sh1t he's got a lot of things going.. I love Derrick. He's a straight-up man I love him
Enzo – I said to my brother I want Hayden back or Cody
Cody says his brother was telling everyone he's going on.
Cody says Tyler played amazing on his season he was loyal to a group.
Enzo – he's sneaky
Cody – if he's with us he'll be tight with everybody
Cody warns him about the girls "Getting together"
Cody – if Christmas and Janelle link up they'll win comps. They can win comps and they will
Enzo says Kaysar told him "This season I'm here to play"
Enzo goes on about not trusting Kaysar.
Enzo – he panicked real quick he panicked.
Enzo – Where is this guy, he's crying in there.. Kevin he went in there he hasn't come out yet (Have nots)
Cody doesn't think Kevin suspects he's going up because they talked earlier he feels bad and will talk to Kevin before noms.
Enzo says he didn't like Memphis on his season but likes him now. Says on his season Dan played the game and Memphis "kinda liked floated by didn't ruffle an feathers"
Cody says that's the same with him Derrick made all the moves "I was just chilling, Derrick was doing all the thinking, I was just being me".
Cody – I don't know what it like for you guys on twitter. it's bad ..
Enzo says they reached out to his wife on Facebook and said stuff about their 18-month daughter.
Cody – people went after my brother hard.. everybody that is watching this just like..
Enzo – this isn't us.. we're playing, sometimes we get into the game
Cody – I don't like cancel culture I don't like that sh1t on the outside
Cody – Bayleigh was saying people were sending stuff to her dad's board of directors
Cody can understand if someone is being racist on the show "By all means tear them down" but says Paulie was just mean to people "He's a savage guy-girl" and didn't deserve the backlash.
Cody adds that this is why his mom doesn't like the show but his dad loves it and is excited he's back on.
Ian joins them. Chit chat like :
Says the Diary producers were making fun of him on his season because he was J***ing *ff in the HOH shower.
Ian – I waited until I won HOH
Cody is surprised they brought it up and shouldn't have brought that up
Enzo says he did it under the covers into a sock
Ian starts talking about how Booogie did it and the feeds cut..