Head of Household Winner – Cody
Have nots – Ian, Kevin, Memphis, NicoleA
Nominations -?
Power of Veto Players are -?
Power of Veto holder -?
Power of Veto Ceremony -?
Safety Suite – Kaysar & Janelle
Live feeds —-> Grab your Live feeds here. Try it free.
Rank the houseguests —-> Big Brother 22 Ranking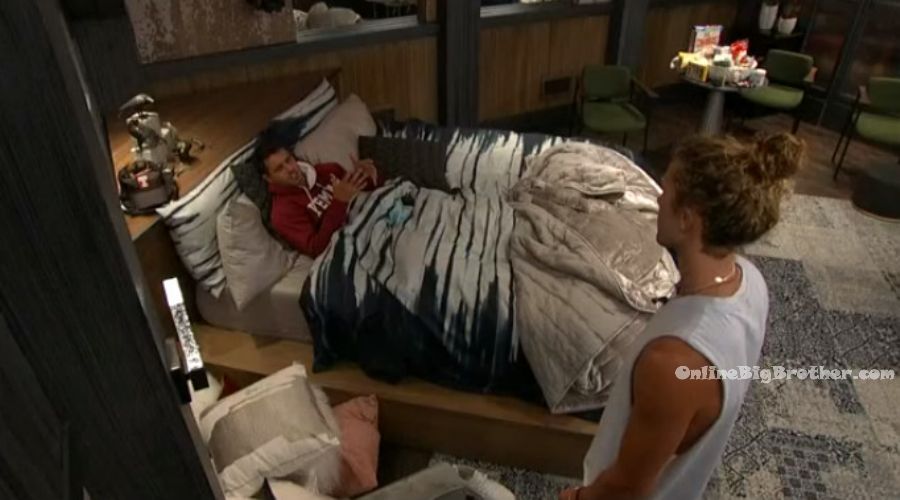 12:20am HOH room. Tyler and Cody.
Tyler – What are you thinking? How are you feeling? Cody – I feel good. Its going to be what its going to be tomorrow. I think I am just going to go Keesha / Kevin. Like nothing crazy. I am just chilling with them the least and if I am going based on and not going to smash someone that is like not going to cause any rifts. And its like opened my eyes the whole Kaysar and Janelle.. like you guys ..the people that I had conversations with must have felt like kinda some kind of way like comfortable enough to .. oh I don't need to rush into that .. I will just wait and see. Tyler – right. Cody – they had conversations with me and it popped right out. Like we're going to do it .. one of is going to play and protect the other one. And like I get it. Tyler – it makes sense. Cody – I totally get it but like when there is like nothing for me to like pull at … I am just like I had conversations with a lot of people. Tyler – well Kaysar pulled me aside and he thinks you and him are good. Cody – I don't think that genuinely I don't trust Cody.. it was more like .. I don't know .. he didn't give me anything to make me feel super comfortable. Tyler – he says that he wants to work with us but I wanted to run that by you. I don't want to be paranoid but do you think he just thinks you and I are cool so he is telling us both that? Cody – I think ..I asked him what he though and he said your name. So to you I think he is just kind of covering his bases. For you and me it is going to be tough to navigate through because people are going to like us because we're likable people. So when are we going to like screw ourselves.. but right now week one I think you and I are forming good relationships… we don't have to show our cards yet. But when something happens we are like making something and a big group around us and locking it in. Tyler – but its easy right now.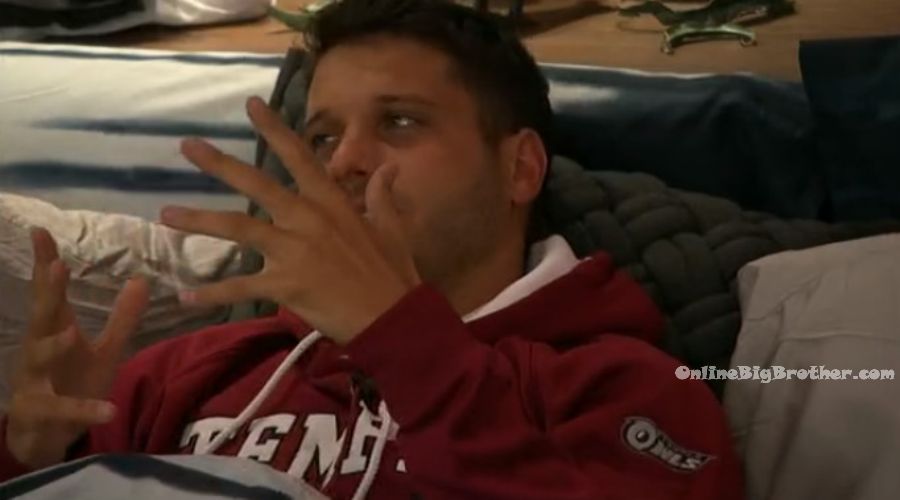 12:30am Cody – everyone is tip toeing around. When we're downstairs we're never like chilling together.. .. and nobody brings you up to me which is MONEY! My first thing is going to be yeah he is good .. I like Ty! Cody – This is going to suck. I have been trying to run through like what I am going to say.. its mostly going to be like this is hard enough for anybody in this situation and I apologize but I hope you guys can understand that this isn't personal, this is all just a game. And I wish you guys the best of luck in the veto. I don't even think .. deadass .. I don't think Keesha is even .. I think Keesha is kind of like .. when she came up here she.. Tyler – just not saying sh*t. Cody – yeah. Kevin I feel .. I feel bad because he came in here and was like I'll take care of you. You won't go up. So its like.. Tyler – did anyone not give you that? Cody – no, everyone was like I want to work .. the only one I am worried about is Christmas .. I don't know how to take her. Tyler – I know. Cody – but I know she is going to compete and if I don't put her up.. Tyler – she named her baby Loyal.. like if you don't lock her in you're crazy. Cody – but like making sure we have stuff around us where we can chill and not have to worry about winning HOHs. If we get in a rhythm with comps, I think we will be really good. Tyler – I think if we get in with someone like Christmas we would be really good because she is loyal and if something pops off she is going to run her mouth and get herself in trouble. Cody – this is why I want her .. she is like type A personality .. she is going to clash with someone. As long as you and I are mellowing it out .. the type A's are going to clash and it will snowball.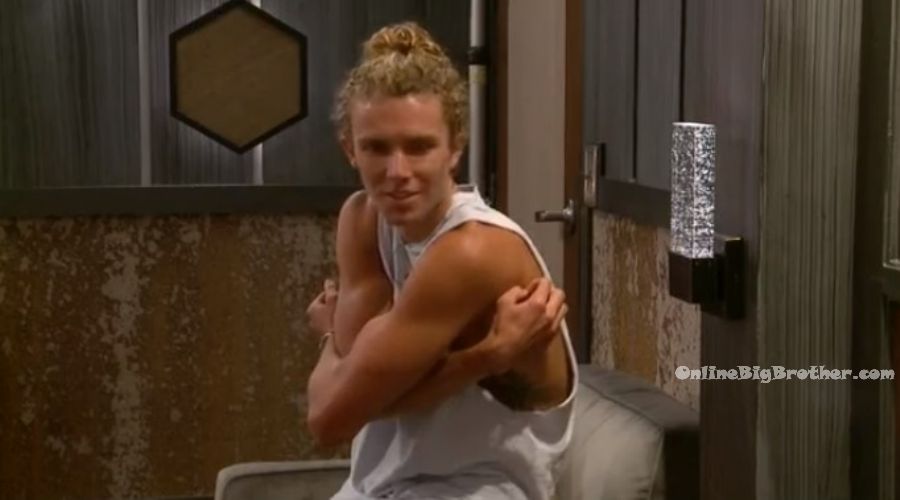 1:05am – 2:30amLounge room. NicoleA and Janelle.
Janelle – what did Kaysar say so that I don't need to fill you in. Nicole – he was just saying that he does think that Cody, Tyler, David.. Janelle – I am thinking the same thing too because .. don't repeat this .. I just had a conversation with Tyler and he was like I don't think they're going after big threats .. I think they will pick someone like Keesha. I feel like that is who they're going to nominate. Nicole – okay. And put her next to who? Me? Janelle – No! I don't think you're getting nominated. I think those three are 100% working together and I think they have others working with them. Nicole – I think so. I really do. Janelle – I think its Nicole F. Do you think its Bay and DaV too? I hope not! Nicole – I don't think Bay. I see Nicole go in and out of there. Enzo goes in and out of there. Memphis goes in and out of there but I think he is just personable. I like Memphis. Janelle – I think if he puts up Memphis ..Enzo is going to be like NO! Because they're friends. Nicole – true. Janelle – I think they are trying to get some numbers together so they can do what they want. Nicole – I haven't heard anything individual or separate. Janelle – David talks zero to me. Tyler …like a little bit. Janelle – but you don't think its like a giant alliance. It is definitely NicoleF because she said this like very obvious lie and I was like what are you doing?! I was sitting in that room and she was sitting with Christmas and then she started acting whinny like she usually does in her whine and she goes like oh you guys!! I am so nervous, I am so nervous to go up. She said should I talk to him? And we're like Cody? And she is like yeah .. It just seemed like she was lying .. like what are you doing!? Nicole – yeah. Janelle – it was pretty weird. Making it a big deal like you don't ever talk to him. Its like me being like oh no Kaysar I never talk to him. It is very weird that she would be working with Cody because from what Dan told me she is the reason why Derick isn't here. Nicole – gosh that is sad. So wouldn't Cody be mad? Janelle – I don't think he knows. We just have to get HOH so that we can have the numbers. I literally think I was called because Jessica and Rachel are pregnant. Nicole – I think you still would have been called. I think it would have been the lower people on the totem pole that would have gotten bumped. Janelle – I don't think so. Ohhh if Rachel were here! She is just so bold! I love it.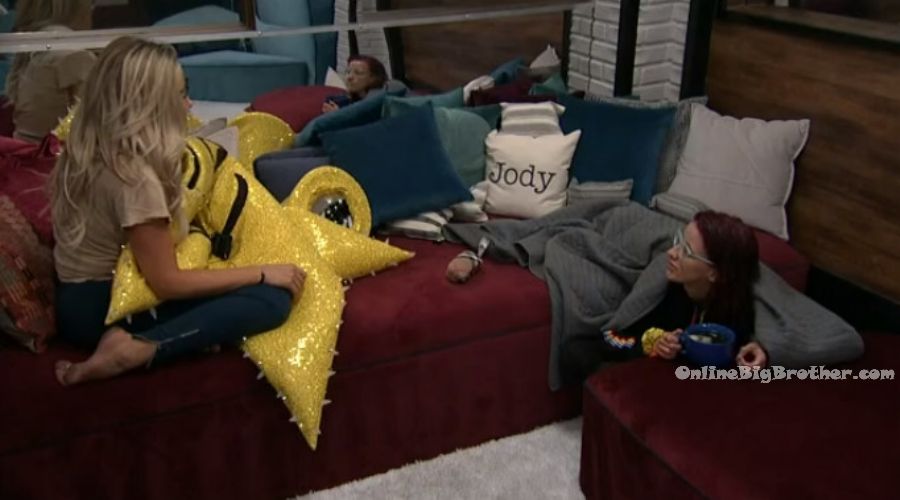 Kaysar joins them. Kaysar – we have to watch out for Enzo. I think there was something pregame with him and Cody. There was something extra brotherly love handshake. I think its Cody, NicoleF, Enzo, Tyler, David … that's five and there is probably a sixth. Kaysar leaves. Janelle to Nicole – I don't believe that Enzo is with them. Nicole – maybe not with them but working on him. Janelle – like I'll vote with you this week. Nicole – nothing against it.. I get it. They continue to talk about NicoleF getting Derick getting kicked off and wondering how she did it and why.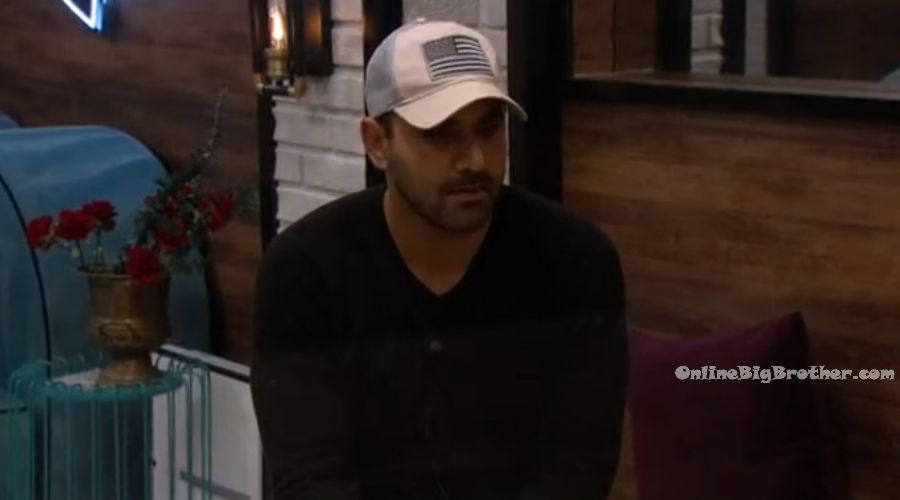 2:40am – 3am Lounge room. Nicole talking to herself. Nicole thinks that she put herself in a pickle like in her season. But that she would rather go home in third place than go out fifth with them (HOH). She comments on how Janelle and Kaysar know exactly what to say to her. Nicole – Kaysar is a savage! I need to distance myself from them and hangout with other people tomorrow. I am really hoping he (Cody) is putting up a Memphis and Keesha. I hope its not me .. put up Nicole she'll be a pawn. She's too nice. Where does Christmas fall in all this? I am not convinced that the guys are with Memphis. Here is the thing if the Cody side exists and they win again .. they would probably go after Janelle and Kaysar but that is only damage control for one or two weeks. If the other side wins .. take out them. The people in the middle are going to be attempted to be snatched up. Assuming I get past this week that battle royal will start. I know that NicoleF is definitely with them. There isn't a shadow of a doubt in my mind that she is with Cody and Tyler. I don't know what she thinks of me. I should go to bed .. and get ready for the sh*t storm tomorrow. I better not be a f**king pawn! I feel like Cody is a straight shooter and he would have called me up there and told me if I was going up.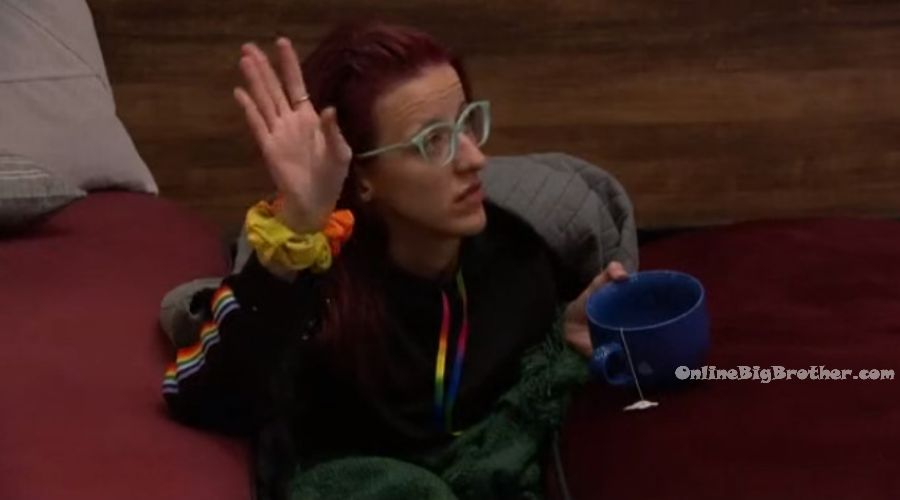 3:20am Nicole heads to bed.
3:25am Kaysar gets up and checks to see if anyone is in the lounge room and then goes back to bed.
3:30am All the house guests are sleeping..
7:45 am They're all sleeping yo.