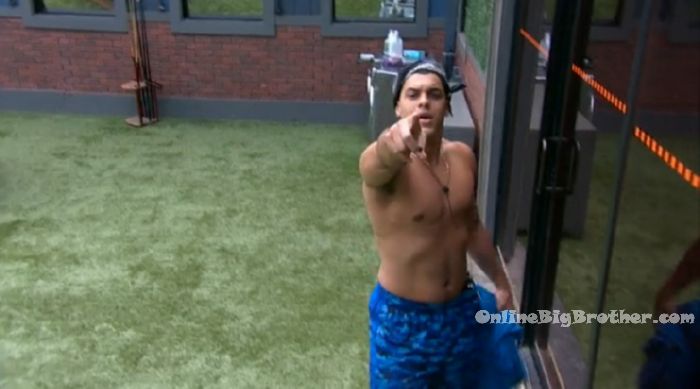 Check out our BB19 Ranking Grid. . rank your houseguests here
10:22am Backyard – Josh – good morning familia, good morning feedsters. Its going to be a blessed day. I always have blessed day. Positive vibes today. Positive vibes.

See what they can't show you on TV Try the live feeds for FREE!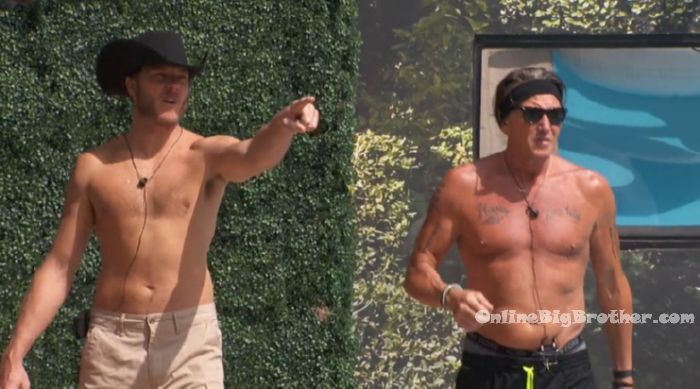 10:45am Backyard. Jason and Kevin are walking the yard. Kevin – so everything is fine right? The way we want it? Jason – Damn right! I don't thing there is any stopping it now. Kevin – unless Matt and Raven win an HOH. Jason – Yeah that would suck. Kevin – because Alex, me, you and Paul… although I haven't won sh*t. But I can tell you one thing.. if a spelling competition comes up I'll be ready, that's for sure. Jason – that's good. Kevin – as long as the four of us are on the same thing it should be fine. Right?! Jason – yeah. Its seems like there would be no way for it to go wrong but you never want to think that. Kevin – no one is afraid.. at that point its the game you know what I mean. Jason – yeah. Kevin – what would you say. Jason – that's exactly what I would say. Kevin – at least I talk a good social game. I get along with everyone … you know what I mean. A lot of times they just go in the rooms by themselves. Jason – at least when we hit jury Matt didn't care about going up. That son of a b***h has been up 3 times already.
11:04am Backyard. Christmas and Josh.
Christmas – Mark and I was talking and I was letting him know this isn't easy for me and he was asking if there is anything he could do. And I am not entertaining this by the way. For me just to think about it. He said he would help me and you and that the numbers have the top 3. And we would be a trio. I told Paul already. Josh – Kevin all day yesterday was like I got you, I got you! Oh my god, please just shut UP!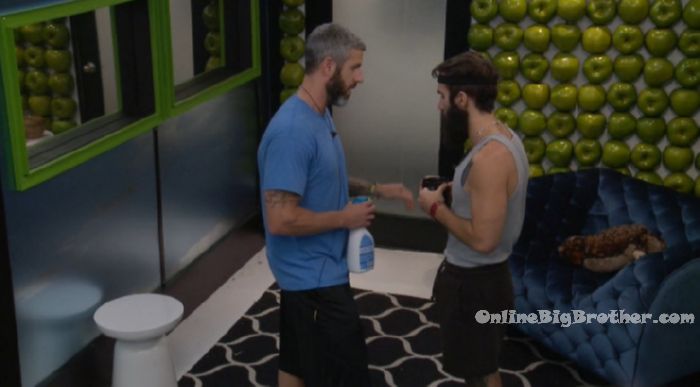 12pm Lounge room. Paul and Matt.
Paul – I say Jason and then Kevin (to evict next). Matt – or Alex. If we get a legitimate shot at Alex we have to take it. If Jason or Alex win this week are you pretty confident you can get them to go after Kevin? Paul – I can at lease make it so Kevin goes up. Matt – in every scenario we have the votes. Paul – me, you, Josh, Raven, Christmas. F**K holy sh*t, that's awesome! Even if .. lets say you and me go up.. then we have Josh, Raven, Christmas. If one of them is HOH, then we have two. Matt – it wouldn't matter then because none of us would go up. Paul – I am positive I could convince whoever it is to put Kevin up. They would probably backdoor him because of how he might react. We need to win HOH. Kevin won't win HOH. He wouldn't know what to do. They pound it out and Matt leaves. Paul does his friendship talk. Paul – Me, Josh and Christmas till the end. I can ping pong back and forth between my pairs and weasel my way out of anything. If I can make it the next couple weeks without going on the block that means I will go the entire season bb19 without being on the block once! That's crazy! I have to win the 4 to 3 HOH. And win POV to decide who goes home. Thinking about it the final 3 might be better to have Josh and Raven because Josh won't pull Raven up and Raven won't pull Josh up. They would both pick me. I don't know, I will have to think of what would be best. Pretty much everyone's HOH was my HOH except for Cody and Jess's but when they were HOH, I did the opposite of what they wanted. I flipped the house to keep Christmas, I flipped the house to keep Josh. So pretty much every HOH was controlled by me.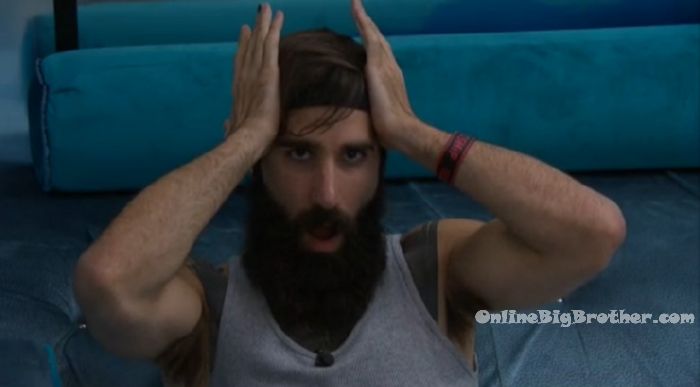 12:49pm HOH room – Alex and Jason want want Kevin gone. Matt – we need to win HOH 4. Even in a disster. Raven – I can't beleive no onw as tragerred Pau;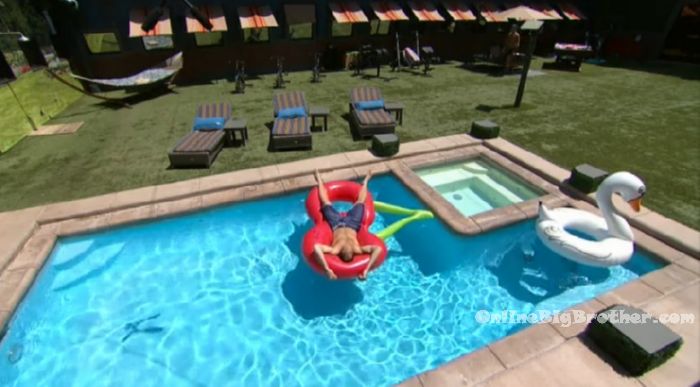 1:30pm Kitchen – Christmas, Alex, Raven and Matt are talking about Jessica trying to pull down Christmas, Raven and Alex's pants.
2:05pm Kitchen – Christmas talking to the camera.
Christmas – If I go up against Josh, I will probably stay because I am not a physical competitor. Then against Raven … F**K! One, two, three, four.. the only way to lock that in is to secure it. 4 against 2. I would have 4 against 2 for HOH. If I win HOH, then that make 3 physical competitors, 4 mental competitors for the veto. I guess everyone would play in the veto. And I would be dead weight unless the veto is not something physical. If they win, Jason would probably put up Matt and Raven. If Matt is gone. AND if they win the next week.. back to back .. they would put up Raven and Josh? Or she will try and campaign for Paul. Probably I'll go up and then either way it would be Paul's decision. It would be 1 vs 1 and she would probably keep me. I don't know how this burden on me has been a blessing in this game. Being a physical lump on a log is possibly going to take me to the top 3. Like more than likely take me to the top 3. I would go to the top 3 with Paul and Josh and then let us fight it out. Unless Alex and Jason have something with Matt and Raven that I have no idea about .. unlikely. ..then I can do this! If they put Matt and Kevin up next week .. and Matt goes .. she (Raven) is pissed. Kevin comes into the kitchen and Christmas stops talking.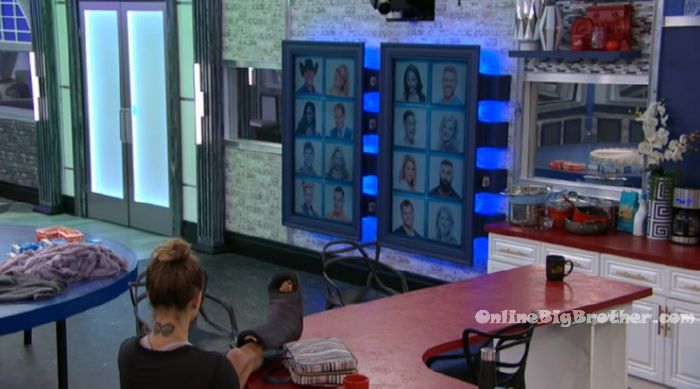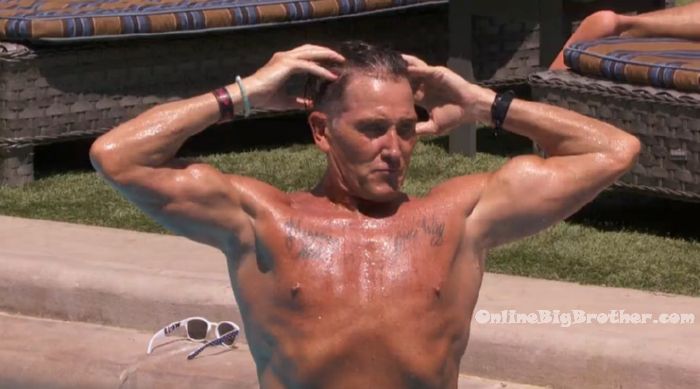 2:35pm – 3:05pm Suntanning in the backyard. Paul talking about Big Meech and other things from his season.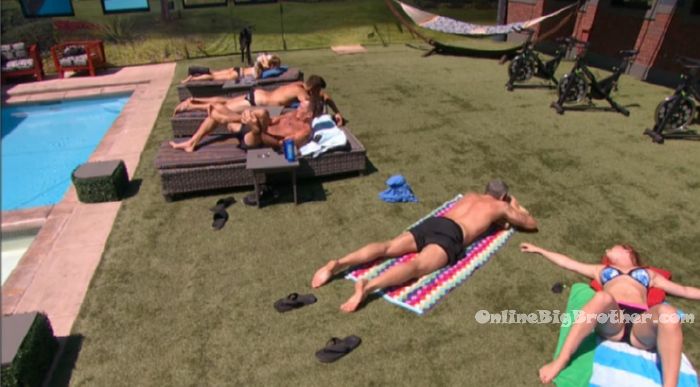 3:30pm – 3:50pm Kitchen. Paul, Alex and Christmas.
Paul – we need to have talks like this because as the number dwindle we can't be caught in groups. I don't think Mark will just roll over and die. I think he will try and campaign against Matt. Christmas – he came to my yesterday. Alex – he is gunning for me, you and Jason. Paul – who? Alex – Mark. Paul – he has no loyalty, he's shown that multiple times. Christmas – he said that to me and I'm like how do you have loyalty when you just sat there and blurted out everything. Alex – this week I am going to make it very clear that we're all on separate sides. So that no one's feeling get butt hurt when we vote them out. Paul – I was saying how much sh*t have you seen Kevin talking sh*t about Matt and Raven but now he's talking to them. Alex – I saw them in the bathroom. Paul – he's abandoning ship from me and reintegrating. Christmas – he was going around talking sh*t and I had to tell him please do me a favor and hold off on post veto actions. Paul – the only person that is going to freak Jason out at this point is Kevin. Paul – Kevin has said so many times when you see my kids you are going to be shocked! Why? Christmas – he hasn't mentioned his wife once..
4:30pm Backyard. Kevin, Paul, Mark and Josh talking Hugh Hefner, the playboy mansion and other random things. Meanwhile in the HOH room – Christmas and Alex are studying the dates/events. Christmas starts talking about Cody and how he already had his mind set on going after Paul. Paul joins them.
5:12pm Backyard.
Josh and Mark playing pool. Kevin watches from the sidelines.
Matt buckles up Jason's chaps on Raven. Raven – this is what happens when you lose a bet. Matt – I bed America is real happy right now. America you are very welcome once again.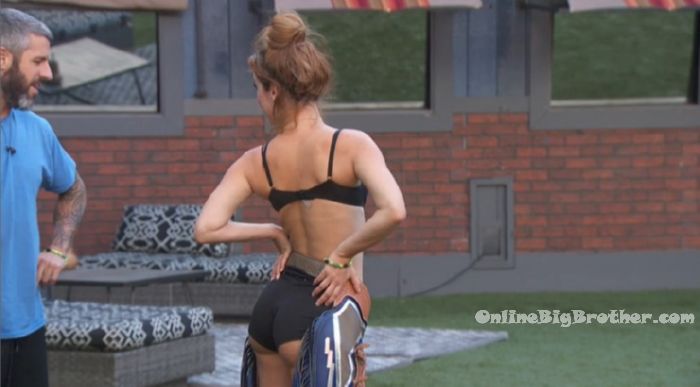 If you plan on buying anything from Amazon. Use this link Amazon home
Doesn't cost you anything and we get a small cut.
Links to the ranking system
Rank your house guests here
For those of you that like Statistics here are some expanded reports.