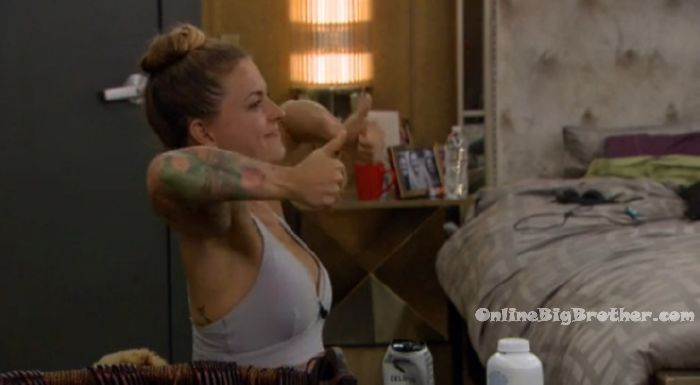 Check out our BB19 Ranking Grid. . rank your houseguests here

5:55pm HOH room. Josh and Christmas.
Christmas – she (Alex) is 100% on board with you being in the top five. Josh – you spoke to her? Christmas – yeah we were just talking. Christmas – she is really wanting Kevin out. Josh – she wants Mark, Matt and then Kevin. Christmas – and then Raven. Christmas talks about how Mark was willing to do anything to stay. Alex was like f**K that. As he starts to realize he is going home he will try and stir the pot. She was like I'm not believing anything that f**ker says. It will probably be good to get out any more secrets if there anything to get. Josh – I could talk to him. Christmas – Is there any other information we need? He doesn't have any information on me. If he does, it would be made up. I've played unintentionally a pretty low key game. Apparently I am super aggressive. Josh – yeah, who says that? Christmas – just collective understanding. Josh – no you have a bada$$ don't f**k with me vibe.. personality. I don't think you've played a low key game. Every time I've called someone out you've been right there with me. Christmas – but we do need to separate from Paul. Josh – yeah. Christmas – I am going to be hanging out with her (Alex) a lot more. Josh – I'm going to hang out with Jason more. Christmas – I'll hang out with Raven more. Josh – I could hang out with Matt more. Christmas – no, don't… hang out with Jason more. Christmas – if Jason and Alex are out of it (HOH) and Kevin .. make sure that f**ker is out of it too.. somehow discreetly throw it too. Josh – if its me, Matt and Raven.. I'll just drop. Christmas – no you have to play like you slipped. And be like f**k this is the week I needed to win. Christmas – because if they win they're taking out Matt. Which doesn't hurt us a ton. Josh – but we need Matt to take them out. Christmas – you and Paul need to not win HOH next week. We need to be cautious that they don't find out we're working both sides of the house. Josh – they're not on to me like that.

See what they can't show you on TV Try the live feeds for FREE!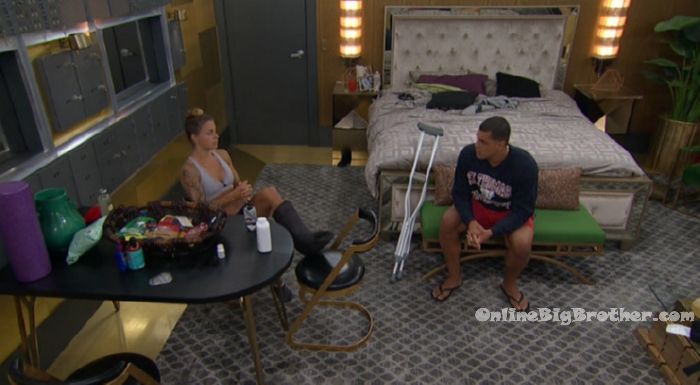 6:05pm – 6:30pm Mark joins Josh and Christmas up in the HOH room.
Mark – tomorrow is the day .. so I wanted to come up and see if there are any deals to be made. If not, that's okay but I would regret it if I didn't. Christmas – its a difficult position. Josh – out of everyone you've handled it so good. You just aligned yourself with the wrong people. You aligned yourself with the enemy. Christmas – they played their game with no consideration for you. I promised you I would think about it… I would like to still sit on it. Someone might blow their top tonight. Josh – my whole thing is this… you were on board to get Cody out.. you have / had a final 2 deal with Jason since the beginning. Mark – yeah. Josh – how is that going to change. Mark – I am alone in this game. After Jason did what he did, (put him up during the double eviction).. we're done. He threw me in the fire. If I stay I go to the bat for you. I've never given my word and broken it. Christmas – did you have a final 2 with Elena. Mark – no, just that we had each other's backs. Christmas – did she have one with anyone? Mark – if she did, she didn't tell me. Christmas – I definitely think you're much more deserving to be here than Cody. Mark – thank you.



Josh – I can appreciate as a man how you've been handling it. What is your relationship with Kevin. Mark – Kevin just talks. Me and him have never talked game. I don't know if he has with anyone else. In the game I am alone. If you think I can be an asset. You (Christmas) don't compete in HOH, you (Josh) do. I've never broken my work with anyone ..except with Cody. Josh – if you turned on Cody when he was a close friend and we've had problems .. how can I believe you. Mark – Cody messed up my game. He put my game in jeopardy. The only time I went against you was when you threw my name out in front of the entire house. Josh – I believe what you're saying and that you don't have anyone. Personally I really like you and all I can do is go off the last 50 days. I can't get past you turning your back on Cody. Mark – you turned your back on me because of a personal issue. You're the one that threw me under the bus. Christmas – where are we game-wise? How do you see the house? Mark – if Matt and Raven win .. I personally think they are coming after you. You're the only two that have done anything for me and I pay back my debts. Christmas – I can't compete next week.. Am I the toad in this situation? Josh – down the road if the power shifts and we don't have the numbers would you turn on us? Mark – I wouldn't. I am all alone and I am pledging my allegiance to you. And not even that there is a big move that could be made. Josh – you have to give us more than that? Mark – look at Alex and Jason.. they're winning things and everyone likes them. If you do put me up, just don't tell Alex. She deserves to be here but if she is down in the final 3 or 4 she is going to win. I gave my safety to Paul because he gave me friendship and I promised him I would pay him back. I repay my debts. Alex and Jason are scary. They win competitions, they have Kevin and Paul and people like them. Josh – I respect that you respect the game move. Mark – thank you for hearing me out. Mark hugs Christmas and leaves.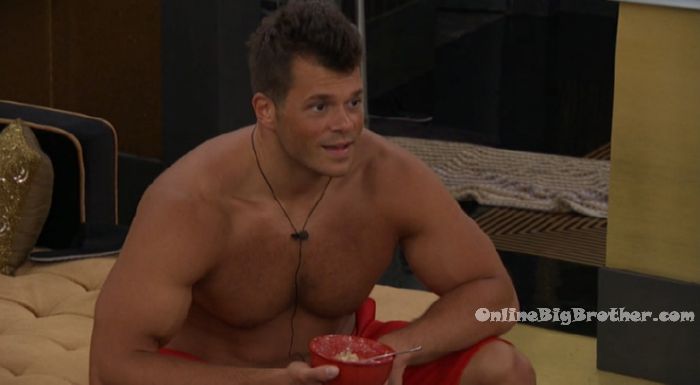 6:35pm – 6:40pm After Mark leaves Josh says MAN SHUT THE F**k UP! MAN SHUT THE F**K UP! Christmas – he can work it. Josh – if Alex and Jason were up here he would have thrown us under the bus. Christmas – I am going to have to go over my calculations again. Josh – we can't let Alex go to top three because she will roll through.. we have to take Raven. Christmas – I think Alex has to go before Kevin. F**k why can we only get rid of one at at time. The only thing that I took from that conversation was that Alex is a good competitor (WTF you just realized that now). I thought he was talking about Paul. Josh – I thought that too. If I get HOH, I am putting Matt and Alex up. Christmas – the (eviction) order is Mark, Jason, Matt, Alex and Kevin. Josh – we have to win HOH. And we have to make sure this tree temptation does not come into play. Christmas – Paul will fight you on Alex going.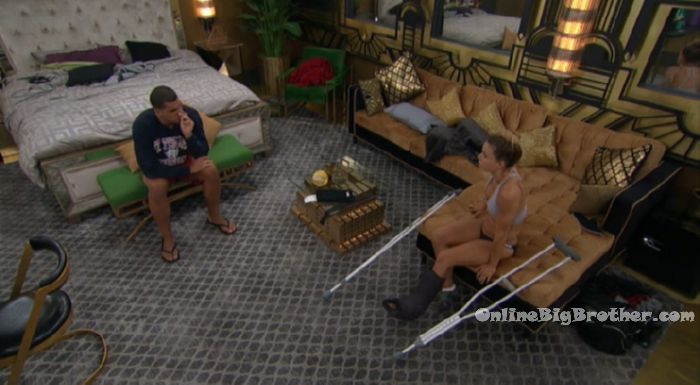 6:05pm Hammock. Jason and Alex.
Jason and Alex both think Kevin is lying about his life. They think he is talking about his Dad's life when he talks about his life. Jason – maybe he's a cop. Alex –
he's not a cop he's too paranoid. Alex – if he was a rat and a gangster in his real life .. everyone in his family would be dead right now.
a href="http://cbs-allaccess.7eer.net/c/130370/175680/3065″>
6:35pm – 6:45pmPaul and Kevin playing pool while Mark watches.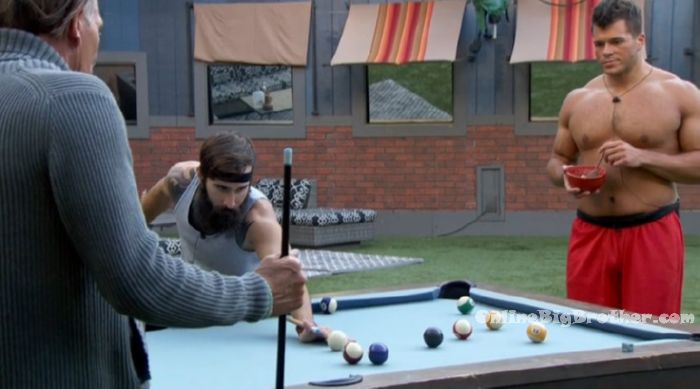 7:10pm Christmas and Raven sitting on the couches chatting. Raven – hopefully we get the family videos this week. Christmas – I am going to cry when I see yours.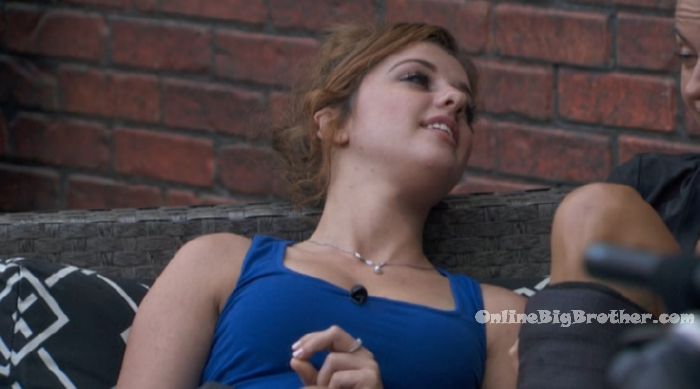 7:27pm Matt and Mark are playing pool. Alex, Jason, Paul, Josh and Raven are sitting in and around the hot tub chatting about random things.
8pm – 8:55pm Hot Tub. Jason – I just pissed in the hot tub to make it warmer. Josh – I hope you never change. Paul – he's 37 years old he is not going to change. The conversation turns to talking about where to meet girls. Josh – I go up to a girl and tell her she is beautiful, can I buy you a drink. Paul – I would says Hi, I'm a huge pu$$y but you're really pretty. I'm going to leave now. Jason – that would probably work more than his. Josh – what do you mean, I'm smooth. (LOL) Paul – I am a pu$$y. Mark – it is easier for me to talk to a girl in the grocery store than it is in a bar. Josh – if I see a girl that drives me nuts .. I am getting drunk and then approaching her. Mark – I wrote what I want to say to a girl in my phone and then pointed to it. It says I am drunk, could I take you out some time? They laugh. Mark – It worked. I got her number. The date didn't go well though. Paul – I sent a soccer ball emoji to a girl and said whoops I kicked my soccer ball into your inbox, I'm just here to retrieve it. Josh – that's horrible! Paul – it worked! I got her number. Paul – I am shy as t!ts! I saw a girl one time and stopped walking. She short circuited my brain. I told her you need to go home and high five your parents for banging and making you because you are so beautiful. Josh – you said that?! Paul – yeah, she laughed and thanked me. Then I dipped and never saw her again.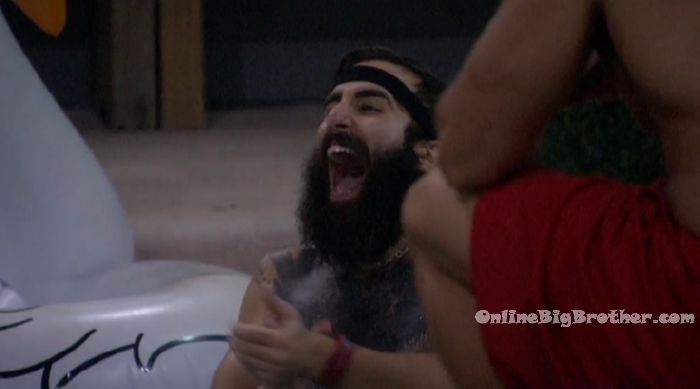 If you plan on buying anything from Amazon. Use this link Amazon home
Doesn't cost you anything and we get a small cut.
Links to the ranking system
Rank your house guests here
For those of you that like Statistics here are some expanded reports.