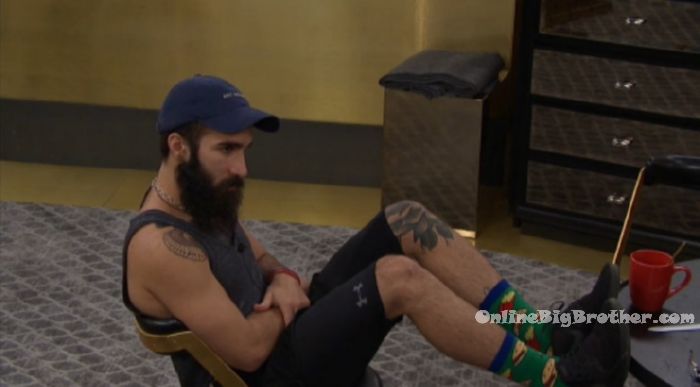 Check out our BB19 Ranking Grid. . rank your houseguests here
9pm HOH room. Paul and Alex.

Paul – Kevin is always telling me that Cody respects me (Kevin) more than anyone in this game. He also said something else to me last night. He said that you've constantly got to act dumb so that people will do stuff for you. Alex – he always asks me stupid questions like what is that? It's a nail clipper. How do you use that? You know how to use a nail clipper like what are you talking about. Paul – but you can't say anything about that yet. Alex – no I won't say anything. Paul – especially don't mention it (that Kevin got the 25K) to this fool (Josh) because if he knows I told you he is going to sh*t. Paul – I'm pretty sure Jason knows that. Alex – we thought it was Ramses. Paul – I thought it was Ramses too. Alex – why does Mark keep saying he knows for a fact it was him though. Paul – maybe he was protecting Kevin. Something is up. Paul – do you agree it should be Cody, Mark and then Matt? (Eviction order) Alex – yeah. Paul – why don't we just get this fool out because he is getting on my nerves. Alex – he is dangerous. Cody, Mark, Matt, Kevin … pick a fight Elena or Raven. Paul – Josh has known since the beginning (That Kevin got the 25K). Kevin told him right after the competition. That thing about Kevin is another reason to get him out of here, he already has 25K! He already has 40K (25K plus the stipend). That's almost as much as second place. Paul and Alex start studying days / events in the house. Alex – from now on we have the numbers .. we just can't mess up because we have the numbers. Paul – Matt and Raven, I have their word.

See what they can't show you on TV
Try the live feeds FREE for 1 Month!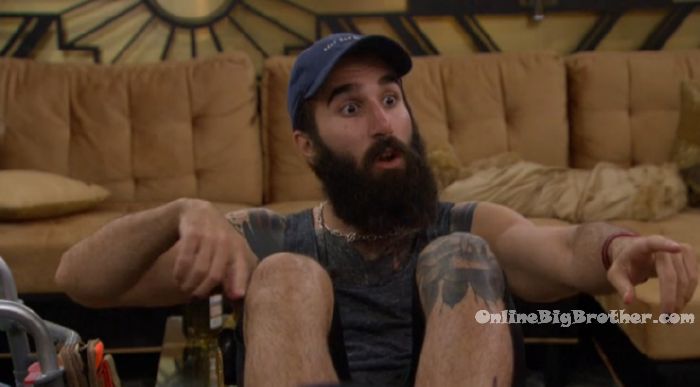 11pm HOH room – Alex, Paul, Jason and Christmas.
They're talking about Kevin and how they're on to him. Christmas – basically he is having all of these conversations and he is freaking out because we're starting to figure it out. Alex – he came to me about the final 3 thing. Paul – he is trying to get rid of you, me, Josh and I am telling you he.. He is going to try and get rid of the people he can't beat. Alex – he is driving me nuts and I've been saying that since week 1. Alex – he is younger than my parents. He is not old at all. Christmas – I have been on to him since the beginning .. back when I asked him about his tattoos and where his sisters were? He said no he just had tattoos of his brothers. I was like okay I got it. I knew who I was playing with. Trust me, me being little docile girl. I am around him.. I am just letting him think that I am that docile girl but yes I am a crazy b***h. But I am a good f**king crazy b***h and I stand up for what I believe in. Alex – he always mocks you. Josh joins them and then soon after Kevin joins them.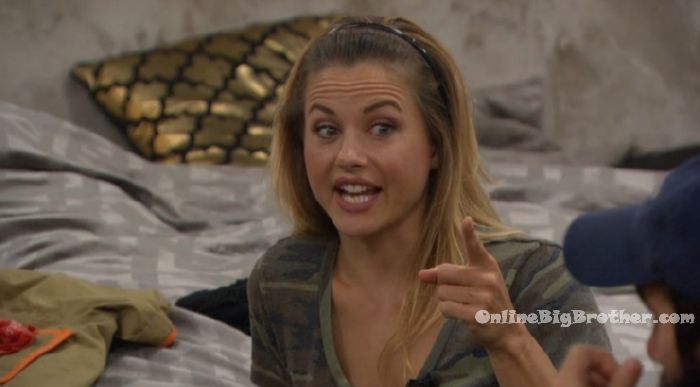 11:35pm Hammock. Mark and Elena.
Elena – any person that refers to someone as kitty boo boo in an argument is not someone I need in my life. EVER! Like don't want that person in my life. If I EVER call someone kitty boo boo in my life … push me down a flight of stairs. Like I will hire someone to be on standby to literally kill me if I ever call someone kitty boo boo. Elena – she thinks she just rolled out of an episode of Empire. Elena brings up how Josh said when he wants a girl he won't stop at anything to get her. And the only reason he doesn't have me is because he respected you and you were more interested in me than he was. So he pumped the breaks. Elena – in no situation would I ever humor you with a relationship but here we are again with you blind confidence.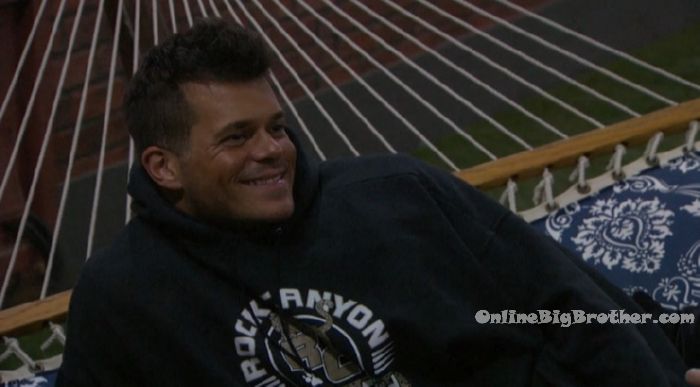 12:05am Backyard. Kevin and Jason playing pool.
Kevin – with Alex everything is good. Jason – yeah, some times you just need to let these girls talk.
12:10am Lounge room.
Josh – with whistle I feel great, With Alex I feel great. Just all these fights are draining me. I just feel bad. I just feel like sh*t. Paul – you're going to look back and laugh at all of it. Josh – no I am not. Christmas – you have grown exponentially. You have grown so much and you wouldn't have gotten that experience outside. You're going to leave this house with so much better knowledge of how to treat people and how you refused to be treated. Paul – it is going to change the way you treat people in your life. Josh – my problem is that I speak my mind and react to situations. I see my actions hurting people! Paul – separate how this is just a game. Christmas – you see that as a problem but I see it as a strength.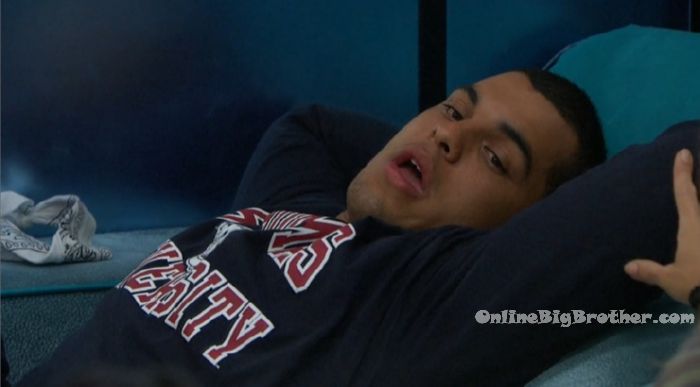 FLASHBACK and watch everything you missed: TRY the BB19 feeds FREE for 1 MONTHl!
12:30am – 12:55am Havenot room. Kevin and Jason.
Kevin – I know she watches over you all the time. I don't need anyone to watch over me. She looks at you like a big brother. What about after you, comes me? Who else does she like? Jason – she likes Paul and you. Kevin – she was the one in the beginning that said we need to get rid of Paul because he's a vet. Jason – that was right when he walked in and she hates when you say that. To get rid of Paul. Kevin – but she did. Jason – I know but that was so long ago and it was just because he was a vet. She thinks you're trying to throw her under the bus every time you say it. All I am saying is quit f**king poking the bear because she's got a lot to think about.



Kevin – she said it to me .. so I thought she wanted us to do that. Jason – she does not want that to happen. Kevin – so she would take Paul over me? Jason – no. You just said it yesterday in front of Matt and Raven. Kevin – no way, no way I would have said it in front of them. It doesn't matter, Matt and Raven are going to be gone anyways. Jason – if she feels that you're f**king around, then you're f**king around. Jason brings up how people don't like how he can't remember Cody's last name. Kevin asks what's each of daughters middle names? Jason tells Kevin that Alex doesn't like being called babe. Jason tells Kevin how they want the final 4 to be Jason, Kevin, Alex and Paul… and once it comes down to the final 4 its fend for yourself. But if it comes down to it I am picking Alex.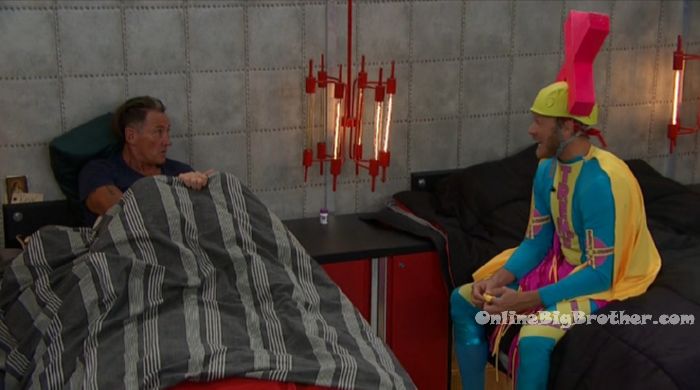 1:15am Kevin and Paul playing pool.
Kevin tells Paul about his conversation with Jason. Kevin is annoyed about all the things that Jason brought up.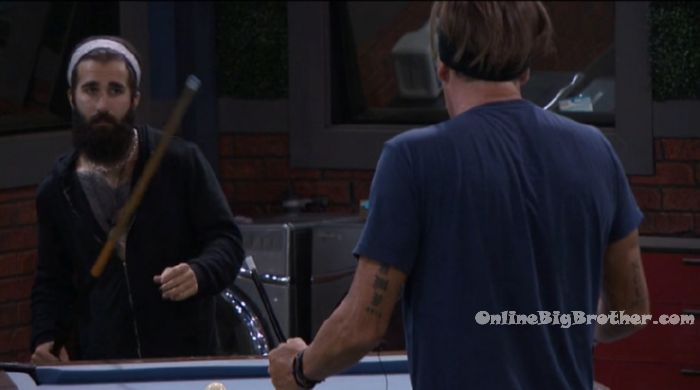 1:15am – 1:45am HOH room. Alex and Jason.
Jason tells Alex about the conversation with Kevin. Paul joins them. Paul did you tell Kevin that when it comes down to the final four that you're picking Alex and she is picking you? Jason starts to explain what he said. Paul – when he told me that, he then told me that it was him and I to the end. I was like yeah, yeah, yeah. Jason – now we've had the conversation and if he keeps acting like a f**k ass then we can go our separate ways. Jason heads downstairs to the havenot room. Paul talks about Elena and Mark. Elena comes in waves and Mark is just a pu$$y.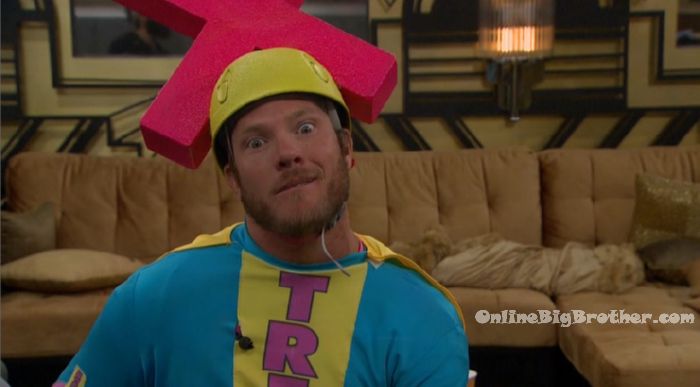 2:15am Hammock. Elena and Mark.
Paul joins them. Mark – are you saying to be careful of Christmas? Kevin? Paul – no, just be careful about who you say stuff to. Because there are certain things that people are saying that you're saying that I'm not quite sure if its true or not. Mark – like what? Paul – things that I'm not happy about. Like that you're coming for me. Those are the legit words that you're coming for me. Mark – that I am trying to get you out of this house? Paul – yes. Mark – what people upstairs are good? Paul – Jason and Alex. Mark – but be careful of the rest. Christmas and Kevin are too but they just don't get alone with you. But that's just the way is. There are people that are saying you are coming for me. Paul – be careful of people. Mark I've never said that to anybody.
3am All the house guests are sleeping..
If you plan on buying anything from Amazon. Use this link Amazon home
Doesn't cost you anything and we get a small cut.
Links to the ranking system
Rank your house guests here
For those of you that like Statistics here are some expanded reports.