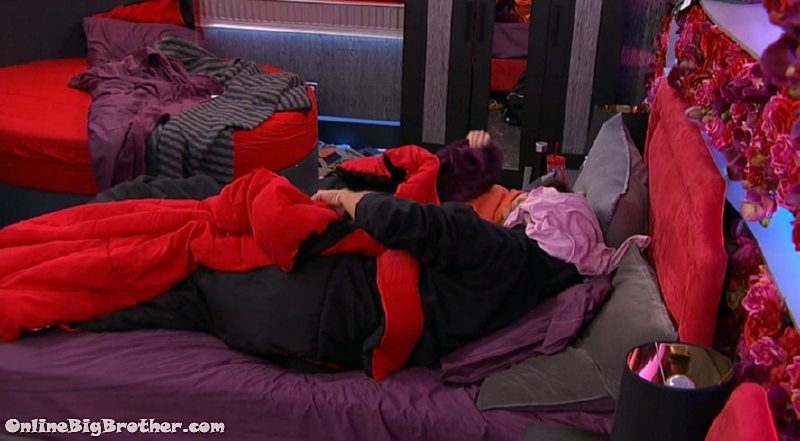 6:05pm Elena and Mark
Elena says they are trying to make it out to her that Cody was campaigning against her. Elena doesn't think it went down like that.
Elena says Paul is going around to different people spinning the stories.
Elena – I don't want to be the second person in Jury
Mark – you won't be.. we'll win HOH.. it'll be Paul and Josh up there.
Mark says there's that group over there and they are never turning on each other. Paul jumped on with them along with Christmas and Josh has been the monkey in the middle.
Elena says everyone is outside. They were all quiet when she walked out.
Elena – I don't care about food that much.. I want to pour out all the food just to be a b1tch..
Mark says they would think it was Cody.
Elena – I can live off vegetable food I'm good with that.. as long as I can eat a little of something 3 times a day..
Elena – I am not walking into Alex's HOH at any point..
Elena – why did I have to get in a fight today.. this is the worst I've ever looked.. then I had to f*ing DR about it.
Mark – this f*ing house..
Mark – all i wanted to do last night was hold you .. I just want to cuddle with you
Elena – we're the new Jessica and Cody..
Elena – if they were allies why don't Matt and Raven get sh1t for that
Mark – because you were friends with Jess.. she was talking talking sh1t about Jess .. just like she was talking sh1t about Alex.. when we wanted Alex out, Just like she was talking sh1t about Christmas
Elena – like saying she was the one that poured Alex's Coke out
Mark – I don't know how we turned into Jess and Cody..
Elena – We did so fast.. it sucks.. and they were in love.. or are..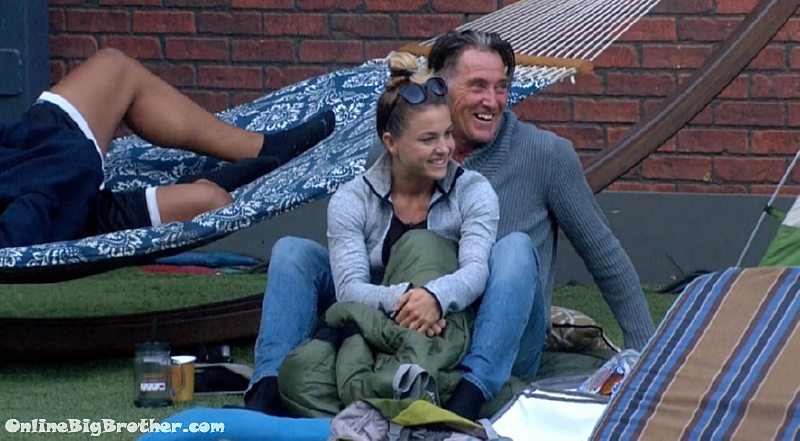 6:46pm Cuddling
Chit chat while Alex makes Hot Dogs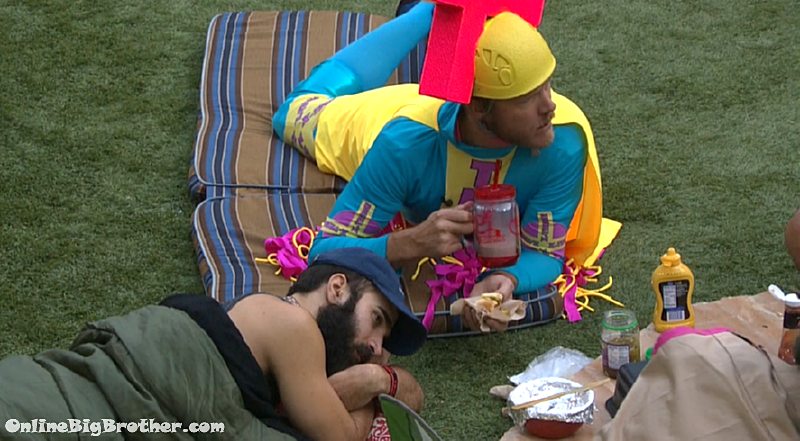 7:04pm Josh, Kevin, Paul and Alex
Jason – we need to chill
Paul – Chill and do what though
Jason – not ganging up one somebody
Jason points out all they've done now is brought mark and Elena back together.
Jason – there's been so many a$$ chewings in a short amount of time they're like f* it F* them all
Jason warns Paul if they keep going after people calling them out Mark and Elena will go to Matt and Raven and say "Do you really want to be part of that"
Paul – you think so
Jason – yeah I think so
Jason – it's Josh's game.. that's what saved his ass.. we've seen he can be an asset in that form
Jason – but now everyone is attaching themselves to that method it's ok to have one we don't need 5 f*ing people
Paul – you're making a very good point…
Jason – we look like a bunch of heathens and for what.. we had this week secured we had last week secured we'll have next week secured..
Jason – it works but we can take a f*ing break
Paul – you guys are right you made a very good point. .
Kevin says he'll never eat another Hot Dog for 2 more years he's eaten so many of Alex's.
Josh says the whole reason why he called Elena/Mark out is he wanted her to know he's drawn the line.
Josh hates this fake bullshit..
Josh – when somebody is having an argument we don't all have to chime in and say something.. we can just let somebody hold their ground.
Kevin – what about the unconditional love you expressed for Elena.. what are we supposed to do about that
Josh – we don't want to look like a pack of wolves again.. it seem like for the past few weeks we have been like..
Josh – it's not like we're targeting the people.. the people were targeting all of us we just backup together because we say everyone bullshit.
Josh – it's clear as day who the next targets are for the next few weeks..
Josh – we don't have to address anybody or say anything unless we're addressed or somebody has a discussion one on one.
Josh – we don't have to all jump on.. go on like that on one person jump on a person at the same time.
Josh – we don't have to do that we can just play our game get them out and that's it, unless they address one of us then we'll handle it on our own.
Josh – fair game get them out..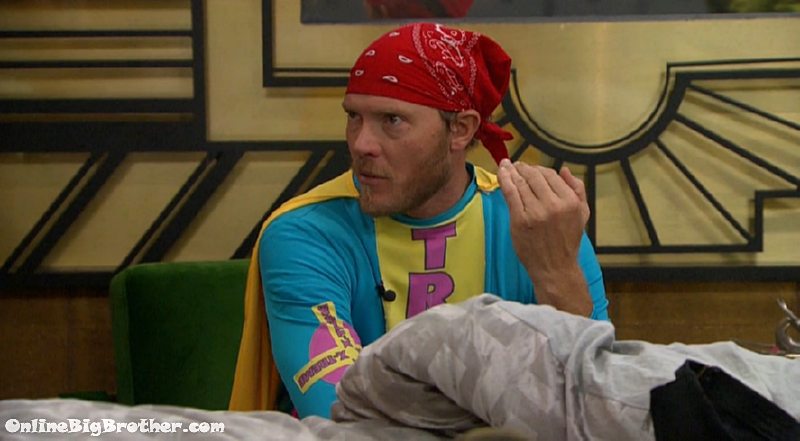 7:27pm Alex and Jason HOH
Alex saying that Kevin is acting weird again.
Jason – WHY NOW
Alex says He saw Jason, Christmas and Paul whispering and it freaked him out.
Jason – he can't hear.. half the time I don't even listen when you guys are whispering..
Alex says Kevin is being condescending..
Jason – so you think he's a sociopath.. he probably is (ZOMG)
Alex says maybe Kevin has no kids.. he hasn't won HOH yet.
Jason – I think you've shown your f*ing teeth enough can you chill a bit
Jason – people are scared of you legit Alex they are scared of you
Alex laughs..
Jason says he doesn't want her to become a target (too late)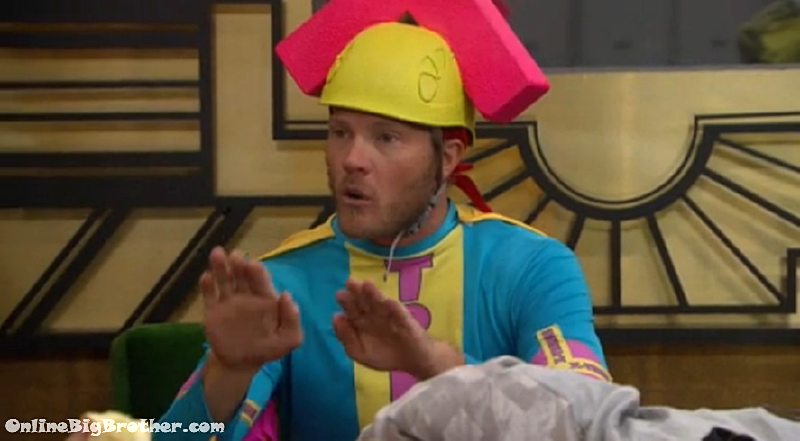 Jason – I don't want people to get tired of it.. A little give a little go.. a little give a little go
Alex says she did yesterday's fight on purpose.
Alex says yesterday she walked up stairs and Paul/Xmas were asking if she wants to start some sh1t with mark.
Alex – I was like.. I'll go start some sh1t right now
Alex says she wasn't planning on fighting today
Jason – maybe the are setting you and me up for failure
Alex – that's Paul and Christmas
Jason – I trust Paul that is why I gave him that little speech I wanted him to know. .
Jason says something is bothering Paul..
Alex says PAul was talking about his girlfriend to Kevin she's a public figure so they kept "Dinging him"
Jason again tells her to Chill too much of a good thing is still too much..
Jason – we got to worry about Game sh1t again we've already cut the people down.. you've proven you
Jason – now it's time to be the leader not the f*ing dictator..
Alex says they need to clip Matt and Raven
Jason agrees but says Mark and Elena deserve to be in the house way more than Raven and Matt.
Alex says that
Alex says Xmas being cuddly with Kevin as weird.. "it's weird.. if Holly saw you wrapping your arms around you would be divorced"
Alex – we need to create some distance between us and Josh.. he need to pull another Ramses.. I'll reiterate that to Paul..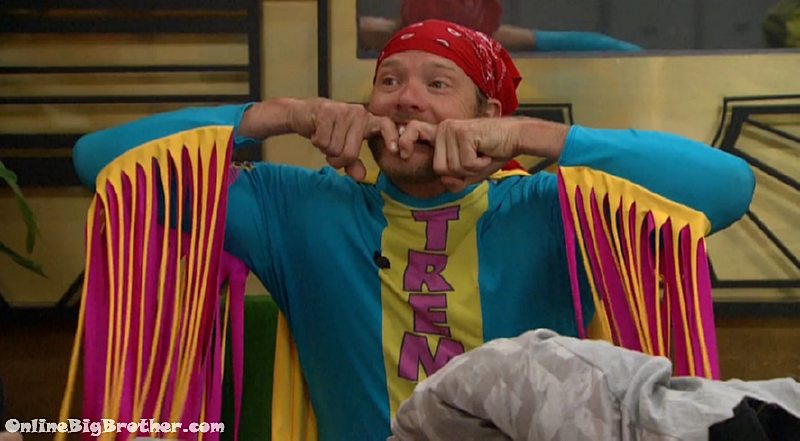 Jason warns her she needs to cool it. .. You should your teeth now you have to retract those mother f*ers
Alex – we have to hit those f*ers hard.. WIN HOH
Jason says the house is going to start blaming Alex for all the Drama if she doesn't cool it.
Alex says it was a boner mood to get in that fight before the HOH she blames it on Cody says he did it on purpose..
Alex says the need to cut Mark and Elena then pretend to get mad and Josh and take out Matt and Raven
Alex – we need to start distancing ourselves from Josh.. start planting the seed.. Josh is annoying me man.. to matt and raven..
Jason says it's too early to start turning on Josh
Alex – we have to start getting in fights now.. (ZOMG)
Alex – that's the best plan.. unless you have another one
Jason – no I don't have f*ing another one
Jason says Paul is always talking about cutting the showmances in front of Matt and Raven.
Jason says Paul talking to Kevin will keep him calm for 3 days
Alex – I'm so sick of Kevin's bullsh1t
Jason – it's petty little sh1t ignore it
Alex calls Kevin a baby… says she's using him as a pawn on when they take out Raven/Matt.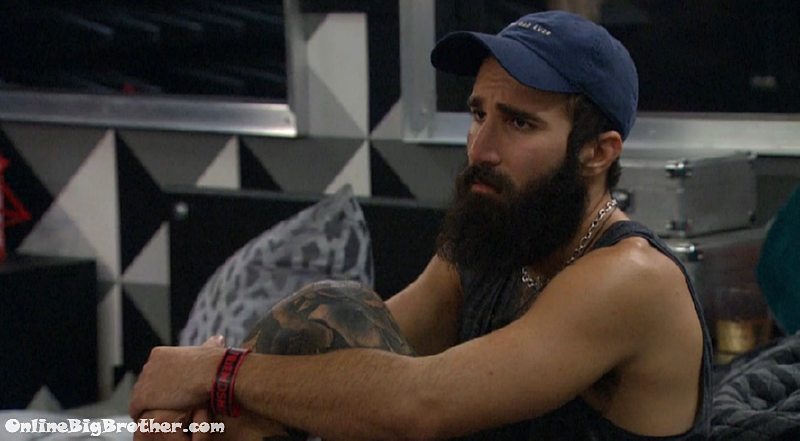 8:00pm Paul and Josh
Josh – I say we pipe down though..
Paul – I can't pipe down .. I don't even say anything to them..
Josh – I don't neither.. I just wanted to call them out tell them I've had it with them.
Josh – I don't think I did anything wrong today
Josh – certain people get involved and it gets Ugly (Xmas/Alex)
Josh – I don't want to make it personal because that is f*ed up
JOsh – certain people get involved and make it Personal.. now that is an attack
Paul – QUIT it with this Attack sh1t it's Big Brother you aren't attacking someones weight or saying they're f*ing ugly, that's an attack (it's not like your calling them the blob)
Paul – Josh I want you out of this house because you are an ugly mother f*er, that is an attack on someone
Paul – I want you out you suck at this game.. that's not an attack, you can have opinions
Paul – your allowed to have opinions it's when you intend to hurt..
Josh says the Diary asks him every week who he trusts the most and he says Xmas and Paul
Paul says he campaigned hard to keep Christmas and Josh in the house.
Paul – I blamed the 25 thousand dollars on Ramses
Josh – I know who it was
Paul – so do I
Paul – how do yo know
Josh – he told me.. when we walked into the house..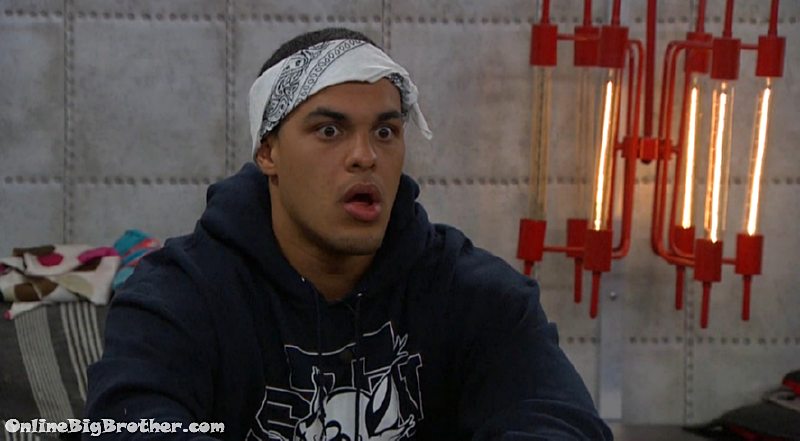 Paul – I'm sure he told whistle too.. I'm going to drop that bomb sooner or later. you better believe I am, you better back my a$$ up
Josh – no
Paul – f* ya .. when the time comes
Josh – it's a jury vote
Josh – you don't give a f*
Paul – I never gave a f* about that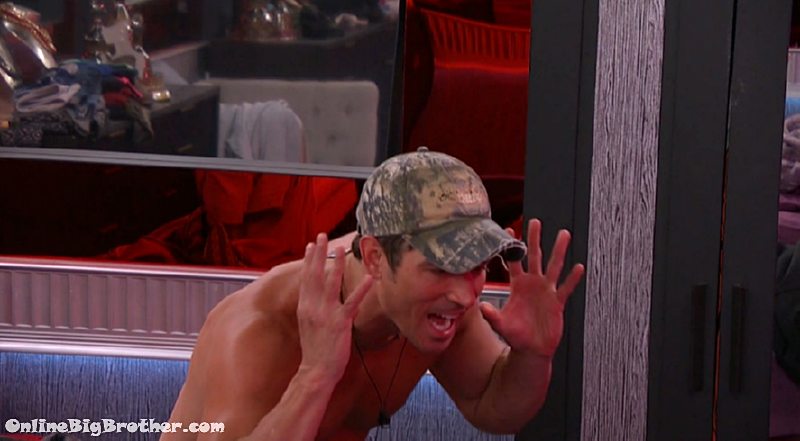 8:18pm Cody and Elena
Cody – I don't even know how is started
Cody – they just all came out and said you f*ing ate Alex's cereal
Cody – I was like yeah she said I could have it
Cody – Psychotic
Elena – it's just easier for people.. Josh was saying stuff that isn't true
Elena – it's just easier for them to create a bigger target on my back so it's easier for you guys to
Cody – that's all it is justifications for themselves, anything they do is right because they are justifying it..
Elena – I know what they are doing.. just put me up next week.. they create an issue and like I'm not the kinda girl that is going to roll over and say what your saying is fine or true I'm going to defend myself when you defend youself in this house it makes you the target
Elena – Cody is protecting me and the person Cody is protecting is going out next week.. how the f* is he protect me he's on the block next to him me
Cody – I couldn't get a sympathy vote for Jessica.. what do yo think I can do in this house.. I can't magically protect her
Elena – I said Cody's not protecting me. he's sitting on the block next to me
Cody – I'm telling them go with the plan there's nothing more to discussed just go with the plan
Elena says she'll meet him in Jury next week unless her or mark win HOH
The day summed up "Psychotic" #BB19 @DawgsBigBrother pic.twitter.com/FCxDx8xMq7

— OnlineBigBrother.com (@bigbspoilers) August 16, 2017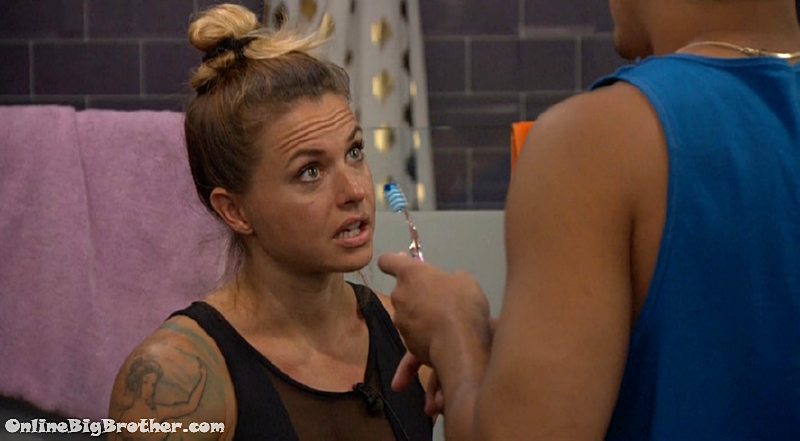 8:32pm Josh and Christmas
Josh saying that Paul is worried about how he's being perceived outside.
Josh says Paul, him and Christmas are fighters they are not going to be cornered.
JOsh says he's been nothing but nice to all of them and everyone see that.
Xmas – I'm in the same position.. his thing is Friendship my thing is gratitude
Xmas – I've built all my life and everything I stand on my business, my lifestyle, everything is integrated and it's all about positivity
Xmas – for em to get into an argument with somebody and to poke.. well not poke.. stand my f*ing ground..
Xmas – a lot of people are not going to understand that and take it out of context
Josh – nobody is going to understand nobody but us..
Xmas – a lot of people will understand and a lot of people won't
Xmas – it's also my right as a person to not be bullied and pushed into the corner and not be lied about
Josh – we're holding our ground.. we're strong minded people
Josh says at first he was worried about his family and how he would be looked at.. but this is a game they are playing a game
Josh – we're great f*ing people I'm sure America see that..
Josh – it's going to get Ugly
(just standing your ground, this was taken out of contex, positivity is the message, it's my right not to be bullied.. I have official used up all my ZOMG for the day. The fights are fun but these after conversations are killers to have to listen too. )
If you plan on buying anything from Amazon. Use this link Amazon home
Doesn't cost you anything and we get a small cut.
Links to the ranking system
Rank your house guests here
For those of you that like Statistics here are some expanded reports.