Head of Household Winner – Tommy
Have note are: No Have nots this week, Jack, Tommy, and Jackson were given punishments as part of the veto.
Nominations are: Cliff, Kat & Christie
Power of Veto Players are – Christie, Cliff, Kat, Tommy, Nick, Michie
Power of Veto holder –
Power of Veto Ceremony –
Powers in the game *** LINK ***
Grab your live feeds —-> BB21 Live Feeds Subscription Link
Rank your houseguests —-> Big Brother 21 Ranking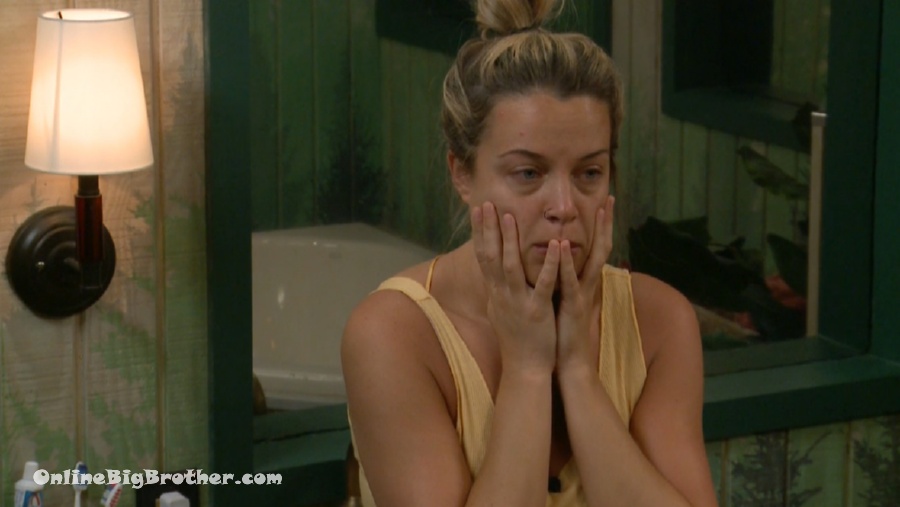 9:41 am Christie, Sis, and Nick
Nick about Cliff – He's such a f*er he's such a snake
Nick calling Cliff a Snake says he heard Cliff tell Jackson he would pick him for Veto if he could. Nick adds that he offered to take Cliff down if he won the veto so Cliff isn't trusting Nick.
Christie – do you think Michie will take Cliff off. the point is to get me off the block. I'm worried if Michie wins it
nick – you think he'll actually take you off
Chrsitgie – I hope he throws it
Sis says Jackson will keep the nominations the same.
SIs – didn't sound like there was a lot of chips in there.
Nick says he's winning the veto and then he's flipping Nicole.
Sis – we're getting her to flip if that means I have to go up to .. F8ing Nicole.. I don't know what to say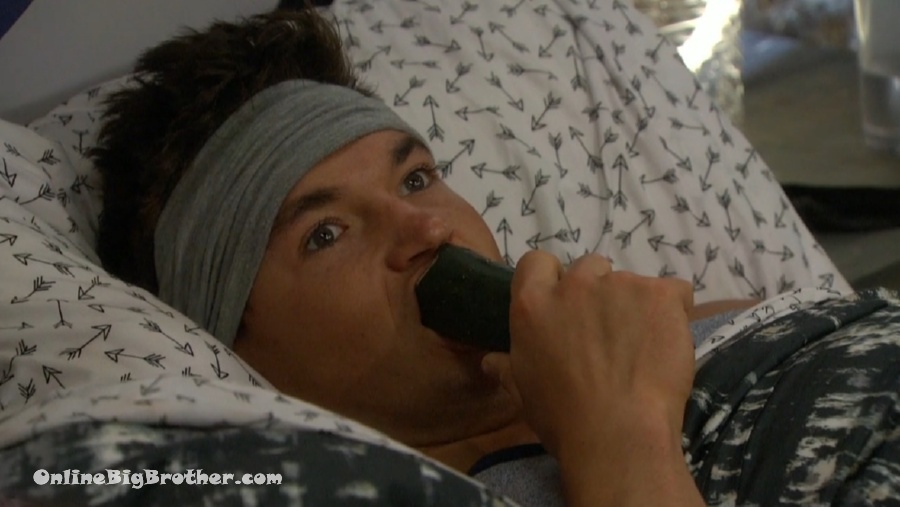 9:46 am Cliff, Jackson, and Holly
Jackson – I got you big HOGG I'll do everything I have in me
They are agreeing Christie picking Nick to play in the veto means he's got something worked out with her. otherwise, Christie would have picked SIS
Cliff leaves.
Jackson – I actually have to win now. I'll win and keep them the same. I can't risk you getting put up.
Jackson – If she picked Nick, Nick is working with them and we aren't
Jack says if Nick wins it he's using it on Christie
Holly says Kat is worried about Nicole because Nicole and Nick are really close. Even though Nicole has an alliance with them.
Jackson says Tommy, Christie, and Nick will all take Christie off.
Holly – 50 / 50
Holly – Yesterday Kat was saying Nick hates Christie. She said he would vote her out.
Holly – everyone hates Christie but they're scared to take a shot at her. Sis hates her but she sleeps in bed with her
Jackson – I'm not going to let an opportunity with her on the block and us not having to put her up
Jackson says he has to win the veto and leave the noms the same.
Holly – Christie made Sis cry the other day.. She's a bully, She's mean.
Holly – Sis the other day said she hates Christie now she's buddy-buddy
Jackson – she has to be
Holly impersonates CHrsitie in the bathroom last night – "this isn't fair this wasn't supposed to happen. There's two nominees I didn't get put on the block this is not fair this isn't how it works"
Holly – She's really sour about it
Jackson says that field trip was America's least favorite player's it was supposed to be Jackson, JAck and Christie.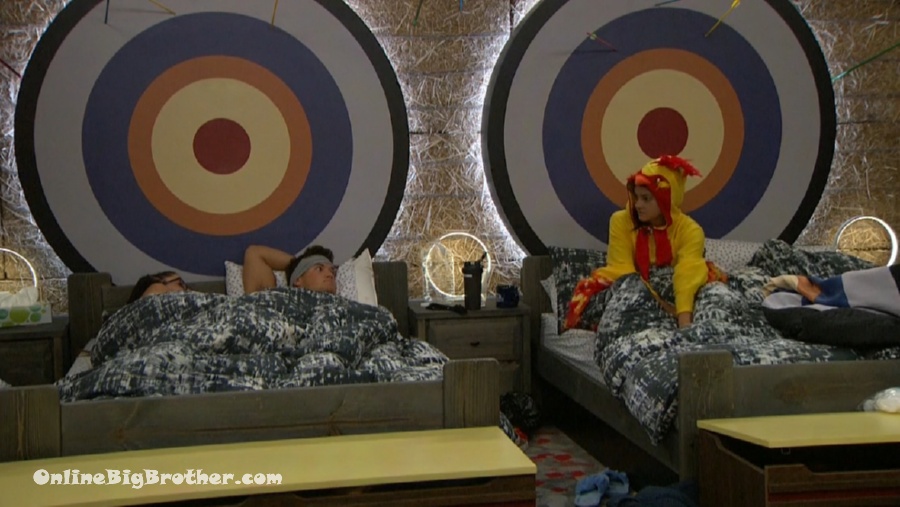 10:06 am Sis, Jackson, Holly
Sis – It's smarter for us to still work together for NOW..
Jackson – us 5
Sis – FOR NOW, if we don't we won't have numbers.. At least I won't
Jackson – why did Christie pick Bick
Sis – Becuase Nick said he would take her off.. is that bad?
Sis – She was going to pick me but I told her I was too tired and if ti's OTEV I won't do well. I don't know whit.
Sis is claiming she can be trusted because Sam told her "SO much sh1t" and she never told anyone.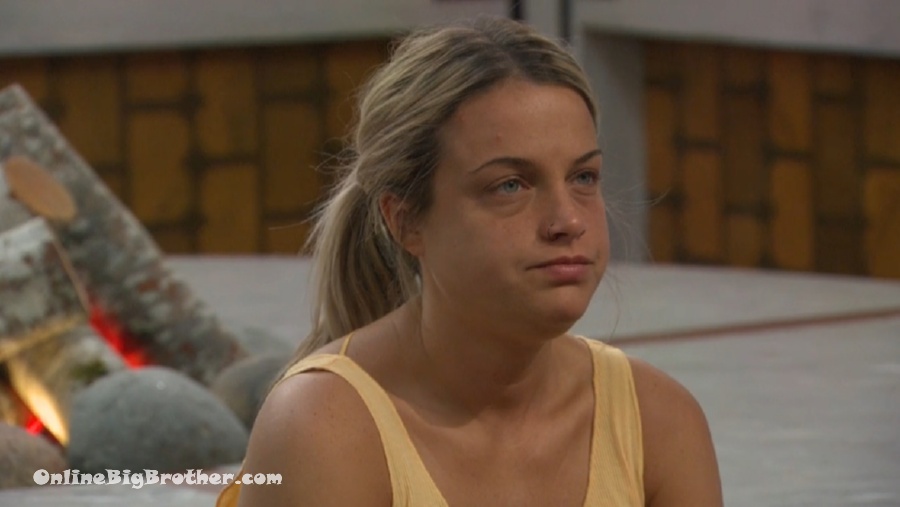 10:07 AM Christie and Tommy
Tommy reassuring her that Jackson is going to throw the Power of Veto competition
Christie – I hope he realizes if he uses it Holly could go up
Tommy – exactly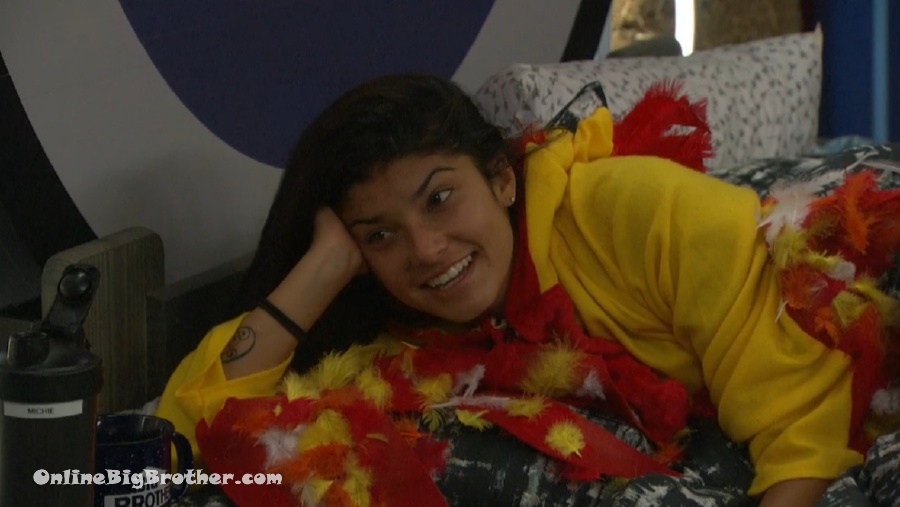 10:23 am Sis and Jackson
Sis pushing to bring the group back together
Jackson – it goes against every grain in my body working with her
Sis – from talk I heard that some people from that side were upset that you weren't put up on the block. So that means you would be the next biggest target if she left.
Jackson – alright I'm going to go Shower real quick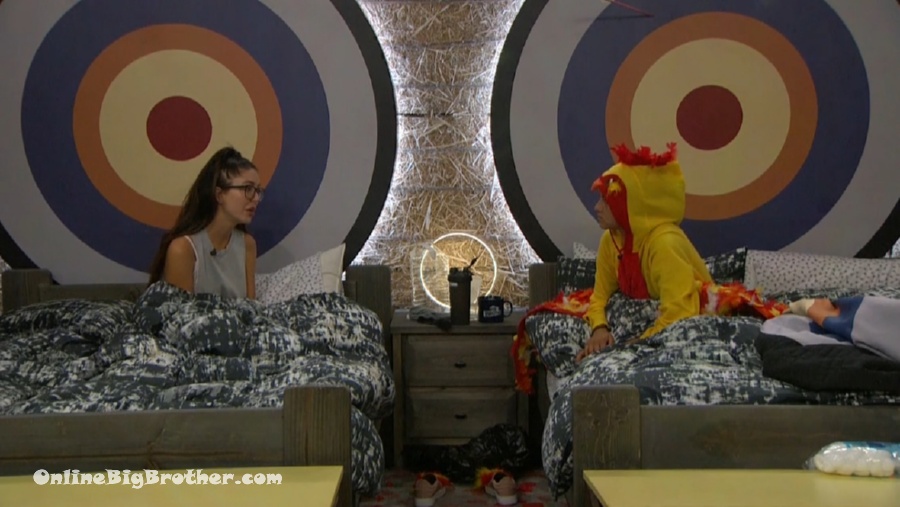 10:29 am Sis and Holly
Sis going on about CHristie being the shield for Jackson
Holly – the thing is. Look at Nick he went from being the number one enemy to on nobody's radar. Christie might do the same. She's on everyone's radar right now.. I don't know I don't trust her she was going to put me up. Like what the f*. She went from sleeping in my bed during my HOH to two days later saying she's going to put me up.
Holly – I did literally nothing
Sis – people were getting upset thinking you were campaigning for Jackson
Holly -everyone was campaigning for Jack how is that any different.
Holly says Christie, Sis, and Tommy were all campaigning for Jack but for her to campaign for Jackson she's now a target.
Holly says the things Christie said about Jackson were not OK
Holly says Christie says not okay things about everybody.
Sis – you know how I feel. I don't trust her but I hide it because at the end of the day she's a number for me and she will have my back
Holly – maybe
sis – only if it would benefit her yes
Sis – She's a number and always a bigger target
Sis continues to work on mending things between Holly and Sis
Sis – trust me it's really hard for me to work with her.. She's a f*ing number
Sis – Nick will work with us to
Holly wonders if she and Michie were replaced with Nick.
Sis – hell no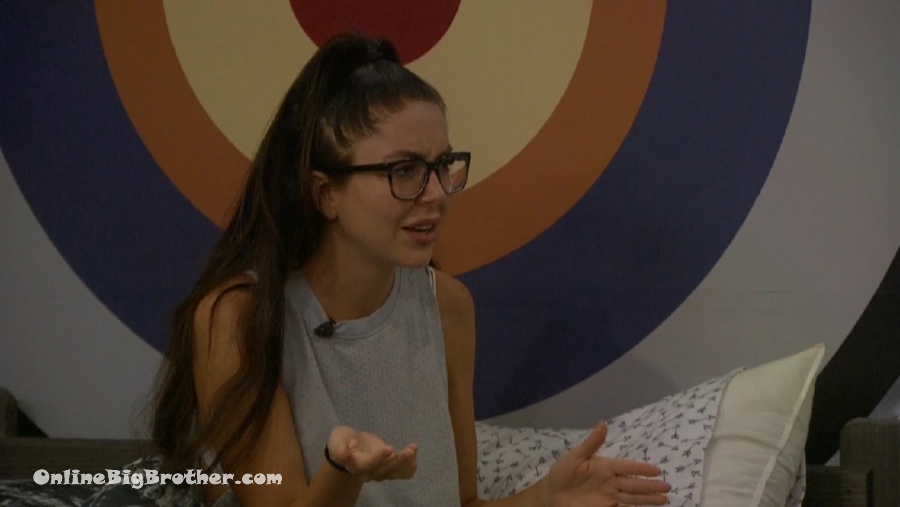 Holly says it's hard for her to work with Christie "it's what she said about other people how she's burnt other people how she attacks people's character"
Holly – I'm sorry she's literally, I feel she is a mean girl. I didn't come to play Big Brother to be in a high school clique I have to bow down to the bully so I don't get put up
Holly – she's literally a high school bully. She's mean to everyone she talks shit about everyone
Sis – I know
Holly – she talks over everyone she makes every conversation about herself.
Holly – she always gets what she wants. Everyone is afraid of her.
Holly – She lies and then she cries to get out of it
Sis says she really does trust Nick again.
Sis asks her if she feels close with the other side
Holly – not at a game level
Sis – they're putting me up if we get one of them out this week that's one less number and we'll have more. Once they're all gone we go after each other
Holly – the only thing that scares me is her
10:20 am Tommy and Jessica
Tommy says it "breaks my heart" to find out about how the other side of the house felt like the outsiders.
Noon – Jessica and Tommy are up in the HOH Nick Joins them.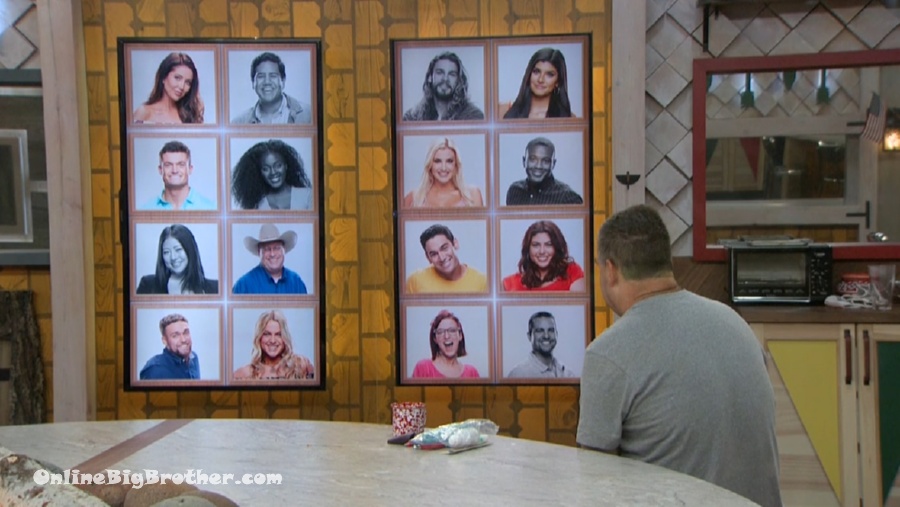 12:19 pm Cliff and Nicole
Studying.
Cliff – I'm disappointed Nick got pulled up would have been great if it was you or Jess.
Cliff – Michie swears up and down he wants Christie out. Christie seems to think they made up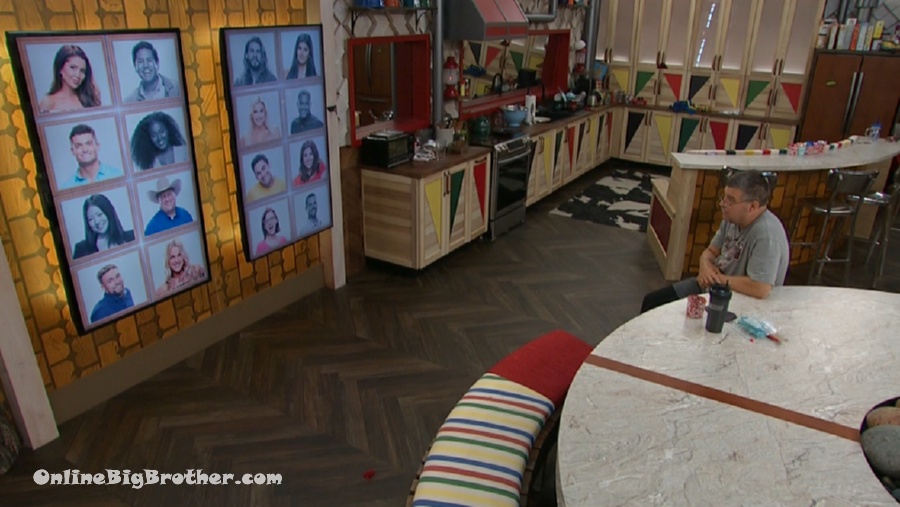 12:58 pm Cliff Studying the memory wall
Cliff – How glorious will it be they get their a$$es kicked by a 54-year-old baby boomer member of AARP
Cliff – if I am to win it means I am focused more, I want it more and I've prepared more
Cliff comments how everyone else is laughing.
Cliff – why would you not prepare for this thing
Kat joins them. Cliff tells her Nick has turned.
Kat – I'm glad Jackson is playing
Cliff – I hope if he wins he pulls one of us off or keep nominations the same. As long as we can keep her up there.
1:27 pm Kat and Cliff
Cliff says Jackson may have been the primary target.
Kat says Jackson being safe is good for them this week
Cliff – as long as it goes our way. it's big brother there's twists in the game it could have been worse
Kat says she believes in the Angels "I really think it will all work"
Cliff – if Nick has jumped ship it is tougher
Kat – Nick has definitely jumped ship
Cliff – but if we can get Christie out then sudden;y who is he jumping ship to. Tommy and Sis that's not much of a chip
Kat – I don't want him on my side he's already tried to get Nicole to go to that side
Cliff – I believe it absolutely believe it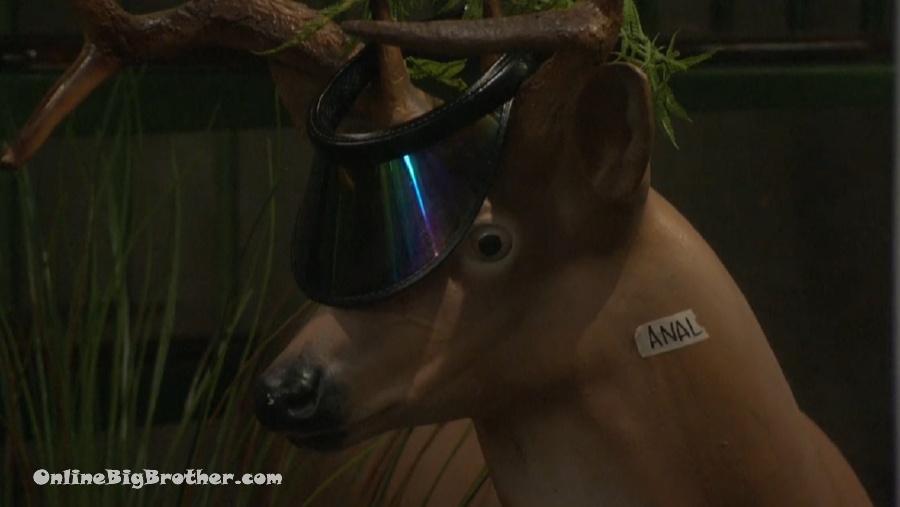 What the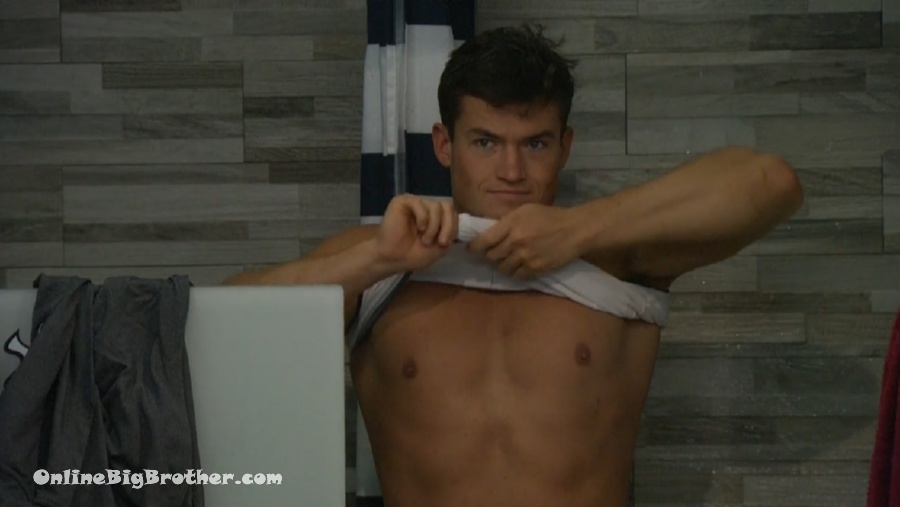 1:32 pm kat and Michie
Michie – If I win I'm keeping them. For a couple of reasons. You have a better chance of staying against him and I love Cliff but I don't want to see you go anywhere.
Michie – I don't want Holly to be the backup option because he was going to put me up
Michie – My goal this week is to keep Christie on the block and send her home
Michie – the problem is getting the votes for Christie
Michie says Nick has jumped to the other side and Nicole/Nick are close she may have to.
Kat – I have a good feeling. I want to win the veto too. I think it might be best if you win becuase..
Michie – Best case scenario is I win it and not use it don't take offense.
kat says she won't
1:45 pm
Cliff pre POV dance #BB21 pic.twitter.com/AG4Mtf5Q8L

— OnlineBigBrother.com (@bigbspoilers) August 10, 2019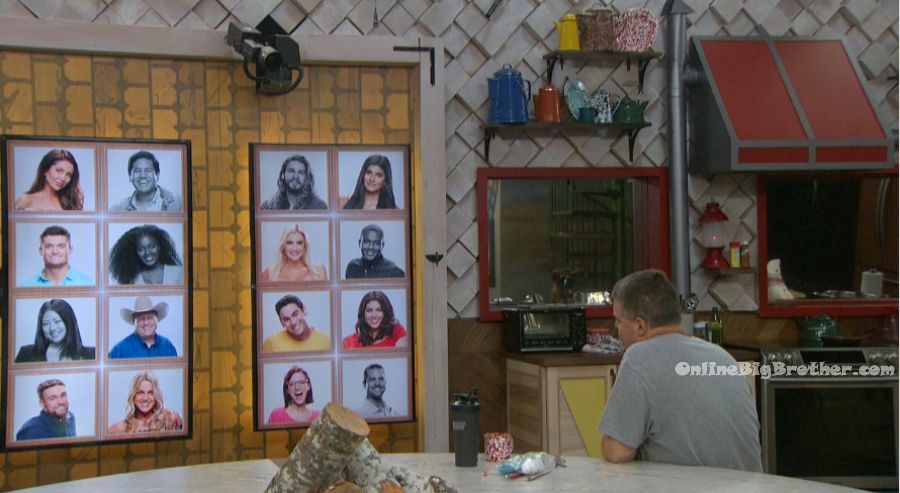 2pm Kitchen. Cliff is looking at the memory wall and talking to his wife. I am going to drive you crazy .. laying in bed next to each other. How can I not snuggle right up next to you. MMMmhmmm.. wow! I so want to be home. These guys are all talking about trips to Vegas and Cabo.. hanging out at bars and all that. Ah.. I will make my appearances and all that but then I'm coming home. Coming home and back to life where I know who and what really matters. This is a studio sound stage. These are contestants. We may have connections but Sharon and I have the love. All due respect to Jeff and Jordan who found love in here but you've got a long way to go before you find the love that Sharon and I have. I love you Sharon. I can't say that enough times. It gets lonely in this house. To know my life isn't just about me .. its about something greater than that .. its about family. Cliff starts studying the days / events of the season. Cliff – regardless of how it goes today, I can't say how happy I am that we got Jack out. Maybe in the end it doesn't matter but that guys was the linchpin for that side. Other people have a chance now.. but it can't just be me and Jess doing it. I am trying to look at these pictures but from a puzzle standpoint. Not my strong suit. That is going to be hard.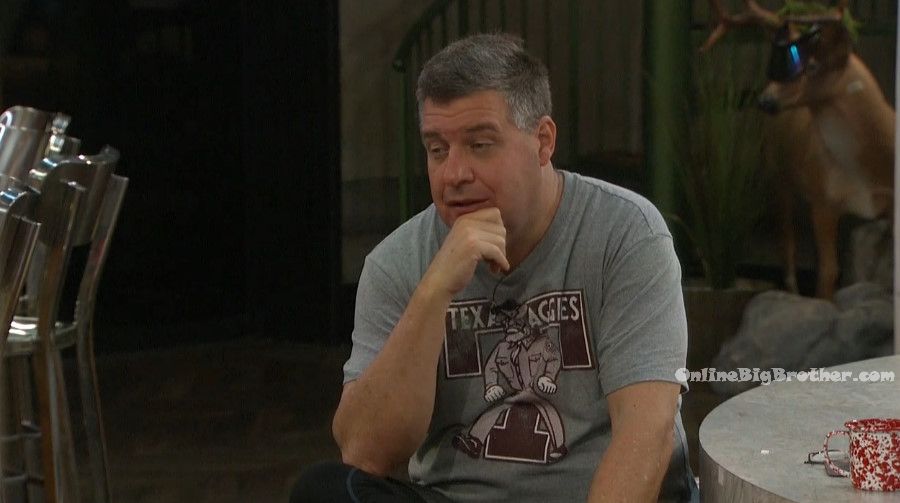 2:15pm Outside the HOH room. Nicole and Kat.
Nicole hugs Kat. Nicole – I love you. Kat – I love you. Kat – I don't want to go. Nicole – I don't want you to go either. Kat – I don't want Cliff to go either.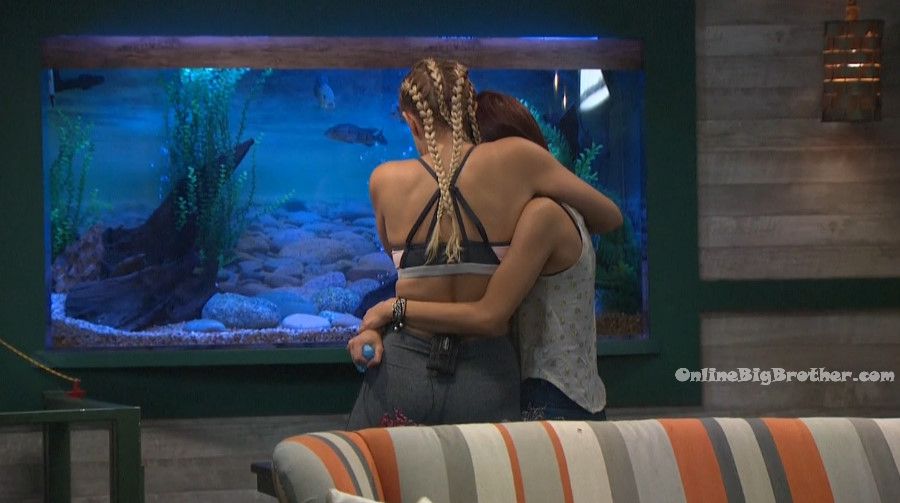 2:40pm ….

HOH room. Christie and Nicole. Christie – I feel like I am in a weird spot this week with being on the block because if I stay on the block, I will probably go home. Nicole – I wouldn't even put yourself in that mindset though. Christie – I think that is why I am down about it because everyone is super close with Cliff and Kat. Nicole – I am worried that I could still be seen as a flip flopper. Christie – no, I don't think people see you as that. Nick always says you the best person in the world. He talks trash about everyone but not about you.
3:10pm – 3:34pm Christie – there have been two occasions where you were the target and me personally and Tommy sat in a room for literally 40 minutes .. I swear on my sisters life .. America .. it was on footage and talked about quite a bit. Sat in a room to convincing someone that it was the dumbest thing in the world to be a target. I just want .. I'm sure you can figure out what I am talking about. Nicole – yeah I think I know. Christie – You are not even a little bit on my radar. You, Jess or Kat are just not. Like I don't want to work with people in the house that lie. And that is not you, that is not Jess and that is not Kat. I see who's lying and its not you. I don't care if it has to be brought out in the open. I really hope and I pray that me or Tommy win this veto. I know he feels its unjust…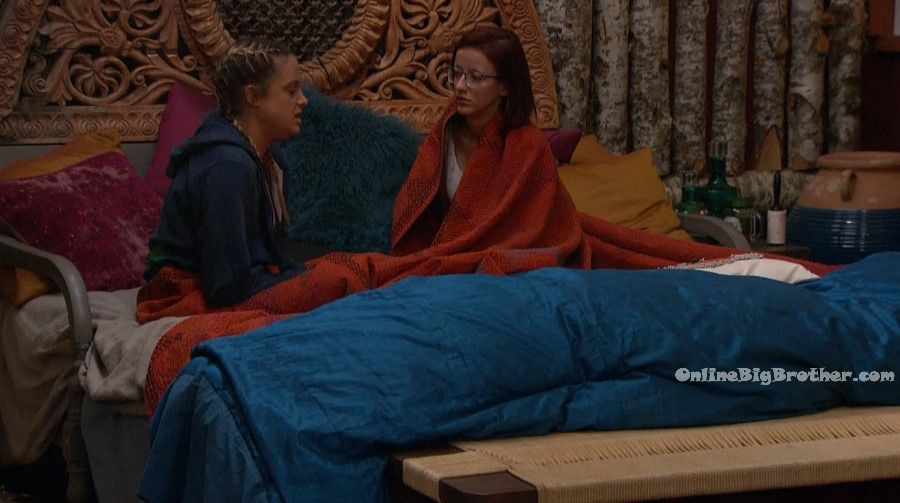 3:34pm Big Brother blocks the feeds for the power of veto competition..
Help support the site consider becoming a member
https://www.onlinebigbrother.com/onlinebigbrother-members/