Head of Household Winner – Tommy
Have note are: No Have nots this week, Jack, Tommy and Jackson were given punishments as part of the veto.
Nominations are: Cliff, Kat & Christie
Power of Veto Players are –
Power of Veto holder –
Power of Veto Ceremony –
Powers in the game *** LINK ***
Grab your live feeds —-> BB21 Live Feeds Subscription Link
Rank your houseguests —-> Big Brother 21 Ranking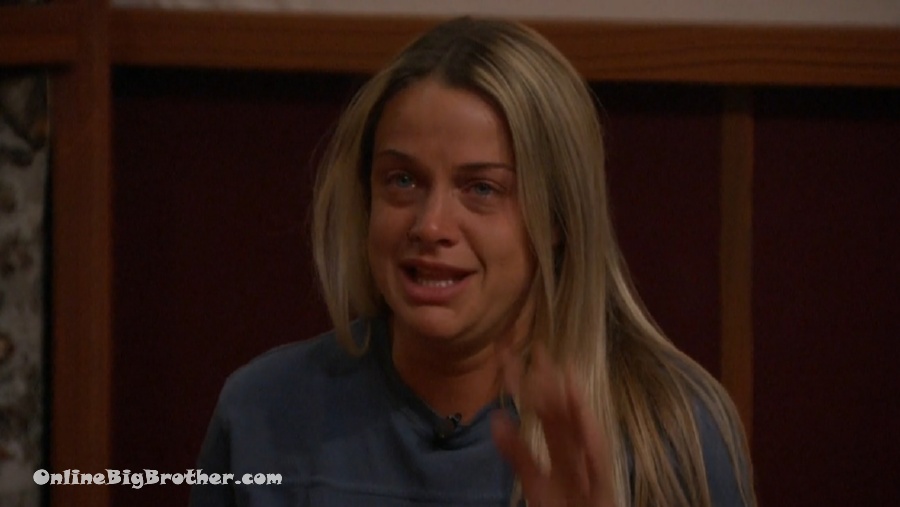 12:03 am Nick, Sis, Christie, and Tommy.
Christie – IF I win the veto blow it up I don't give a sh1t
Tommy – I'll say this only in this room, I think Kat is more dangerous than Cliff
Tommy – Number 1 he's a guy I don't want a guy going out this week
Tommy – number 2 I respect him and his game so much (don't you love it?)
Tommy – If Cliff is on the block at the end of the week I can say to Cliff I have people that will vote the way I want them to vote. I heard you want me as your number one target
Tommy adds if Cliff offers him 2 weeks of safety he'll tell Cliff he'll get him the votes to stay. Nick and Tommy both saying they want Cliff in the house "I value his word moving forward"
Tommy – THe goal is to get you off the block this week, Make the deal with Cliff and Get Kat out. I want to get out of this week with no blood on my hands.
Nick pushing for them to pull Nicole into their group.
Tommy – what you preach about your mind and the power of intentions your thoughts the universe. I think you are in a negative place
Christie – I'm so depressed
Christie cries – You know what I think it's about I feel like America hates me
Tommy – no
Christie – I think, I don't know how I look. I know that's what it really is about. It's not even about wa wa I'm on the block like how did I wind up in that comp.
Christie – because of me that felt so strongly about the things Jackson did and how he portrayed himself the way he spoke to kat, Me, and the way he played dirty tricks.
Christie – almost in a way me feeling so strongly I could have made myself the villain and it's freaking me out I don't want my family to see and think of me as a bad guy
Sis – there was one thing that was safe.
Sis and Tommy agree it would have been Jack and Jackson up on the field trip had Jack stayed
Christie – it was me jack and Jackson
Sis – what if America wanted to get you the safety vote they were scared.
Christie back to worrying how she is being taken "My personality is really strong"
Christie – I was given this chance to keep myself safe and I choked.
The HOH room goes on and on trying to make Christie think she's not hated. Nick says it was the "recently effect"
Nick says Christie is coming off the block tomorrow and he's going to flip Nicole the vote will be 4-3 on Thursday.
Tommy again going on about how Michie is voting their way "I'm not going to rely on it"
Nick doesn't sound convinced they have Michie's vote
Nick – none of these f*ing dorks are taking us out (Says the biggest dork)
Sis – you're f*ing right
Nick – f* that black widow bullshit I'll be the widower dog you ain't taking me out I will self evict before Jess gets me out of this game bro
Tommy leaves to do a Diary Room.
Nick brings up Flipping Nicole. Christie goes on about how much she LOVES Nicole "I fought for that girl"
Nick – f* kat and her dumb ditsy a$$ bullshit she's smart as f*, F* Holly being fake, JAckson was being fake the whole time I f*ing knew that he was being a snake to me
Nick – Jess needs to f*ing go bro like tomorrow I f*ing can't stand her bro she's f*ing bad
Sis – Jess is scary
Nick says if Jess is in the house Jackson has to stay.
Christie- so you have to take her out
Nick – I'll take her out gladly
Nick brings up Jess talking always about equality yet she says she'll vote for a girl to win only because she's a girl "That's f*ing bullshit"
Nick asks them what would be said if he told the house he's not voting for someone because they are female "that's discriminatory it's ignorant"
Nick – yo are not discriminate me because I'm a male
Christie and Sis both say "I love Jess"
Sis – I love what she stands for Equality and body positivity
Sis – I've always been a girl that doesn't agree with the whole feminism thing (sis never learned what feminism was after 4 years in a US university)
Christie – I don't think in the real world she's a man-hater she knows she lakes in physical comps here she sees this as her best bet.
Christie- I don't thin kit's right that she's only purposely nominating guys
Christie goes on about having to be so fake because of the show they are in and she hates it.
Nick going back with lusting about reforming a 6 person alliance. "Take out Jess, Holly, Jackson"
Nick – then it will be Nicole, Cliff and you three and we duke it out
Nick – not like it is a three but that's how we will pitch it.
Nick goes on about how Nicole is his girl "we're super tight"
Christie – I see Nicole as a very timid MEEK girl that hasn't made any game moves and hasn't won any comps. She's not a threat.
Nick says Nicole will put up Jackson and Holly if she wins next week
Sis – yeah
Christie says Kat is "Inauthentic" because she flipped to "Michie's side"
Christie now going on about Kat, Holly, and Michie knowing each other
Sis points out that Christie has a HUGE crush on Michie that is why she keeps going back.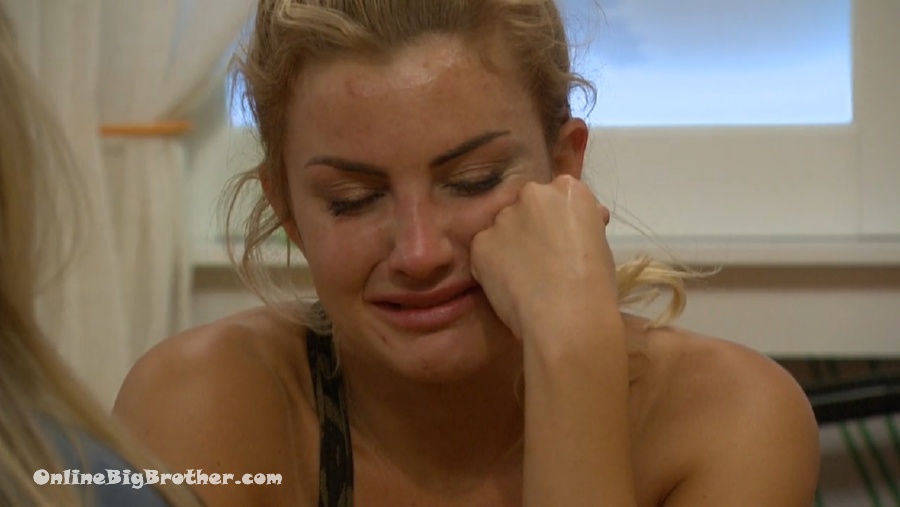 12:35 am Kat and Christie
Kat Crying about being on the block is worried Tommy doesn't like her. Christie says it wasn't personal "he has to have a game reason"
Christie says it wasn't Tommy original plan things happened and forced him.
Christie gives Kat her shirt to use as a tissue
Kat – it just hurts my feelings. I get it it's a game.
Kat continues to cry and whimper "it hurts"
Christie – everyone in this house loves you if it's the three of us on the block on Thursday I am going home
kat – you are not going home
Christie – KAT are you serious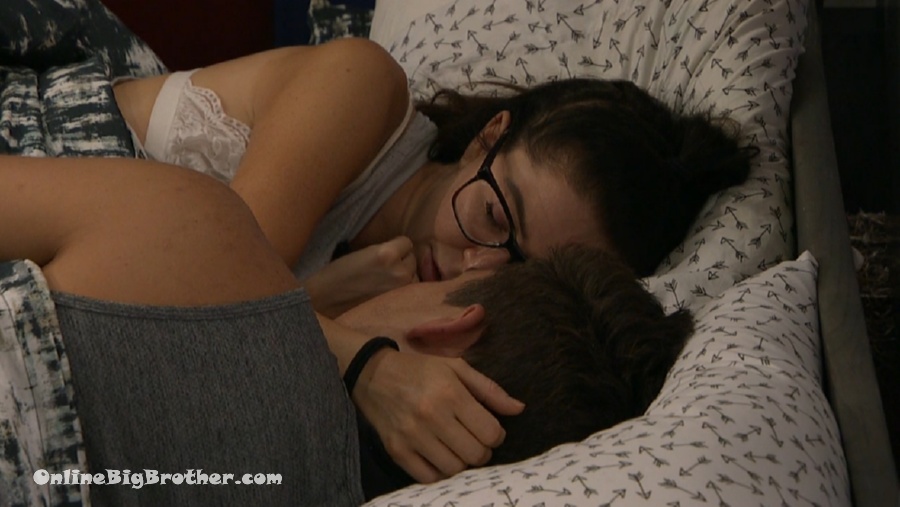 12:33 am Holly and Jackson
Jackson – Nick said yeah I'll sleep in the RV .. you're going to put PAUSE PAUSE in her
Jackso – he said are you going to DUMP oni
Holly – ewww
Jackson – IN front of Christie and Sis
Holly – ewww
Jackson – I was like what the f* she's not a waste management basket are you kidding. He goes Well I didn't want to say it
Holly – eww.. what is wrong with him
Jackson – are you going to dump one … pause … pause … pause .. IN her .. you going to dump one…… in her
Holly – that makes me want to vomit
Jackson – yeah
Holly – thank you for saying something because that's not OK
Jackson – especially when you're not there
Jackson – Christie though thought it was hilarious
Holly – I'm sure she did
1:05 am Tommy's punishment is now complete
Tommy strips down to his underwear
Nick – look at that baby Carrot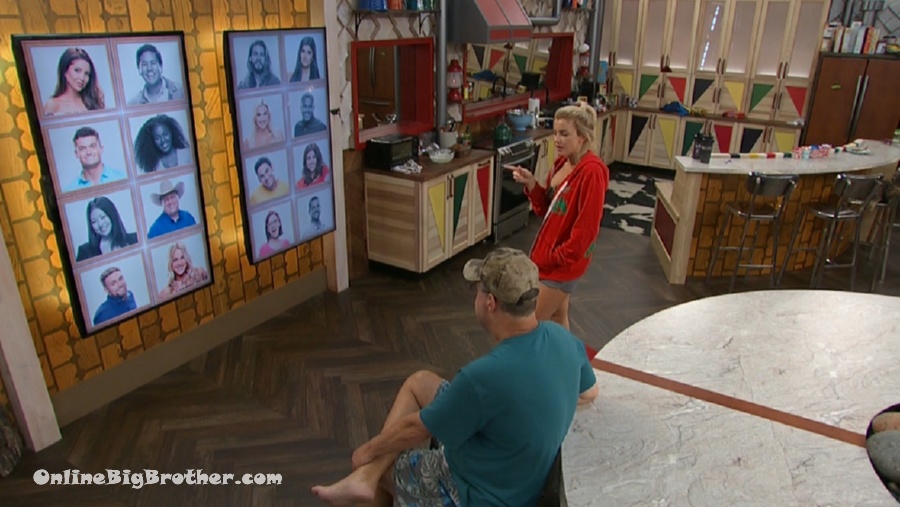 1:50 am Cliff studying the memory wall and dates. Kat joins them
Kat – there's a chance it could be OTEV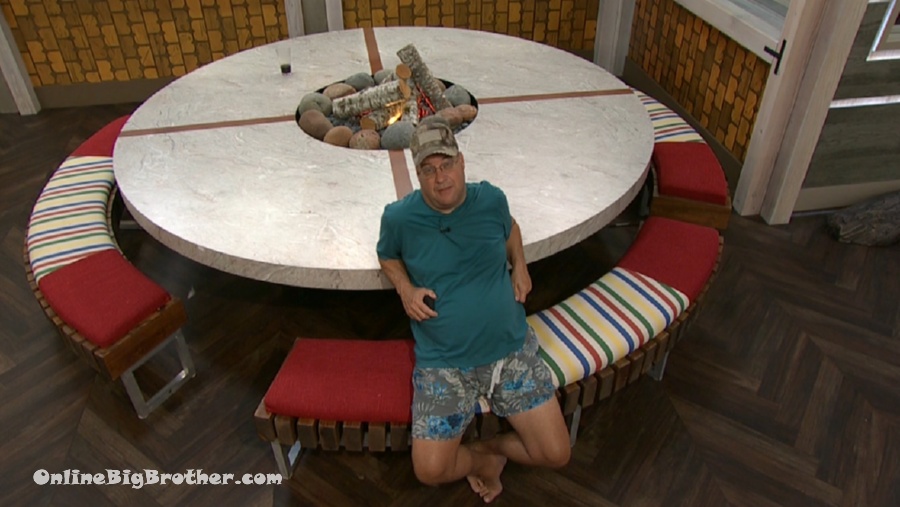 2:18 am
After Kat leaves Cliff going on about being 25 years older than anyone in the house and can still integrate and survive.
Cliff – it hasn't been easy. I'm tired of putting up with Bowl humor and pimple popping and Hip hop music during the lockdowns and people who are not nearly as funny as they think they are
Cliff – there's a lot of lost souls in here there are people still trying to find there way through this life. I am already on the other side of that journey. So much crying and emotions. It's just a freaking game.
6:00 am Sleeping