Head of Household Winner – Tommy
Have note are: No Have nots this week, Jack, Tommy, and Jackson were given punishments as part of the veto.
Nominations are: Cliff, Kat & Christie
Power of Veto Players are – Christie, Cliff, Kat, Tommy, Nick, Michie
Power of Veto holder – Tommy
Power of Veto Ceremony –
Powers in the game *** LINK ***
Grab your live feeds —-> BB21 Live Feeds Subscription Link
Rank your houseguests —-> Big Brother 21 Ranking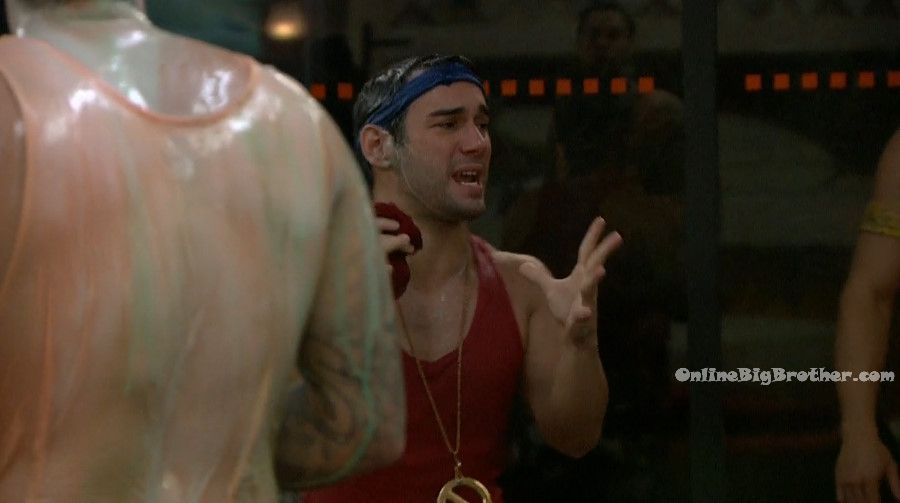 3:34pm – 5:57pm The live feeds are blocked for the power of veto competition. It was OTEV.
Power Of Veto WINNER: TOMMY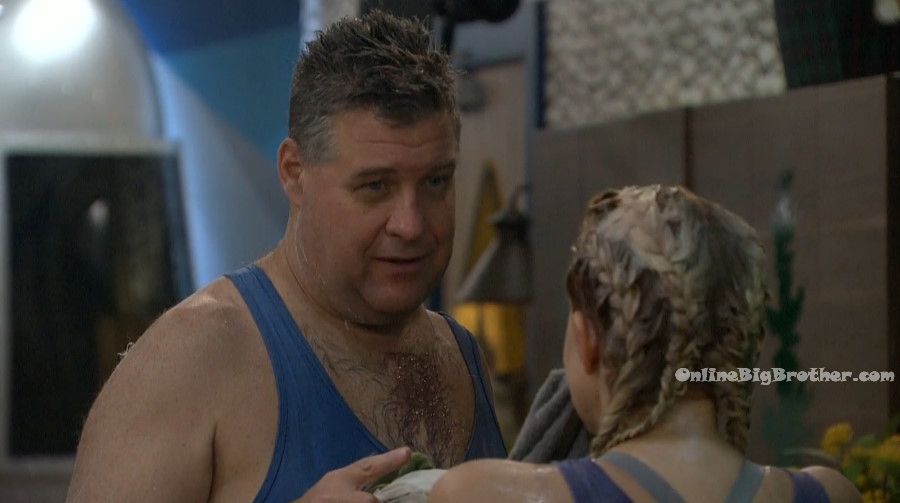 Tommy – I love you guys so much! Everyone did amazing! Tommy heads upstairs to shower. They're all covered in goo. Cliff tells Kat she did amazing. Kat starts crying and telling Cliff that she's sorry. Cliff – you don't have to apologize its a game. Kat – I didn't want to hurt you. I just feel so bad. I'm so sorry. I feel so bad. I feel like a monster! I just want to be let in… (to the DR). Nicole – no one feels like that. Holly – you're literally fighting for your life in this game. Don't beat yourself up about it. Kat – I feel so bad, I didn't mean to hurt you. Cliff – I love you because of who you are. Nothing changes that. Its nothing that you shouldn't do. Kat – that's not the way I compete. Cliff – there was one slot left for the both of us. Kat – but you got hurt because of what I did. Cliff – no it wasn't from that it was from the beginning and the headbutt. We're good. We're good. Give me a hug. Its okay to feel bad about it but you didn't do anything wrong.




Kat – I just feel horrible. Christie – I know how you feel because you were involved but its a game. As an outsider I have a heart too. He understands. You didn't push him. He fell and you tried to run ahead. You grabbed the rope. I think when you re-watch it you will see that it was a fair game. He had a bad leg, you know? And the way that you handled it and you showed immediately how remorseful you were. No one will think that you're evil. Kat – I feel like a monster. Christie – no, no one is going to think that. Kat – I feel so bad though. Christie – he understands. He probably wouldn't have lasted another round. Don't beat yourself up about it. Kat – its so awesome that Tommy got it.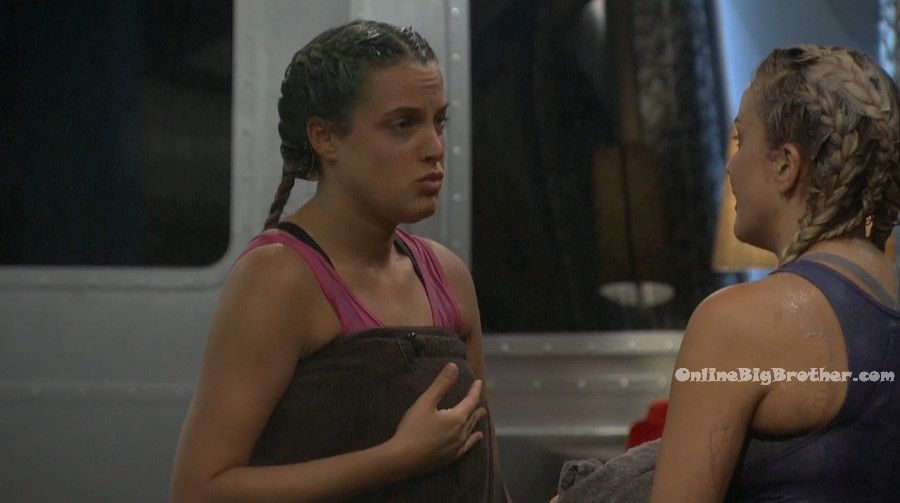 6:20pm Bedroom. Holly and Jackson hug. Jackson – the thought of working with Christie makes me sick to my stomach. Holly – and Sis too. Sis and I talked about it too. Jackson – Like I don't want to work with her. I don't want anything to do with her. Holly – I am assuming Cliff is going home this week. Jackson – lets vote Cliff. We can't vote Kat out. Holly – I am assuming Cliff will go home and that sucks for us. Kat joins them and starts crying about how bad she feels for what happened between her and Cliff in the comp.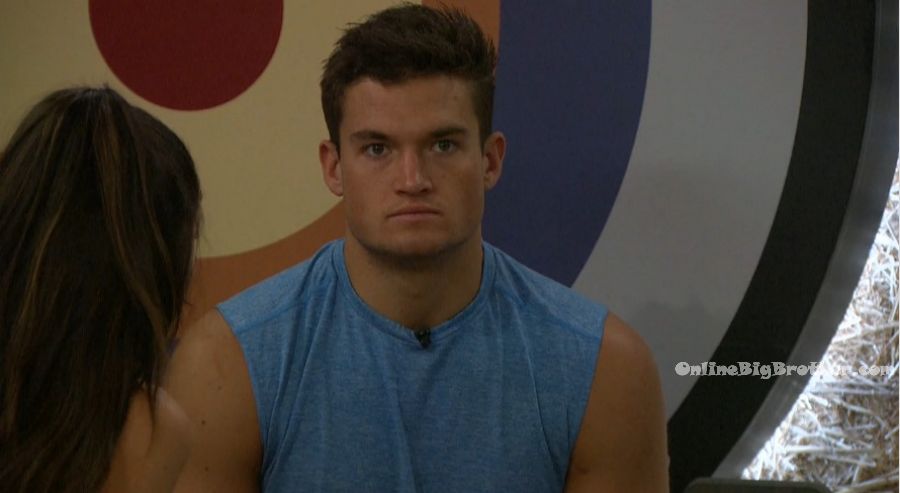 6:20pm – 6:30pm HOH room. Tommy and Nick.
Nick – once we got her out.. it was a lock! They talk about how she (Kat?) was putting all of them in the corner. Nick – step one was getting Christie off. Step to is to get this f**king vote to flip .. if that's what you want. Tommy – I want talk to everyone. I gave my word this week that I am not building alliances this week. So I heard you say step two get me, you, K.. I love that. I gave my word because we had this alliance and then people were on the outside of the alliance. I gave my word to Jess and Nicole. I said I am not building an alliance this week. Nick – I didn't mean an alliance, I meant to get her to flip. Step two was to get Kat out .. if you wanted that. If not then we would just get Cliff out. Tommy – I think I do but I wanted to talk to everybody and figure it out. For a few reasons .. Cliff is hurt. So he is a weaker competitor at this point. And I think she is a stronger competitor .. and I want a girl out to be honest to even the playing field. So I want to get rid of a girl. Its as simple as that. I think that its fair because she is connected to everybody. I think it makes sense but I want to see what the house has to say. I am just happy that Christie is not going to be up there. It would have been scary for sure. Sis joins them. Nick – Christie is winning this double too. I can feel it. Tommy – me too. I want to just talk to everyone. Sis – I don't care who goes. Tommy – I am probably going to take Christie off. I am not going to say definite .. but probably take Christie off. Then it will be between the two noms. I want to talk to everyone in the house and see where everyones head is at. Nick – I don't even want to talk game. I just wanted to get her off. Sis – I don't care who goes but am leaning a little bit towards waning Kat to go. It doesn't matter I guess, either one.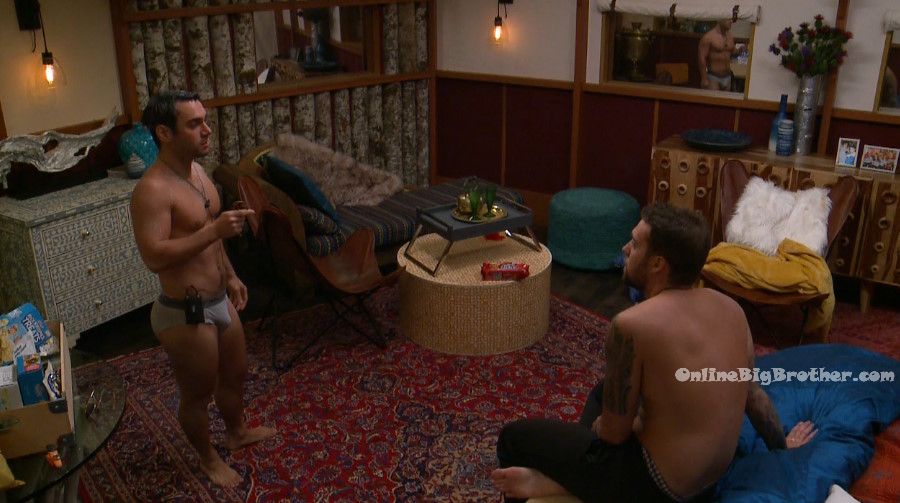 6:48pm Bedroom. Cliff, Nicole, Holly and Jess are chatting. Cliff – I am going to find out. I am going to talk to Tommy. If it seems like a set .. deal that I am going home or something I will see if he can't let Kat know so that she doesn't have to spend this week frantic and crazy and everything. I would rather go and let her know and make some decisions. I am not giving up until you know there are no other options. Holly leaves. Cliff – I want to talk to Tommy .. it might be a long shot but I want to find out if he might be ready to cut loose from Christie. Jess – don't push that.. Cliff – I am going to ask what his thinking is. I could say something like.. If there is something that can be done .. you own me. You've got my support.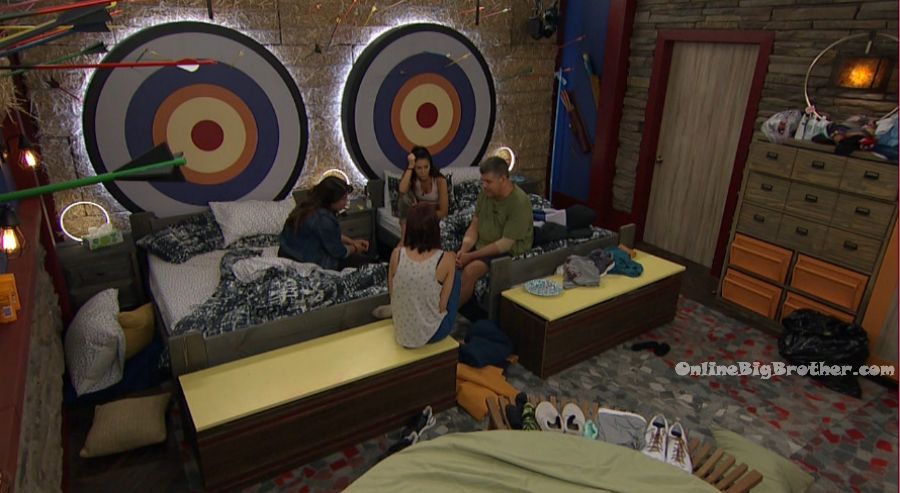 6:45pm – 7pm HoH room. Nick, Christie and Sis. Christie – I didn't want you to win because I don't want you to get blood. Like I don't want you to be like I'm f**King taking Christie down. It makes more sense for Tommy to because he is HOH. And it was his nom week that was messed with. To be honest if it was me or anyone else or me I think that he would take them down because it wasn't his plan to begin with. Tommy – I am 99.99% sure I am using it. Cliff joins them. They talk about the comp.
7:07pm Bedroom. Kat asks Nicole if she will let her know if she hears anything. Nicole – I will. Kat – I don't know if I'm Tommy's target or what. Nicole – I don't see why you of Cliff would be his target. Kat – I think Michie would have been his target. Nicole to the feeders – send us a life line!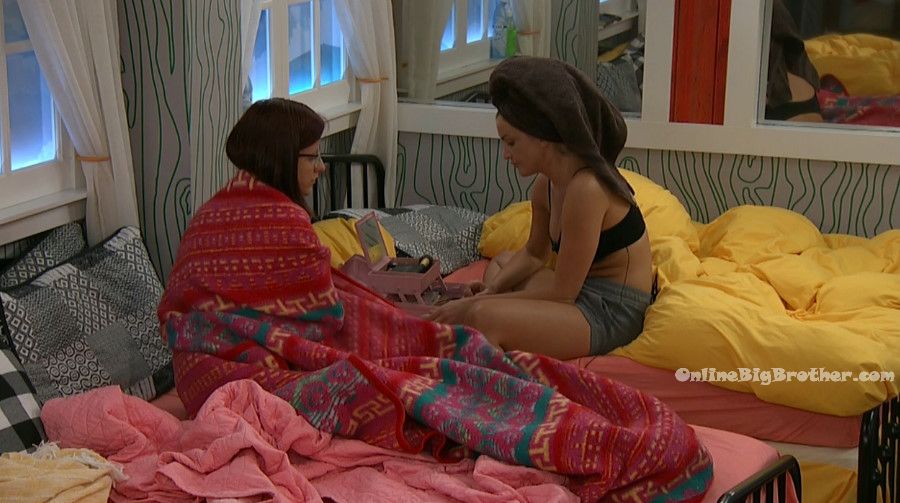 7:45pm – 8:05pm Kat – am I Tommy's target? Nick – I honestly don't know. That's a question you should ask Tommy. And even if I did I wouldn't tell you because it wouldn't be my place. Kat – I don't even know how I did Tommy wrong. Nick – I don't think you did but that's another question you should ask him. And Tommy didn't have a lot of selections this week either. Nick – are you going to win an HOH soon or what? kat – I hope so .. what the f**k. Nick – are you going to try and win one? Kat – yes. I can't see a situation where you would be my target ..like ever. Unless you totally f**k me over.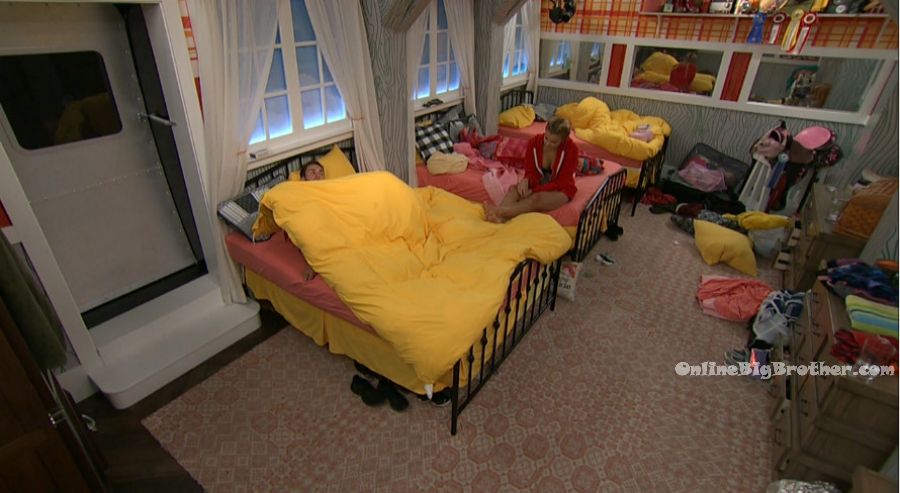 8:40pm Bedroom. Nick, Tommy, Sis and Christie.
Christie – have you "used the HOH shower by yourself"? Sis – nah. Nick – I did reach out last week for the first time since Bella left. Christie – in the shower? Nick – yeah. Tommy – you can always use my shower if you want. Nick – yeah, I appreciate it. Christie to Kat – I'm glad to hear you're solo resetting. Kat – I mean, yeah! Its normal right? Christie – I'm proud of you. Kat – CUT THE FEEDS! CUT THE FEEDS! Even going into this I was like that is going to be hard not to… to go for 100 days!? Christie – I f**king commend it! I just know with me, once I start.. I won't stop. The longer I go without it, the easier it becomes. Once I hit that button .. its snap snap snap! Nick – where are you playing dj diddles? In the bed? Christie – its easier for girls .. minimal motion. Guys are like..
9pm – 9:30pm Bedroom. The house guests are lazying around chatting about random things.
10pm HOH room. Tommy, Christie, Nick
Tommy – I just had a good talk with Kat. She asked me who my target was this week. I said I don't have a target. I told her I think you're both fierce competitors and you have working relationships with everyone and that scares me. And you have a reason to put me up.. and even though you told me I'm not your target… last week you told me who your target was but you didn't vote them out. So it just makes me scared.. because I flipped the vote to try and get you out you have a reason to come after me. Nick – this is the hardest vote, I love them both. Christie – I love them both but I think Kat is the biggest threat. Tommy – at this point I think Kat is more dangerous but anything can change in the next 5 days. Holly joins them.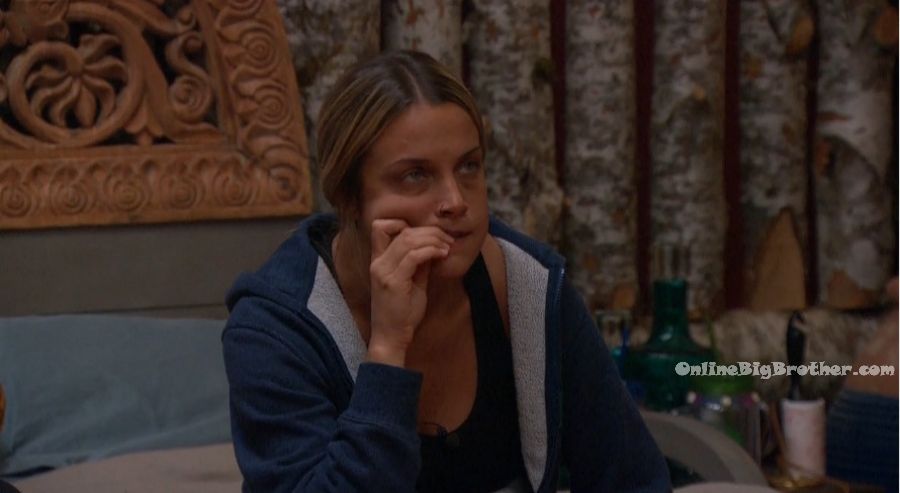 10:35pm HOH room. Sis comes into the HOH room talking about how she went into the diary room and there was a card sitting there. She first thought oh my god! I got a secret power… I knew they (America) didn't hate me. Then I opened it up and it said something about an egg… F**K! So what I have to do .. an announcement will come on and I have to go outside. From start to finish I have to cluck and act like a chicken. I have to go outside to my chicken coop and lay an egg. After I lay an egg. Go inside to the storage room get my basket. Collect the eggs. Cook them and give them to you guys. Like literally cluck to you guys and act like a chicken. Then I have to go put it all away and then do it all over again when it happens again.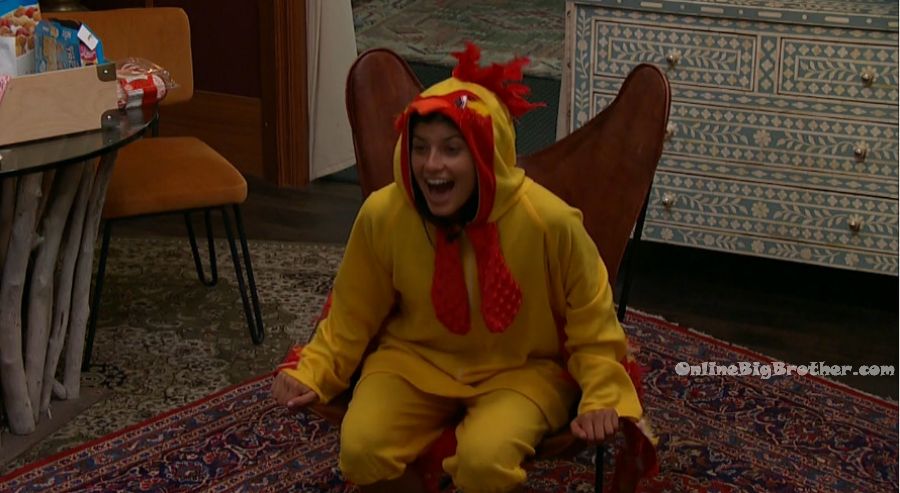 11pm -11:40pm HOH room. Christie, Sis and Tommy. Christie – Cliff is more dangerous to stay versus Kat. Tommy – Cliff is better at mental comps but Kat is more rounded player. Cliff is hurting. Cliff it is possible to make a deal with him and I trust his word. I worry where Kat's head is at. Christie – It doesn't matter to me who goes. Whatever you want. Sis – whatever you want. Christie – the worry about keeping Kat .. she would go. They rehash past events of the season. Christie – in parts of this game I have to be phony and I don't like that. Tommy – lets just call it day 44 and move on. Christie




Christie – I do not trust him and I will need to start to work on it but I can't say it will happen over night. I will definitely try. Sis – I'm not begging you to be cool with them. I am just saying for all of us number-wise to be able to work together. And if Nick wants to take shots at them, let him. Tommy – I think if anything Michie is a man of respect and his word. If you did win HOH and didn't put either of them up I think they would respect that and do the same for you if they won the week after. Tommy – if they're your threats then maybe you .. Sis – I feel safer with Michie and Holly in the game. F**king Cliff I don't trust him. Cliff grinds my gears.
11:50pm Nicole, Jess and Kat hug.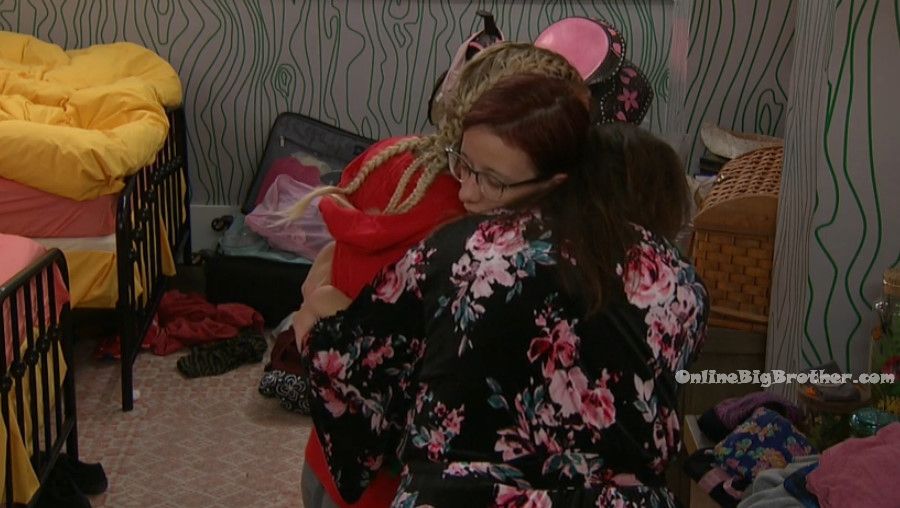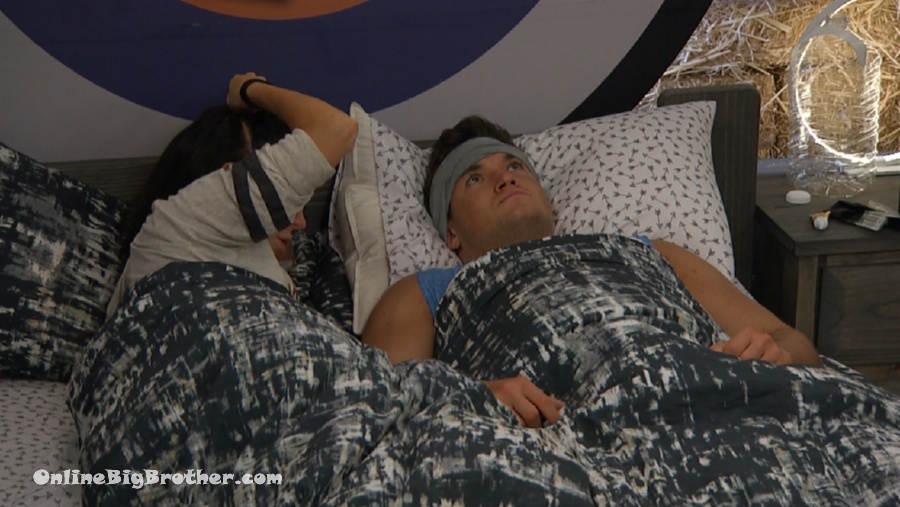 12:06 am Michie and Holly
Holly is thinking Christie is going to take shots at them before Nick.
They start talking about how "disgusting" and "Disrespectful" Christie et al. are. Jackson gives an example (I can't hear it sorry)
Holly – I hope America sees this crap
Holly says they have to go back to CHristie, Tommy, Sis because if they don't they will feel betrayed and come after them. The other side won't
Jackson – realistically we can't make a decision until after this HOH
Holly We just float until then
Jackson – it's not even floating we are both guaranteed safety this week. Just Chill, we're just sitting
Holly – coast
Jackson – watching everything unfold
Holly – if the 6 gets back together we can just play that up
Holly goes on about how it makes her sick saying this.
Holly – Nicole and Nick did it. Nicole and Nick are BFF lately they are really tight. Kat thinks they are working together
Michie – they are, Nicole has no one she will take whatever
Holly – she does she has Kat, Cliff, Jess
Michie – Cliffs on the block, Kat's on the block
Michie says Jess has won a lot of competitions and has come in second for a bunch.
Holly says it's good to have Nicole in the game, "Could you imagine her playing in OTEV today. No Shot"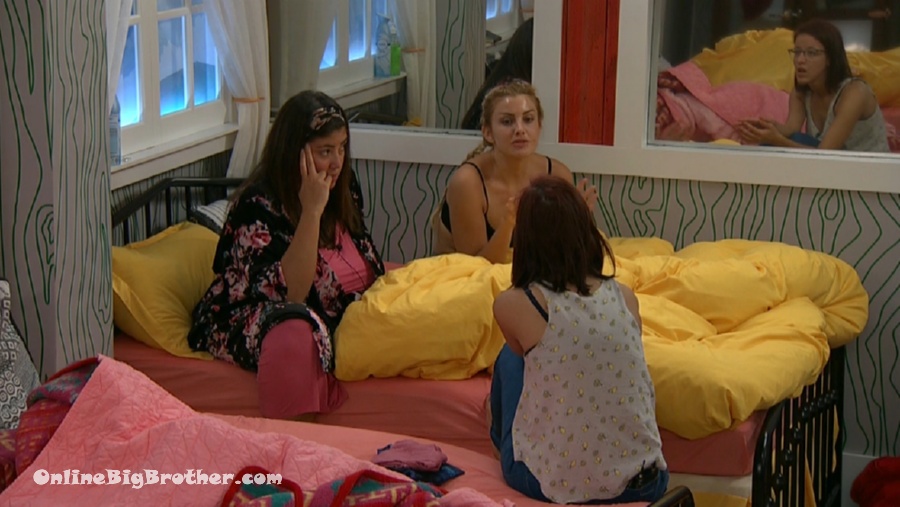 12:10 am Jess, Kat, and Nicole
Talking about where do Holly and Jackson sit with the original 6 now.
Nicole says there's an understanding between them to go after the bottom feeders first.
Nicole – no offense but none of them have your's or Cliff's best interest at heart
Nicole – if there's any way to convince Tommy to take Kat down and put up Holly you have three guaranteed votes to get rid of her and MIchie will be pissed at us.
Kat is worried this would backfire and she becomes the target.
Nicole – no offense they could even take Cliff down, Three votes that's all we need
Jess – Sis and Holly have a really weird thing. I think that could be broken if Sis finds out that Holly has been talking sh1t about her
Jess – Holly is coming to us saying there's a whole mean girl situation you know .
Kat – they probably are mean girls they were voted by America to do on America's field trip. I personally know the things Michie said are no favorable. If Christie and Sis are in that same boat I think they are view unfavorable by America
Nicole says if we want the angels to stay this is their only play.
Jess asks if Holly and Jackson are trying to get back with the 6? (which is a 4 now)
Kat says Holly is but Jackson isn't.
Nicole starts to question when you're target is someone and you can't put them up anymore you naturally put up their closest allies to weaken them. Holly did that with Sam and Nick. It's obvious to do that With Holly and Jackson.
Kat – they are back together that's why
(Sad this plan won't work Timmie is using the veto on Christie)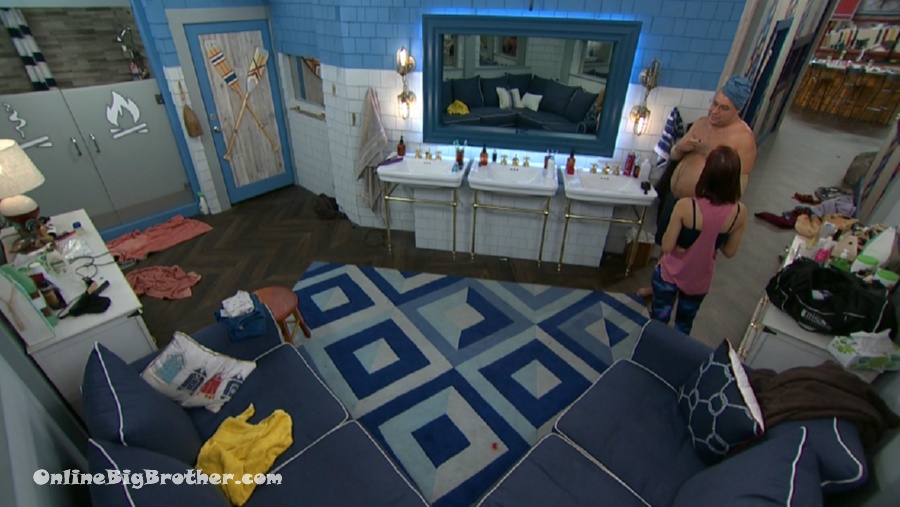 12:42 am Cliff and Nicole
Nicole telling him about the plan to get Cliff or Kat down and Holly up.
Nicole – if Michie is definitely coming after Christie and Christie is your closest ally you get rid of his guaranteed ally
Nicole goes on about not understanding if Michie was the target why isn't Holly going up.
Cliff – unless it's part of a backdoor
Nicole – I know he's (Tommy) is smart and is going over these options
Cliff – I can do it because I have nothing to lose at this point.
Cliff says he knows the straightforward play is to take Christie off and Cliff goes home.
Cliff – if you (timmie) are thinking of separate options I can probably try to seel him the idea if you want to go after Holly in exchange for doing that and saving Kat and I. I will be willing to promise not to put him up or do anything else.
Cliff – I will try and make a deal if I can. If I need to promise not to put him up I'll do it
Nicole – Michie is coming after Christie who is Michie closest ally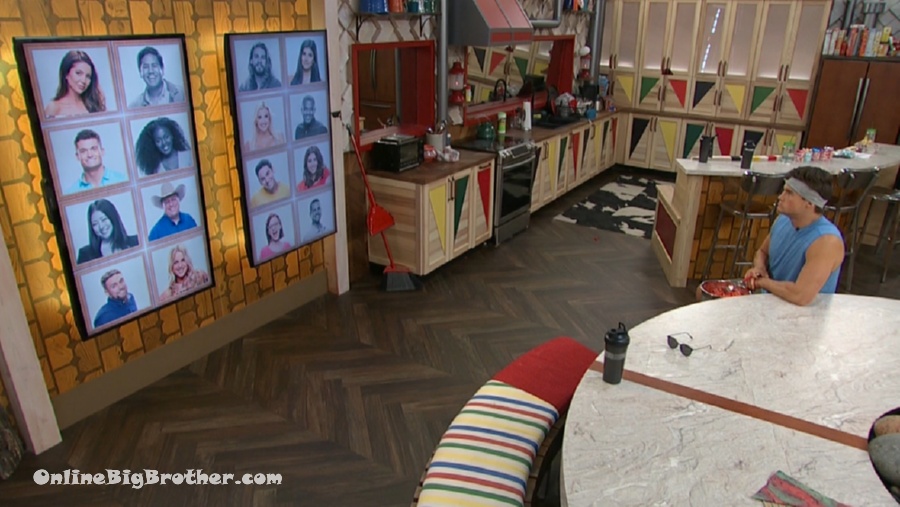 1:30 am Watermellon time
5:35 am Sleeping.
OBB wouldn't be possible with our your support!
If you are one of the generous people that donate to help keep the updates coming, we're giving out a bit more this year. Check out this page for more details: OBB Members