As part of the exclusive live feed pre-season content CBS is doing something they've never done before which is have the first interviews of the new house guests broadcast on the live feeds. Today former Big Brother house guests and fan favourite Jeff Schroeder will be interviewing each of the 14 all new house guests. These interview will likely be put up on the live feeds to view later if you happened to miss the live broadcast. Jeff plans to interview each of the house guests individually. This post will be updated as the interviews progress.
Subscribe to the live feed today to watch the pre-season exclusive live feed content.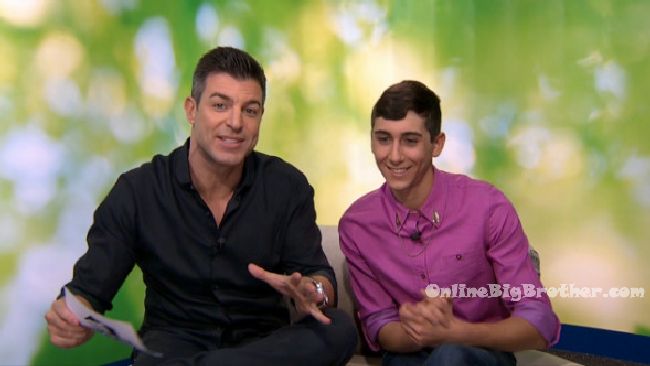 First up Jeff interviews Jason Roy. He says that he's a big brother superfan that quit his grocery store job to be here. Jeff asks if he plans to get tight with anyone in the house. Jason says with the girls. "I'm going to use the gay glue" He says you could put my mom in here and I would cut her to win. Would you rather be loved and lose or hated and win? Jason says he would rather be hated and win. He says "I can be quite annoying" Jason says he's an international big brother superfan. I'm a feedster. I have watch all the English speaking big brother seasons from other countries. He says he loves Nicki Minaj, Big Brother and fashion.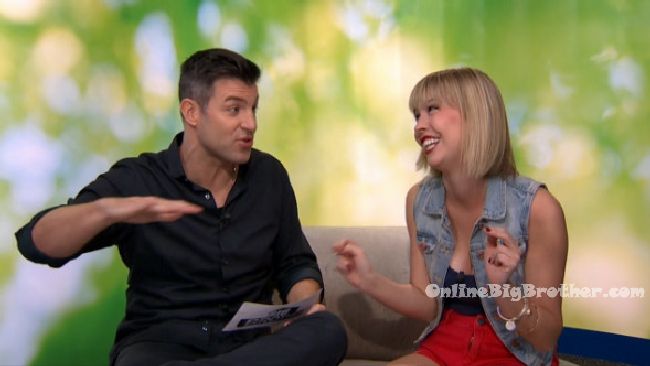 Next up is Meg Maley. She says that she is such a fan and "has become a crazy studier fan." Jeff says I've already fallen in love with you and I've only know you for 10 seconds. Meg says that she's not here for a good time, she's here to win the money. She says that she left behind her family and friends. When they say they kidnap you, they really kidnap you. I am ready to play a loyal game. Would you rather be loved and lose or hated and win? Jason says he would rather be hated and win. Meg says haters going to hate. I would rather be hated. Jeff asks when was the last time you cried? Meg says this morning. What are you going to miss the most? Meg says her city life. If you were an animal in a zoo what would you be? Meg says a Goose because she can be a little annoying. She plans to tone it down when she first gets in the house. Jeff asks anything you want to say to the fans? Meg says lets win this game and kill it!!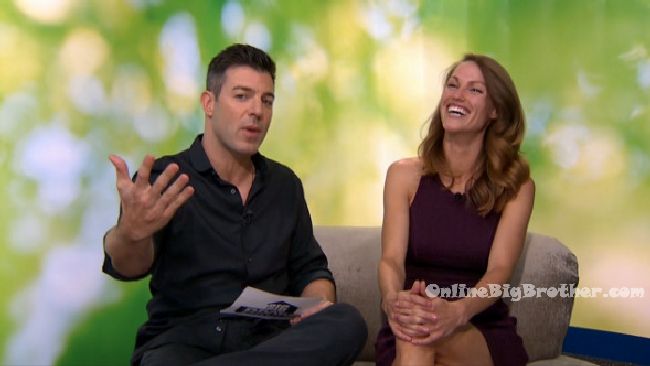 Becky Burgess is interviewed next. She says that she's a huge fan of the show. She says that her downfall could be that she's a very exciting, loud, silly kind of person. She says some times its better to lay low which might be hard for her to do. She says that she's an athletic person who also has a double minor in finance. Jeff says so you know numbers too. Are you willing to stab a good friend in the back or throw them under the bus? Becky says yes but there's a tasteful way of doing it. What would Zing-bot make fun of you for? SHe says she doesn't know… maybe for smiling. Would you rather be loved and lose or hated and win? She says I would rather be loved and win. Becky says if she won she would want to run a property management company for lower income families.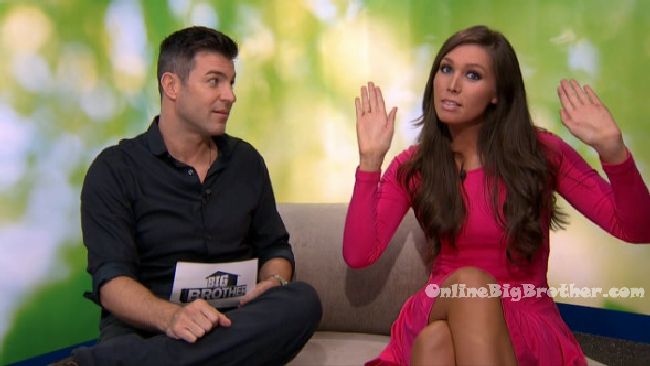 Audrey Middleton is next. She says she's a very southern girl. She says she's a superfan that has watched every season of Big Brother. She says she's super adaptable. Jeff says it seems like you've got a little sass… what would you do if I called you Aubrey instead of Audrey. She says what I would do is too explicit for live streams so… Jeff says you're getting it. She says I will just keep what I would do in my head. What did you leave behind. She says her parents, friends and a really small town that has not much going on. How far are you willing to go? Audrey says no one is off limits. She says she would play like Dexter Morgan. Play with no emotion. Will you be a hero or a villain? She says I think I'll be a misunderstood hero. What would you do if you won? She says help out her parents and sit on it for a bit. When was the last time you cried? She says she's a pretty emotional person but that she won't let it get in the way. She says fan's I'm a friend… hook me up with America's player.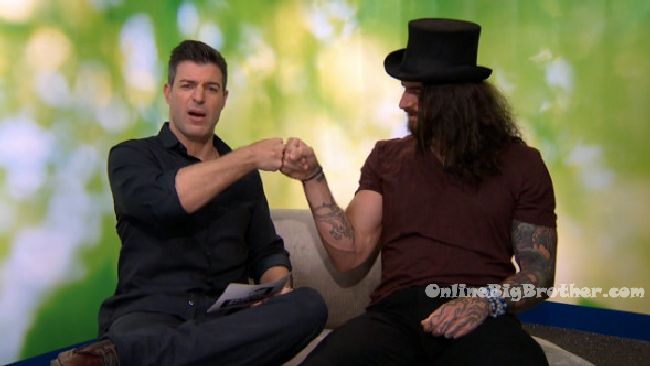 Austin Matelson is up next and says that he is a wrestler. Austin Matelson is former WWE NXT (WWE Minor League) His wrestler name is Judas Devlin. Jeff says there's been another wrestler on the show have you have wrestled him? Austin says I haven't … but I wouldn't really call him a wrestler. He says the he is going to be pumping his gluts. I'm kind of a big guy that is a little intimidating until people get to know me. He says he's going to get to know people through working out. He says his wrestling name is "Judas"… when Judas comes out, the top hat goes on. When Judas comes out.. its lie Judas, lie! If you were an animal in the zoo what would you be? Austin (Judas) says I think I'd be a snake. Jeff then asks him to take off the hat and say who Austin would be? Austin takes off his hat and says a parrot or something. He says that he was a victim of bullying growing up and as a wrestler. He says he had to go through human resources to resolve it. He says he wants to be a voice against bullying. "Silence makes losers of us all"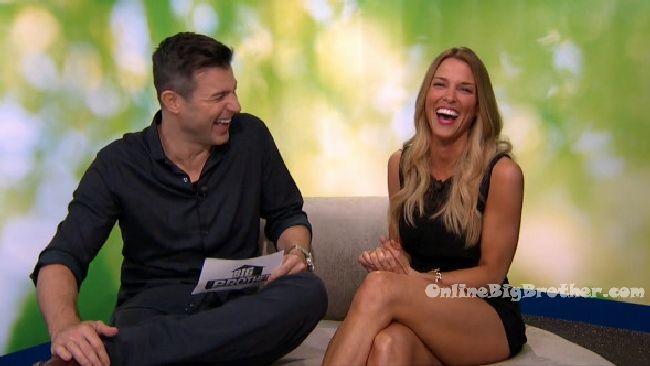 Shelli Poole is next. Jeff says they're "live from the diary room" (the house guests are in teh big brother house but might not have officially moved in yet as Becky had mentioned they've been blindfolded all day.) Jeff asks are you single and ready to mingle? She says she is going to play it as it comes. He asks her what she would do if she wins? She says travel and maybe purchase a home or something. How far are you willing to go to win the money. She says only one person can win the money in the end. Once you get to the end you got to do what you got to do. Would you rather be loved and lose or hated and win? She says she would rather be loved. Jeff says it could be both. She says you gave me one or other. She says okay loved and win. What are your guilty pleasures? She says shopping and chocolate. She says as far as strategy she says she is going to continually adapt. If Zing-bot were to walk through that door what are some insecurities that he would pray on? She says I am 33 and have a much thicker skin than I would have in the past. I would be cool with whatever and laugh it off. If you were a zoo animal what would you be? Shelli says a Zebra or an elephant.