POV Holder:
Jon
Next POV
April 12th
POV Used
?
POV Ceremony
April 14th
HOH Winner:
Jon
Next HOH:
April 17th
Original Nominations:
Sabrina & Rachelle
Current Nominations:
?
Have Nots
Neda, Arlie, Rachelle and Heather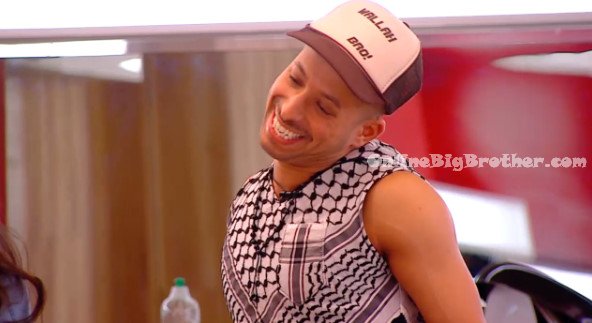 2:30pm – 2:55pm Big Brother totally blacks out the live feeds.. When the live feeds return Arlie, Allison and Jon are in the kitchen / living room. (Big Brother has given Adel a task to ask each of them out on a date to get one of them to say yes. But Big Brother also told all the other house guests that he is on a task and that they can't let him complete it.) Adel heads upstairs. Jon comments on how bored he is. Heather and Neda are outside the HOH room in the chairs where Heather's talking about Valentines day with her boyfriend. Adel asks Sabrina if she will go on a date with him tonight. Sabrina says no! He keeps pressing her to go on a date with him and then she says no, I'm on my period! Adel asks Rachelle in the main bedroom if she will go on a date with him and she says no .. maybe when I'm off slop and can eat.


3:25pm – 4:10pm Out in the backyard Adel mounts Jon on the weight bench and holds his throat asking him if he will go on a date with him! Adel threatens to pour water down his throat. Jon says no. Adel then dumps water down his throat and keeps asking him. Neda thinks Adel is trying to make them cry. She says I think he is going to try Sab's first then Allison then you (Heather). Allison says I won't, I would laugh. Neda says I hope he doesn't do anything stupid from what I said. Allison says its almost been an hour, he came out at 3pm. Neda comments that Adel has 2 hours to try and complete the task. They comment on how he's in the diary room probably asking for more time. The house guests know that Adel is on a mission but they can't let him know that they know and they have to keep him from completing the task. The house guests talk about how they are allowed to tell him they'll go on a date tomorrow .. as long as they don't say today.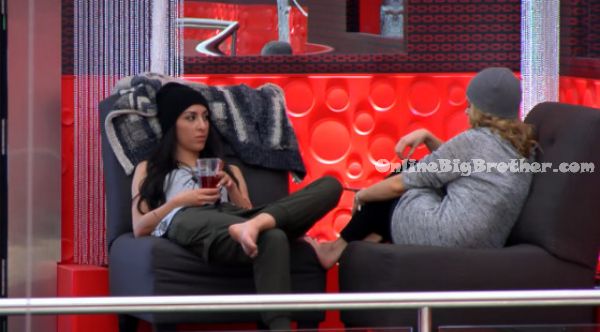 Up in the HOH room – Adel is talking to Neda when the feeds return and she is telling him that she really doesn't want to be around him. She says that she is pissed at him and if she is around him she will explode. She says maybe later tonight after I've cooled down I can talk to you but not now. Adel says I just can't figure out what I did wrong though. Neda leaves and Adel questions what's going on. He then says that he is going to beat this mission!


4:10pm – 4:35pm Adel heads to the bathroom talks about how Neda is mad at him and he has no idea why.. He asks Heather if she will come talk to him in the bedroom. Adel and Heather talk in the bedroom. Adel asks her if she will go on a date with him and she says no maybe another day. Adel then tells her that he is really sad and asks her to talk about something sad. Heather says she doesn't want to talk about something sad. Adel then starts talking about his Dad being in the middle east and how he is really worried if something happens he wouldn't know. Heather says that Big Brother would definitely tell you. Arlie joins them and Heather leaves. Adel talks to Arlie about how mad Neda is at him. Adel tells Arlie that he told Neda we should take out Jon. Arlie says that Adel shouldn't have said that especially not this early. He says that is why she is probably mad. Adel says I f**ked up. Arlie says Adel can fix it though. Adel says he is going to go talk to Allison but runs into Sabrina and asks her again if she will go on a date with him. Sabrina says tomorrow yeah. Adel high fives her. He then tries to talk to her trying to get her to cry. He says that he is so ashamed about the way he treated her. Adel says I need to sit with someone emotional because no one else is emotional.. he starts telling a story about his brother and then big brother blocks the feeds..
4:35pm – 5:20pm The live feeds are blocked…
5:20pm – 5:30pm When the live feeds return – Heather, Neda, Allison, Arlie and Jon are sitting at and near the kitchen table talking about random things. Arlie says f**king Delly's rattled! Meanwhile up in the bathroom – Rachelle says she's far from sweet isn't she! Sabrina tells Rachelle… I am going to shut my mouth until eviction! Arlie comes in and when he leaves Sabrina says F**KING B***H! WOW! I REALLY WANT TO PUNCH HER OUT! Rachelle says yeah I know I've wanted to since day two! Sabrina says WHAT A F**KING STUPID BITCH! WOW! WHAT A STUPID B***H! Rachelle says she's an insure human that thinks she's cool. Sabrina says when I catch her outside this house I am going to make her cry for the rest of her life! You think you can f**k with me in here! Big Brother then blocks the feeds again..
5:45pm – 5:50pm When the live feeds return the house guests are talking about how they won the reward. Arlie asks big brother when they will be getting the reward because last time they didn't get it for days. Sabrina asks Adel if everything he told her was real. Adel says yes. Sabrina says good. Adel heads up to the main bedroom and says you f**king big brother c**ts tricked me HUH!? The whole house tricked me! Adel laughs. In the living room the others laugh about how Adel actually thought he failed that mission. Adel comes out from the bedroom and says you guys suck! The live feeds get blocked again.. when they come back Heather asks Adel how much of what you told Sabrina was true. Adel says I am not going to swear on my religion any more.
5:55pm – 6pm In the bathroom – Heather congratulates Sabrina on a good job. Sabrina says that she is just glad its a reward that everyone can enjoy. Down in the living room – Rachelle yells out OMG PLEASE LET THERE BE A DEEP FRIED EVERYTHING!!!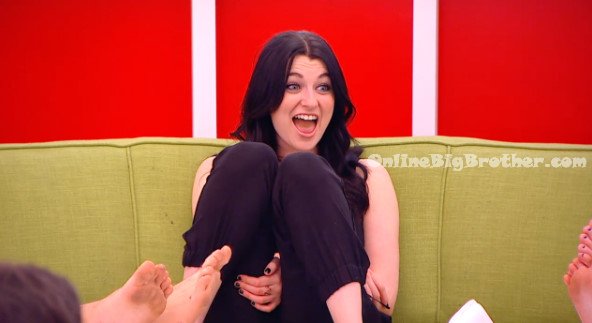 [polldaddy poll=7964297]
Stay connected and interact with other Big Brother Fans on our Facebook page.
And Follow: @BigBspoilers and @Dawgsbigbrother on Twitter for the most up to date spoilers.