POV Holder:
Jon
Next POV
April 12th
POV Used
?
POV Ceremony
April 14th
HOH Winner:
Jon
Next HOH:
April 17th
Original Nominations:
Sabrina & Rachelle
Current Nominations:
?
Have Nots
Neda, Arlie, Rachelle and Heather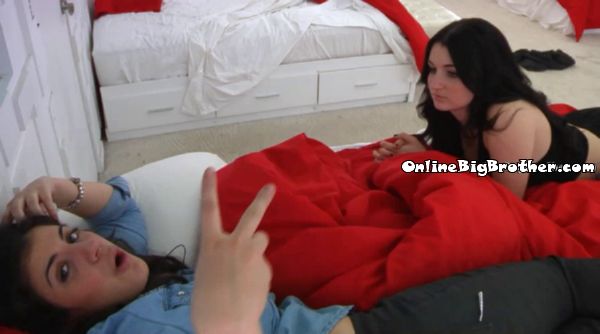 6:03pm Gremlins in the bedroom
(Standard gremlins conversation.. everyone is stupid, everyone is mean to us we're going final 4 with Jon, we're the best)
Sabrina complaining that Heather is calling her "brina". Rachelle says Heather is gross to be around. Sabrina says she doesn't care if she goes home this week. Rachelle – "Sabrina.. Allison is going this week"
Rachelle says they have a really good chance of final 4.
Sabrina says the other side are a$$holes she never did anything to deserve them being mean to her.
Sabrina – "I want Heather gone"
Rachelle – "And Adel"
Sabrina – "Hopefully it's a double eviction"
Rachelle wants Sabrian to stop saying she wants to quit.
Sabrina reassures her she will no quit she'll fight till the end. "No amount of money is worth being treated this way "
Sabinra calls Heather a "puff of psychoness" mentions how HEather stares at her while hugging a pillow and not blinking. Rachelle calls Heather the fakest person "EVER"
Sabrina says people are openly mean to her in the house at least they are nice to Rachelle.
Sabrain – I can't believe so many people didn't like Andrew.. He's so nice.. she's aogt such a good heat.. it's just his delivery"
Sabrina says her family must be upset watching the house be so mean to her.
Sabrain – "I don't even understand what the hell did I do to these people"
Sabrian – "Get over it..
Sabrina says she hates Heather the most..says "Heather just go away you stupid ugly Girl"
Sabrina – "I can't wait to tell to her face I hate her f***ing guts"
Sabrina – "I wonder if when I leave here there will be a lot of guys after me"
Rachelle – "I hope so"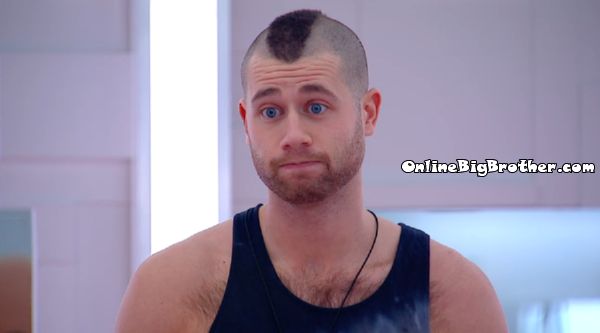 6:40pm Arlie and Gremlins
Arlie says he's worried to say anything to them because it might get out.
Arlie – "Something I say right now could give you stuff to say to the other people"
Arlie says him and another person have planted a very powerful seed in keeping them both this week. THey will come talk to the gremlins later and they can work something out
Sabrina rattles off a bunch of reasons why keeping the gremlins is good for their game.
Sabrina says Heather has got to go.
Arlie tells her not to get a million percent excited right now. He still think both gremlins saying "Its within the realm of possibility.." Arlie says he's got one person with him who is a large target in the game. They want to work with the gremlins.
Sabrina asks him who do they want to backdoor this week, is it the person that won't budge? Arlie doesn't give a clear answer.
After Arlie leaves Sabrina tells Rachelle 'We're going to be final 4"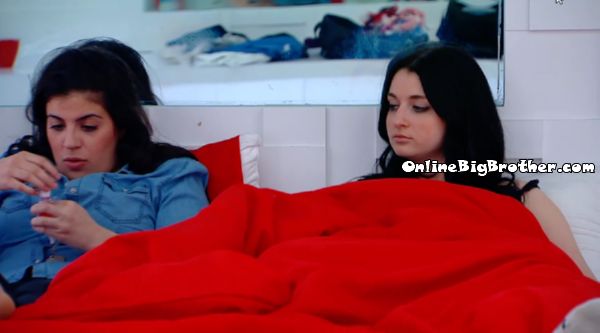 7:00pm Gremlins in the bedroom
Talking about Arlie not knowing what is going on in the game. Sabrina saying it will be great to see what he did to her happen to him.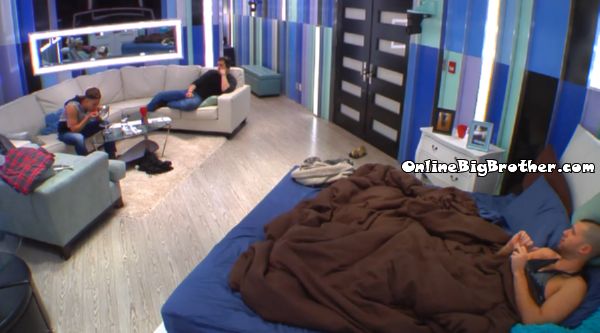 7:13pm Arlie and Jon HOH
Arlie brings up his conversation with the gremlins. Adel comes in and they talk about how talking to the gremlins right now offers them protection in the off chance a gremlin wins next week. Jon says there's been something "UP Ned's A$$"
Arlie warns them sooner than later Neda will turn on them.
Adel – "Her and Heather are getting in fu***g deep"
Jon – "The way she's acting with me something's up"
Arlie points out that Neda will know if she gets to final 5 with the 3 boys still in the game she is in trouble.
Arlie – We're getting close to having the votes, We're in a really sexy spot
Adel – "We're going to win this one of us three is going to win 100 thousand dollars.
Arlie – "I think so to"
7:32PM HOH
Production – "Houseguests please get dressed up, do not take the time to do your hair and makeup just get dressed up for a fancy evening."
Allison – "FAncy evening I'm bloated as sh1t"
Production – "You only have 10 minutes"
10:30pm Feeds still down
[polldaddy poll=7964297]