POV Holder:
Jon
Next POV
April 12th
POV Used
?
POV Ceremony
April 14th
HOH Winner:
Jon
Next HOH:
April 17th
Original Nominations:
Sabrina & Rachelle
Current Nominations:
?
Have Nots
Neda, Arlie, Rachelle and Heather
1:15pm
When Sabrina and Rachelle head inside they stop and Sabrina laughs as she says oh my god, two final four deals! Two final fours! Sabrina fills Rachelle in on her conversation with Jon and says so basically everyone next week and we're safe! Sabrina heads to the bedroom and changes. Rachelle joins her and they hug in bed. Sabrina says everything is happening for us! Rachelle says if we make it to final four that would be epic! Sabrina says we just need to win that HOH and then.. Do you think even Arlie would put us up? Sabrina says no.. He and Jon are going to have a talk with us .. and I am going to manipulate.. well manipulate the situation and be like Arlie you screwed me over once you better not again..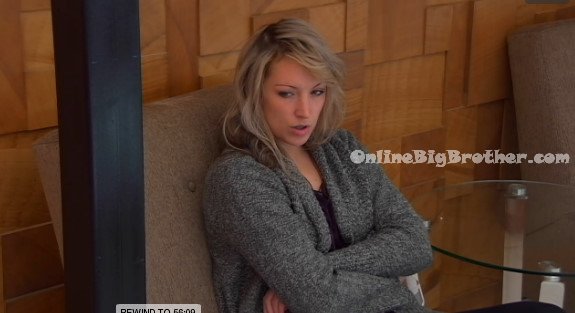 1:25pm – 1:55pm Allison sits under the stairs and looks at the secret door.. She asks why? Is Sarah in there?! That would be really cool. F**k I want to win that f**king HOH! Allison says before Kenny left… If I didn't …. things would be so much different. If Jon didn't go up.. Kenny could have totally won that veto.. then I could have actually done something instead of sitting here like a sitting duck. I have no pull with anyone! Getting with Andrew in the beginning.. that looks me look like an a$$hole. I guess it still could be Adel.. If I don't win this next HOH, I'm going home. Well going to jury hopefully. Jon comes down from the HOH and says hey what are you plotting there? Allison says I have no one to plot with. Jon says that's what we're all here for! Allison says feel free to plot with! Jon laughs and heads out to the hot tub room. Allison says nobody is giving me any information except Jon. If I play that thing then he won't have my back. Arlie wants me to give him information ..but gives nothing in return. This game makes me not want to trust anyone in real life. Allison looks at the door and asks why won't you open! Allison sits there for awhile in silence and then gets up .. she listens at the secret door and then tries to open the secret door again. She then sits back down and says okay so three times the charm.. I just have to be way from everyone else.. She then gets up and says okay I'm over it. Allison heads out to the hammock and comments that she hasn't been in it since Andrew left. I'm sorry I couldn't save you. Allison says great I've done absolutely nothing..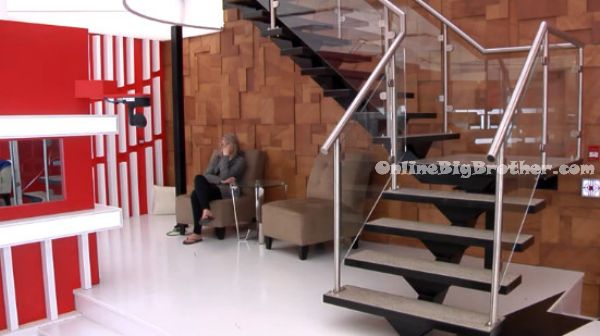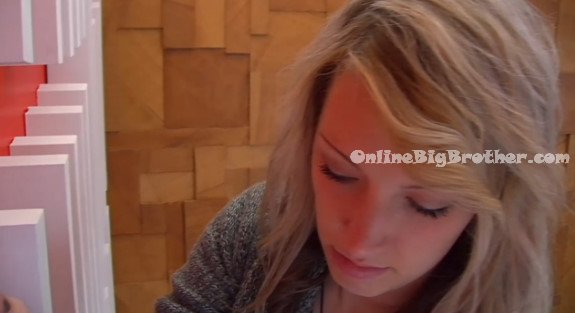 Up in the HOH room – Jon and Neda talk game. He tells her about how he already talked to Sabrina. Neda questions why.. Then talk things through in the video below and then Neda tells Jon that I am sorry but I tell everyone that I want you out. Jon says good, so who is agreeing with you? Neda says well today the main one is Adel and he brought it up. Jon comments on how everyone in here is smart. Neda says well except one.. Heather joins them. Neda asks how JOn is going to explain Allison going up. Jon says I will say that she is a bigger threat and that she was the last one to join the alliance that we have brewing. Heather says I would also add that its hard to see which side she's on. Jon says yeah that sounds good. Jon says and I will take off RoRo .. because I don't see anyone voting out RoRo. Neda says yeah. Heather says I really wish the Gremlin's didn't make it this far. Neda agrees. Heather says they are useless… well not useless that's mean.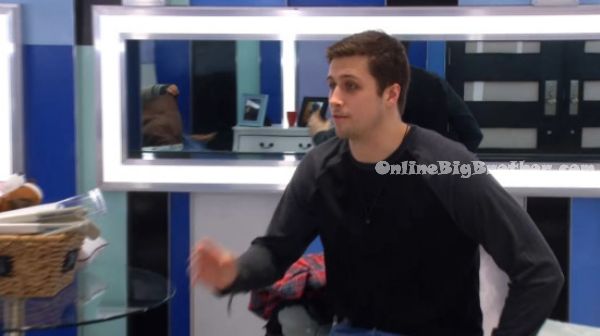 Out in the hot tub room – Sabrina tells Rachelle I hope you win and then put up Arlie and Adel …or Arlie and Heather. Sabrina starts talking about how hot Arlie is. Rachelle says that she doesn't think he is hot at all .. he's just not my type. Sabrina says she didn't think he was at first but now does. I used to think Kenny was hot, but Arlie is hotter. Meanwhile up in the HOH Arlie joins Heather and Neda. They comment on how they're worried about what will happen when Allison is put up. Arlie says he isn't at all its more entertainment to watch. Big Brother then says house guest please make your way to the pantry! Everyone heads to the pantry and realize they're being held in there. Big Brother asks them to clean off the center table. They comment on how Adel is in the diary room. They wonder if it has something to do with their bags and if they will get their stuff back that was removed. Rachelle starts talking about her idea on how to eat food while on slop by having someone put food in her bed and then late at night she could put her head under the covers and eat.
[polldaddy poll=7964297]
Stay connected and interact with other Big Brother Fans on our Facebook page.
And Follow: @BigBspoilers and @Dawgsbigbrother on Twitter for the most up to date spoilers.