Head of Household Winner – Holly
Have note are: Jessica, Nicole and Sam
Nominations are: Sam & Nick
Power of Veto Players are – -Holly, Sam, Nick, Cliff, Jessica and Tommy
Power of Veto holder – Nick
Power of Veto Ceremony –
Powers in the game
Christie – Panic
At any of the next four Power of Veto Ceremonies, Christie can turn the Golden Power of Veto into the Diamond Power of Veto and allow the current veto holder pull someone off the nomination block, but instead of the Head of Household naming the replacement nominee, the veto holder names the replacement.
Field Trip
America votes for 3 houseguests to go on a field trip that will put one houseguest's game on the line
Grab your live feeds —-> BB21 Live Feeds Subscription Link
Rank your houseguests —-> Big Brother 21 Ranking
The live feeds return to the house guests all in the kitchen. Jack is in a dress. Nick has the veto around his neck. Nick – If I had gone against Holly in the first round I probably would have lost. Nick – when I had 12 I was tired. Tommy – you did great! Cliff – you figured it out! Is this your first veto win? Nick – yes. Cliff – When you needed it. It kept you in the house. All the house guests comment on how hard the competition was. Nick – I asked for an athletic on and they gave it to me. I told you bro I was going to win. Nick tells Tommy – I am going to win HOH next week. I'm back! I'm my own person again! Its my own game. Week one Nick! I'm not going to f**k it up again.

8:17pm Bedroom. Sis, Tommy and Christie. Sis – I told him (Sam) that if he doesn't win it, he is going home. That's why he's sad. Christie – Nick literally came up to both of us and kissed me so hard… and same as her and said I love you so much. I am going to prove it. Sis – but do we trust him?! Christie – I still don't but if he wins HOH he has the chance to regain it .. yeah. Tommy – you're close to him. Sis – you think I am close to him after he told me he was going to put me up on the block? Christie – he came up to you and said he loves you. Sis – Christie. Christie – I know but this is his time to prove it to us. Tommy – everything that he has proved is that he is not good at coming up with schemes and manipulating. He is not as good as we think he is. Christie – and Bella is gone now. Tommy – what you see is what you get.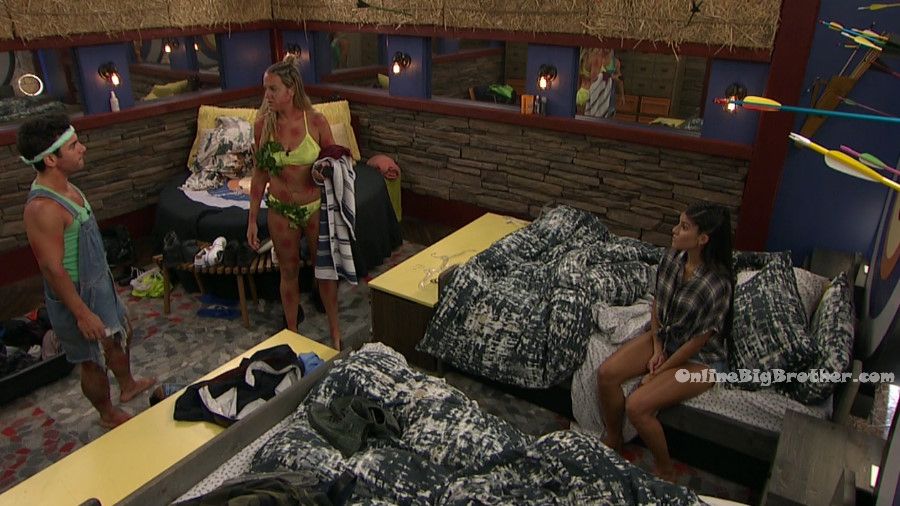 8:25pm Kitchen. Sam – When people started saying slide in my DM's .. I thought DM's meant v@gina. Nick – Shut the f**K up! Sam – I thought these girls were full vulgar. They were like so and so slide in my DM's. I was like WOW! Do you know that's on facebook?! I'd like it. Nick – its direct message Sam.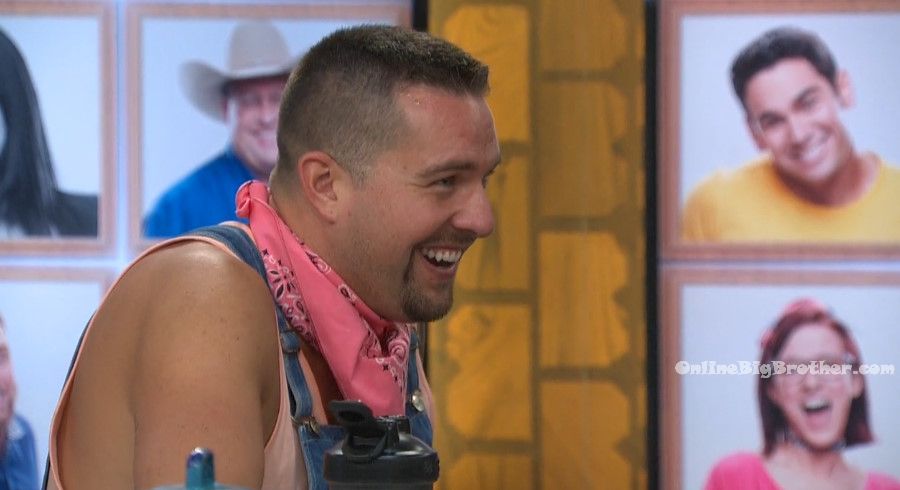 8:25pm – 8:30pm HOH room. Holly and Jackson. Holly – I was thinking about talking to Nick and Sam. Jackson – yeah… that's what I was going to say .. one, why does Kat want us to backdoor Nicole? Two, I was a big proponent of putting up Nicole from the beginning. I am all for you putting up Nicole but that being said we have got to do some serious leg work with Nick and Sam. Holly – I only want to put Nicole up if she is my target. Jackson – well then send it! We can spin this to where Sam thinks Nicole is the target and Nicole thinks Sam is the target. For your sake. Holly – yeah if I put Nicole up I would probably tell her she is a pawn. If I was going to put up Nicole she would be my target. If I was going to put up a pawn I would probably put up Kat. Jackson – I think Kat will not want to go up (she volunteered to go up as a pawn if the veto was used), which I knew would happen. Her serious game talk is just funny. Holly – I know. I am bummed that Nick won. I was going to sit them both down and say hey .. I went with what the house wanted. Sis joins them. Holly – if I put Nicole up, I am putting her up as my target. Jackson – Nicole is wishy washy, she is unappreciative. She's dropped a lot of people's names and honestly the fact that she thought about keeping Bella after everything is mind blowing to me and she is sitting here saying that.. what did she say? Holly – she is saying that he and I .. like the whole plan or idea that Bella proposed to us .. Nicole is definitely going to vote to keep me. Jess is too and so I would just need two more and you guys could be those two. So if you want to go along with the plan just go tell Nicole "Blue Berry pancakes". Nicole then went and f**king told Jess that he and I were voting to keep Bella. We didn't even talk to her. Jackson – I told Nicole, if you're going to vote with us let me know. Sis – at the end of the day its your HOH so you choose whoever would help your game the best. I don't care if Sam stays, I have a really good relationship with Sam. I would have preferred Nick to go and obviously that can't happen. So you if you want Nicole out then yeah we can get Nicole out but I don't know if its going to sit well with other people. Holly – she is sketchy as sh*t but I also do see the point of making a new enemy. Like she is sketchy as sh*t and I don't trust her but will she ever be in power to worry about that?! Jack joins them. Jack to Sis – who would you put up? Sis – Nicole because I would want Sam to stay. Jack to Holly – would you want Nicole to go and Sam to stay? Holly – I don't know. I know I can't trust her but I just put Sam and Nick on the block. Jack – and who has more of a chance of winning HOH.