POV Holder:
Andy
Next POV
Aug 17th
POV Used
NO
POV Ceremony
Aug 12th
HOH Winner:
ANDY
Next HOH:
Aug 15th
Original Nominations:
Jessie and Spencer
Current Nominations:
Jessie and Spencer
Last Evicted Houseguest
David, Nick, Jeremy, Kaitlin, Howard, Candice, JUDD
Have Nots
Aaryn, Helen , GM, Elissa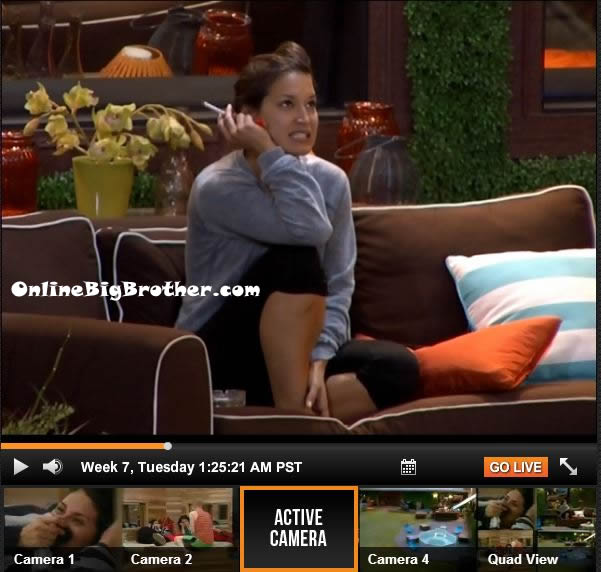 1:25am – 1:40am Jessie heads out to the backyard where Spencer and Gina are sitting on the couch. Jessie says that she just heard the plan to evict me through a wall, so it is really good for ya'll because if ya'll make it far then I will be votes for either you or GM. Ginamarie asks wait what?! Jessie says because no one told me anything, Jess. Jessie says yeah. Spencer asks so what happened? Jessie says oh I just listened through a door way and I heard everybody saying everything. It was really easy. Gina asks who was talking? Jessie says Amanda, McCrae, Helen, Elissia, Aaryn. Gina asks Andy? Jessie says he wasn't in there but they all basically outted him that I was the target all week and he has been lying to me saying I wasn't the target that Spencer was going to go. Jessie says I am actually glad this happened because now I can go to the jury with a clear conscience and that I have been right about everything that I've been suspecting that people have been lying to me and treating me like dirt, ya know. I am cool with it, that I heard it come out of everyone's mouths. Spencer says I am sorry bro. Gina says I didn't even know. Jessie says well if either of you make it to the end they you have my vote. Spencer and Gina say thank you. Jessie says just be careful because if Andy can lie to my face like that.. Jessie says I just finished talking to Aaryn in the bathroom and she asked if I was okay. I was talking to her, venting to her. I was talking to her about everything being okay then came out side took a drag of a cigarette and came back inside and Aaryn was in the room telling them everything. They were all laughing and joking about how they were all getting be out and I was going to be sitting in the jury with Judd and just being basically despicable human beings. Spencer asks do they know? Jessie says oh yeah, I talked to Andy and told him that I heard everything and he got this look on his face and walked into the havenot room. And I was like yup! Jessie says I know both of you aren't involved, I can't wait for everyone that has screwed me over and greet them as they come into the jury house. I don't think I will do anything on the live show but.. Gina says don't go down like Candice did. Jessie says no, I don't think I will go off on people I will probably just hug you guys because what I just heard, I will never forget that! Gina says just be a lady like you are, don't go out like Candice. Jessie says no, I will use the opportunity to thank my family and to talk about how I played this game. And how I played this game – I was a fighter. I've been on the block 4 times and I basically got to jury, to be the third member of the jury house on my own two feet. I learned that I do face adversity with grace and I didn't know that about myself. Once I heard that conversation, I knew the war was over. Jessie tells Gina that Aaryn talks bad about you all the time. Gina says oh I know. Jessie says I don't really hear a lot of bad stuff about you. I don't get why everyone lied to me this week? Why would you f**k yourself for jury votes, don't they know how this works. Jessie says that Helen has been lying between her teeth. I can't wait till all of the people who think they are rock solid, I can't wait till they all go after each other. Jessie says my plan of action is to blow everybody out of the water this week and expose everyone for who they really are and to leave with a big smile on my face and basically make everyone hate each other. So ya'll just sit back and watch because it is going to be entertaining. This house is full of liars, it's a liar's den. Jessie tells Spencer that I am going to give you the benefit of the doubt because I didn't hear it from you that you knew about this. Spencer says I have been feed the I am going to with the house thing. Jessie says Aaryn is a rat, Elissa/Helen/Amanda/McCrae are working together. Andy is closest with Elissa but I still believe that at this point he is telling them everything, everything. I will be rooting for you.
Big Brother 15 Live Feeds: FREE 2 DAY TRIAL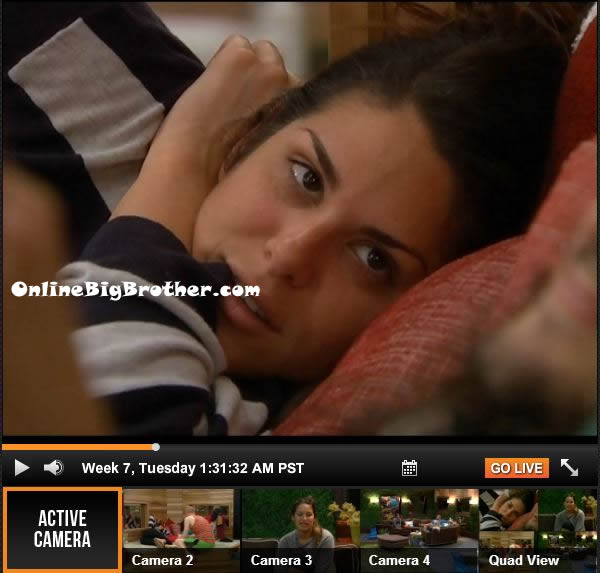 Meanwhile in the bathroom – In the bathroom Andy is talking to Amanda and McCrae. Andy is asks what was said so that he knows what to do with it. Amanda says they were just talking about how she is going home and Elissa said something about her being on meds. Andy says well at least this was entertaining and helps pass the time. Andy says this is why I want to take Helen to the final two because then I can be literally everything that she has done has been spoon feed by me. They talk about how the jury will perceive this. Amanda says she doesn't feel bad because she tried to flip the house on me few times. Andy says maybe I will get pandora's box tomorrow and really shake up the house. Amanda tells McCrae that he shouldn't have go into the room alone with Jessie after. McCrae says I don't need you to hold my f**king hand. F**K THAT! You're crazy! Amanda says ah REALLY!? Do you want to take that back or do you want to hold onto that one? Are you going to take that one back? McCrae says no. Amanda asks are you going to apologize. Andy heads over to the sink and McCrae says f**k you Andy you stay in the middle of this. Amanda says you aren't going to apologize after she said I am using you and the only reason you like me is because I have big tits. Andy says that he is worried he will have his first confrontation tomorrow. This is now the third person that has yelled at me. McCrae says he knows his fight is coming with Elissa and it will be a no holds barred f**king blood bath! I am going to f**king eviscerate her and then rain in blood! Andy says we have to win HOH this week. They all agree that they think Helen buys their alliance. We have to make sure she isn't worried about all of this. We have to just continue to make Helen and Elissa comfortable. Helen joins them and says sorry I don't know how all this happened. They discuss how it all went down again. Gina joins them and they ask her what's going on out there. Gina says Jessie pretty much knows she is going home. She isn't talking bad about anyone. Andy heads to bed and says he is going to lock the HOH door. Gina says that Jessie is just saying that Aaryn has been saying stuff about me but I just told her that I've heard it all before. I don't know what's truthful and what's not. Gina heads back outside.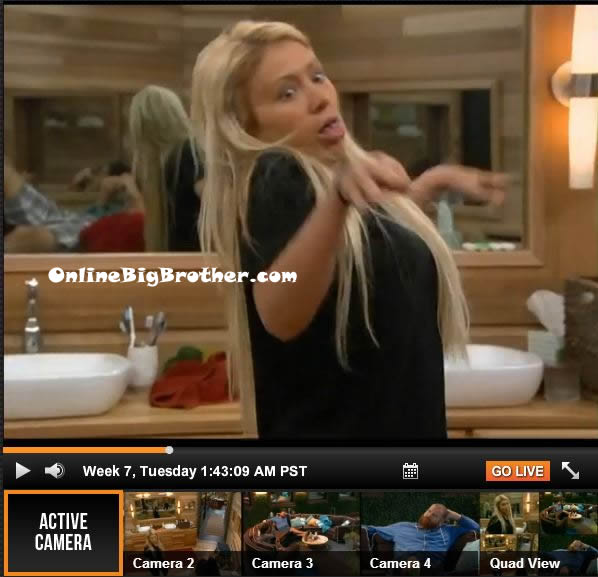 2:25am – 2:50am Amanda, McCrae and Aaryn are in the back bedroom. Amanda says that as long as the four of us stick together we are fine. Aaryn says that tonight really back fired on me because now she (Jessie) is talking sh*t about me and turning people against me. Amanda says it doesn't matter no one is listening to her. Gina joins them and Aaryn asks what Jessie is saying out there. Gina says oh nothing much just that you talk sh*t about everyone. Aaryn asks if its anything specific or what? Gina says no and its not thing to get upset over or fight about. Amanda says we all talk sh*t about each other. Gina tells Aaryn there is no need to get upset of start a fight. Aaryn leaves and says I will start a fight if I want to, I am sick and tired of people telling me what to do! Gina heads out of the room after. Gina and Aaryn heads out to the hot tub. Aayrn explains that the only thing she has it that she would put up Gina but that is just something I had to say for game talk. Gina says it's not a big deal I don't care. Aaryn says that now we have to sit around for 3 days while Jessie goes off talking sh*t. Gina says she doesn't think it will be so bad. Aaryn says Jessie heard us say some horrible things about her. Gina says well when she came out here she didn't say anything bad, just that she heard you guys talking. Aaryn says this all started when I was shaving my legs up there and Jessie was talking so much sh*t about Helen, just railing the sh*t out of her. And I was just nodding. Aaryn says I told her maybe she needs to work with Amanda and McCrae rather than against them. Aaryn says that Jessie talks so much sh*t about everyone. We all talk sh*t about everyone I am not going to let this bit*h do this to me. Aaryn says I should never have talked sh*t with Amanda and McCrae in the rainbow room. I should have just kept my mouth shut. I am not going to be cool with her throwing my name out, like you're game is over just f**king relax.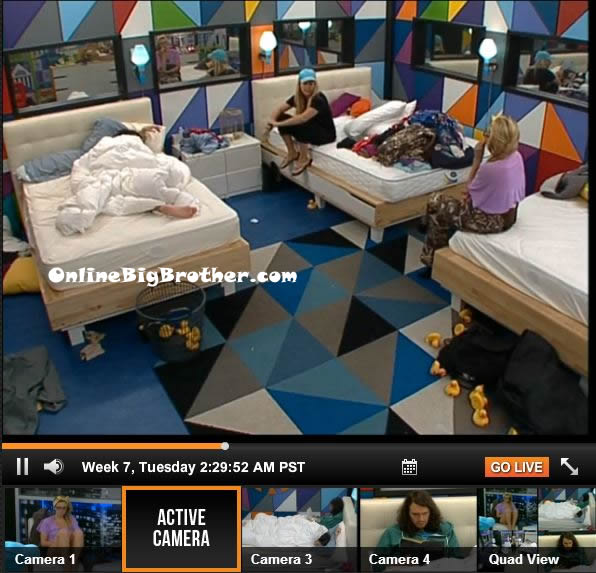 2:55am Elissa and Helen are in the havenot room talking. Elissa brings up how Jessie said that I was ditzy. Helen says I am sorry she said that Elissa. Elissa says I don't care, I have surface conversations with people because it's no one's business to know about my personal life or my husband's business. Meanwhile Jessie is trying to eavesdrop on their conversation again by putting her head up against the havenot door.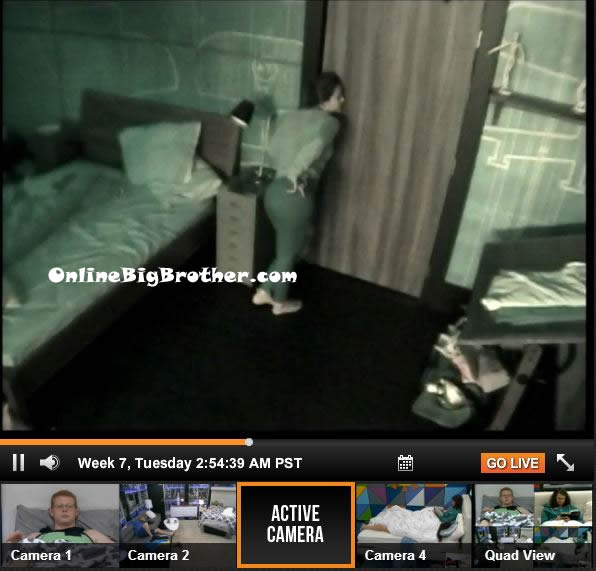 Big Brother 15 Live Feeds: FREE 2 DAY TRIAL
2:50am Up in the HOH room – Spencer tells Andy that he will make decisions with him and work together. Aaryn joins them and says that apparently now Jessie is telling Ginamarie that I am talking sh*t. Andy says Jessie is going to try and raise hell! Spencer agrees. Your best bet is to just lay low and ignore everything. Gina joins them. Gina brings up how Jessie heard everything and thinks that they all think she is a joke. Aayrn says no one said she was a joke. Spencer says no but that is how she interpreted it. Gina says she didn't say anything bad about anyone. Spencer says she said she would keep her speech classy too. Aaryn says if she is trying to raise hell then that isn't being like a lady. Aaryn says well my name got brought up outside. Gina says it was nothing. Aaryn starts getting mad. Gina says why you getting all nasty mommy, relax! Just don't fight with me, we are cool. Aaryn says listen I am not going to sit here and relax. Aaryn gets up to leave and tells Gina that she is being f**king annoying. Gina says you wanna f**king check yourself again! Aayrn leaves and Gina follows her asking her to be a big girl and talk to her. Gina says I will f**king follow you all around this house! Aaryn says get the F**K AWAY FROM ME! Gina says that she will get Jessie and bring her up here right now so you can see what she said. Aaryn says she is just annoyed right now. Leave me alone and just drop it! Aaryn goes back into the HOH room. Gina follows. Aaryn says LEAVE ME THE F**K ALONE! Gina says well you are acting like a f**king psychopath. Aaryn says leave me alone. Gina heads down stairs and starts yelling everyone wake up, just so everyone knows Aaryn is yelling at me and if you want to come join the show it's upstairs in the HOH room. Gina goes into each room waking people up telling them to come up to the HOH room. Meanwhile in the HOH room – Aaryn complains asking why Gina can't just drop it, it was over. Why can't I just walk away?! Andy agrees. Aaryn says god she is f**king crazy.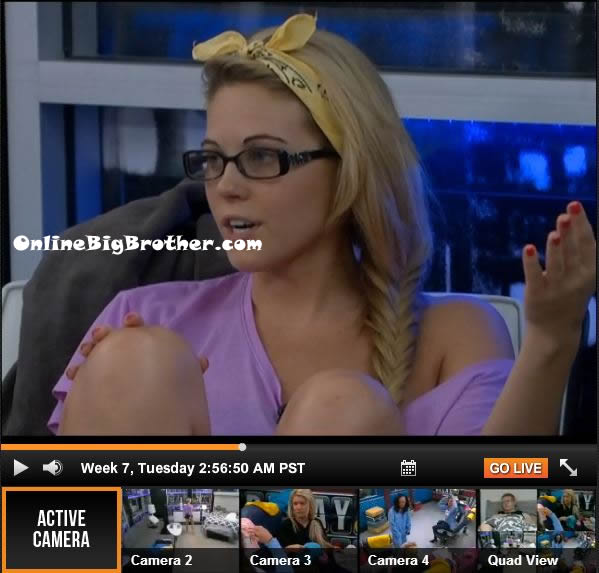 Gina brings Jessie and McCrae up to the HOH room. Gina asks Aaryn if she wants to yell some more. I just don't want people to get it twisted tomorrow because you and I were butting heads. Aaryn says I don't care what people think. Gina says I was sitting up here and you were jumping down my throat. Aaryn says I was over it, you kept bring things up and I kept trying to. Aaryn says that you f**king followed me into the hall and chest bumped me like a F**KING PSYCHO! Gina says I didn't attack you. If I did they would have called me into the diary room. Aaryn says well they probably will. Jessie keeps saying thanks GM. Jessie then leaves. Amanda tells Ginamarie that Jessie was smirking the entire time. She wants you and Aaryn to fight. She was smirking the entire time. Andy agrees. Amanda says she is trying to get you to flip to vote her to stay. She wants Me and McCrae to flip but we're not dumb, no one is doing to that. Stop fighting because you are both doing what you want her to do. Amanda says she is going to bed. Gina says I was trying to be your friend. Aaryn says I just wanted to go to bed. Gina says that she offered to be a havenot because you were on it and I wanted to be there with you because you are my friend. Gina leaves. Andy tells Aaryn to not feed into the drama. Just hold your tongue. Aaryn continues to talk about how she can't believe Gina just did that after I have tried to be nice to her. Aaryn heads down stairs and says I can't believe that just happened.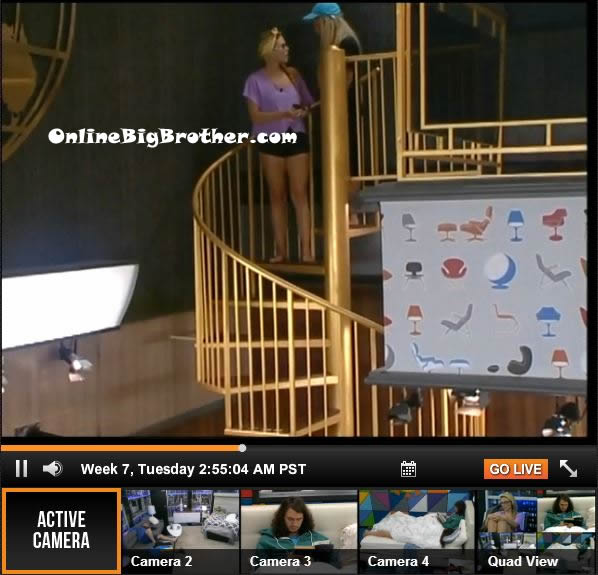 3:20am – 3:30am Aayrn runs into Jessie and tells her that she wasn't trying to start anything with her. Jessie says that Aaryn didn't have to relay their entire conversation to the others and says that she heard it all. I don't trust you. Aaryn says fine. Jessie goes and puts her head up against the havenot door again and then says that Helen is such a f**king C**T! Aaryn heads into the havenot room. Jessie tells Spencer that she plan is working. By the time I leave I am going to have all of you guys hating each other. I will spare you though. Jessie then goes and puts her head on the havenot door to listen.


Meanwhile Aaryn heads into the rainbow room and talks to Amanda and McCrae about the fight with Ginamarie. Aaryn tells Amanda how Jessie just called Helen and Elissa c**ts. Amanda says can't believe it.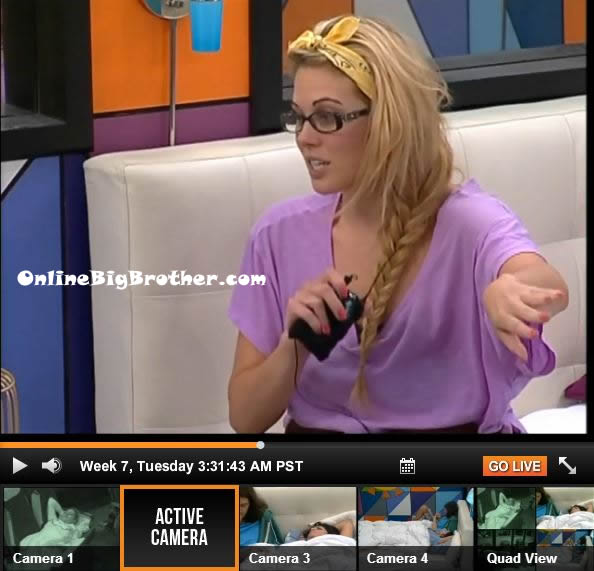 3:35am McCrae leaves and then comes back from the bathroom. He comes back and says as soon as he opened the bedroom door Jessie jumped back and got into bed. He says that they he went to the bathroom and came back she was with her ear up against the door. McCrae then gets on the floor and looks under the door to see if Jessie is listening in on their conversation. Aaryn tells Amanda about the fight with Gina and says that she was legitimately scared. She is bipolar! I don't know how they let her in here. I have never had someone chest bump me before! Amanda asks if she's told the diary room about it. Amanda says just lay low tomorrow and be your normal chipper self. Aayrn is just worried that Jessie is just going to keep trying to get everyone to fight.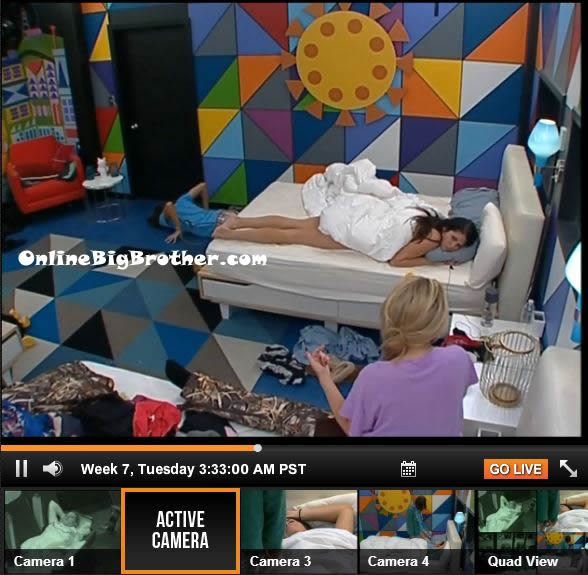 3:45am Helen and Aaryn are talking in the storage room about the Jessie. Helen says that she is worried for our safety. I am a mom and I have kids I am worried about her coming threatening my family. Helen says I am just worried she is going to grab a kitchen knife and stab me. Aaryn says she won't do that but she will try and turn us against each other. They talk about how Gina is scary when she gets like that. She flips from being a psycho to being happy the next moment. Helen says I really hope these people aren't mentally unstable. Aaryn says I think they do put mentally unstable people in here. Helen asks if Judd was stable. Helen and Aaryn list off the people that are stable/unstable. Aaryn says that Gina is crazy! Just be careful if you ever cross her! Aaryn says that Gina asked in the diary room if she could hit Candice in the jury house and they said no, the rules still apply. That's how scary she is. Big Brother cuts the feeds. When they come back Aaryn and Helen head to bed.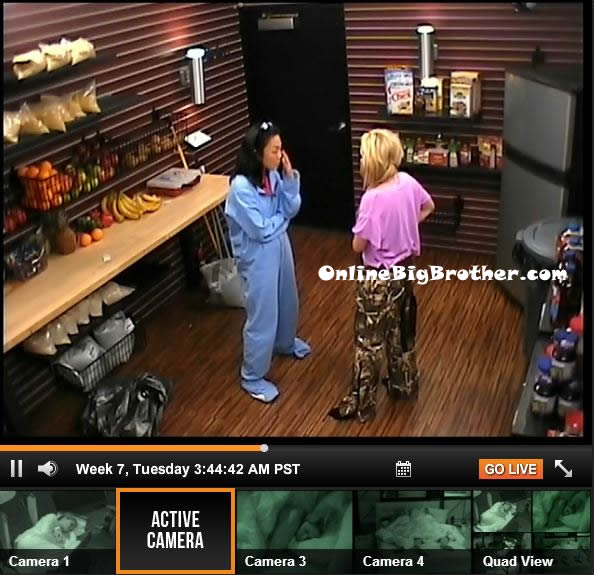 4:15am All the house guests are now sleeping..
8:30am They are all still fast asleep.

10am – 10:50am
Big Brother wakes up the house guests. When the live feeds return – Aaryn is awake and in the kitchen. She grabs her drink and heads out to the backyard couch. After she finishes her drink she heads back to bed in the havenot room. All the house guests are back sleeping with the lights on.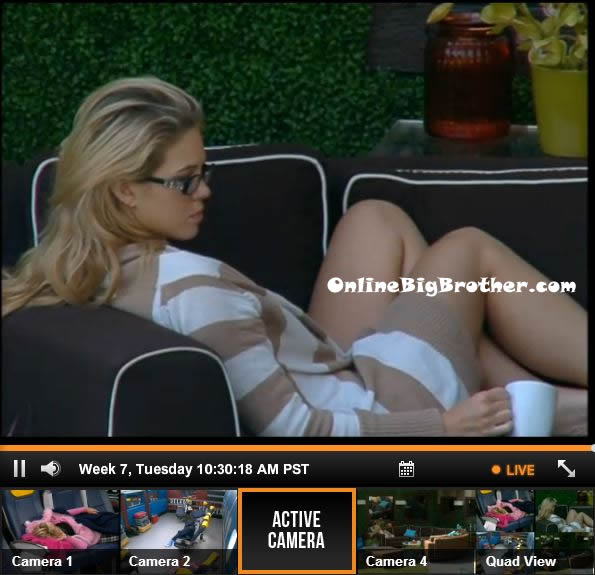 11am – 11:50am Aaryn can't sleep after trying to go back to sleep in the havenot room and gets up again. She heads to the bathroom and puts on her workout clothes and puts on her makeup. Meanwhile all the other house guests are still sleeping. After 45 minutes of getting ready to work out, Aaryn heads out to get on the elliptical. Helen is also now awake and getting ready to do her morning run.

Use the Big Brother Live Feeds to FLASHBACK to SEE what they can't show you on TV:
BB15 N!p Sl!ps / N*des
[polldaddy poll=7309671]