POV Holder:
Andy
Next POV
Aug 17th
POV Used
?
POV Ceremony
Aug 12th
HOH Winner:
ANDY
Next HOH:
Aug 15th
Original Nominations:
Jessie and Spencer
Current Nominations:
Last Evicted Houseguest
David, Nick, Jeremy, Kaitlin, Howard, Candice, JUDD
Have Nots
Aaryn, Helen , GM, Elissa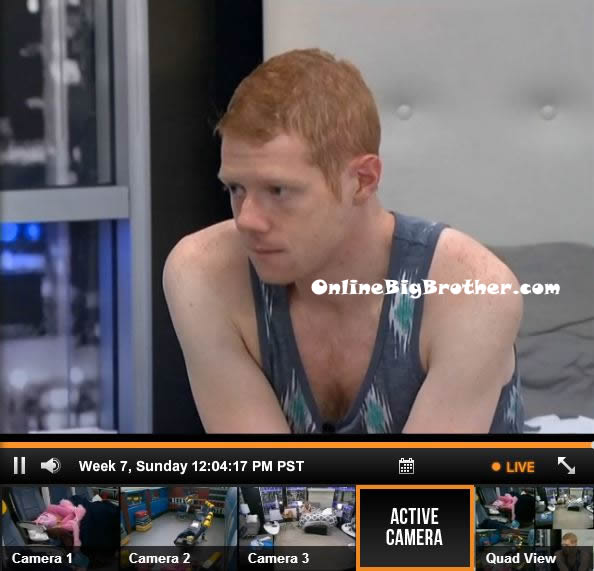 12:10pm Up in the HOH room – Helen and Andy discuss getting out Jessie this week. Andy says that I don't think that Jessie is coming after me but I need to not be selfish and think about how she is coming after McCranda. Helen agrees. Helen says I think it is too soon to go after Amanda. Andy says you're changing your tune?! Helen says yeah, I did after talking with McCrae and how he won't come after us if we go after Amanda. Andy tells Helen about how Aaryn told him that she doesn't want Helen to go anywhere and is not coming after her and won't. Helen says that is good but she is wanting to get out McCrae over Amanda. That is not good for us. Helen says that the only thing I worry about with taking McCrae to the finals is that he will be great at the first part of the 3 part final HOH, he would be good at the second part and okay at the third part. Andy agrees. Jessie joins them to check in. Jessie says that she was so scared during the POV competition that Spencer was going to win because he was doing so good. Andy says no matter what she is safe this week. I may make the big move that I have been planning or I might take out Spencer this week. Andy says I know that I am the low man on the totem pole, I am not the lowest but I am low on it. Jessie says no matter what you need to win HOH when it gets down to the final 5 or you are out. Andy agrees. He says either I shake up the house now or I wait. Andy says that he is scared of Spencer because if I don't I know he will be the reason I go home. He has been the only person to fool me. I had the same thing about Nick and Jeremy too. Jessie says that Spencer has been doing really well in competitions but at the same time you don't want to look back and wish you had made a big move. Jessie is worried that if Andy doesn't make a big move that she will be going up next week and going home for sure. Andy says if I take out Spencer this week then I go into next week with no enemies as long as you aren't mad at me for me putting you up. And if I make the big move then I go into next week with at least one enemy. Helen joins them again and they talk about the POV competition.
Big Brother 15 Live Feeds: FREE 2 DAY TRIAL
12:35pm – 12:57pm They discuss and reassure Jessie that she is not going home and that she is safe. Jessie says I don't know how I got here to being nominating 3 weeks in a row. It's disheartening and it makes me feel like I am disposable to the house. Helen says she looks at it like as it gives you an opportunity to build relationships with people. Jessie says if I did win HOH next week I would consult both of you. the conversation turns to talking about how badly Judd wanted Jessie out and how influential Jessie was in providing them with the information they needed to get him out. They talk about the events leading up to the reasons why they couldn't trust Judd. Jessie comments that Judd was making out with her while he was plotting to get me out. Jessie says that Elissa was pushing for me to kiss Judd and then when I did he was addicted and wanted to make out all the time. Andy comments that he didn't like the comment Judd made when he side it sounded like you were getting nailed in your sleep. They discuss the Judd/Jessie fight that happened after that incident. Helen asks Jessie about an incident where she was in the havenot room with Candice and came out to see Judd surprised and wonders if he was eavesdropping on their conversation. Helen says that Jessie was in the hall at the time so wonders if she knew Judd was listening in on their conversation. Jessie says that she wasn't but isn't sure if Judd was. They talk about how smart Judd is and Helen says at this point if a person comes back she would much rather Jeremy come back than Judd. They all head down stairs. Jessie heads outside and Andy asks Helen how was that, was that convincing? Helen says yeah.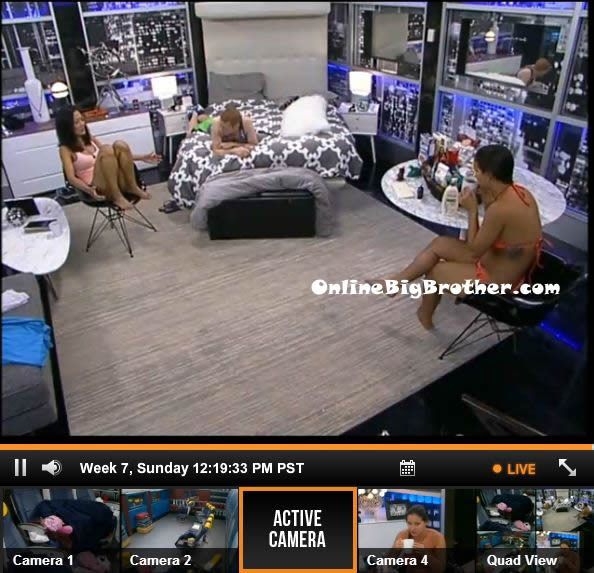 1pm In the kitchen – Andy comments to Helen that everything he wanted to happen has happened. Helen says don't jinx it. Andy says oh no yeah, thus far any ways. Andy says that loyalty pays off, all the people that have been loyal are still here. Helen and Andy agree that it was so crucial getting Nick out and how he probably doesn't even realize it. Helen says she still feels bad about Howard's eviction.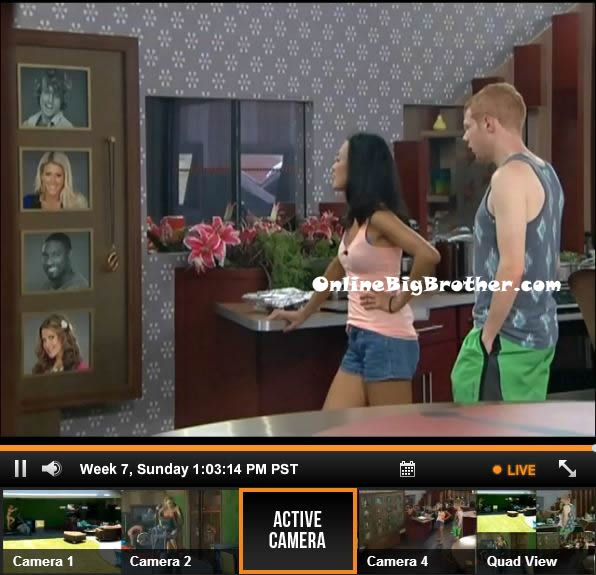 1:35pm – 1:45pm In the kitchen – Helen, Spencer, Elissa, Andy and Amanda are talking about random things and the POV competition last night. Andy says that when he leaves he is going to miss slop balls.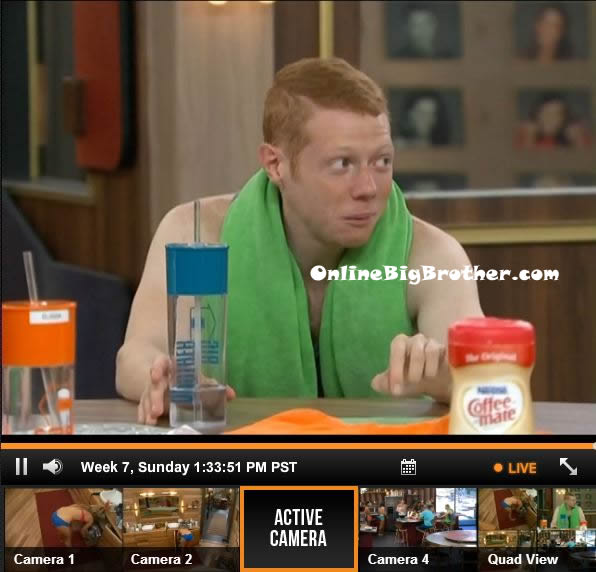 1:50pm – 2pm Andy wakes up McCrae. Gina is also finally awake and in the bathroom.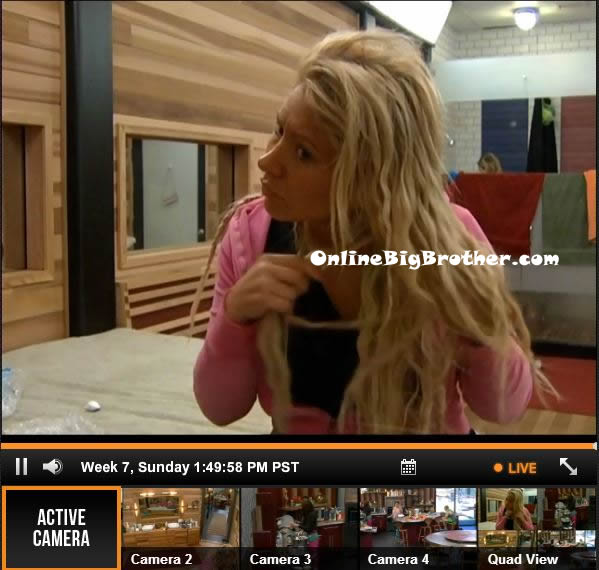 2pm – 2:15pm Up in the HOH room – Andy talks to Ginamarie. He says that he would never want to jeopardize her position in the game. Ginamarie says that she was scared in the POV competition because Spencer was close to winning it and new that she might go up if that happened. Andy tells her that he was actually thinking of asking an Amanda or McCrae to go up if that happened because he knew they would be safe and didn't want to put up Gina. Andy asks if we are good now and next week you won't nominate me? Gina and Andy shake on being good and that she won't nominate him if she wins HOH. Gina says from day 1, I thought your a$$ was awesome! And if we make it to the end I want to compete with you. I don't like competing with scrubs. Just like I don't like to compete in pageants with ugly people, I want to beat pretty people. I may not be the smartest person but .. Andy says he doesn't like how she says that because she is a smart person and everyone likes her. Gina says I am not here to play footsie with someone I am here to get dirty and win some money! I just can't wait to see Nick and see if he told the truth and sh*t. McCrae comes up to go to the bathroom. Andy and Gina finish up their conversation. Andy tells her she is good. Gina says she was just a little bit nervous and didn't know if was going to use it. Andy and Gina hug and head downstairs.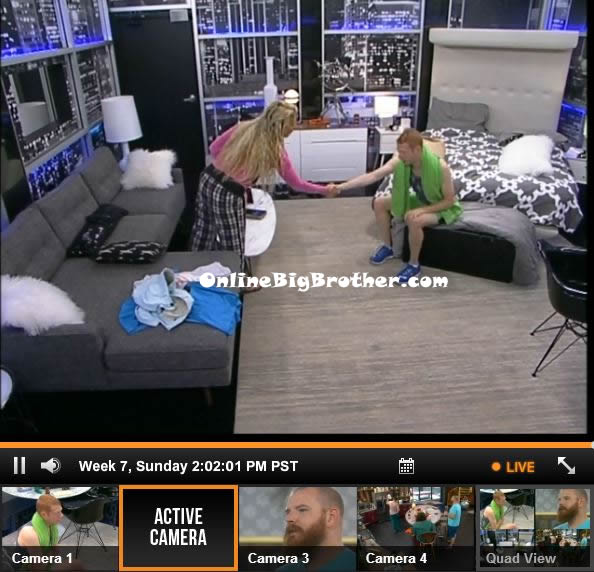 2:15pm – 2:40pm Out in the backyard – Spencer and Amanda are talking about POV competition yesterday. He says that was the most stressful he has ever been until Jessie got knocked out. Amanda says explaining that strategy to "my friends" (diary room) was the most difficult thing I have had to try and explain. Amanda brings up how in BBCA they did the same thing by picking the same letter to knock someone out. McCrae, Elissa and Andy join them. Everyone leaves but Spencer and McCrae. McCrae instructs Spencer to get close to Helen and tell her whatever she needs to hear. Hopefully she will convince Elissa too. Spencer says yeah I was going to play pool with her later and just play it cool. McCrae heads inside and Amanda joins Spencer.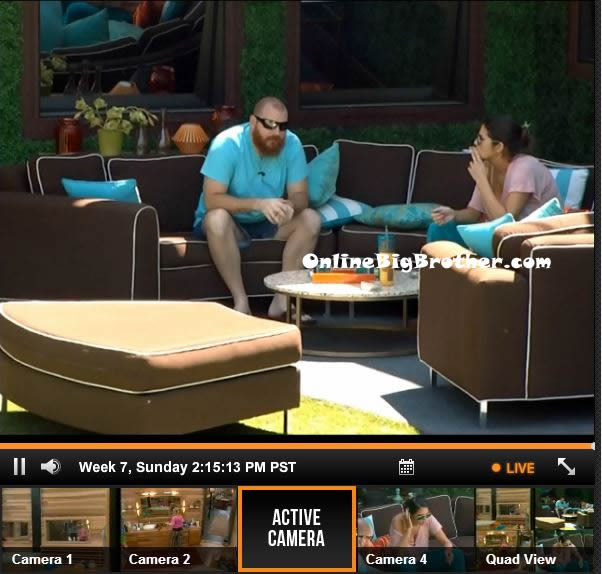 2:45pm – 3pm Helen is in the pool putting all the ducks in a row. Elissa is suntanning. Jessie is doing laundry. In the bathroom – Andy and Aaryn discuss how they figure the next HOH will be a knock out. Aaryn says she hopes it isn't because it makes who you are working with super obvious. Andy says that's why it's great I can't play next week. Aaryn asks if anything is going on. Andy says no nothing super crazy. Andy tells Aaryn that after he talks with everyone else he will talk to her later today. Andy heads outside to the backyard.
Use the Big Brother Live Feeds to FLASHBACK to SEE what they can't show you on TV:
BB15 N!p Sl!ps / N*des
[polldaddy poll=7309671]