POV Holder:
Jon
Next POV
April 12th
POV Used
Yes
POV Ceremony
April 14th
HOH Winner:
Jon
Next HOH:
April 17th
Original Nominations:
Sabrina & Rachelle
Current Nominations:
ADEL & Arlie
Have Nots
Neda, Arlie, Rachelle and Heather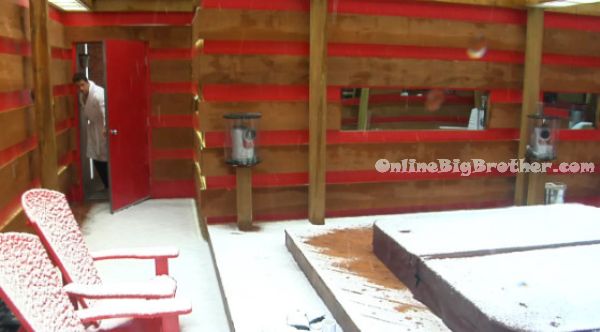 9:15am Big Brother wakes up the house guests. Adel comments how it's weird how there's more people in the slums than in the bedroom. Adel says you're not going to believe how much snow is outside. In the kitchen – Sabrina says the logic is there to keep him because you, Heather, Neda and Adel are a final 4. Jon tells her that the fact of the matter is that you Rachelle, Neda and I are the true final four. Sabrina says he said you swore on your family and your dog that you wouldn't put you up. You also had the chance to take him off and you didn't. Sabrina says I really want to sit down and discuss it with you and Neda. Jon says me and Ned's talked for the first time since it all went down and we definitely want to talk to you. Sabrina says the four of us should sit down. JOn says when people are desperate they will say whatever you want to hear. Sabrina and Rachelle head out to the pool to talk.
In the bedroom – Adel heads to the bedroom and tells Allison that obviously I had a melt down with Sabrina yesterday ..which isn't good for me. It is what it is, I don't care. Allison tells Adel you're staying no matter what. Adel says that Ro is stronger than Sabs we need to keep her and pull her over to our side so then its 3 against 3 to beat them. Big Brother puts them all on a backyard lock down. They all head out to the pool area and talk about what the snow is like where they live. Adel and Sabrina keep saying wind shield factor. Allison corrects them and says its wind chill factor not wind shield.
10:15am Adel and Allison talk by the workout bench. Adel says that Neda and Jon are a pair no matter what. He says that Sabrina is that biggest sell out in this game. It makes sense to her but I don't get it. Adel says Neda, Jon and Heather are together. The Gremlins will try and work with whoever benefits their game better. I know Heather has your back, she saved you. I've been saying it forever that she has your back. Adel tells Allison we are in the middle and can pick which ever side we want. Adel says Neda and Jon are strong. Allison says I don't know how they've made it this far together. Allison asks do you actually think they'll break up the Gremlin's before us? Adel doesn't think Neda wants to break them up yet. Adel plays out scenarios. Allison asks you think Jon actually wants to do the Gremlins, I think he wants to keep them in his back pocket. Adel tells Allison that Neda thinks you had no reason to use your secret veto so she thinks you're playing both sides. Adel says I'm a hustler. I like to smoke weed and party. I'm not good at English, I never was. People think I'm a dumb dumb but I can figure this sh*t out. Adel continues to play out different scenarios. Big Brother opens up the house again and
10:35am – 10:45am In side Heather complains to Allison about how Sabrina is annoying her because she keeps getting upset about absolutely everything and anything. Allison says everyone just needs to relax. Allison tells Heather I am not going to screw you, I have you back. Allison says I know in the four of us .. would you take me over them? Heather says yes. Allison says I know Jon would take Neda .. I don't know if Neda would take Jon. Neda wouldn't take me over you. Using that thing yesterday freaked her out. I haven't talked to her yet but..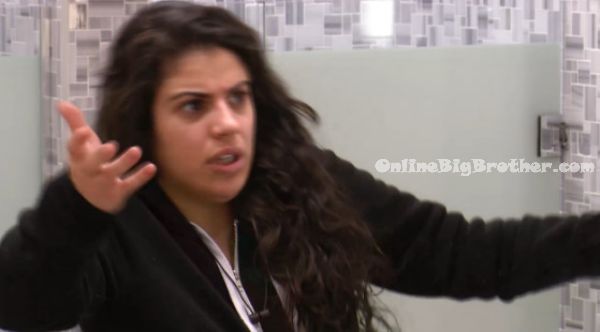 Sabrina says I can't wait for you to go home and see that they little quiet people are the ones that are talking bad behind their and people like me are the ones that if I have something to say I will say it to your face. Heather apologizes to Sabrina for the things she said. Sabrina says I hated you the last couple days! I have a lot of people that are my friends outside this house because I am a nice person. I appreciate your apology. I think that you being nice is a façade. Heather says you saying that hurts me. Sabrina says you are not my favourite person now .. well because you said mean things to me.
10:55am – 11:20am IN the bedroom – Arlie talks to Rachelle & Allison saying that when someone wrongs me I get them back 10 times worse. I am a soldier for my friends. You two could be my Charlie's Angels/Arlie's Angels! If you guys come with me I will be a f**king warrior! We could crush their souls! All the house guests head to the kitchen to eat and hang out..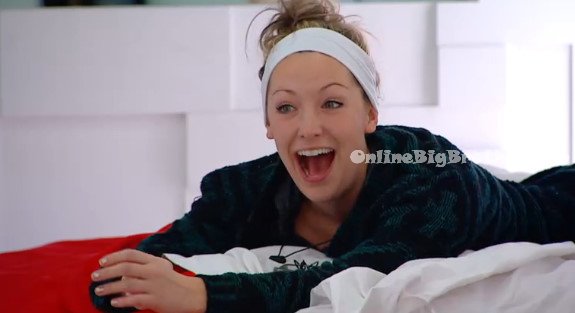 [polldaddy poll=7968822]
[polldaddy poll=7964297]
Stay connected and interact with other Big Brother Fans on our Facebook page.
And Follow: @BigBspoilers and @Dawgsbigbrother on Twitter for the most up to date spoilers.