POV Holder:
Kenny
Next POV
?
POV Used
?
POV Ceremony
April 7
HOH Winner:
Heather
Next HOH:
Apr 10
Original Nominations:
Kenny & Allison
Current Nominations:
Sarah & Allison
Have Nots
Sarah, Kenny, Rachelle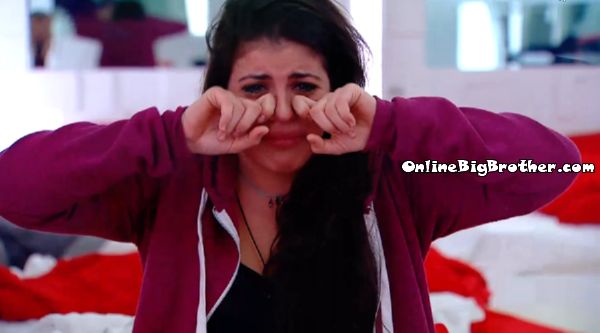 7:20pm Bedroom Sabrina and Allison
Sabrina breaking down into a tidal wave of tears. Says she cannot believe that Allison has done this to her because she trusted Allison and loved her, "I'm not pissed I'm hurt cause I really liked you.
Sabrina – "I was honest to you … "
Allison explains to her she had no choice she was going home and Sabrina knew that.
Sabrina – Yes I'm not going to lie to you but I was honest about where my vote was.
Sabrina whimpers – "You are having fun up there when you know they all hate me and they are bashing me"
Allison says She's heard Sabrina had said some awful things about her in the past the past.
Sabrina – "Fine you'll see what I said.. I didn't say anything horrible.. all I said was Why is she taking Andrew away from em"
Allison – Ok fine.. OK Sab.. this is not at all a personal move
Allison tells her the only way she stays in the game is to join the other side.
Allison says the entire house thinks Sabrina is mean..
Sabrina thinks it's just the other side trying to make her not like me.
Allison doesn't think that is the case, Allison says Sabrina was mean to Heather and her in the past.
Sabrina wants ALlison to disclose all the things the other side is saying about her being mean.
Allison just keep repeating that this is the only way for her to stay in the game.
Sabrian – Have I ever been mean to you
Allison – not to my face
Sabrina – not to my face… perfect can't wait until you see this at home
Sabrina now claims she was not mean to anyone and wasn't stirring sh1t all season she asks if she's ever seen Sabrian being mean to anyone in the house
Allison – I've seen you talk about Heather behind her back..
Sabrina – So i'm going home next
Allison I don't know I went from going home to whatever the other side has.
Sabrina – You went over the the side that hated Andrew… you did what you had to do for your game.
Allison – I'm not going to lie about it but people are saying you are mean..
Sabrina says she very good at this game and she does realize things, she would have
Allis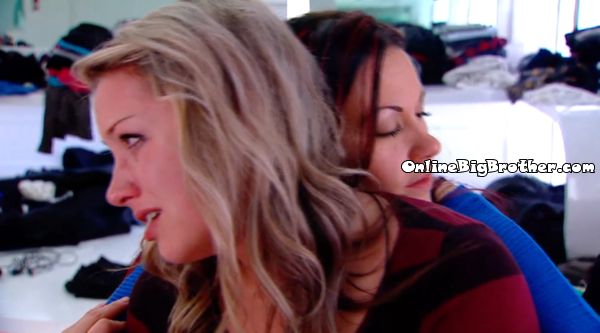 Momzi comes in and says she wants to give everyone a huge she wants to leave happy just like the way she came in, "I even hugged Arlie"
Allison says there was some passive aggressive stuff going on early today.
Sabrina – I was super hurt i just have to get my emotions out of the game.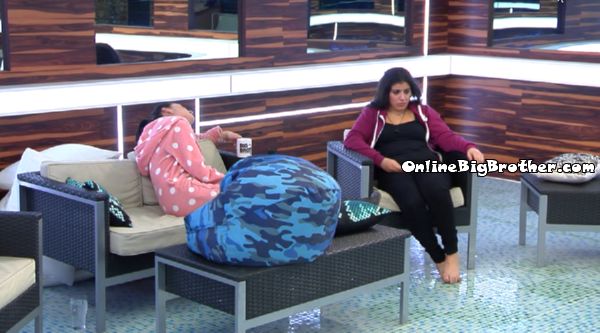 7:35pm Rachelle and Sabrina poolside
(If you want to listen to Sabrina deny doing all the thing she did for the last 3 weeks watch these videos)
Sabrina says that Andrew will never talk to Allison again for what she is doing.
Sabrina explains her conversation with Allison and how the entire house calls her mean. Rachelle says Sabrina isn't mean../
7:40pm Kenny and Allison Storage room
Kenny says he wouldn't be able to do to Momzi what Arlie. Kenny says he's not going to roll over he's going to fight for HOH harder than ever before. Allison crying about how crazy the day is. Kenny tells her not to waste any tears there will probably be plenty more. They hug and leave.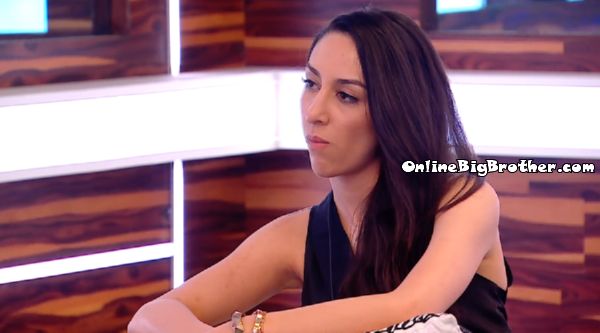 7:47pm Neda and Sabrina poolside
Sabrina claims she never lied about the things she said about Heather. Neda thinks their first five alliance was a cool idea and good for them for keeping it going for so long. Sabrina claims that is why Canada put her and Andrew up because they were so strong.
Sabrina says Neda would say mean thing about Heather so why is everyone calling her mean.
Neda denies saying anything they can roll back the tapes she never said Heather was creepzilla, creepy disgusting etc etc.. Neda would only nod and smile so that she wasn't ostracized from the group.
Sabrina is taking HUGE offense to the house calling her mean. She tells NEda that NEda is making the game personally, "I've never been mean to you.. have I been mean to you"
NEda – I don't know what is being said when I'm not around"
Sabrina keeps telling her everything that is being said about her is false and will be known once they are out of the house watching the show. (likely the broadcast only showed 1/100th of what Sabrina said about Allison and Heather)
Sabrina – I tried to be loyal to people and it backfired.. I'm not meant for this game.. Sorry You thought I was mean.. "
Neda said that 1st5 made good game moves.. Neda leave, Sabrina asks her to go get Jon.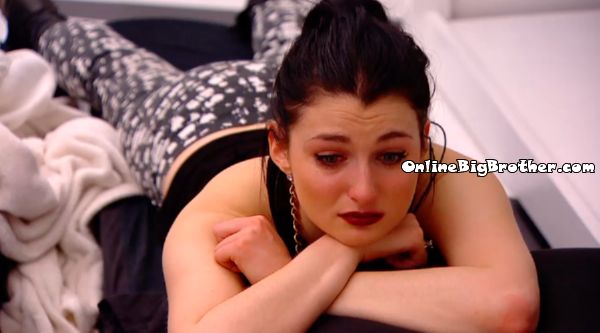 8:13pm Rachelle cries..