Head of Household Winner – Cody
Have nots – Ian, Kevin, Memphis, NicoleA
Nominations -Keesha and Kevin
Power of Veto Players are -?
Power of Veto holder -?
Power of Veto Ceremony -?
Safety Suite – Kaysar & Janelle
Live feeds —-> Grab your Live feeds here. Try it free.
Rank the houseguests —-> Big Brother 22 Ranking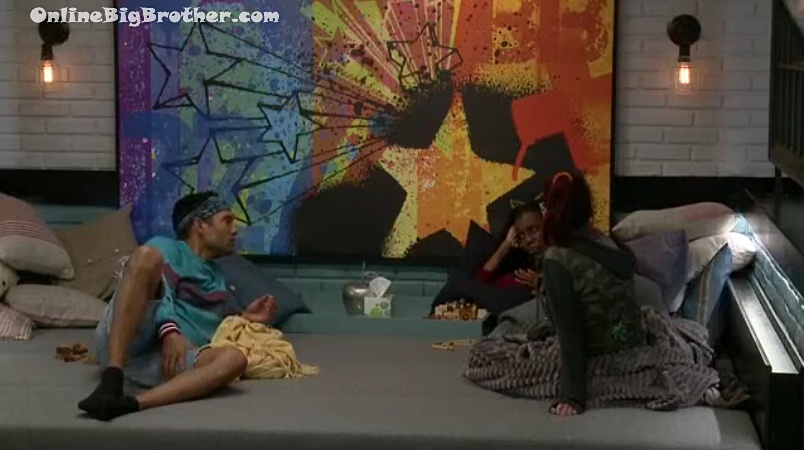 12:30 am NicoleA, Kevin and Da'Vonne
They're talking about who lingers in the HOH room.
Da suggests that maybe Cody is just part of the group because
Da – I didn't think Cody is in a big group unless he's playing the f* outta me (it's the latter)
da seems convinced that Cody is just being dragged into the "group" because he's the HOH and people are kissing his a$$.
Kevin – you don't think he's entertaining those conversations
Da – I don't know
Kevin says David is an outsider.
Da – He doesn't talk to me
NicoleA says she didn't play with David much last year "He went home so early"
They talk about there being a small core group like a bullseye with an inner ring and an outer ring
NicoleA – I don't think we're on the bullseye
Kevin – we're not even on the board
Da'Vonne is adamant that Cody is not part of a large alliance
da – he's the HOH once his reign is over he's not inside the group
NicoleA says Da has such good intuition she remembers Da from watching her. (ZOMG)
Kevin – you know what is 100% I can say there is an alliance in here and people are saying no. No one is talking to me about nothing.. that means there's a big a$$ alliance here if they are having the same sorta thing they're is a significant situation going on
Kevin agrees that Da'Vonne intuition is correct with Cody he's not the leader of it "He's just a pawn.. he's the muscle"
Da – because he won HOH
NicoleA – what scares me and I like them a lot but Tyler and Janelle are always together (ZOMG haven't seen them talk once)
NicoleA – it could be them too
Kevin – If I can throw out here who I think is in this alliance I thin kit is Janelle, Memphis, COdy, Tyler, Kaysar that for sure is happening
(Jeepers these people are clueless.. sigh)
Kevin – then there are peripheral people that they are entertaining
Da'Vonne says it will break her heart if Ian is part of the alliance
NicoleA says he might be part of it but at the bottom.
Nicole and Kevin going on about there being a core of four people and they are telling another 4 they are safe.
Kevin 0- there's a centre ring and an outer ring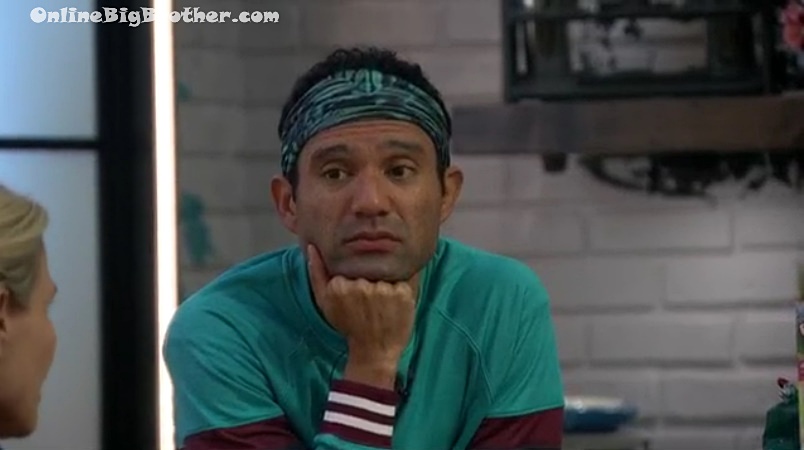 1:00 am Kevin and Keesha
Kevin says he wanted to win the HOH he feels every competition you need to try in.
Keesha – yeah I didn't throw it by any means .. don't get me wrong I thought about it. Even the safety pass are you regretting not playing in it
Kevin – absolutely I feel like I'm going to look stupid
Keesha – that would be two of us.. but I had a conversation with him.
Kevin says he can see himself looking back at this episode thinking to himself "I'm so dumb"
Keesha says early on nobody wanted to rock the boat everyone was waiting for someone to make the first move.
Kevin says he's going to take every chance he can from now on.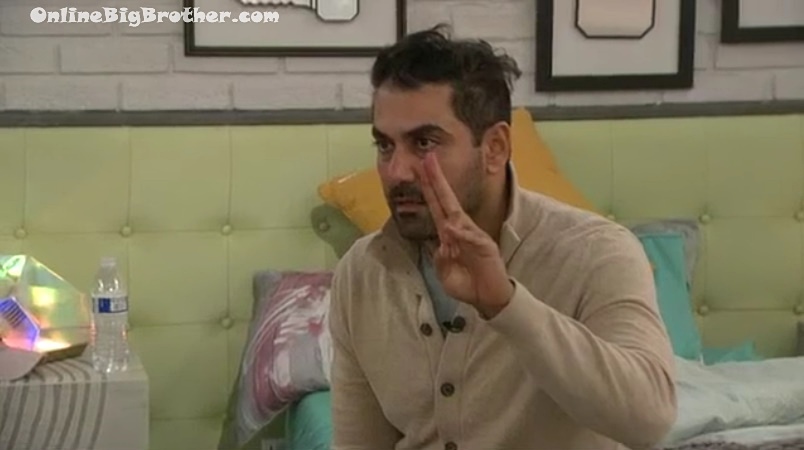 1:02 am Kaysar and Janelle
Kaysar – they're not going to expect anything from NicoleA or Ian. No one ever expects anything out of them
K – I need to get Memphis alone tomorrow to convince him of what is really going on here.
Janelle says Memphis won't want to use the veto
Kaysar – he just wants to float and hang out? how did he play his game last time
Janelle – Uhh .. I think he worked with Dan and Keesha for awhile
K – so he doesn't take risks
J – I guess I don't know I don't remember
Kaysar says there' a girls alliance forming
Janelle doesn't think there is anything like that happening
K – Bayleigh told me
J – WHAT
K – I asked her if there are any alliances and she said yes people are talking and they created one and it's all girls and she named the people
J – who did she name everyone why would Bayleigh tell you that
K – We're going o win HOH next week and we're going to bring her in she wants to work with us she trust one person and that is Da'Vonne. So Da'Vonne and Bayleihg, Ian and NicoleA, Keesha, and Memphis. you need a big alliance to take down that GUYS and Nicole and the girl's alliance there's too much sh1t going one right now.
Kaysar says the house see them as a pair they were the first target Keesha and Memphis are the secondary targets
Kaysar – Memphis is going up if she takes herself off.
Janelle – yeah agreed
Janelle tells him they can't do anything until they win HOH next week, "It's pointless"
Kaysar – there's a veto tomorrow what if you get picked
Janelle – we have to keep a low profile.. you and I are safe what the f** like are you crazy. I hate to give advice but maybe just a little bit
Kaysar – why don't we sleep on it
J – yeah. If you get picked you have to throw it. If you gun for it and save Keesha then what happens Memphis goes up or NicoleA
K – I need Memphis to win it
J – he will never do that
K – I'll convince him..
Kaysar wants to try and convince Memphis to win the veto and use it on Keesha. Otherwise, Memphis is going to be the replacement nomination if the Veto is played on Keesha.
Janelle doesn't think he'll be able to convince Memphis. Kaysar says he has to try. "I'll try my best"
Kaysar tells her had they not been aggressive they would have been on the block right now.
Janelle says if they hadn't they would be in the spot Kevin and Keesha are right now wishing they had played in the safety, "at least try you have two chances to save yourself that way"
Kaysar points out exactly what he said happened. Kevin went up as the pawn after nominations he cried went up to the HOH and confirmed he was the pawn.
Kevin – the day before Kevin was super emotional because Cody told him he was the pawn.
Kevin – I'm not trying to save everybody I'm just saying we have to build a buffer between us. If we don't have a structure that side will run amok and annihilate us because they have the numbers week after week.
Keesha wants KAysar to slow down and remember they are safe this week he needs to throw the veto and lay low
Janelle – if you play for veto you can save her
Kaysar – no it won't work there's only one option (Memphis winning)
Kaysar says the other option is they try to lobby the house to vote out Kevin "Which is not going to happen it will create a massive cluster f* everyone will expose their positions it's not going to happen"
Kaysar – really the two options are; He (Memphis) has to play he has to win and he has to use it on her otherwise one of them is going home (Keesha and Memphis)
Kaysar says he wanted to come into this game and lay low for the first couple weeks "but look what happened"
Kaysar – we can't blend in they put us both in the house and look at what happened.
Kaysar – you and I can't just blend in.. they put us both in the house together .. it spooked the hell out of everybody
Kaysar – we have to win HOH and we have to form the alliance by next week.
Janelle agrees but they have to win HOh first.
Janelle – I don't think we should show our cards. We gotta lay low it's only day 3. If you start acting like you are helping helping helping you're just putting a target on Memphis.
Kaysar says he's going to try once with Memphis then let it go and leave it from there
Janelle – yeah

2:10 AM NicoleA and Kevin
Talking about being outsiders… "It's the story of my life"
NicoleA – like my sister always says some people need to work harder.
Kevin – some people have a current behind them pushing them ahead other people have it pushing against hem.
NicoleA says in a way the current is pushing behind them because they are here.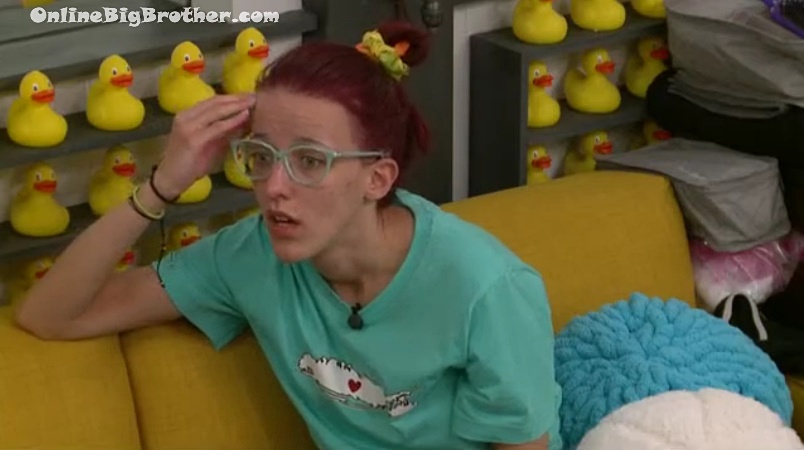 2:20 am NicoleA, Da'Vonne and Kevin
They're talking about who should Kevin pick for the veto.
Da – I don't want any of us to be causalities this week
Nicole – all my people left the first second third-week last year. I was in the house I lost all my friends.. it's frickin de ya vu
Kevin is trying to figure out who the replacement nomination will be he thought it would be Memphis but Kevin thinks Memphis is working with the other guys
NicoleA agrees adds that Memphis is really "Chummy" with Cody et' al
Kevin now saying that he thought Janelle and Kaysar were the targets but now they have become "the puppet masters" (This group is lost)
Kevin – I think Tyler and Janelle are puppet masters
NicoleA agrees says Tyler and Janelle are the head of it and they both have their minions on each side
Kevin says Janelle is the one in power right now and she's not the HOH
Kevin – I think I'm the target.
(At one point these scholars think Janelle and Tyler are working together.)
Kevin thinks Bayleigh is working with them Nicole suggests it's everyone but them three.
Da'Vonne says if Bayleigh was working with the bullseye she thinks she would have told her.
Kevin – Janelle is running this game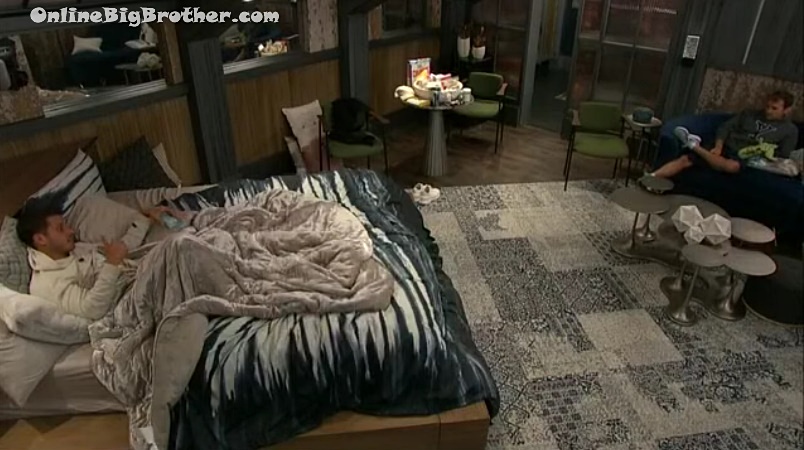 3:10 am Ian and Cody
Boilerplate pre Veto conversation it's been going on for awhile. Ian tells Cody if he wins the veto tomorrow he won't use it. Cody says he won't use the veto the nominations will stay the same. They go over a play by play of when the bombsquad exploded. ETc etc ..
Ian heads to sleep at 3:18 am on his way out he says he wants to work with Cody and confirms he won't use the veto. adds that he likes David.
Ian – I just like his Moxy I just like his spunk
3:22 am all feeds showing sleeping houseguests.
7:00 am sleeping
7:10 am Kevin and Enzo
Kevin says he was relating to Enzo because everyone else in the game has preexisting relationships in the house
Kevin – that is playing a factor they already had pre-set somethings
Kevin – they are connected by something. Cody's brother is on the challenge.. they all hang out at parties whatever.
Kevin – I feel like .. I don't want to put you in a bad situation. WE moved in together/
Enzo – if it's between you and her I'm keeping you 100% bro.
Enzo goes on about how he never talks to Keesha.
Kevin – I will never come after you this entire game and we can keep this on the down low.
Enzo =- I know you don't have anybody in this house I don't have anybody in this house bro
Ian joins them Enzo leaves "I hope they let us sleep till 10 yo"
Kevin asks Ian if he would consider keeping him in the house
Ian – yeah of course
Ian – I like you but I like Keesgha as well.
Kevin – I'm wasn't coming for you
Ian – we don't know how the veto will shake out. I feel like I am closer with you
8:10 am. For the last 30 minutes, Kevin has been talking to himself in the bathroom. He thinks Janelle is the mastermind of the house and is the reason he's on the block. He's also suspecting Tyler is involved. (ZOMG)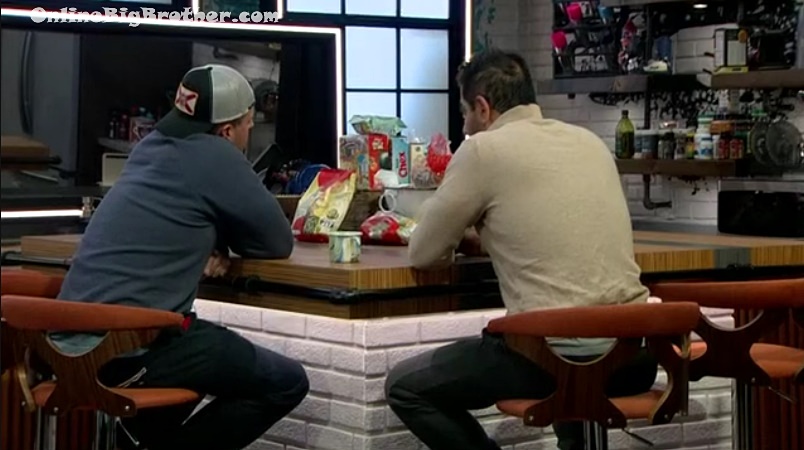 8:30 am Memphis and Kasyar
Memphis – I'm not 100% confident I wouldn't go up. I thought I was going up when I saw Keesha's face on that screen
K – can I tell you something I had a sense he was putting me up .
Kaysar explains Cody was going after the two "Iconic" alliances in the house they are him and Janelle and Kessha/Memphis.
Kaysar explains that COdy putting Memphis and Keesha up rattles too many cages. Adds that the best thing for Cody to do is tell someone they are the pawn and go after the other person.
K – worst-case scenario she takes herself off..
K – I don't want you to do home I don't want her to go home. I'll be honest with you I want to work you guys get the hell outta this week.
Memphis says he doesn't trust Keesha and she shouldn't trust him they played the whole game together and he "f**ing booted her out at final 4 over a old F***ing bastard"
Memphis – the crazy thing me, him and Keesha were thick as thieves we looked after each other the whole f**ing game.
Kaysar says he never knew what their relationship was like he never saw BB10 he doesn't want to force something that's not there.
Kaysar – you do know there's an alliance that has already formed
Memphis doesn't think so.
Memphis says at this point he wouldn't use the veto on anyone, "Unless we're going to backdoor someone"
Kaysar asks if he trusts Cody
Memphis – I don't trust anyone but I don't feel threatened by him at this moment. Three weeks from now yeah maybe.
Mem – I am comfortable looking out for her but I can't sit there and be like Keesha I'm taking you off the block.
Memphis says this early in the game using the veto on Keesha is a bold move.
Kaysar – at the end of the day I'm getting a sense of where the trends are going.
Kaysar thinks Cody is going after pairs.
Memphis says Keesha was saying she knew she was going up
Kaysar – that's because I talked to her before she was going up.
They agree to continue the conversation later.
9:40 am After some "fish" on the feeds the houseguests are now up getting ready for the day.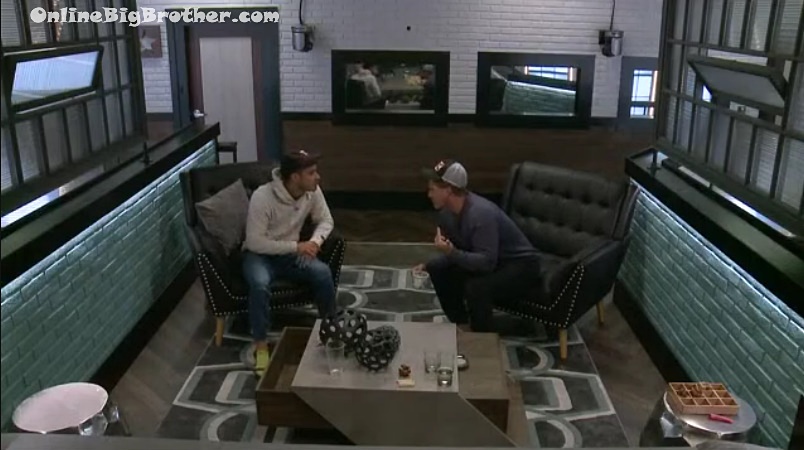 9:46 am Memphis and Cody
Memphis going over parts of his conversation with Kaysar.
Memphis telling Cody that Kaysar thinks that there's an alliance against Janelle and him.
Memphis brings up KAysar saying "Dude you need to watch out"
Memphis says Kaysar is going to spin himself out of this game.
Cody – Janelle maybe Da'Vonne they think there's this guys thing.
Cody – it's week one
Memphis says kaysar thinks there's a master plan in this house. "he thinks there are these layers"
Cody says Janelle is super tight with Evil Dick "I don't play with him"
Memphis says Janelle and Kasysar are spinning out.
Memphis – Kaysar thinks you put Kevin up as a pawn and you told him that
Cody – really
Memphis goes on to say that Kaysar thinks he and Keesha can work together. He highlights how he stabbed Keesha in the back final 4 on his season she cried for 2 days.
Memphis – If I win the POV I'll just leave it.
Memphis talks about a 6 person alliance he lists off some people he likes. Tyler, Cody, Christmas, Bayleigh
Memphis says his ex-wife did Dom and Dani's wedding.
Cody tells him the person he wanted to put on the block was Kaysar.
10:10 am Dani and Enzo
Dani – there's little chitter chatters here and there
Dani says she's worried about Cody and NicoleF being seen together. "Every single person is like they have to be working together"
Enzo says he's not sure if Memphis is with Janelle and Kaysar. "I need to feel it out you know what I mean"
Enzo – I like Da
Dani – her and Bayleigh are obviously a pair and I think they talk to Janelle we have to be really careful what we say to them.
Dani – I'm really excited to go outside. If I'm not playing I'm still going to ask questions about the rules just so we're out there longer.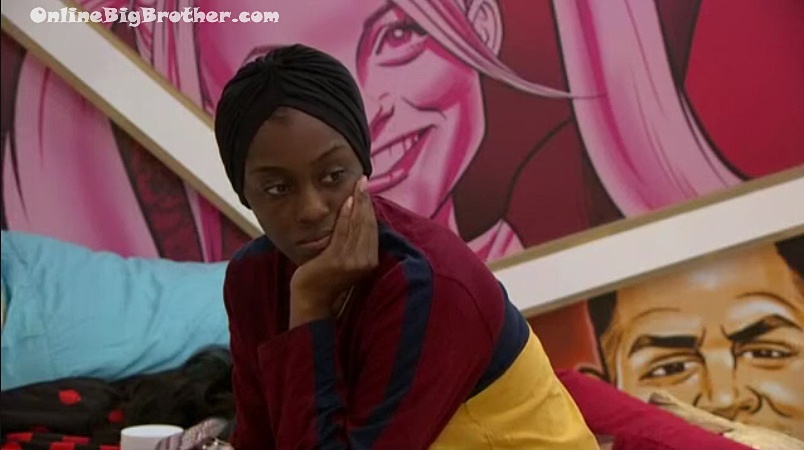 10:45 pm Da'Vonne and NicoleF
Da – do you get a vibe there might be a big alliance in the house.. you do?
NF – with guys yeah.
NicoleF mentions that production called all 8 guys into the DR last night.
Da – on the outside it looks like no one is talking game but I'm not that dumb makes me feel there's a big alliance and I'm on the outside.
Nicole says it's like 16 all over.
Da – how do you feel about the people on the block right now
NF – I really like Kevin. I like them both
Da – me too
NF – I would be more sad if Kevin left
Da – I liek Kevin but as a fan I like Keesha.. Sh'es such a sweet gitlr
NF – Right away I liked her a lot because she's all about animals. She's like a midwest girl.
Da – do you think COdy will put you up? I don't think so
NF – He played me ..
Nicole goes on about how on season 16 she never got to play with Cody a lot and he burnt her bad.
NF – he very well could put me up.
Nicole says during nominations yesterday the main camera was pointed straight at her and she was sweating
11:21 am Cody and David
Cody – how bad do you want to play in the veto if I get houseguest choice you want to play
David – Yeah
David wants to win the HOH next but if he also wins this week's POV he might be seen as "Coming in hot"
Keesha comes in.
They bring up how Ian is throwing up on the slop.
Kevin comes in says the slop is a "new version of slop.. it's a pellet version it's stopping up inside of us none of us have used the restroom"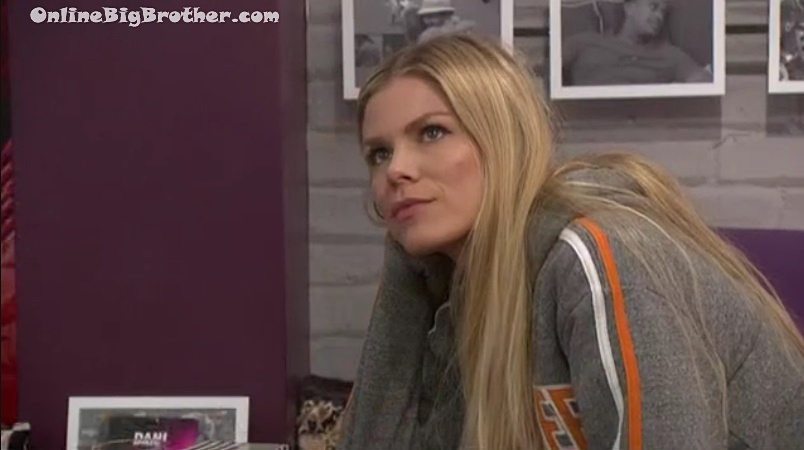 11:35 am Enzo and Dani
They both don't want to play in this Power of Veto competition.
Dani – I want to chill to make fun of everyone
They both say they don't talk to Keesha at all.
Dani – you would want her out more than him?
Enzo – I would think
Dani wants Keesha out also. "I think all the girls want her to stay more"
Enzo – Kevin's got nobody in this house keep him in the house he's desperate.
Dani – Keesha was really good at her season too
Dani brings up how Keesha and Christmas are both playing dumb with the game rules.
Dani impersonating "When we draw players for the veto who draws them"
Dani – like you were here till final three like stop
Dani warns him that all the girls are talking about the strong guys getting together names. Memphis, Tyler, Enzo, and Cody.
Enzo says he just wants to be tight with NicoleF, Cody, and Dani. (Stab me… just f**king stab me)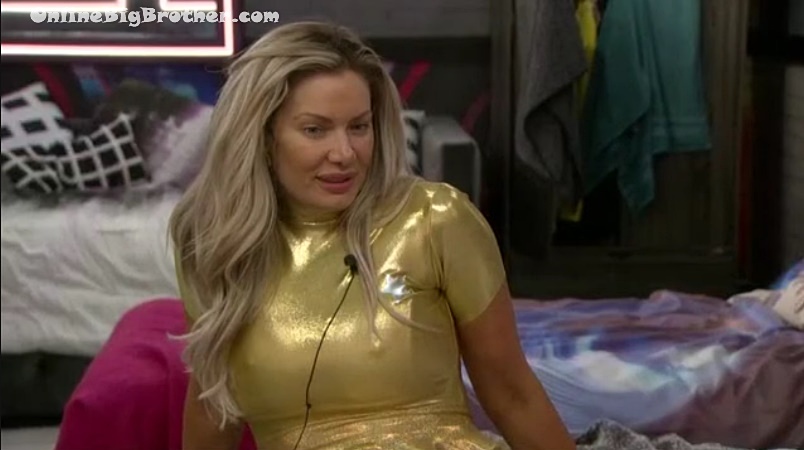 11:43 am Janelle and Dani
They both don't want to play in the veto they just want to go outside having been locked into the house.
Dani – have you talked to NicoleA
Janelle – she's really sweet I like her a lot I've talked to everyone but David
Dani – David is very nice and polite .. just surface stuff.
Janelle – did Cody say anything about who he wants out
Dani – No, I asked him.
J – do you think he's working with NicoleF
Dani – she said no she said she talked to Derrick all the time so I don't know
Dani says she can't believe Frankie isn't ion this season she loves him
They talk about Rachel and how much they love her.
Dani brings up the Rachel/NicoleF feed.
Dani – NicoleF said they were trying to sue her
Janelle – wow
Dani – that's what she said
Janelle – I don't see Rachel doing that why waste your money
Dani – I think it was defamation of character.
Janelle says Kasyar is really excited to play "I'm like you really need to calm it down"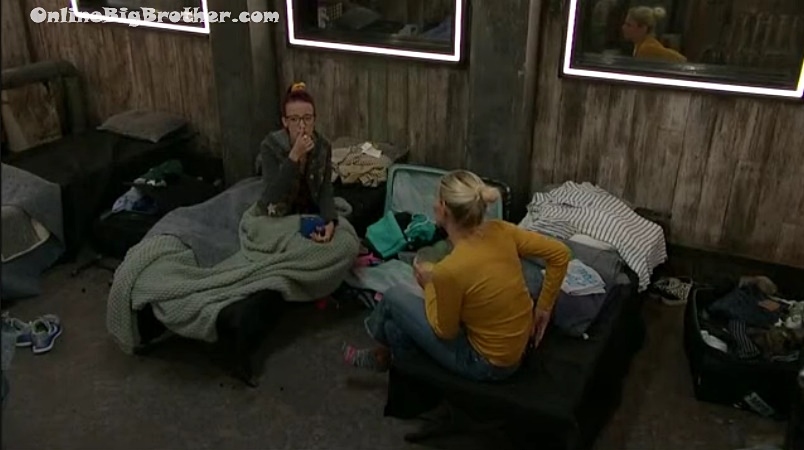 11:57 am Keesha and NicoleA
Chit chat about the have nots room.