POV Holder:
?
POV Competition
July 16th
POV Used
?
POV Ceremony
July 18th
HOH
Paulie
Next HOH
July 21st
Roadkill Competition Winner:
?
Original Nominations:
?, ?, ?
After POV Nominations:
?, ?, ?
Have Nots
?, ?, ?
(Crazy night) 1
CBS All Access: Live feeds are only $5.99 per month – Try it FREE for 1 WEEK!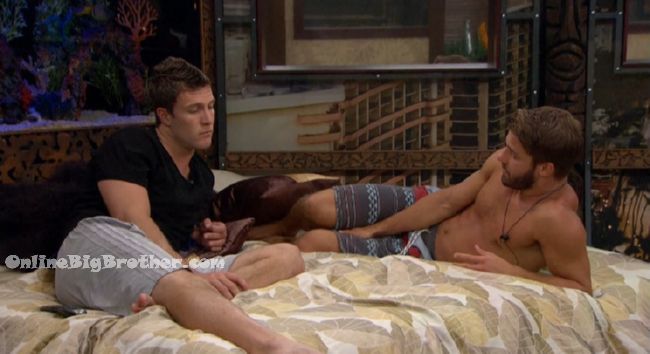 2:49am HOH Corey and Paulie
Talking about getting Natalie out. They've talked to James and Paulie think she'll be on board with it. They will work with JAmes if Natalie get nominated and leaves.. Sound slike Tiffany is still their target and Natalie is the pawn.
Corey says Zakyah and Nicole will be onboard with them.
Paulie – TIffany is this year's victoria's she'll never win..
Paulie says he linked up with Corey first week he's his ride or die. Paulie says that Nicole and Zakiyah are cool girls but his true interests are to go to the end with Corey.
Paulie says he didn't want to relying on competitions to win the game his plan all along was to use his social game.
Corey – we can sway people where we want them, MIchelle will do whatever the hell I tell er to do
Paulie says he'll cuddle with her call her "BIG MEECH"
PAulie – as long as we keep Da close enough so she's not on the outskirts
Corey – I hope we can get rid of Frank and Bridgette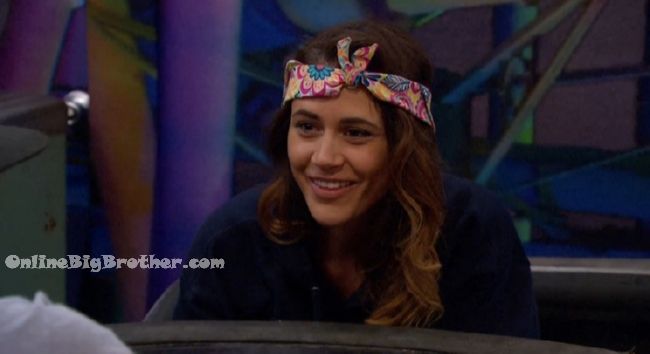 2:47am Tiffany and Frank Have nots
Tiffany they've been lying to me all week.
Frank is trying to figure out the votes. Tiffany says it doesn't matter they all wanted the numbers to go a certain way they all wanted him out.
Tiffany – Zakiyah she's a snake in the grass .. Paulie is calculated but not as smart as you think
Tiffany says they were all a$$holes to her, "I'm a OK competitor, You're a strong competitor Bridgette's an amazing competitor"
Frank – you me and Bridgette need to beast it out
Frank adds that regardless if they lose the other side has to put up their own people they can['t put up Bridgette or Frank. They need to get Roadkill and work from there.
Frank – even if we don't win it they have to out up a Zakiyah, or PAul
Frank- we can talk james into not voting out Natalie..
Frank – Me, you, Bridgett, James.. We only have to flip one more person and that could be Michelle
Tiffany – this is game on Frank.. wait i'm nervous
Frank – don't be nervous
Tiffany we should have done this from day 1
Frank I know
Tiffany – don't tell Bridgette at this point
Tiffany – we should have done this from Day 1 I should have talked to you
Frank – even if they win Roadkill they'll have to put up their own people the most important thing is POV on Saturday..
In case you missed it this happened last night #BB18 @DawgsBigBrother pic.twitter.com/qgDgFd6VVr

— OnlineBigBrother.com (@bigbspoilers) July 15, 2016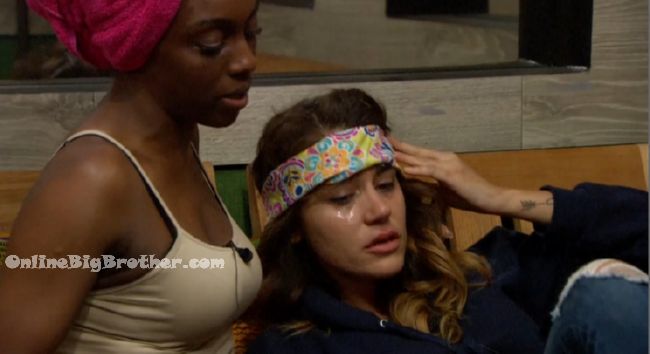 3:02am Tiffany and Da'Vonne Safari
Tiffany telling her she know Da'Vonne was telling Frank everything. She says they're specific she told Da'vonne that she heard back from Frank. She's pissed everyone has been lying and playing her.
Da'Vonne denies it and says it's just Frank getting in her head.
Tiffany- lies and deceptions.. You are cutting so many lies.. YO made a final 2 with Frank
Da' – Tiffany I love you I swear I love you
Da' – Frank, you gotta be smarter than that
Tiffany – Academy award to all of you.. This game I'm over it right now..
Zakiyah – what's your move..
Tiffany – what does it matter..
Tiffany – I have nobody in this house.. You guys are the f****g worst.. The way you f*** treated me these last two weeks nobody deserves that..
Tiffany very upset by being betrayed starts to cry…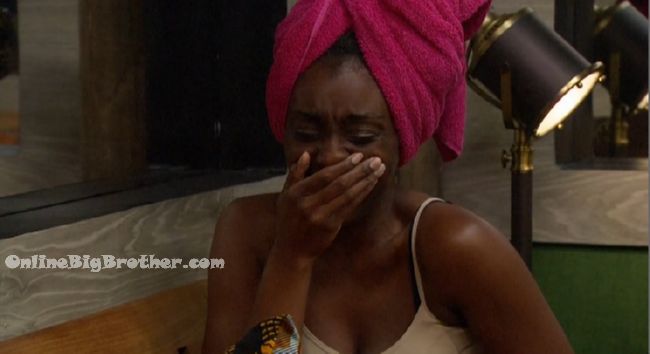 Da'Vonne is laughing

Zakiyah starts laughing..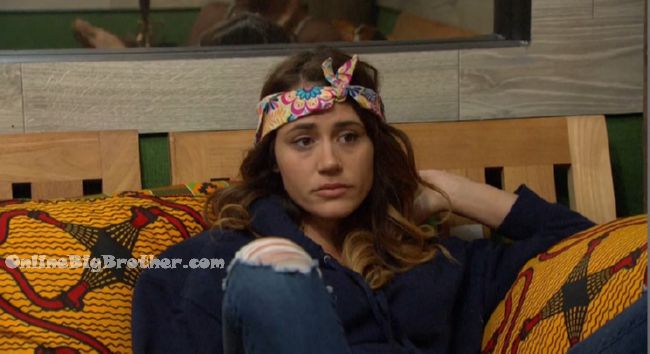 Tiffany – I'm glad you think it's funny
Da'Vonne – you need to pull it together
Tiffany – no I don't give a f***.. I don't give a f*** i don't have one person.. You know you were the only person I had you have to be true to one person …
Da'Vonne tells her now the house is going to shun her because she's blowing up
Tiffany – I have been shunned.. everyone is treating me like I have leprosy
Da'Vonne starts hugging her "time out time out for big brother.."
Da'Vonne – I need to you be a little stronger
Tiffany- I don't trust Paulie, Nicole I don't trust anybody.. I'm not part of any alliance I'm just here to get picked off..
Da'Vonne – DO NOT ATTACH YOURSELF TO FRANK.. That's not the way to go please don't do that..
Tiffany – nobody has my back right now.. I'm roadkill right now
Tiffany- you guys were the worst to me
Tifany – 30 f***g days.. .all because people do these things.. People don't talk to me I don't know who to trust..
Tiffany says at 2am she's pull aside and people tell her they're going to keep her.
Tiffany – Corey last night told me you wants you gone. Everybody in this house has been playing me
Zakiyah and Nicole come in .. They say Frank is doing this all to her.
Tiffany – tells them the thing she's heard specific thinks.. It's hurtful
Zakiyah- say she's been truthful to Tiffany
Frank rolls in "You OK Tiff.. "
Tiffany- I don't give a f*** free agent here.. No f***ks
Da;'Vonne we're comforting her
Frank – doesn't seem too comforted.
Da'vonne letting her let it out.. It's been a long 30 days
Tiffany keeps saying she has zero f***s tells them every time she walks into the room people leave (Nicole) "We don't have to have personal attacks in this game.. That's not cool… not cool"
Frank says when he walked by it looked like they were ganging up on Tiffany
Da'Vonne – get your life Frank..
Frank – seems like a mean girl sensations going on
Da'Vonne – you're a dick
Paul cruises by
Da'Vonne – is that what it looks liek to you
Frank – i'm older and wiser than Paul..
Frank leaves.. Tiffany, Paule, Da'Vonne, Zakiyah and Nicole in the Safari room.

3:09pm Paule and Nicole listening in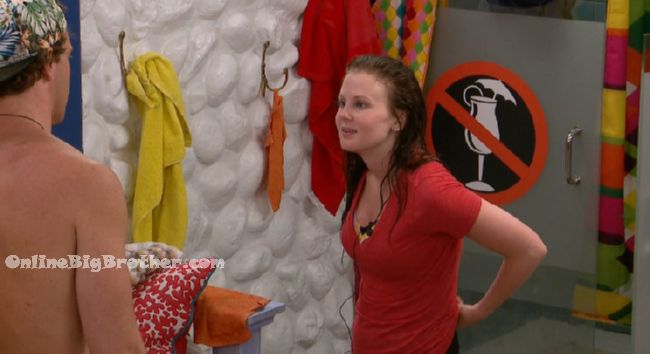 3:27am Michelle and Frank CAm 3-4
Frank says people want him out
Frank – Tiffany came out of the DR crying.. It seems like she's being shit on by a lot of people.. I don't like the people talking shit about me to her then they voted her out.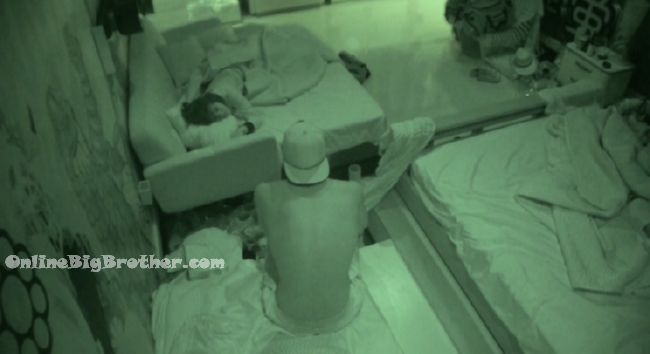 3:34am Frank and Bridgette
Frank tells her not to look for drama like he does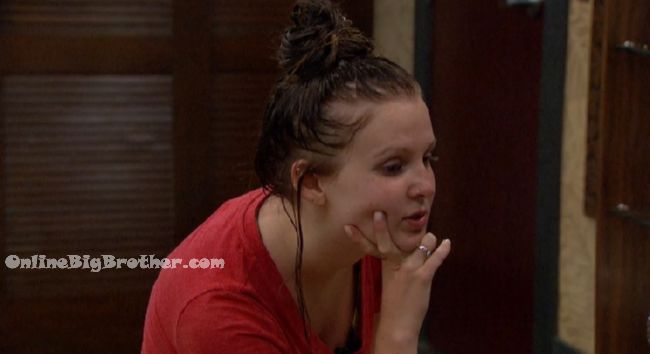 3:35am Paulie and Michelle
Michelle about Frank – "He really thinks I got his back
Paulie – He's just fishing for information..
Michelle says James and Natalie are being sketchy points out they went to bed already
Paulie says Tiffany would be safe this week all she needed to do was stay against Frank
Paulie is going to nominate Tiffany tomorrow and her mind will explode.
Michelle – she needs to go I don't want her to be safe this week
Paulie – in order for her to stay she has to beat me at a veto competition and i'm going hard..
Paulie says as long as James is with Natalie he can't trust her
Paulie doesn't know where Da's heads at he's down to keeping it to their 5. (Showmances and Michelle.
Paul wants the boot order to go – Tiffany, Frank , Bridgette, Natalie then Paulie. at that point if James wants to get rid of Da then we're down to the 6 and 5, "Once we get to 5"
Michelle – do what you need to do
Pauli e- we have to make things smooth these next few weeks.. I never wanted to win certain thing.. You know what I mean.. But once I say Frank was going to win..
They bring up Tiffany lying to them about Vanessa being their sister.
Michelle and apulie agree they love Paul, :"he's the man.. I would chill with him (outside the house) .. He's smart and has good morales"
Paulie – I would keep him safe before natalie… and I would keep him safe before DA
Paulie says he wants the 5 of them with James and PAul final 7 because it would be chill and fun
Michelle – James will be so much better with Natalie
Paulie – ya… all our personalities mesh together
Michelle is scared if Bridgette or Natalie make it further than her.
Paulie says Tiffany is acting crazy
Paulie starts talking about his dad always getting the live feeds. Talks goes to "Compassion" and how Natalie has no Compassion when he talks to her so he can't trust her.
Michelle says there's no compassion with Natalie
Paulie says he asked Natalie who she would put up and she never answered him "She doesn't care.. There's no room for life vests to keep floaters around"
Michele – she's not a floater .. a buoy.. Just sits theres does nothing.. At least a lifevest floats around a buoy sits there does nothing.. Buoys go home.
Paulie says Nicole forgets conversations she's just good at "Memory stuff.. "
Paulie now saying when people tell him something he "Locks it in" he may forget it 3 weeks down the road but if they bring it up he'll be able to recall it. Says Nicole can't do that.
Paulie – Anything Frank, Tiffany and Bridgette says is bullshit and anything they use is bullshit..
Paulie now saying he's the one that pulled Paul in now they can trust him.
3:54am Safari room Nicole, Da'conne, Zakiyah, Paul, Corey and Nicole
(Bullshitting Tiffany as she cries )
Tiffany – oh my god i'm going to be portrayed as the crazy girl..
Tiffany – can someone cry with me
Nicole – if you tell me what you're mad about.. I can tell you're upset with me and it's bugging me
Tiffany says she feels she's been played all week.
Nicole – My heart's going 150 right now I have no Idea what I did to you (Voted her out lied to her)
Tiffany is having trouble explaining…
Nicole – we're on your team tiffany it's in our best interest to stay in this game.. He [Frank] got exactly what he wanted
Nicole explains that Frank is trying to cause drama
Tiffany – I'm going up tomorrow.. I've come to terms with it.. Everybody played their cards..
Da'Vonne – i'm going to kick franks a$$ that's for sure.. That I know… that I know…
Everyone places the blame on Frank says he's starting all this and he's got to go.
Nicole says Bridgette and frank are laughing in the other room. Zakiyah agrees.
Da'Vonne – She went from a cabbage patch kid to a tickle me Elmo
Tiffany – I need food I need sleep..
Paul – today has been too much
Tiffany – another week on the block good times..
Tiffany says she's sticking to her guns "No F*** given"
Paul – I like those guns stick to those guns"
Tiffany says it's nothing specific to Nicole she's just in defensive mode..
Pual – "4 years NEVER cared" (hahahah)
Da'Vonne and Nicole say Frank is smiling seeing Tiffany cry because he wants to cause Drama
Da'Vonne says what Frank tells Tiffany she needs to take with a grain of salt.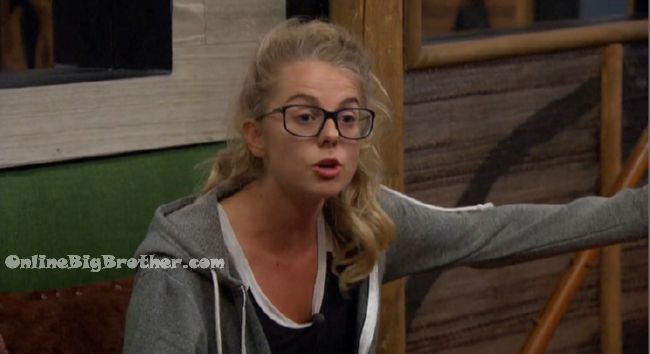 Tiffany tells them Frank is only one person he can't do a hole lot in the game. She questions what benefit is there for him to help her.
Nicole says it's because in the case she wins HO next week he doesn't want to be a target. Nicole adds that from Tiffany's speech it was obvious she's targeting Frank.
Nicole – I don't get what Corey and I did to hurt you
Tiffany says Corey and Nicole are on her team they should have at supported her
Corey – aren't you glad you're here though.. another week.. does that mean anything
Tiffany laughs.. "oh my god.. what are you saying right now.. am I glad you guys kept me around another week
Corey – well ya .. we're good team mates.. we helped out (fu)
Tiffany takes this as we kept you safe be happy with that.
They tell her it wasn't 'Like that"
Tiffany – so you're asking me if I'm happy another week.. do you want me to self evict? because if I wasn't happy I would just self evicted.
Corey – what.. I want to know what did we do
Tiffany – I've been a puppet for everybody to use..
Tiffany brings up Nicole going to Frank saying "I'm so annoying I can't stop crying I'm a cry baby.. all this bullshit.. "
Nicole denies saying that, "You believe what you want to Tiffany.. do you want to believe Frank"
Nicole says she would never tell Tiffany personal things other people are saying and for Frank to tell Tiffany the personal comments Corey made is dirty.
Da and Zakiyah agree
Nicole – I'm agree.. Corey did not deserve that.. OHH MY GOSH..
Nicole says Frank was kicking her when she was down.. "Hurst me that someone would do that in this world.. I don't care if you are a stranger or a friend.. it's not something you do.."
Nicole – I never said anything personal about you I'm not a digger
Nicole says she can't stand a good person get hurt says Corey is so hurt by this.. "I can't stand it you are believing things coming out of this… (frank) .. telling you hurtful things.. would you do that to me.. "
4:11am – Tiffany asks them for alone time..
4:14am Bathroom Nicole and Da'Vonne
Sounds like Frank told Tiffany some of the mean (personal) things they've been all saying about Tiffany. Nicole doesn't think that's nice to tell Tiffany mean things they've said.
Nicole – I'm so mad i'm shaking.
Da'Vonne – she just told me she heard Corey say the other night Corey wants me out of this hose..
Nicole – to who he say that to
Da'Vonne – She didn't say
Nicole – I don't believe that.. do yo thin Frank told her to say that
Da'Vonne – I dunno, I hope that's not true and i'm praying if conversations like that happen you tell me
Nicole says it never happened.
Nicole – I don't know what to do at all
Da'Vonne – Frank is a bad situation
Da'Vonne says Frank is playing dirty she's not going to go up to the HOH she wants to stay down here to keep an eye on frank .
Da'Vonne – He's dirty.. he's dirty… heeeeee's dirty… he's dirty (yes that dirty)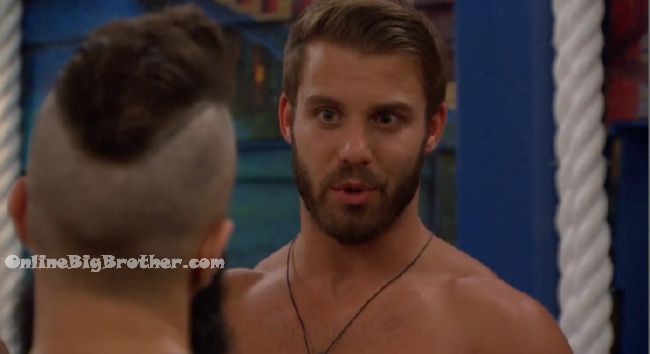 4:17am Nicole, Zakiyah, Paulie, Paul, Da'Vonne
Da'Vonne says they have to calm Tiffany down she knows too much and they don't need her to spill it all.
Zakiyah – he's the devil.. (Frank)
Da'Vonne – I love her she's cute but she's gotta go that's bad..
Pauli joins them
DA'Vonne says Tiffany is a wreck.
Paul explains
Paul – she went to Frank to throw us under the bus.. Frank fed off that threw us under the bus to her.. Telling her shit about Corey.. Thats why she went crazy.. then when they were consoling her Frank came in here and said.. looks like y'all bullying her we have 3 mean girls and 1 crying..
Paulie – He pretty much set off a bomb and now he's sleeping like a baby
Da'Vonne – walking around smiling skipping though the house..
Paulie – He literally caused some chaos..
Paulie – we know every move he makes.. We know she's going to get clipped..
Paul – pots and pans are coming out
They bring up frank saying to Paul he's been in the house over 100 days including the first season. Frank wanted Paul and everyone to know he had more experience in the game.
Everyone has a good laugh at what Paul told Frank
Paul said – 4 years ago never cared… turned around kept talking..
Paulie – We're tagging tiffany this week… frank next week if we can't tag him Bridgette then Natalie..
Paulie says he watched the last season and Tiffany is playing the same as Vanessa..
Paulie – at the end of the day he's got to beat everyone next week.. And everybody the week after that.. He's not super human he's not the person that can win everything…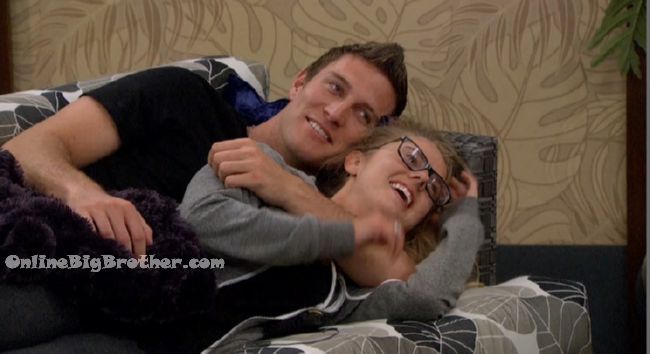 4:28am everyone in the HOH counting their money, Showmancing, laughing at all the drama and chaos.
Nicole – if she wins Roadkill she's putting me up
Michelle – she's going home it doesn't matter..
Paulie reminds them all it was Frank that started all this he's the one to blame.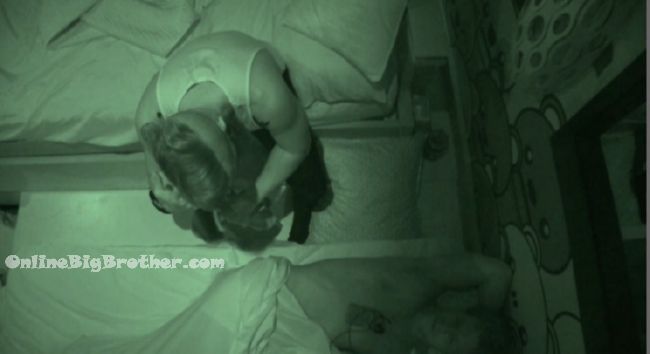 4:30am cam 3-4 Paul and Frank
Trying to figure out where the votes were
Paul – theres two.. there's two ofdd man out.. 1 odd man out..
Frank – why would that 1 man lie to me.. theres something bigger going on we'll figure it out
4:28am Tiffany and Da'Vonne
Tiffany saying it was so obvious that last night it was a last minute decision they were going to keep her.
Tiffany – it was 100% last minute decision
Tiffany says they were all talking about seeing the look on franks face..
Da'Vonne says the alliance are the 2 showmances..
Tiffany says they need to work with Frank to get Corey out. DA'Vonne says she cannot trust Frank.
Da'Vonne – You can't let the game stress you out like that..
Da'Vonne says Coreyu is pissed off
Tiffany – I don't care.. I Don't I already know I'm going up it doesn't matter. I wish I had more fight in me.. it's not fair I've been put on the block for all these f***g weeks
Da'Vonne says Tiffany is on the block because of Frank getting mad at her after their fight.
Da'Vonne says 100% this week Tiffany was supposed to go home.
Da'Vonne – Me and Michelle we cried, we cried, and we prayed that we could get those damn girls to flip their votes.. Frank wanted you out and he told everyone I wanted her out and everyone was going to vote you out.
DA'Vonne adds it was only James, herself and Michelle that wanted to keep Tiffany.
Da'Vonne – we cried and we cried.. how can we flip these votes.. and finally we were able to flip them
Tiffany asks how they flipped it..
Da'Vonne says Michele planted a seed that Bronte was going after Paulie, "that's all it took.. that fast.."
Da says she was worried Tiffany was going to call out the Fatal 5
Tiffany – that doesn't even exist.
Tiffany wants them to team up with Frank to get Corey out.
Da'Vonne wants Frank out, "I don't trust him"
Tiffany – I don't either.. but we can use him to get those f***rs out of here
Da'Vonne can't trust Frank at all..
Tiffany thinks this could be useful.. She wants to use Frank to take out the showmances.
Da'Vonne says if they can get Corey up with Roadkill she'll vote him out.
Da'Vonne tells her to bring the idea up with Frank but don't tell him her name because he'll use that run to the other side and Da'Vonne can't keep up the charade.
Da'Vonne – I don't want Frank in this house…
Tiffany "Nicole's more of a threat than Corey.. can you tell no f** given.. "
Da'Vonne – no one is going to vote out Nicole.. you need to turn that sh1t down"
Tiffany – I don't think she trusts yo .. Nicole.. you're definenlty on their radar
Da'Vonne – I knew that
Tiffany – I like Zakiyah.. but she's fake.. a snake in the grass.. that whole thing with her curling my hair this morning.. .. c'mon..
Tiffany – you got to stop playing both sides Da
Da'Vonne – it's sketchy telling you sh1t
Tiffany – PAulie's so fake..
Da'Vonne says she's onboard with getting Corey's a$$ out.
Da'Vonne- You're a smart girl.. be careful with Frank