POV Holder:
?
POV Competition
July 16th
POV Used
?
POV Ceremony
July 18th
HOH
Paulie
Next HOH
July 21st
Roadkill Competition Winner:
?
Original Nominations:
Tiffany, Natalie, ?
After POV Nominations:
?, ?, ?
Have Nots
?, ?, ?
Paulie nominated Natalie and Tiffany for Eviction. Next competition today is the Roadkill.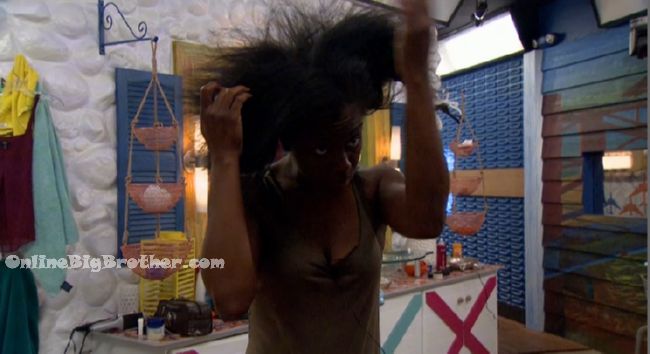 9:10am Nicole and Da'Vonne
Getting their hair ready.. Da'vonne has been doing her hair since 6am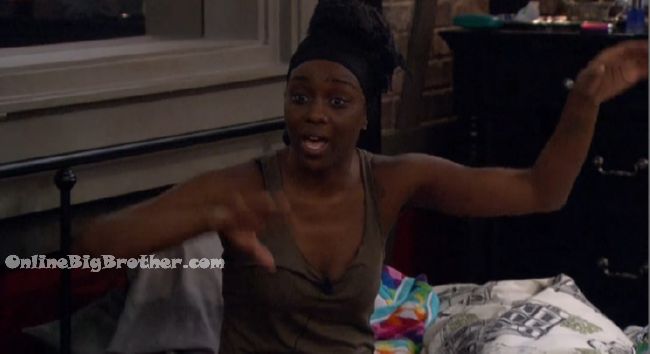 9:31am James and Da'Vonne
Da'Vonne – apparently Corey said he wanted me out..
Da'Vonne says she doesn't trust Nicole or COrey.
Da'Vonne – Tiffany called out Corey. And Nicole Got pissed.. She got red in the face.. For Corey..
James – damnn.. He's in too deep
Da'Vonne – I was like wow she went off..
Jame s- if you're on the block with Corey.. I'm scared to death
Da'Vonne – she'll vote me out.. 100%.. I don't trust none of the showmance..
James – Franks going to put Corey up if he wins.. That wouldn't be a bad thing..
Da'Vonne retells a story from Tiffany. Tiffany said the showmances want Da'Vonne and Frank out.. Frank approached her and said it she can get 5 people together he'll put Corey up with Road Kill.
Da'Vonne says she thought the flip happened when Nicole and all them rolled in the room
The votes flipped happened when Corey went up to Tiffany at 2am (Thursday) and said i'm going to vote to keep you in the house..
James says if Frank or Bridgette win anything they will do Damage, "We capsized the boat we didn't rock the boat we capsized it"
Da'Vonne – one thing she did bring to my attraction Corey, Paulie, Zakiyyah and Nicole are running the house they are a four.. We need to do something to break that up.
Da'Vonne – James I do no trust Nicole when it comes to that Boy
James- I wouldn't be upset if we can send her a$$ home.. If she's doing all that sh1t she doesn't need to be in that game.. I'm so mad at all the vets right now.. You realize if we're stuck together ride or die we would be running the house..
Jame s- PAulie is putting PAul and Natalie up
Da'Vonne- no he's putting Tiffany and Natalie up
Hames says this morning at 5 he told him it would be Paul and Tiffany .
James – he's going to tell him bluntly he wants her (tiffany) out of this house..
Da'VOnne – this house is legit about to get divided if Natalie and Paul are on the block.. You're going to have them wanted to get Natalie and us that want to get Paul out..
James- that's what I like about Paulie he' ain't scared to do his thing.. I promise I'll never blow you up.
Da'Vonne – I'll never blow you up
James – do we jump on Tiffany Frank bandwagon or Paulie and Corey..
Da'Vonne the only reason I don't want to get on the Paulie bandwagon.. They will always be a foursome. .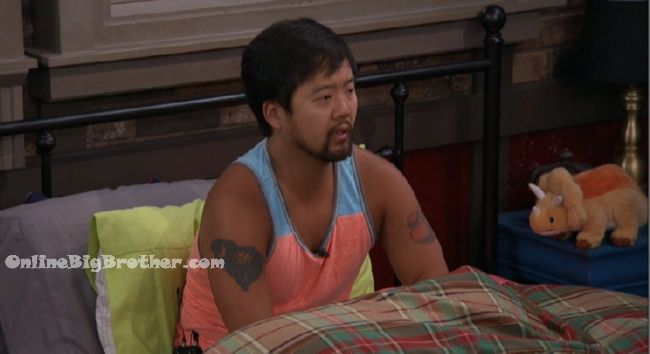 10:48pm Feeds have been down for a while for Nominations..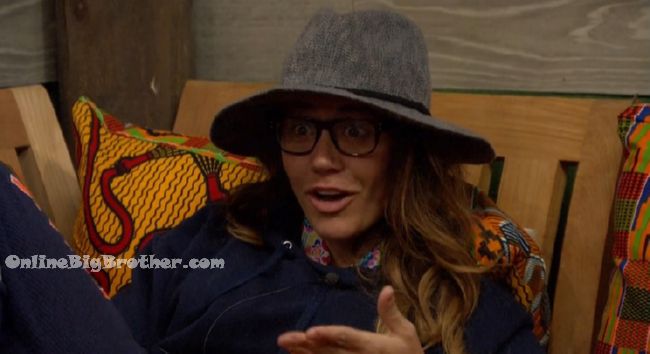 11:20am Tiffany and Frank
Tiffany says to not trust Nicole, "She's the fakest one of all of them"
Tiffany – if I win I'm putting him up
Tiffany says paulie doesn't want to sit next to Frank in the final 2. They are using the two of them.
Tiffany – I feel into it like a retard.. I woke up this morning.. By the way no more of this crying bullshit, "Half of it was strategy by the way.. I know how to tap into my f****g crying.. I play into it.. i pulled in the girls.. "
Frank – you saw I was willing to come in here and go to bat for you
Tiffany- that was strategy f****r, I'm not stupid..
Frank – I heard there was yelling..
Tiffany 80% of it is strategy.. it's gotten me this far.
Tiffany says Da'Vonne is on the outside of the Showmance alliance.
Frank – you sure
Tiffany – 200%
Frank – Ok i'll put Corey up
they fist bump Frank leaves..
Frank – there's hope there's hope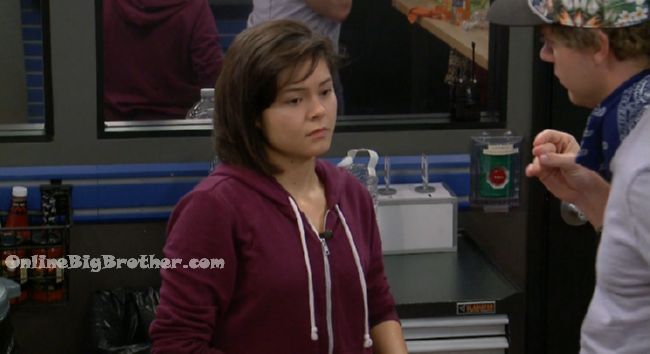 11:35am Storage room Frank and Bridgette
Frank – Change of plans if we win we need to put Corey up
Frank doesn't think they have the numbers to send Da home. Tiffany told him she has 1 extra number to get Corey out so he figures they have a chance to get one of them out now they should take it.
Frank – sounds like Nicole is one of the worst.. sounds like all they do is sit around talk shit about me the entire time..
Bridgette – really… dammit
Frank – James and Natalie can roll with us.. They all lied to us
Bridgette – OK i'll put Corey up if I win…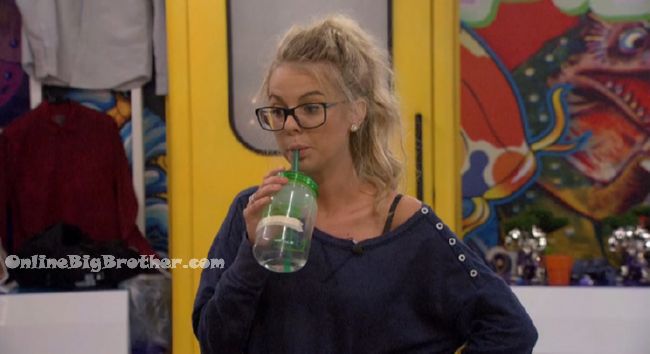 11:28am Nicole and Frank
Niciole- are you mad at me
Frank – no… you and Corey are all I have right now
Nicole – I feel so bad for Corey..
Frank – if you lie to me you better not take a shot and miss
Nicole – what are you talking about
Frank you know what i'm talking about..
Nicole – I'm pretty sure you made Tiffany really mad at Corey.,.
Frank – I didn't say anything.. about the hips and sh1t
Nicole – no..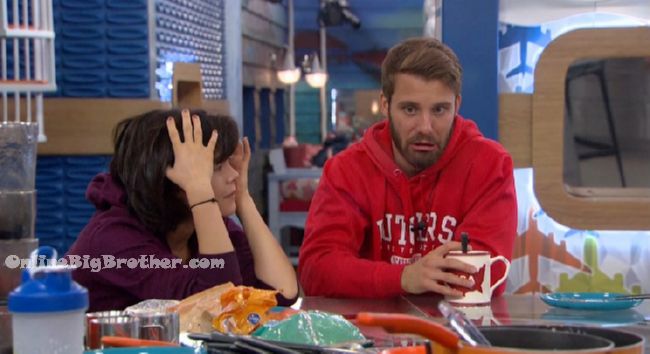 11:44am Kitchen
Corey talking about passing out during the Nomination ceremony.. Blames it on not sleeping over the past 3 or 4 days.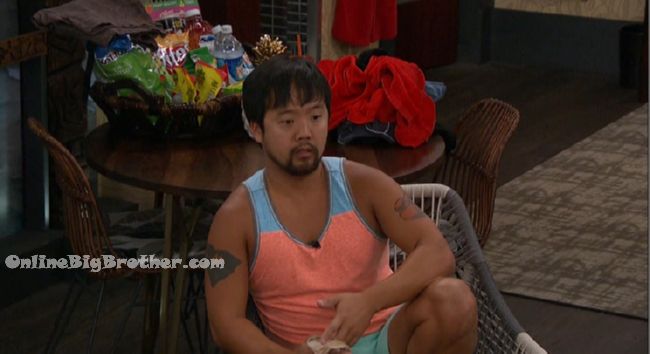 11:47am HOH Paulie and Zakiyah
James – It's been brought to my attention that Nicole said to Frank I was going around telling people about a all girls alliance.
Paulie hasn't heard that.
Paulie – Frank is trying to piece it together
James – I want to confront him.. I didn't say it..
PAulie – I don't think she said it.. if there was somebody confirm it with Corey.. there's three people trying to stir up crazy paranoia because that's all they got.
Zakiyah goes to get Nicole so they can clear this up.
Paulie says Corey is on their side
James says it was Da that told him Nicole was saying that.
Paulie thinks Da was trying tot keep her cover
James- she shouldn't had blown my name like that
Pauli e- I don't know about Da.. I think she's helping Frank out a little bit
james- Me and Da are Really close.
Paulie says Corey has Nicole "On lock"
Nicole comes up with Zakiyah.. they chat about Nicole "Name dropping" him
Nicole – I have no intentions of making people mad..
They tell Nicole Frank and Tiffany have teamed up.
Paulie says they need to take out Frank and Tiffany and all the trouble will be gone from the house.
Paulie – somebody needs to call them out.. (I'm sure Cody would call them out.. tomorrow though)
Zakiyah – everythign they say is buuuuullSh1t
Paulie – Tiffany comes up with things.. IN HER HEAD..
Paulie is going to start causing sh1t with Tiffany he'll tell her that him and Frank are still working together and Tiffany is still the target.
Paulie – really make her feel like she's alone.. she want to create bullsh1t and paranoia.. I can make up lies too.. I'll create so much paranoia and doubt in their minds.. I'll do it to Frank through Bridgette.. I've already started..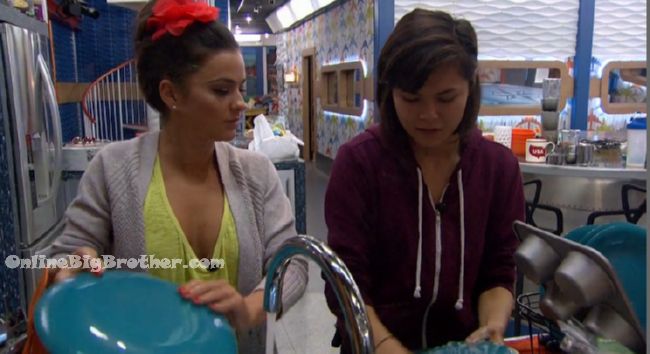 11:52am Natalie and Bridgette
Doing dishes.. Natalie says she's not mad being up on the block.
Natalie – I'm not down.. I woke up pretty happy I knew I was going to get put up on the block..
12:14pm HOH James, Zakiyah, Paulie and Nicole
Talking about Tiffany's Melt down yesterday… Paulkie beleives it's all a trick
Paulie says Tiffany saying that she's going to quit is a old wreslting trick.. segue into his wreslting stories from highschool and how he use to employ the same tactic..
Paulie – there's three clear targets.. everyone knows there game.. we know what it is so we're prepared for their game.. (LOL PAulie needs to take a nap)
Pauliw brings up his sister is a psychology major so this may give him more insight with Tiffany.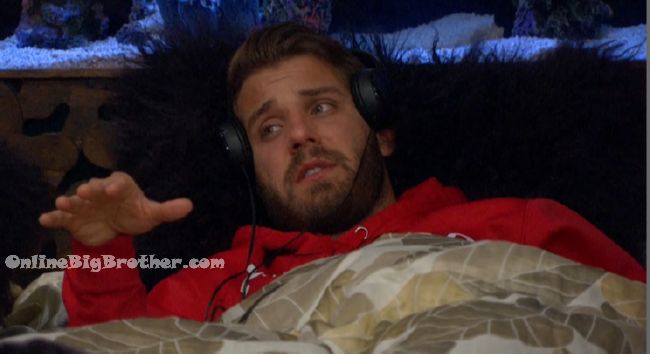 12:30pm Paulie and Zakiyah
Paulie – I don't get paranoid ever..
Paulie going on about how logical he is..
feeds are cut to Jeff.. Road kill competition under way
2:40pm Feeds still cut..
3:50 no feeds
4:50 pm no feeds 4 u
5:40pm no feeds never
6:45pm Still nothing..
[polldaddy poll=9471428]