POV Holder:
?
POV Competition
July 16th
POV Used
?
POV Ceremony
July 18th
HOH
Paulie
Next HOH
July 21st
Roadkill Competition Winner:
?
Original Nominations:
?, ?, ?
After POV Nominations:
?, ?, ?
Have Nots
?, ?, ?
CBS All Access: Live feeds are only $5.99 per month – Try it FREE for 1 WEEK!
Big Brother 18 Alliances Help Guide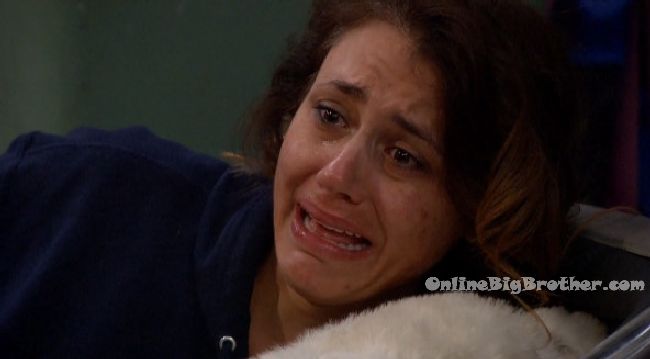 1:25am – 2am Bedroom – Natalie tells James about how insulted she is that Bridgette asked her if she was the flip vote. She said I never looked her in the eyes all day. Why would I vote out my own teammate!? I said when I say I'm going to do something I do it. I am a very honest and loyal person. When I make a commitment I do it. James says Bridgette's fishing. Tiffany comes in crying and Natalie goes to find out what's wrong. They head into the havenot room. Tiffany is crying and asks Natalie to just talk to her. She says she can't trust anybody!!! I have no f**ks to give at this point. If they ask just say I'm missing home. I wish we were in the same alliance from the beginning. I have nobody NOBODY!!! Natalie tells her to calm down. Tiffany says I have no one! NO ONE! No one talks to me! I'm going to self evict! They're so rude!!!! Every time I go into a room everyone leaves. Natalie says its just a game. Tiffany says I wish I did leave today. Tiffany says They ask me if I'm making deals with Bridgette. Not trusting me. They act like have leprosy. I don't know if its the fact that they know my sister.. I don't know if you know who my sister is. She did really well last season. I'm not playing like her at all. She was loyal to the end .. people must not have watched her season. I'm f**king over it! I can only take so much of this sh*t. All week no one told me I was safe. 2 o'clock in the morning they were like lets piss frank off and keep her. Natalie says I'll hang out with you. Tiffany says its hard to have fun when you're always on the block. I'm over it! Tiffany says if I get put on the block sh*t is going down! Everyone's sh*t is getting blown up!! Tiffany says you're a good girl. Natalie says I do not belong in this game. I thought I was going onto a cooking show. I thought I was going into the real world and a cooking show. Just remember its just a game. Tiffany says psychological warfare. Natalie says I literally pretend I'm not in Big Brother every day.. and I literally just have a good time.
Tiffany "I'M NOT PLAYING LIKE HER [Vanessa] AT ALL!!"https://t.co/RlJcbe4JUf@bigbspoilers #bb18 pic.twitter.com/OuenZ9lEqD

— Dawg (@DawgsBigBrother) July 15, 2016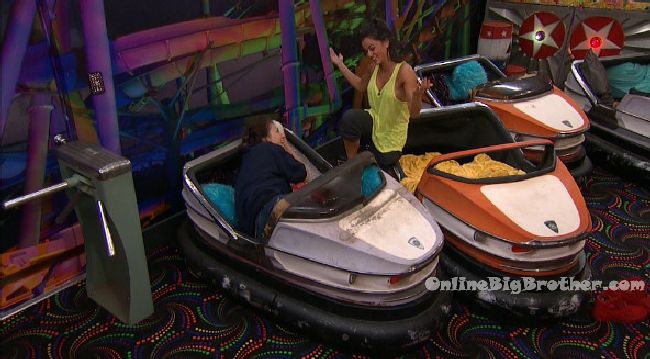 2:15am Bedroom – Frank, Bridgette and Natalie are talking. Frank says I thought it was going to be unanimous. I'm an idiot. Bridgette says happy birthday b***h! Natalie heads to bed. Frank and Bridgette discuss who the votes could have been. Frank says I feel like everyone genuinely doesn't like her.
2am – 2:25am HOH room – Paulie, Zakiyah, Michelle, Corey and Paul talk about getting Tiffany out this week. Paul says Tiffany is a sociopath. She has already started to throw us all under the bus. F**k Tiffany .. should have gone home! Michelle says she'll go. Nicole agrees. Paulie says he was thinking of saying in his nomination speech .. Tiffany rest assured you're a pawn at the end of the day.. Natalie I don't like how you've messed with James so you're the target. Michelle says oh my god can you say that! Nicole says James was bummed today. Corey says I wanted to punt that girl. Michelle says that Tiffany thought Nicole and I were sisters and literally looked through my stuff to find the name on my prescription. Paulie says at the end of the day its nothing more than .. I see her as a potential threat. If its not this week she is going to blow sh*t up. Michelle says I would not want to be in jury with her. Paul says I'm pretty sure I could get home girl to swing at me. Big Brother blocks the feeds.
2:30am – 2:45am Havenot room – Tiffany asks Frank I just wanted to hear from you .. no one wants to talk to me. WHat happened with day. Frank says I told you. Frank says last week before we voted Vic out. The day before she (Day) told me that she talked to Bronte and Natalie about starting an all girls alliance to team up and get me out. I don't lie. Tiffany asks why are you playing all sides then. Tiffany says this kind of makes sense. Did you watch my sisters season .. do you know what she did to my sister .. faked an all girls alliance. Frank says I forgot about that. Why would they keep you and then now want to send you home again this week. Tiffany asks they're saying that?! Frank why didn't we work together since the beginning. Frank asks who the votes were. Tiffany says I'm making the deal with the devil… Tiffany says I'm going to blow up their sh*t!!! I know so much information! Frank says well then lets do it! Paulie and Corey want you out like crazy. I don't give a f**k at this point! I hope you don't f**K me over. Frank says I need to know information to know who to put up tomorrow if I win the roadkill. Who were the 3 votes? Tiffany says I don't know .. they didn't tell me …they're all in on it…. they told me at 2am they wanted to keep me to f**k you over. I don't even care if I'm blowing up your game right now because at this point I kind of want to go home. Frank asks so I can't trust Nicole? Tiffany says no … none of them .. they all want you out. I wanted to work with you.. I could have been a number for you. Tiff asks be honest with me did you campaign to get me out? Frank says all I did was get Bridgette to put you up. They've been talking sh*t about you all week. Frank says I'm glad you told me this .. I think you and Natalie are going on the block. If you're name gets drawn, pick me and I will pull you off. We only need 5 votes this week. Frank says we need to work on this roadkill ..it sounds like I need to put up Corey. Frank then says I think we put up Day instead of Corey and turn the heat up on her. Hopefully we can get James to help us.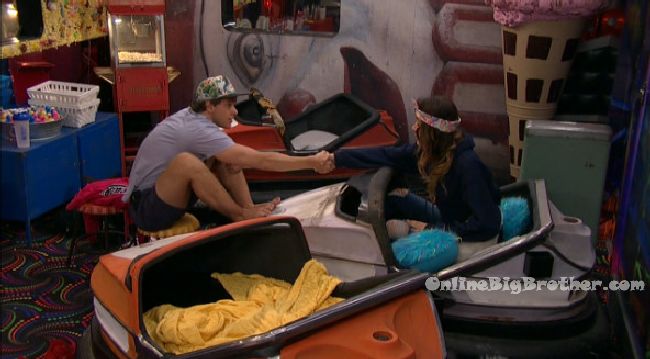 Help support us at no extra cost to you by getting your feeds through us: CBS All Access

[polldaddy poll=9465176]
[polldaddy poll=9464369]