POV Holder:
Chrsitne
Next POV
Aug 2nd
POV Used
NO
POV Ceremony
Aug 4th
HOH Winner 1:
Donny
HOH Winner 2:
Nicole
Battle of the Block Winner
 Caleb/Victoria
Next HOH/ Next BOB
Aug 7/Aug 8
Original Nominations:
Donny's Noms (Victoria & Caleb) Nicole's Noms (Zach & Jocasta)
Final Nominations:
Zach & Jocasta
Have Nots
Frankie, Cody and Hayden
POV Players
Nicole, Christine, Jocasta, ZachAttack, Caleb, Victoria,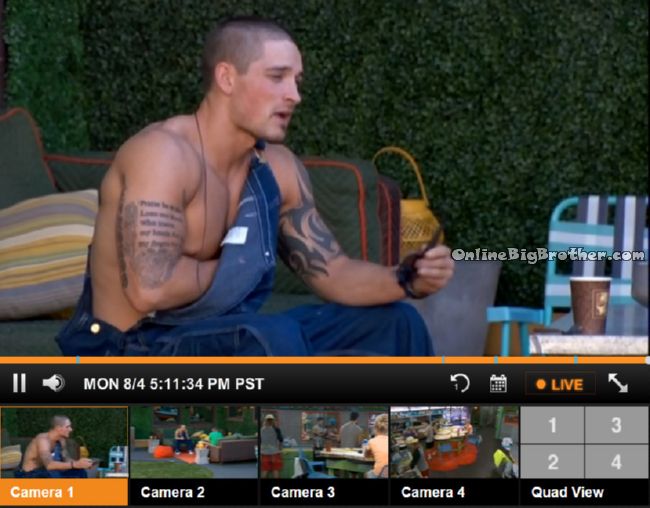 5:09pm Caleb and Donny
Chit chat
Caleb brings up his swollen gland and how he'd going to get it removed when he gets out.
Donny – What if you get a steroid shot would that help
Caleb – no that would make it worse
Donny – I thought you said it was from high estrogen
Caleb – ya..
He brings up that the doctor told him the will give him a anti inflammatory gel.
Donny – A bag of ice might help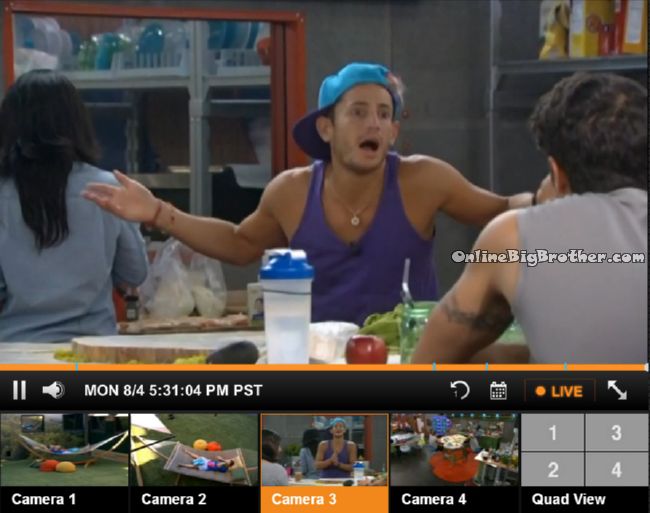 5:27pm Kitchen..
Frankie doing his personalities.. Christine and Cody are cackling away
Talks about Ricky Martin doing a Evita on Broadway and how "Ricky MArtin" acted just like Ricky Martin during the play not in character. The Evita roll was horrible was cast because she was from Argentinia.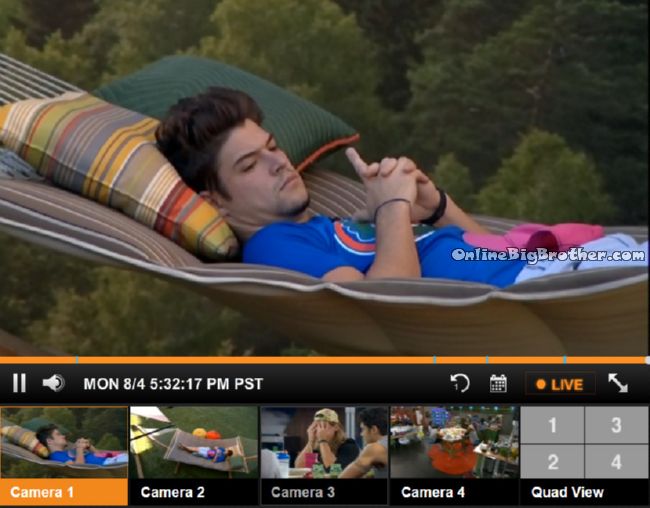 5:38pm Hammock Zach Attack
Talking to himself says If he stays he'll have to win Competitions to survive.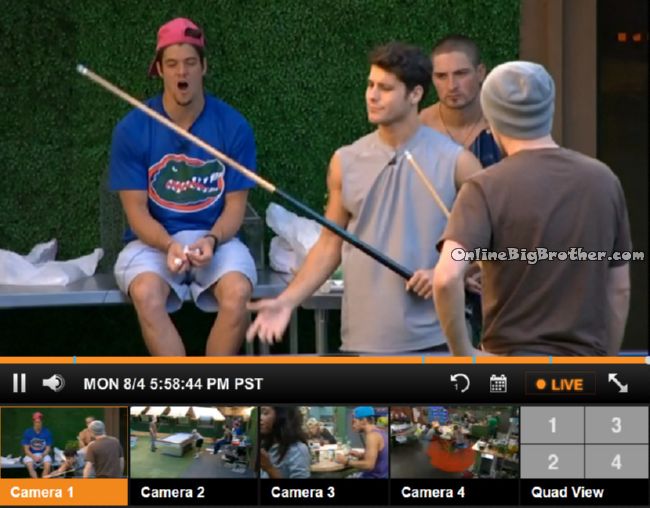 6:00pm Derrick, Caleb and Cody
Pool talking about the rules. Caleb has issue with them not using all the tournament rules.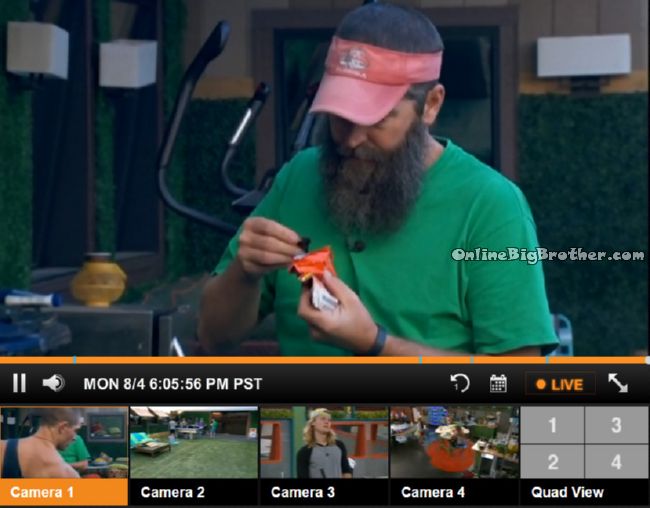 6:05pm Backyard
Donny say she would share his chewing tobacco if he had more but he's on his last pack.
Donny – I'm going to put enough to just choke a squirrel down"
Zach smells the chewing tobacco says it smells good. Donny – It's peach
Cody – That does smell good
Frankie wants to try it he's never done it before. Zach and Donny tell him he'll throw up .
Donny – There's two kinds of tobaccer chewers in this world the the Swallowers and the Spitters.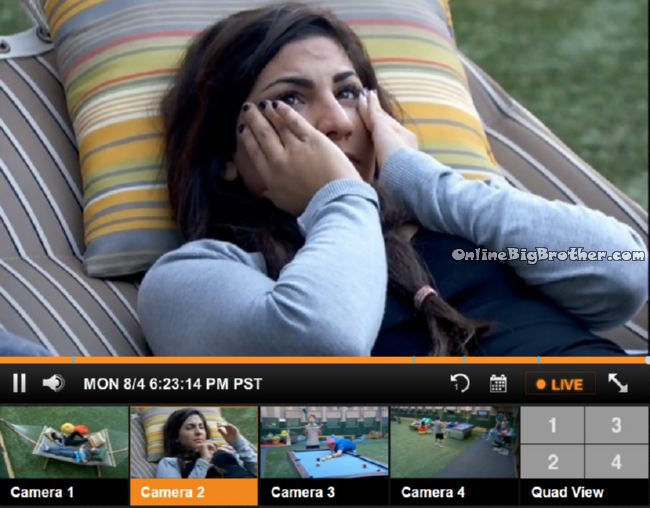 6:13pm Hammock Derrick and Victoria
Derrick – what's up
Victoria – just chilling.. the slop is hurting my stomach.
Derrick what are yo thinking about
Victoria – My family
Derrick says they are now on the downward slope of the game she'll see her family soon enough.
Victoria starts to cry says she misses her family.
Derrick tries to comfort her by saying they have 45 days left, "it's going by quick.. it's going by fast..you'll miss it when you are home"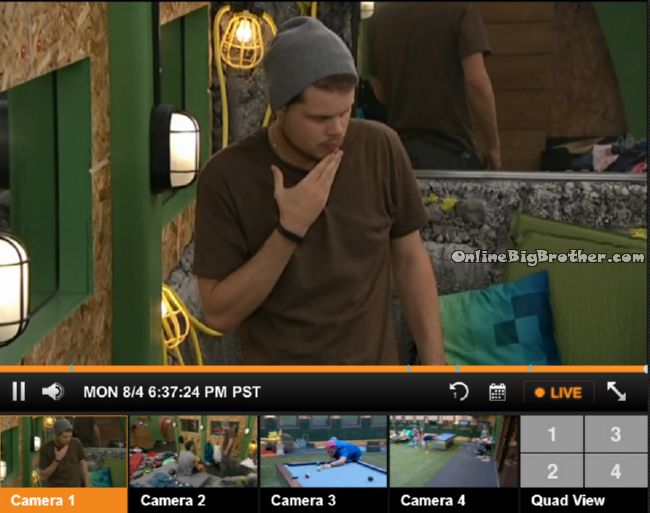 6:36pm Derrick and Cody ROCK ROOM
Derrick – now that nom are locked in wheres your head at
Cody thinking about the pros and cons of calling Christine and Frankie out. Cody – "At this point I want to say you are f***g trying to play us"
Derrick says there a possibility that Frankie and Christine trying to cover both sides and they are doing too good of a job because it's coming back to them. . There's a small possibility they are actually loyal and working with them and are just covering their tracks.
Cody thinks Christine is going to try an take a shot on them he knows in his heart..
Maybe they are talking sh1t about Derrick and Cody but are just doing it to make sure Hayden/Nicole don't know they are allies.
Derrick – "It looks like they are f**g coming after us.. you know what I'm saying'"
Cody thinks Christine is going to try an take a shot on them, "I genuinely honestly believe that they are not trying to cover their own tracks"t..
Cody says CHristine knows him and Derrick are in the centre of the house. Cody brings up Christine asking Victoria what she thinks of =Derrick and Cody.
Derrick – you have to take what Victoria says with a grain of salt she cannot remember what happened yesterday.
they hear Frankie coming .. Cody = "F****ing Frankie"
With a live feed subscription you can go back and watch any event that has been shown.
Use our site as an index and watch only the parts worth watching.
Try It Free! Subscribe now to the official BB16 Live Feeds
Caleb finds a big a$$ moth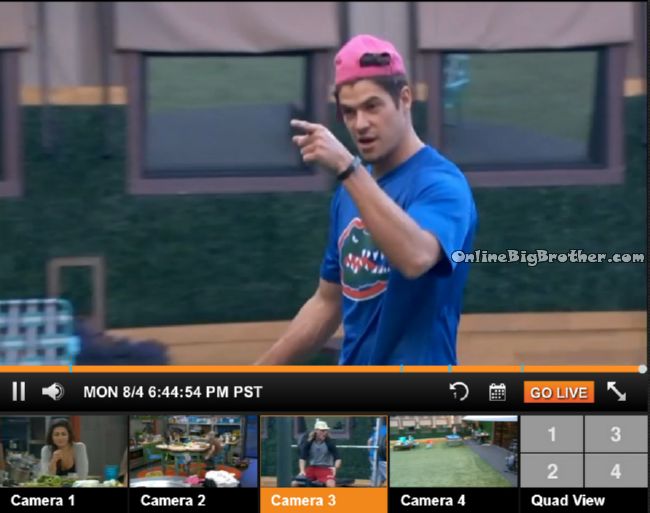 6:44pm Zach Vs Caleb in pool
Zach – You rack them I'll crack them..
Zach – It's in the head flip..
Donny – it's in your head you are your worst enemy Zach
Zach breaks sinks the 8 ball
Zach screams – "Game who is next who is next one.. lets go"
Caleb looks very upset – We're not playing that rule anymore
Hayden is setting up for the next game, "Oh ya that's a rule"
Caleb – we stopped that rule..
Hayden – No no that's always been a rule'
Caleb – LISTEN we stopped that rule.. if you scratch on the break you don't loose and if you sink the 8 ball you don't win"
Zach start screaming out how he won sinking the 8 ball on the break it's all in the head flick..
Zach – My hat even fell off that is how fast the head flick was
Caleb – That was the weakest win I have ever seen in my life… you're weak.. your breaks are weak and you…. SUCK"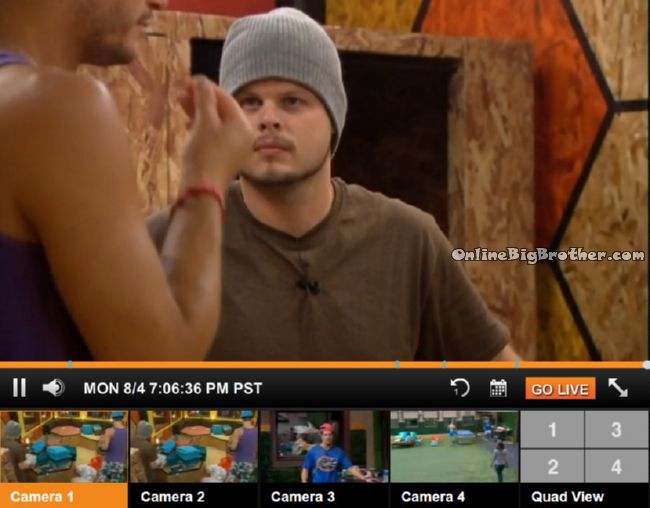 7:06 cam BEEHIVE Derick and Frankie
(Moments before Cody and Derrick tried to have a conversation in the Rock Room but Frankie interrupted them)
Derrick about COdy – "He says he sees a lot of people talking.. "
Derrick tells him Frankie came out 5 minutes too early COdy was about to tell him something.
Frankie – F****
Derrick – He definitely was going to say something .. All he said I see a lot of people talking and you walked in
Derrick – I don't think it's bad I think people are just getting paranoid
Frankie – Is Zach going home
Derrick – No he didn't say anything
Where the Vote is..
Zach going home.. (He has two votes to stay right now)
Frankie, Christine, Zach and Caleb on one side. Donny, Nicole, Hayden, Jocasta on the other side. Derrick and Cody with both. Victoria is somewhere in the middle as well she's vocal about targeting Frankie but is heavily under the control of Derrick.
Alliances
Quad Squad = Nicole, Derrick, Hayden and Cody
Zankie = Frankie/Zach
The Detonators = Derrick, Frankie, Zach, Christine, Cody
"The HITMEN" – Cody & Derrick
Trilogy = Nicole, Christine & Hayden
Team America = Donny, Derrick, Frankie
Old timers = Jocasta/Donny
Nicotine = Christine/Nicole
bottomfeeders = Derrick and Nicole
More polls here https://www.onlinebigbrother.com/big-brother-compendium/big-brother-16-polls/