| | | | |
| --- | --- | --- | --- |
| POV: | ? | Next POV: | Aug 11th |
| POV Used | ? | POV Ceremony | Aug 13th |
| HOH: | Haleigh | Next HOH: | Aug 16th |
| Noms: | Kaycee Rockstar and Angela | Have Nots | |
Big Brother Spoilers – Kaycee won the hacker competition. She took herself off the block and put up Rockstar.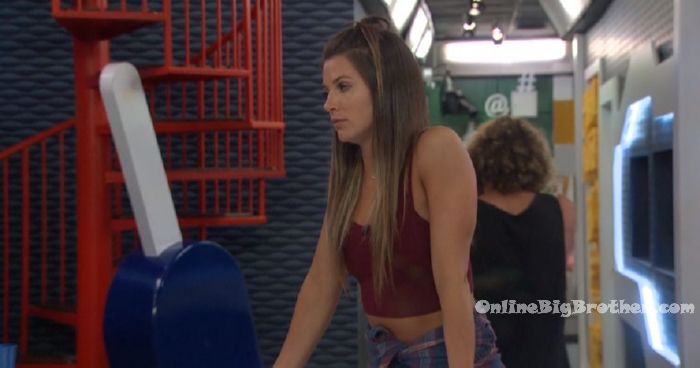 5:02pm The live feeds return.
Rockstar – its cool, I'm the easy person to put up.
In the bathroom. Kaycee hugs Sam. Kaycee – I'm not safe yet. I got saved! Thank you to whoever saved me. Kaycee talks to Angela. Kaycee – we're good.

HOH room. Tyler and Haleigh. Tyler – I swear its not me. Haleigh – its like why target her. She hasn't won a comp. What because I'm HOH?! Tyler – I swear its not me. Haleigh – I believe you. I really don't think it was you. There are a few people I think it could be. At this point we just need to win veto and put it back to the original noms. So that's just what has to be done. The good thing is I name the replacement. The only thing is if Kaycee wins the veto then she can't go back up. If you get picked I need you to play really really hard. Tyler – I will. I'm sorry. Tyler leaves the HOH room. Haleigh – I hate all these people. You couldn't make a bigger move? F**king idiots!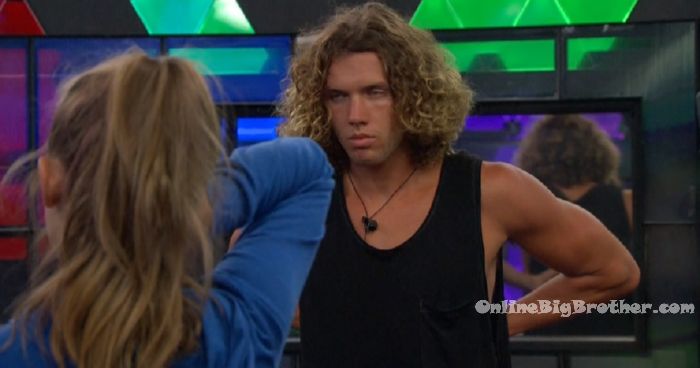 Bedroom. Rockstar, Fess and Scottie. Fes – you've been on the block before and survived by crazy numbers. Rockstar – And I'm sure the hacker picks Tyler (to play in the veto). Fes – that's probably true, yes. But now you've got you and Heleigh playing and if you or her name is drawn then you pick me. That's three people and that's tomorrow. Its not like we have to wait all week. Rockstar – f**king pu$$ies! Get some f**king blood on your hands. Dumba$$ B***Hes! Sam – you can pick me. I would be willing to play for you. Rockstar – well thank you. I appreciate that. Fes – its a cop out. Rockstar – its a b***H a$$ move. We see who's strong and weak. The weak keep putting up the same damn people. Scottie – if they put her up we can assume who is going to play (in the veto)… Tyler. Fes – what happens is what's going to happen. Rockstar – There are some pu$$y a$$ motherf**kers in here! Fes – can't f**king catch a break in this motherf**ker. We only need 3 votes. Haleigh will break the tie. They need 4 votes. But their three are guaranteed. We only have two right here because one vote gets cancelled. Fes – I don't think it was Tyler because if it were to get back to him he would get backdoored. Rockstar – did y'all come to play or did you come to blend into the wall? I'm that chump b***h that keeps getting put up.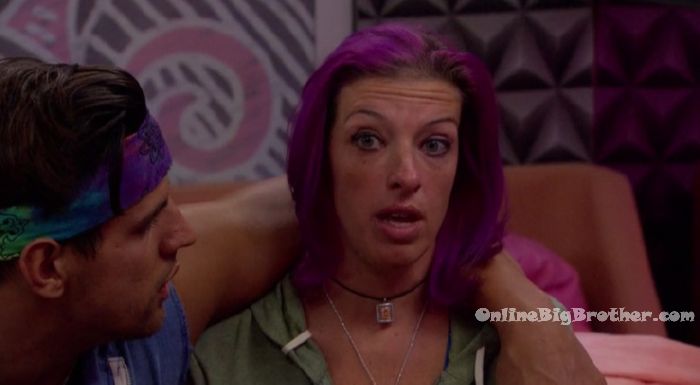 5:10pm In the bathroom. Kaycee – you're good with me picking you for the veto? Tyler – yeah. Kaycee – We need to secure that its not used. Angela – we need to make sure. You need to get picked, Brett needs to get picked and JC. They don't need to even use it if they win it. Tyler – best case is you (Kaycee) win the veto and use it on her (Angela). I already told Haleight that if it was you (Kaycee) you didnt tell me. Kaycee – I am thankful I am safe but.. Angela – that's the thing is no one is safe.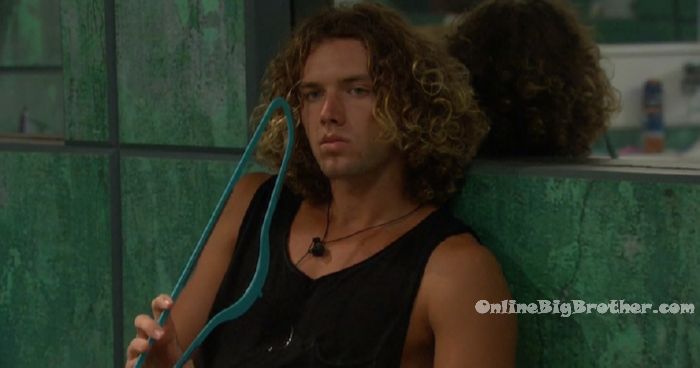 HOH room. Brett and Haleigh. Haleigh – I think it was Kaycee. And her philosophy was if she gets found out it would cause the least amount of waves. If it stays the same Angela is going home. Brett – I could have sworn you had it. Haleigh – it was not me. Brett – yeah I know that now. Haleigh – I really think it was Kaycee. Everytime a question was answered I could hear her jumping up and down. Rockstar isn't a good choice. She isn't good at competitions and good socially. Brett – I thought that whoever won it was trying to frame it on me. Brett – if I am the hacker would I really go after Rockstar. Haleigh – regardless of who wins tomorrow, I have three options. Rockstar – I know its crazy but I have voted to keep Rockstar both times. Haleigh – we need three votes and I will break the tie. I really think its Kaycee.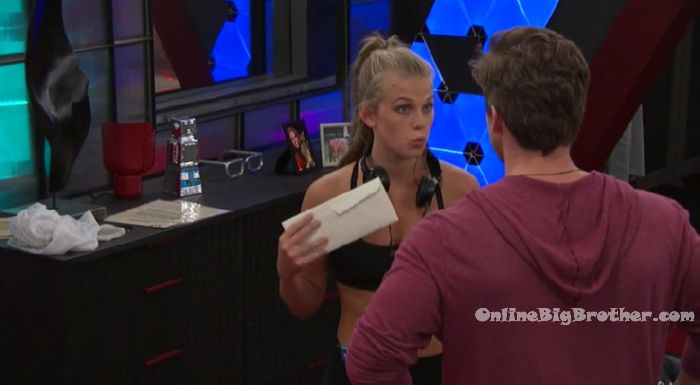 5:35pm HOH room. Fes, Rockstar and Haleigh. Fes – you have the option to pick me or Scottie. Haleigh – I don't want to pick you. I don't want to put a bigger target on your back. I am going to pick Scottie. Fes – I would rather you pick me. At this point they know I win vetos, so winning another wouldn't change anything. I would just hate for Rockstar to go home on your HOH. I really thought you won it. That would have been cool. Rockstar joins them. Rockstar – so running my mouth didn't work out to well. Haleigh – what do you mean? Rockstar – we were sitting there and Kaycee asked me if I was okay. I said oh yeah, it real cool to keep getting put on the block. Power moves! Y'all are making power moves in this house! Its cool, we still got a veto to play. Haleigh – the good thing is even if Tyler gets picked to play and takes Angela off .. then Kaycee goes back up. Best case scenario we get you off. Rockstar – you don't think it was Scottie? Fes – no what does that benefit him? It hurts him more than anything. Tyler wouldn't do it and risk getting backdoored. Even though he's going to be backdoored anyways. Rockstar – it probably was Kaycee. She doesn't have the balls to put anyone else up. Heleigh – I am pissed, she will be the replacement. F**k Tyler. Fess – you want to keep Tyler in? Haleigh – I am pissed, I told her she is not a target, don't change then. Fes – and if it is her and she picks herself she is going to act so dumb like what they picked me too?!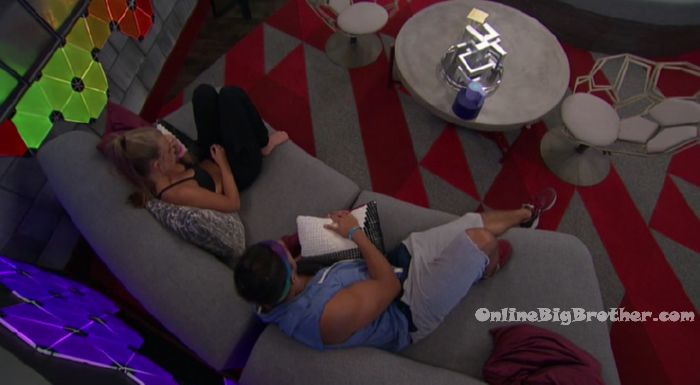 5:57pm Havenot room. Tyler and Sam. Sam – I just want to feel like myself again. Tyler you are doing to for all those fans of yours. You are not a victim in this. You're doing such a good job. Sam – I'm not even doing anything. Tyler – exactly because being yourself is good enough to get you this far. So stop crying about it. It you do win, you were being Sammy. You know exactly whats going on. You're one of the most unique charismatic people I have ever met. I can't see you like that any more. You're doing everything right. Any time you think like that I need you to think about this conversation and snap yourself out of it. Tyler gives Sam a long hug. Tyler – Stop selling yourself short.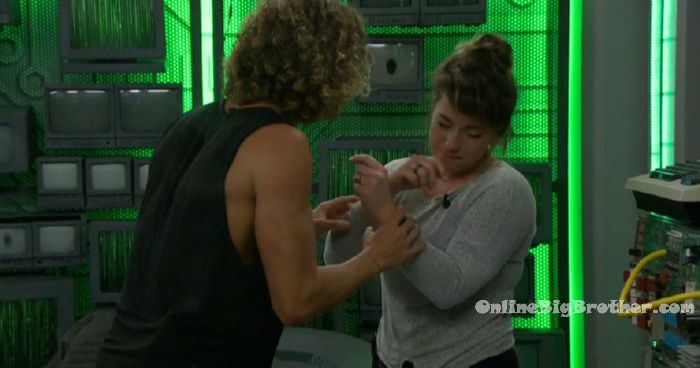 6:03pm – 6:10pm Havenot room. Sam and Tyler. Sam – I know that there is something that is causing some kind of tear. Tyler – I don't know what it is. I promise I am good. Sam – a long time ago when I came back as a person I felt like something was off. Like you were keeping something from me. I was like Tyler is lying to me. Then I let that go and said you're not lying to me. I can tell that something is bothering you. Next time we get the sun I want you to sit out there all day and let it all go. Sam tells Tyler that he is like a rattle snake. You barely even breath. All I heard last night was this (bracelet.)
Tyler – I promise you I won't do that anymore. Tyler talks about when Bayleigh was screaming at him. It was a planned thing. The fact that she was throwing personal attacks. Sam – I thought it was part of a plan. Tyler – It was to get a target on me to keep Bayleigh but it didn't work. Its not going to work. Tyler – that's why I told you what I told you because I couldn't hold it in anymore. I am only going to use it (his power app) if the veto gets used. I have to use it this week. And I didn't win the hacker. Sam – I hate that Rockstar is on the block again .. but maybe that is her purpose. Sam – thank you for talking to me. Tyler – you're a beautiful person. Sam leaves the room.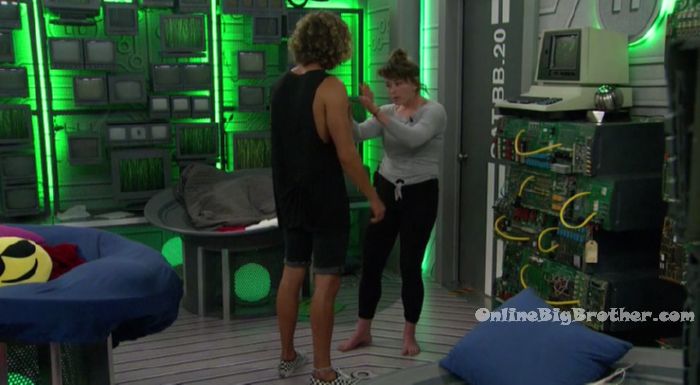 JC picking up Tyler @bigbspoilers #BB20 pic.twitter.com/bVc6qAO0Ai

— Dawg (@DawgsBigBrother) August 11, 2018
6:45pm Storage room. JC and Tyler. Tyler – it wasn't me and everyone thinks it was me! JC – no one up there thinks it was you they think its Brett or Kaycee. JC – you need to play in that veto. JC leaves. Angela joins them. Angela – we have to win the veto! Tyler – we will. Angela leaves. Kaycee joins Tyler. Kaycee – we have to keep this between level 6 and just keep denying it. (That Kaycee is the hacker) Tyler – did you tell Brett. Kaycee – yeah.
Angela and Tyler @bigbspoilers #BB20 pic.twitter.com/VJTCKCmUef

— Dawg (@DawgsBigBrother) August 11, 2018
6:45pm HOH room. Rockstar, Haleigh, Scottie. Haleigh – so when she does pick herself to play in the veto.. Scottie – you remember with last week when Angela pulled Kaycee's name out and she wasn't allowed to pick. She was like Kaycee and they (Production) were like just put it away and so she put her hand back and then pulled it out again. Rockstar – because Kaycee was already up.. Big Brother switches the feeds. The feeds return. Haleigh – Tyler is going to want to win the veto and if he wins it he will take Angela down … and then I'll put Kaycee back up. Rockstar – Kaycee is walking around here real comfortable again.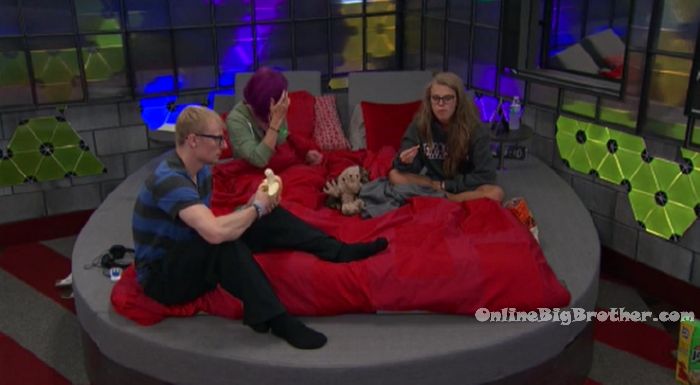 7:30pm – 7:55pm Bedroom. JC, Tyler, Fes, sKaycee and Brett are hanging out chatting.
If you like our content please consider a donation
Rank the houseguests!
Easiest way to Rank the house guests use link below