| | | | |
| --- | --- | --- | --- |
| POV: | ? | Next POV: | Aug 11th |
| POV Used | ? | POV Ceremony | Aug 13th |
| HOH: | Haleigh | Next HOH: | Aug 16th |
| Noms: | Kaycee Rockstar and Angela | Have Nots | |
7:55pm HOH room. Sam joins Haleigh and Scottie. Haleigh – If Rockstar goes home on my HOH I am self-evicting! Scottie – then if both of you go then I am going to have to self-evict. Haleigh – I hope one of us wins the veto and then I would just keep the put the noms back the way they were. Sam – Like Kaycee and Angela? Haleigh – yeah. Sam – who has the third power? Haleigh – its either Kaycee or JC but its expired at this point. Sam – don't be so sure. Its not Scottie? Scottie – I wish I had a power. Haleigh – JC said he is not telling us if he has a power but that if he did have a power he wouldn't use it on anyone but himself. Angela could have one but she seems real upset to have a power. If Kaycee is the hacker she will pick herself to play. We know I don't have one and Fess doesn't have one. Rockstar joins them. Rockstar – I am not in a good mood. I need to stay the f**k away from everyone or I'm going to cuss people out. I am real tired of this bullsh*t. I thought these people were sports players and like to compete .. putting the same f**King person on the block, that's real f**king cute isn't it! I thought they were competitors but no don't get your hands dirty! So lets just put up Rockstar because she's weak… f**k you b***hes why don't you get the f**k out of my room. Haleigh and Scottie talk while Rockstar is in the shower. You know what grosses me out Angela walks around barefoot all the time.
Rockstar – I am just tired of the odds being stacked against us! Can we start winning!? (LOL everyone else is winning but you Rockstar.)
FLASHBACK and watch everything you missed: Live Feed 7 day FREE Trial!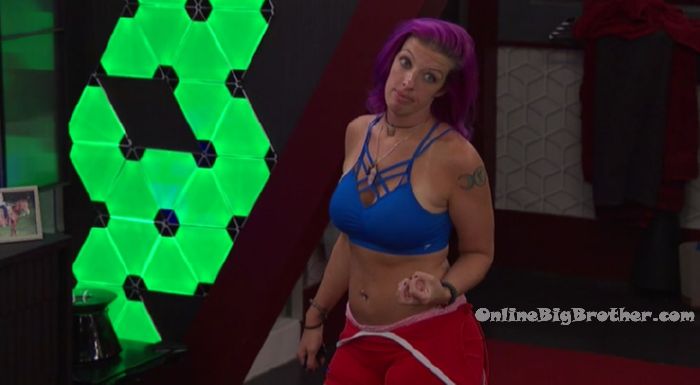 8:15pm Sam – I'm not going to ruin any opportunity I have outside of here to be happy because of some f**king idiot! Think I'm stupid!!? Well I'm not! Big Brother switches the feeds to the HOH room.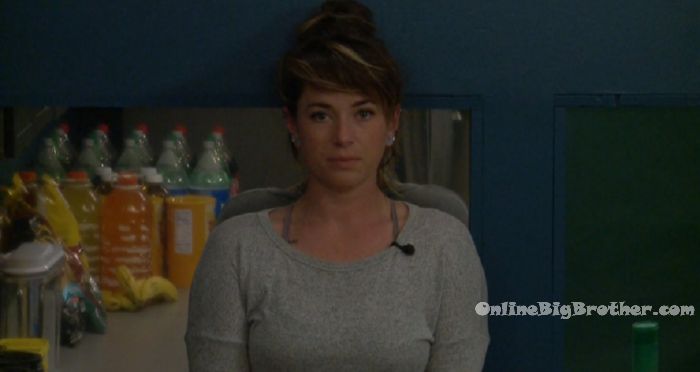 8:30pm Haleigh – what if we gave everyone the flu? Rockstar – chemical warfare. Haleigh – Or we could put eye drops in their water. Rockstar – what would that do? Haleigh – saline makes them sick to their stomach. They just throw up and poop! Scottie – we could f@rt on all their pillows (pink eye). Haleigh – we could do it in the water in the coffee in the morning and just not drink the coffee. Sam joins them. Haleigh tells Sam – we're going to put eye drops in the coffee tomorrow don't drink it.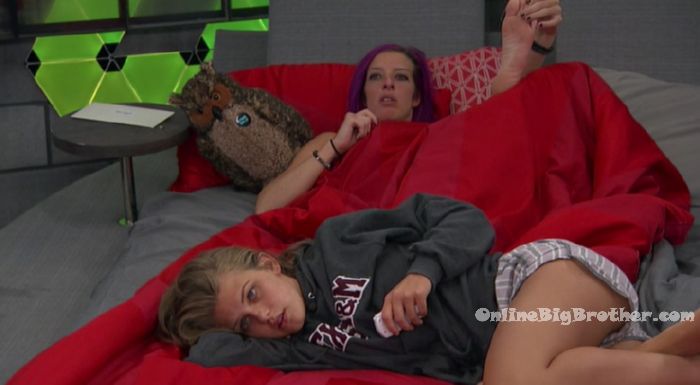 8:30pm – 9:10pm Jessie comes over the PA and tells Rockstar to make cupcakes for everyone and do curls while they bake. Rockstar – I'm not making them for them. I'll make them and bring them up here for us. Sam to Rockstar – I don't know how you wear that unitard. Rockstar – I have no choice, I have to wear it. They head down to the kitchen to keep Rockstar company as she bakes.
9:30pm HOH room. Tyler and Haleigh. Tyler – its probably like last week they don't want anyone to find out. You know how that feels right? Haliegh – yeah. Tyler – is Rockstar doing alright? Haleigh – no. She just feels like she is the easiest biggest target. Which she is but she just feels out of place and that everyone is coming after her. Its not like its a strong move. We'll see hopefully tomorrow goes well. I am just bitter, its not a good time to win HOH. But I also needed it because I feel like the hacker would have put me up instead of Rock. If you win the veto what are you doing? Tyler – what I told you. Haleigh – would you take Rock down? Tyler – if that's what's best.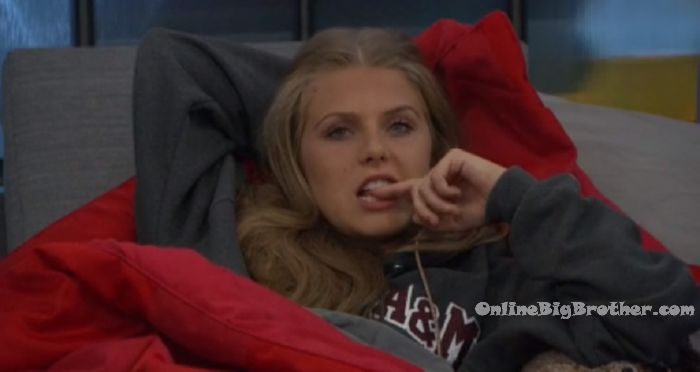 9:35pm Kitchen. Angela – why would you say that?! Is there something going on that I don't know about? Sam – no. Angela – okay, great I am happy to hear that. I just feel like you haven't been yourself around me lately and its been upsetting. That's all. Sam – I haven't been myself towards anyone in here. I f**King hate this place!! And everybody makes me uncomfortable. The whole situation makes me uncomfortable. Its not you working out or eating chicken. Its not all about you. I was just asking if you were going to run because I needed something to do and I was going to flip the wall around and invite you to do that. Angela – no I am not going to work out I just showered. Sam – I am just sick of this place everyone is just so uptight and I am done with it!! JC – what's going on? Sam – nothing is going on! That's the problem. There are less people and less activity. There is just more discomfort!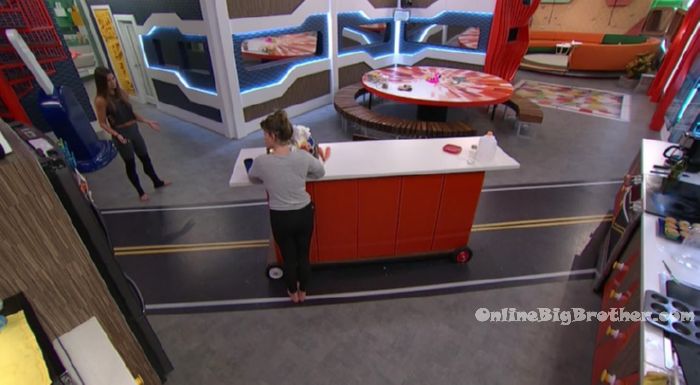 Lounge room. Kaycee and Angela. Kaycee – why was she asking you if you were going to work out? Angela – I don't know. Scottie and Sam walked out of the storage room and asked are you about to meal prep?! I said yeah I am going to cook some chicken. And then she was like are you about to work out? No, I'm not but why does it matter? Kaycee – what the f**k? Angela – its like she is upset that I am being myself. I know there is something like she thinks we are bullying.. like our lifestyle. Kaycee – I am about to blow up in here.
10:20pm Lounge room. Kaycee, Tyler and Angela. Kaycee – she is probably not getting the attention from the people that she cares about the most. Tyler – she is feeling threatened. We need to comfort her. Kaycee – yeah we need to comfort her. She is playing this whole card being the f**king victim and being a cry baby. You could talk to Haleigh about it. Angela – I'm not going to talk to either one of them about it. I am going to pretend it didn't happen. Kaycee – yeah it is what it is. Tyler – I will tell her that I tricked you into using the veto. That way she doesn't think we're that close. Kaycee – we have to win this f**king veto!! Lets go!! ROckstar is going home on Haleigh's HOH.
10:45pm – 10:55pm Lounge room. Sam – you can hit me if you want to. Kaycee – I don't want to hit you. Everyone thinks I am the hacker. I'm on the block, someone takes me off and I don't know what's happening. If one more person asks me if I'm the hacker, I am going to flip the f**k out. Its really irritating. This is so stressful. Sam – for a second last week I thought you were the hacker. Kaycee – I am just trying to keep my cool. Sam – I know Angela is mad at me. She asked me if I was mad at her and I said no I am mad at everything. Sam – everyone is putting so much pressure on you and me. Like you're on our side! I feel like the two sides have dissolved. Its who means the most to you. Kaycee – and who do you trust. Sam – Rockstar has come up to me and checked on me. Angela has too but its not the same. I'm not going to walk up to Angela and tell her that I'm going to vote for her because I'm not. And you can tell her that. I am going for who means the most to me.
11pm – 11:20pm Angela joins Sam and Kaycee. Sam – Everyone is getting really like .. and me too! Nothing I talk to you about doesn't go anywhere. I either forget it or I never tell anybody. That goes for both of you and blondie. If I could trade places with you I really would. The whole thing is really getting to me and my personal demons are coming out. Bay was the only one that really cared about me. That's why I voted for her. On top of that there was the bigger picture of her being the only black girl. For her to go out on a unanimous vote really pissed me off. I could not let that happen. That is f**ked up! You can trust me. I am not super smart. I am not a physical threat. I am not a showmance threat. I am just honest and I'm not going to f**k that up now. The mood swings is happening .. I haven't had a period since being in sequester.
11:30pm – 12am Jessie comes over the PA and tells Rockstar to make nachos while showing off some sweet nunchuck moves. Rockstar – you don't have to walk right past her (Rockstar) she isn't going to stab you with the plastic knife. I am agitated but its a game. I wish someone would own it and say why they did it. I wish they would call me easy target to my face because that's what everyone in the house seems to think I am but you know what .. lets play. Lets compete. And that's that! You got put on the block and you talked a lot of sh*t so now I am. Tyler – I talked a lot of sh*t? Rockstar – you gonna put the veto king on the block .. lets go hacker!! Tyler – I didn't say that until I won it. Rockstar – I am just real tired of it. Tyler – use it as motivation.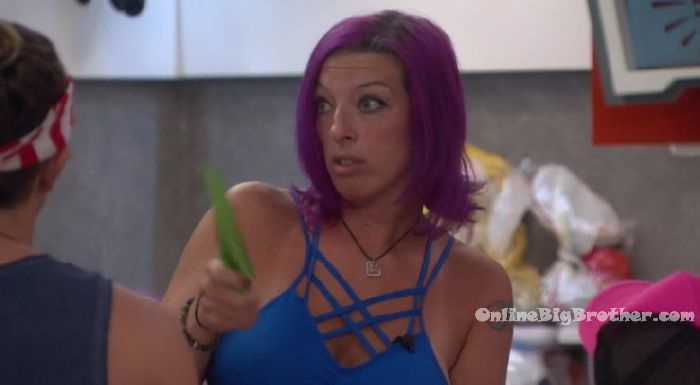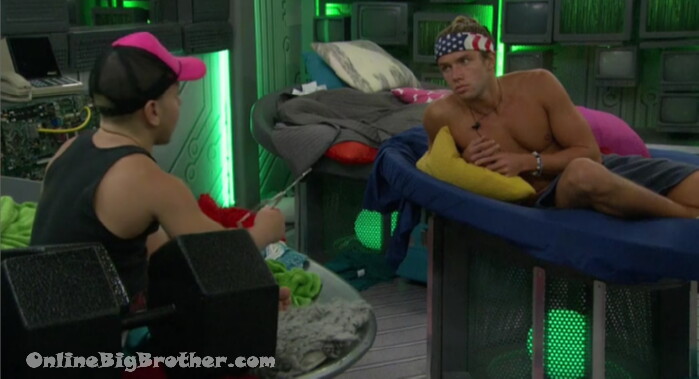 1:24am Tyler and JC
They are talking about Sam being completely on the other side now.
T – she told me because I don't check on her personally I don't check on her because everyone thought we had a final 2
JC thinks Sam has a crush on Brett and Now Angela is close to Brett..
T – she said something to me about Angela.. like oh now you and Angela are perfect for each other aren't you
JC about sam – She has a f*ing crush on Brett.. the way she looks at him..
Tyler tried to talk to her earlier but it didn't work.
Tyler again thinks that Sam will keep Kaycee over Rocks
JC – what if they put Brett up
Tyler – we keep Brett… Sam would vote Brett out..
JC thinks the other side will go for a big move if the veto is played.
Tyler says as long as they win the veto the other side doesn't have the votes.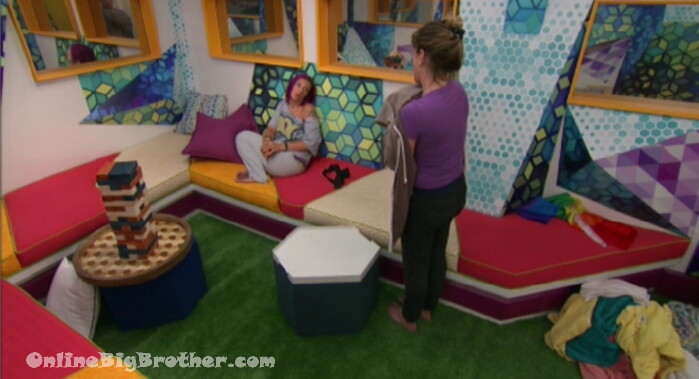 1:24am Sam whimpering to ROCK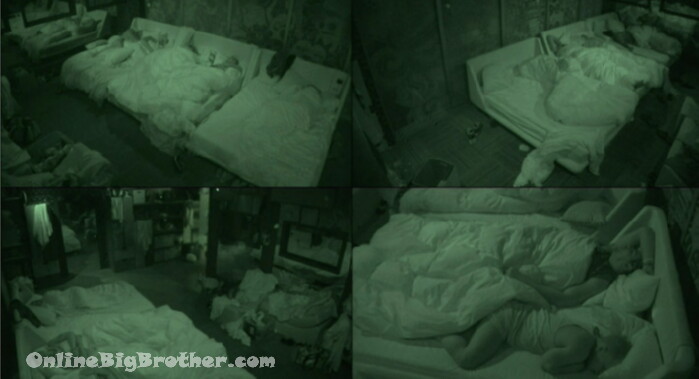 5:00am zzzzzz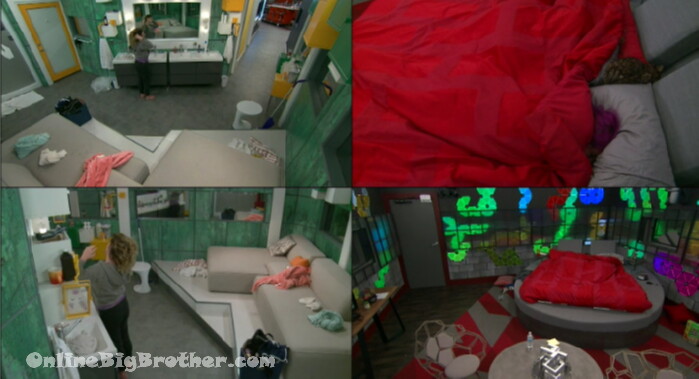 7:30am Early morning wake up for the Veto competition
The veto is going to be OTEV which is typically done earlier in the day to avoid the heat as it's a physical competition.
If you like our content please consider a donation
Rank the houseguests!
Easiest way to Rank the house guests use link below