POV Holder:
Kenny
Next POV
?
POV Used
Yes
POV Ceremony
March 10
HOH Winner:
Andrew
Next HOH:
March 13
Original Nominations:
Paul & Neda
Current Nominations:
Paul and Kyle
Last Evicted Houseguest
Anick
Have Nots
Rachelle, Neda, Heather and Sarah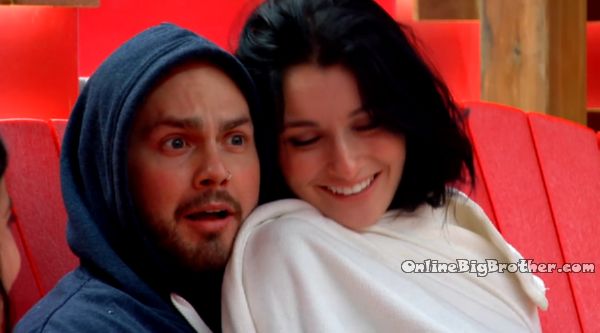 10:25pm Cam 1 Andrew, Neda, Racehlle and Sabrina
They are going over the argument between Adel and Andrew over the dishes. Sabrina share a story about this morning where Adel, Paul and Kyule ask her to do their dishes after she made breakfast.
Andrew- 'F*** them.. I should make ex-laxs .. make ex-lax pasta so they sh1t their pants'
Sabrina – The only person I cannot stand is adel.. I do not like Kyle and I have no respect for Paul
Andrew says he has no feelings towards paul, "I don't hate him cause that would require energy"
Andrew – 'Kyle, I don't respect the way he talks to women' Andrew explains that when he says questionable things about women it's a joke but when kyle does you can tell it's part of his personality.
Andrew – Adel, I'm confused by him I feel sorry for him cause he picked the worst team to be on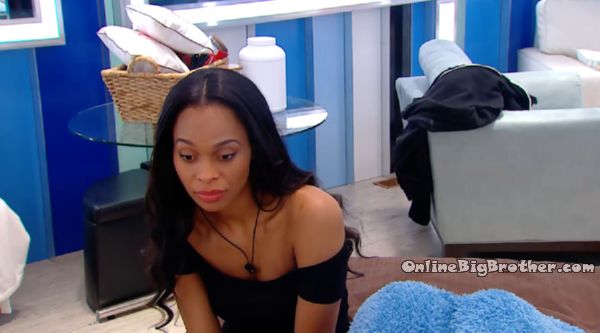 10:48pm HOH Sabrina and IKA
Talking about Heather and how jealous she is of Rachelle's looks. Ika keeps calling Heather Fake.
IKA says Heather reminds her of a really creepy person. Ika "She's an insecure creep" IKA says she's been calling Heather Creepzilla in the diary room.
Sabrina tells her that Neda explained to her who what she met about not putting Jon up. Sabrina thinks they can trust NEda for now. Adds that Neda is telling Jon a lot though.
Sabrina – "Did you hear what Jon said today.. no girl in this house is going to beat me, there might be girls outside but not in this house"
11:14pm WarROOM
Scott points out that an hour ago the girls ( Rachelle, IKA, Neda etc) were piling on the makeup and now they are taking it off. He mentions that if anyone ever finds out that they had Feed screens in the war room their game is done. "WE're seeing the game from every single angle"
Scott: "It'll be the worlds most ultimate ultimate lie say we weren't even in the house"
Scott wonders if the house guest know anything about the twist.
Scott chuckles at the girls doing their makeup again, "Why are they doing their makeup it's time for bed.. she just wiped it off"
Nate – Sabrina is the makeup lady'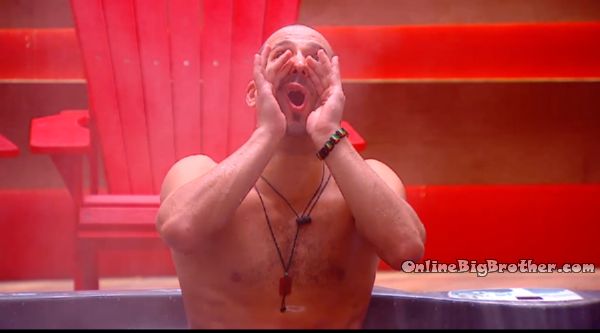 11:21pm Hot tub Adel, Kyle and Paul
They are talking about their eviction speeches. Adel is trying to get Paul to say something that will rattle Andrew. Paul – "Then at the last minute they change their minds and I go home"
Adel says it's all just a game and it's up to them to make the game memorable and exciting. Kyle – 'I came on here to make the afterdark shows interesting.. you're welcome" (Too bad the feeds were blocked for 2/3rd of it 🙁 )
Adel says Paul has to let the world know that he apologized to Andrew two times.. "Nobody watches After Dark it's the day show"
Kyle thinks the only way they can beat Andrew is to get into his head, "those guys are all blunt force trauma all horsepower"
While this goes on Sabrina is doing Rachelle Halloween makeup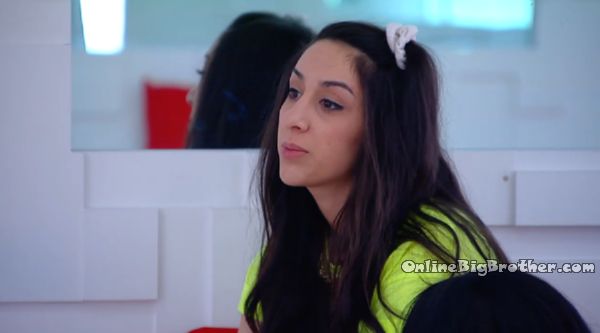 11:38pm Bedroom IKA and Neda (Girls alliance is starting to fracture already)
They are getting worried about Sabrina. IKA says nobody is going to put her up and whoever goes up against her will be going home.
IKA is worried that Creepzilla is talking sh!t to Sabrina and Sabrina is staying in the middle in case she needs Heather's vote. IKA – 'She's playing it smart" IKA says that Sabrina uses her makeup and her cooking to get close.
NEDA – Andrew will take her to final 2 that's what I think
IKA – I like Rachelle but Sabrina said Rachelle said things about me..
NEDA says her main alliance is IKA and Rachelle.
IKA and Neda call Arlie (Or jon hard to hear) Creepzilla number 2
Neda – 'I would love if Paul won… Andrew would go home'
IKA – "No I would'
(Video uploading)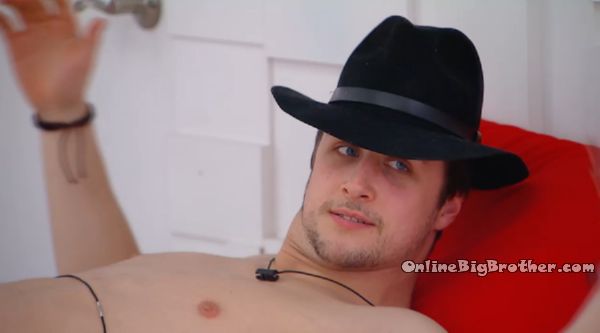 12:05am Jon joins them says that Andrew and Sabrina are holding hands out in the living room. He hops on the bed wearing nothing but his underwear and a cat calls himself the undertaker.
IKA – 'ya they've became very close
Jon – A day agao they hated each other
Rachelle joins them.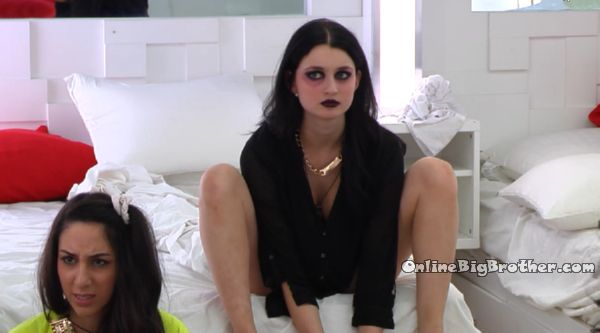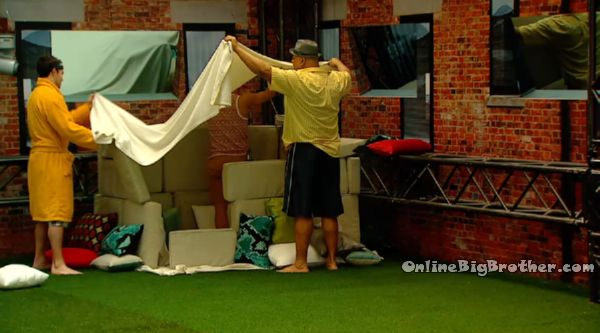 12:20AM Kyle, Paul and Adel building a fort
Kyle – We need more decor
Adel – I'm going in
Paul – Dude it's not going to work dude.. the walls are coming down on Kyle's side
Kyle – i'm panicking i'm all strung out.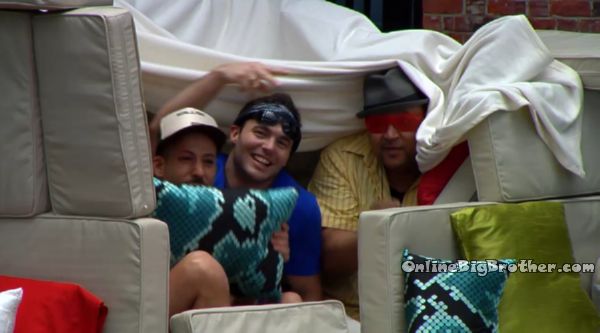 12:30Am Fort done
12:40AM HOH Kenny and Jon
Jon is worried about Sabrina and Andrew. Points out that they are holding hand right now while they sleep.
Jon – I guarantee you Neda will be a good vote whenever we need it
Kenny knows says she's nowhere near being a target. Kenny says Heather, IKA and Rachelle no matter what have to go first out of the girls.
Jon – after those three do you and I make that move (To separate with Arlie/Andrew)
Kenny reiterates they have to win HOH cause if they don't the girls would be stupid not to take one of them out.
12:50am Bedroom Jon and Ika IKA saying she has a feeling there is a girl thing going on but she's not part of it. Jon asks if it's Heather. IKA doesn't know.
IKA says everyone is saying Adel as a target. IKA suggest that Sabrina is a strong player she's really close with all the girls. IKA adds if Sabrina goes up whoever she is up against will go home.
IKA – She's also really close with Andrew.. She knew the nominations
Jon -Wow.. I didn't know
IKA says she thinks that are being said about Heather are being spread by Sabrina.
IKA sums up that Sabrina is close with the majority of people in the house, stresses that Andrew and Sabrina are very close.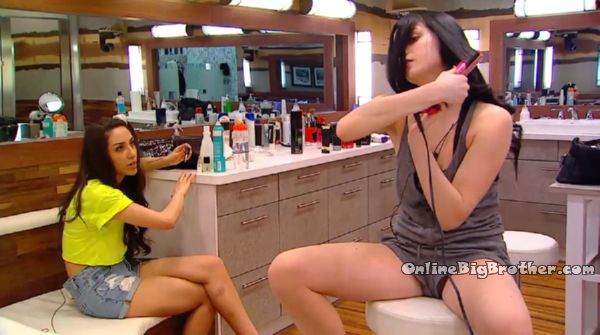 1:08AM Bathroom Rachelle and Neda
More game talk… They also touch on Sabrina and Andrew getting so close.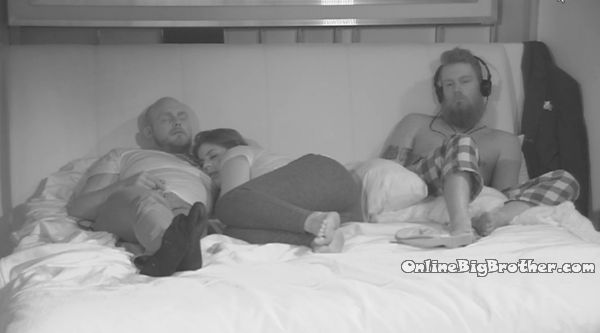 1:20AM HOH Sabrina and Andrew getting close.
1:40am Girls in the have nots

1:50am
Adel thinks tomorrow is the HOH and Kyle think she's being evicted LOL
2:00AM One of the funniest things I've ever seen on Big brother Canada before. Kyle and Adel think that tomorrow is HOH and eviction.
Kyle – "The last time we're together take a look"

[polldaddy poll=7857961]