POV Holder:
?
Next POV
May 1st
POV Used
?
POV Ceremony
May 3rd
HOH Winner
Kevin
Next HOH
May 6th
Nominations:
?
Have Nots
?
POV Players
?
** The 2 round HOH twist that was leaked last week is once again back up for this week. **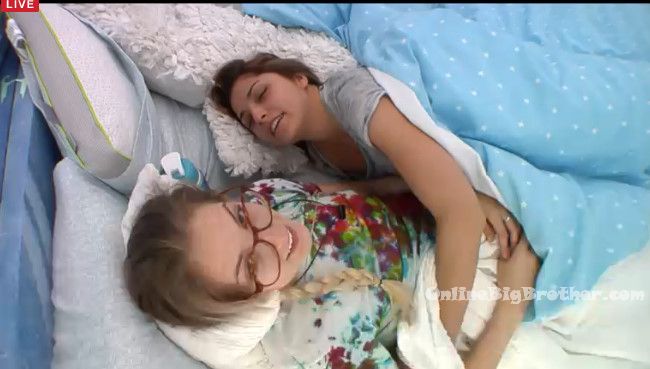 8:20am Big Brother wakes up the house guests. Sarah, Brittnee & Bobby are in the bathroom. Britt comments that it could be have/havenot comp. Sarah says or Veto. Its the name of the comp that kills me. Britt says I know. Sarah says Every time I think of it, I just.. Sarah heads to the bedroom with the batteries and tells Zach.. it says Noms on the screen and the gate is closed. They're setting up something. Sarah and Willow cuddle in bed and then look up at the camera. Willow says Good Morning nosey you getting in on this cuddle? Willow asks do you think Big Brother will start handing out anti-depressants?
In the bathroom – Ash says I feel like no one talked to him last night. Brittnee says she wants to talk to him but doesn't want to be all up in his grill. Ash says I just don't know where his head is at. They wonder if it will be a have/havenot comp or a luxury competition.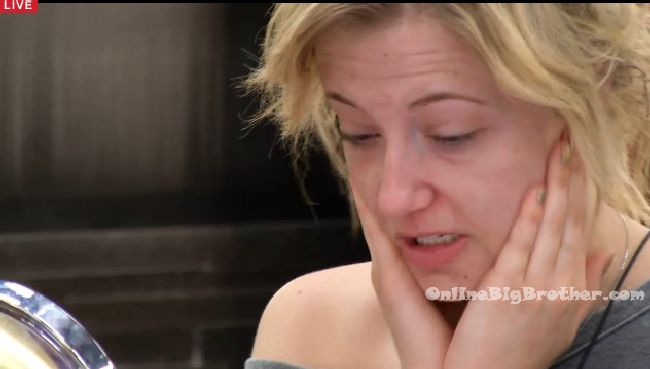 9:30am In the kitchen- Sarah, Willow and Brittnee are making breakfast burritos. They talk about the live feeds for the US version. Kevin wonders if they had live feeds back in season 2. Willow and Sarah both say there were because they remember seeing clips that weren't on the show. Zach asks what do you think a havenot comp out there or what? Willow says I think Sindy is out there competing to come back in here.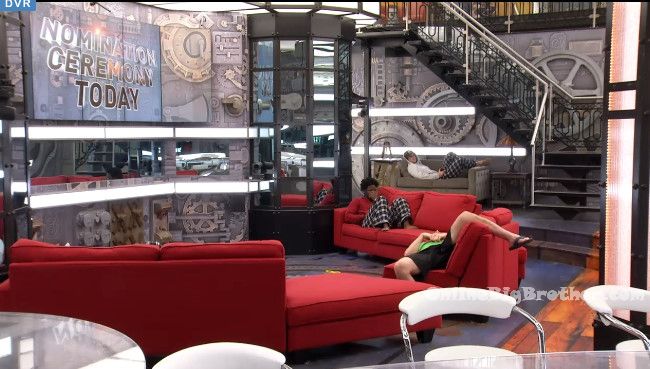 10am Up in the HOH room – Bobby asks Godfrey did you talk to Kevin yet? Godfrey says na bro. Bobby says I just don't know who he's going to put up. Godfrey says there's nothing to talk about. It will just go in one ear and out the other. I'll just wait to see what happens. Bobby agrees. Bobby listens to a song and then leaves.
In the kitchen / living room – The house guests are talking about random things like fake IDs, getting into clubs, Vegas, amusement parks. Zach, Kevin, Pilar and Ashleigh talk about how there are too many people in the house.
Ash says day 25 was the last twist, we're due for one. Kevin says I should have that conversation with Bobby. Not fun. Like a bandaid rip it off. Pilar says chug a beer and then do it. Kevin says just get bombed!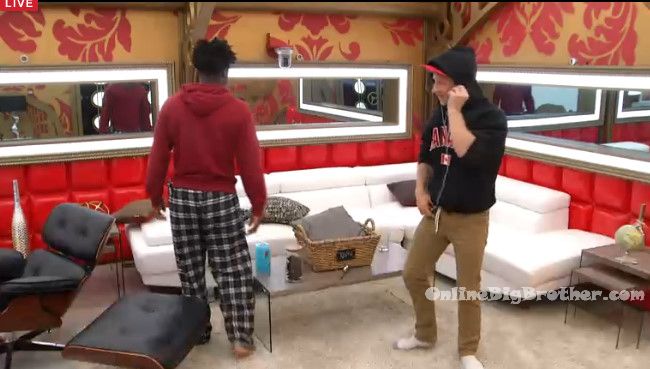 10:30am Up in the HOH – Kevin tells Godfrey I haven't told them yet but I am going to put up B and Bobby. Godfrey says here's the thing I don't know if Bobby has that veto or not. Kevin says well we're about to find out. Kevin says we'll have a bigger conversation later ..but you're not going up. It would be epic if you got to play in the veto. Godfrey says if I won HOH I would put up Zach and if he won he would put me up. He wanted you out man. Right now it is unlikely he will go after you. Kevin says that Zach thinks I am backdooring you… just know that there is more going on. Hopefully you get picked to play in the veto and win it.
10:40am Big Brother opens up the backyard and the house guests head outside. The notice that Sindy's backyard photos is now black and white. Sarah wonders if they'll all be haves for the week.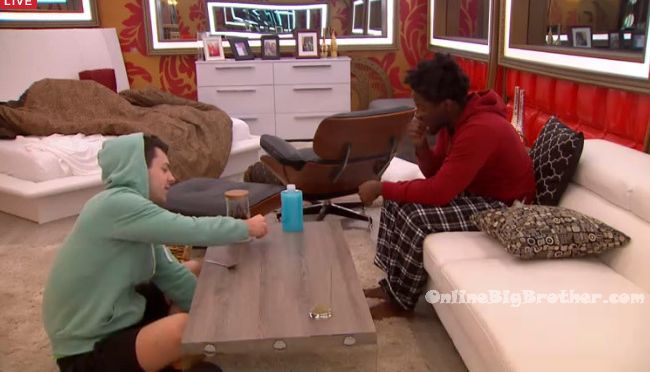 10:45am – 11am Out in the backyard – Kevin says to Bruno, Bobby and Zach. Kevin says if I put up Sarah and Brittnee and then God won the veto he could pull one of them off. Bobby asks so you want God gone this week. The plan is to backdoor God this week. Going into the vote I don't want one of us up there. Bobby says its up to you man its your HOH. Bruno says if you put one of us up as a pawn and one of them win the veto .. Zach says we have the votes no matter what. We're sending one of them home. Preferably God and if not then Sarah. Bobby says I have an idea but its so risky. Put me and B (Brittnee) up so that we have someone strong playing in the veto. Pilar says even if God wins it and doesn't use it .. you have yours (secret veto). Bobby says I want to play against God to make sure I win. Keivn says so if we put up you and B… then any of the 5 of us win it we take you off and put up God. Either way you have your veto. Bobby says I just want to be conservative and not use it. Zach says you might even be able to convince God to use it on you. Bobby says okay whatever you decide. Zach warns them all to watch what they say around Willow. Kevin asks Bobby so you're okay with that. Bruno says why not put up Sarah and Britt. Bobby says I don't know I am just throwing it out there to help you guys. Kevin says the only way God survives this week is if he wins the veto. Bruno says if its B and Sarah no matter what the veto is being used. If they win they take themselves off and God goes up or if we win we use it to take one of them off and God goes up.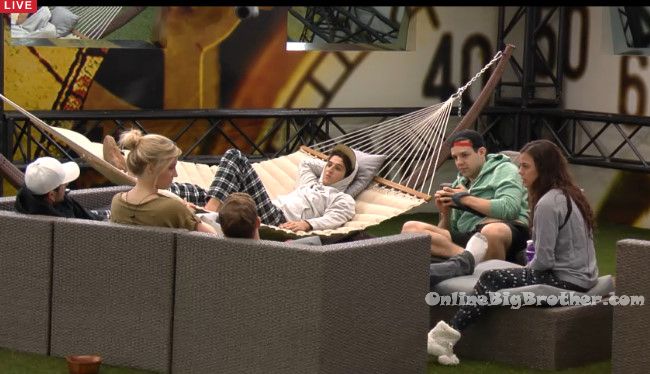 11:25am – 11:40am Out in the hot tub – Brittnee asks do you think we should say something Kevin? Sarah says no because they were up late last night. They already have their minds made up. Brittnee says I am just trying to be nice. Kevin doesn't make big moves though. At the end of the day I just hope its not you and I. Sarah says you could say if I'm not up there I would vote however you want me to vote. Keivn joins them and says so Noms coming up today. I am going to nominate Bobby and you Brittnee. Britt asks can you explain why me again? Kevin says there's a lot more going on this week. Britt says I get that its a safe move but if I'm not up there I would vote however you want me to and if I'm up there you're down 1 vote. Kevin says Godfrey made it very clear who he's coming after. The veto is being used no matter what unless Godfrey wins the veto. Britt says I am not your target right? Kevin says no you're 100% safe. Britt asks wouldn't you want to put up two powerhouses so they win the veto. I haven't won anything. Britt says I want to work with you but I don't want to keep going up on the block. Ultimately I want to work with you Kev. I don't want to go up as a pawn. Kevin says I'm sorry its just kind of the way it is.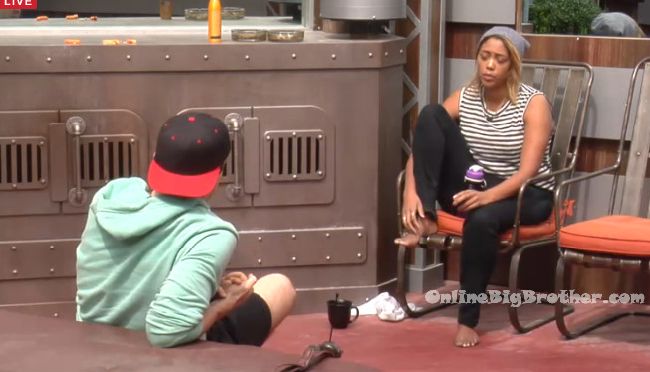 In the bathroom – Brittnee is crying. Bobby comes to give her a hug and tells her he's going to be on the block with her. Sarah comes to comfort Brittnee. Brittnee says I just don't get it. I would put up two strong people that could win the veto. Sarah says I get it but I would rather be a pawn than a threat.
In the HOH room – Kevin laughs about how great it was that Bobby volunteered to go up on the block.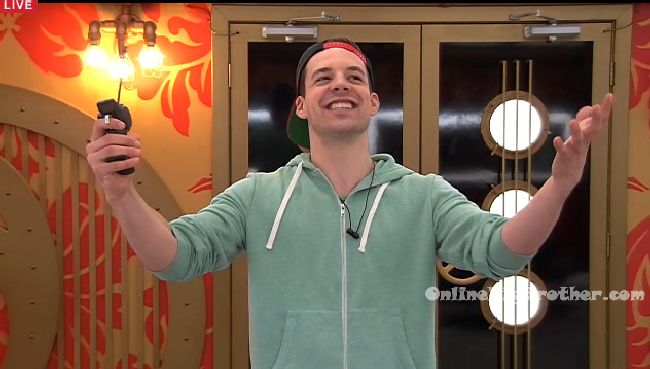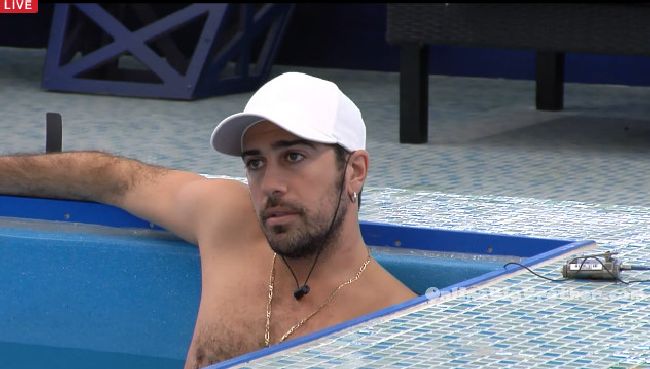 Out in the pool – Bruno is talking to Godfrey. Bruno says I think they're trying to break me, Bobby and you. I think they're going to try and get rid of Bobby. Bruno says we will just have to wait until after the veto and then talk. Bruno says lets push to get rid of the pawn. We just have to figure it out and make it work. Godfrey says right now they're already comfortable. I don't see them talking to Bobby. He is good though he can use the veto to safe himself. Bruno says I think they're going for Bobby. I can't believe I blew that HOH.
In the bedroom – Brittnee tells Willow I don't trust Kevin. I don't trust him as far as I can throw him. Brittnee says that his (Kevin) game play is cowardly! I've said that since day one!
Sarah Tells Brittnee I know you don't want to hear this but look at Spencer Clawson he was a pawn almost every week and he made it to the final 3. Britt says I dont want to look like a chump.
12:35pm – 12:45pmBig Brother calls all the house guests to the HOH room for a lock down.
12:50pm Big Brother blocks the feeds.
3:15pm Still blocked
4:10pm Still blocked
4:45pm Still blocked
If you are outside Canada and want to watch the FREE Big Brother Canada Live feeds sign up for a VPN service here https://www.hidemyass.com/vpn/r16399/. It's safe to use, easy to set up, and cheap. Need to know more check out this post explaining how to set it up.
[polldaddy poll=8834825]