POV Holder:
Kevin
Next POV
May 1st
POV Used
No
POV Ceremony
May 3rd
HOH Winner
Kevin
Next HOH
May 6th
Nominations:
Bobby and Brittnee
Have Nots
Zach, Bobby, Willow (Season slop pass)
POV Players
Kevin, Bobby, Ashleigh, Brittnee, Sarah, Pili
7:05pm Willow and Bobby
Bobby says he's not going to bug Sarah for a vote he knows how close she is with Brittnee.
Bobby knows it's obvious if they voted for him to stay it would expose their games. Suggests he can pin the vote on Ashleigh and Zach.
Willow tells him it wasn't Zach's idea to keep Bobby on the block. Zach wanted Godfrey out.
Bobby – Zach wanted God out and Kevin wanted me out
Willow – mmmm hmmm
Bobby – well I knew that .. Yeah..
Bobby – Zach would never keep me..
Willow – I dunno
Bobby – you think he would .. I lied to him
6:20pm AShleigh, Pili and Kevin Chicken confusion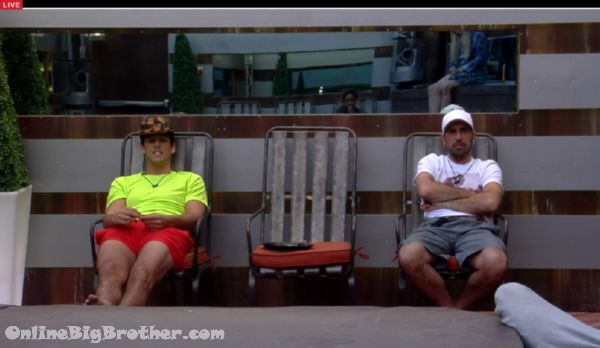 6:20pm Hot Tub Bruno, Sarah and Zach.. Chit chat.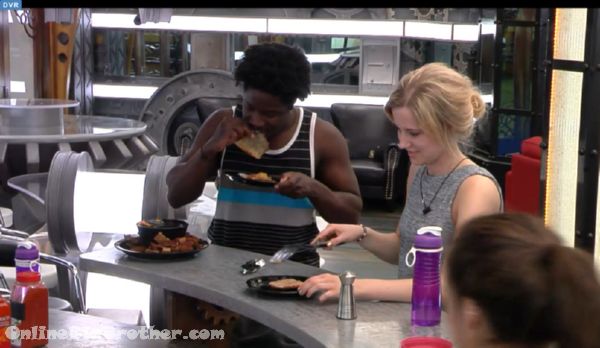 7:37pm Kitchen.
Godfrey saying he loves the girls they give him the best part of the food. The girls give Godfrey all their salmon skin.
Godfrey – trust me the skin is so good yo
Ashleigh calls Godfrey "Garb"
He's got a plate of salmon skin, decides to put it back on the backing sheet to "Roast" them up a bit more.
Brittnee grabs some yam fries from cooking sheet – "Godfrey he's got his weird ass skins"
Godfrey makes a skin sandwich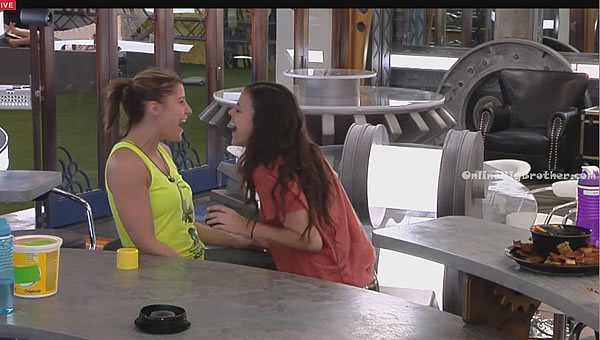 8:18pm Cup Clapping Pili and Willow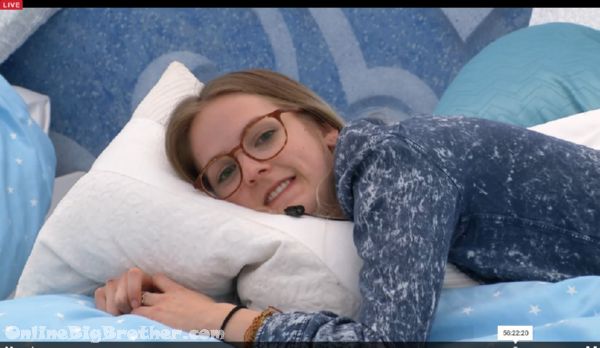 8:19pm Sarah and Brittnee
She's convinced there is no way the house is going to switch their votes and vote out Brittnee.
Sarah says they have to win the HOH she doesn't trust Bruno. Brittnee says it's funny that Bruno thinks they trust him.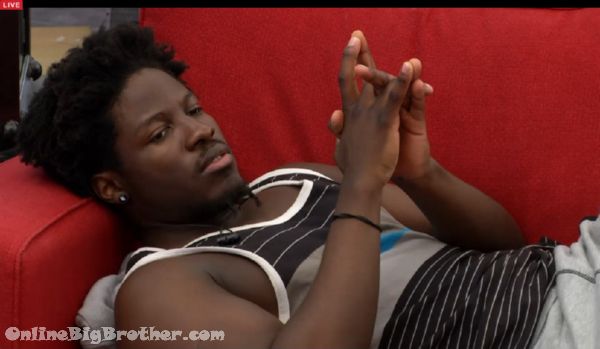 8:45pm Living Room Godfrey and Bruno
Bruno – you still going to crush these boys next week
Godfrey – Of course bra .. can't wait for that HOH bra .. we have to win Bro
Bruno – I need you bro..
God – 6 against 3 bro
Godfrey – Dude If I win 100% those two guys going up man ..
Godfrey then says he's going to put one of the showmances up, "If I put up two guys their girls can win and take one off.. but if I put one couple they won't risk it because they'll know the other one will go up"
Godfrey – we got to win it bro
Godfrey – we put up two guys girl wins take guy off.. yeah ok.. the other goblin goes up
Bruno – it's the better option one guy one girl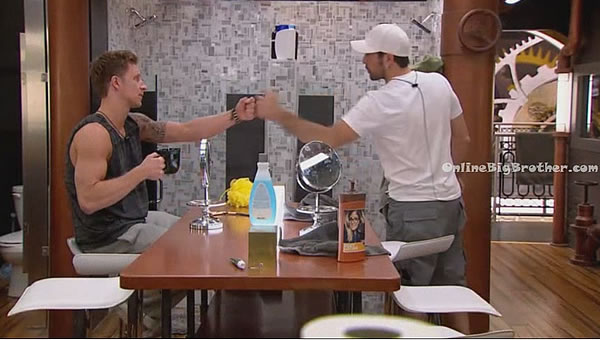 8:53pm Bruno and Bobby
Bobby thinks he can pull Kevin closer to him, "Maybe i'll even drop the purple cobras"
Bruno – we have to be careful we have to be careful how we play it we need a plan"
Bruno says it's not the best time for the showmances to split but they have to try.
Bobby doesn't think the showmances will split at all.
Bruno mentions how he's trying to get Zach/Ashleigh to keep Bobby because Bobby can be used to get Kevin/Pili out further in the game.
Bruno tells him he's going to work for him just keep it cool. Bobby thanks him but says he doesn't need to do this.
Zach comes in asks them if they want to "Tub it"
The boys head out to the Hot Tub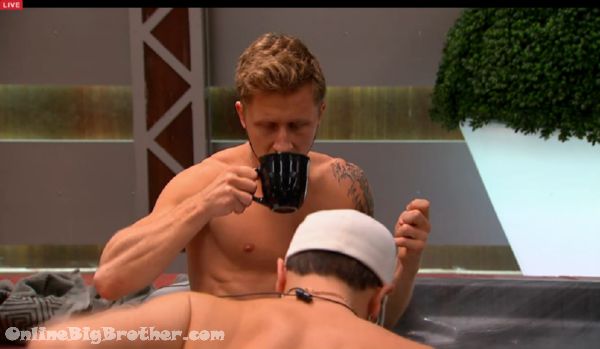 9:04pm Hot Tub Bruno, Zach and Bobby talking about "tats"
Bobby says he feels really pressured to "Make good TV" Ashleigh and Willow join them. Bobby calls for them to do one last chop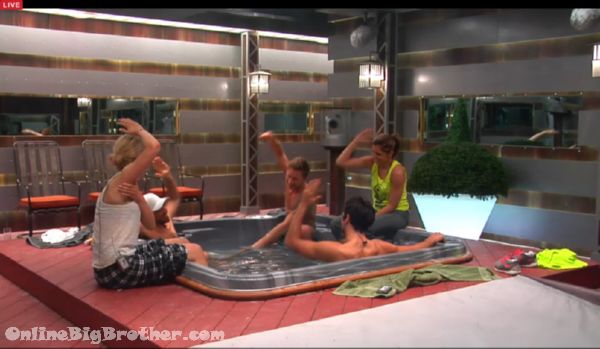 ALLIANCES IN THE HOUSE
There are always a lot of Alliance but we've tried to make sense of it all.. Read our alliance help guide
If you are outside Canada and want to watch the FREE Big Brother Canada Live feeds sign up for a VPN service here https://www.hidemyass.com/vpn/r16399/. It's safe to use, easy to set up, and cheap. Need to know more check out this post explaining how to set it up.
[polldaddy poll=8834825]