POV Holder:
Kevin
Next POV
May 1st
POV Used
No
POV Ceremony
May 3rd
HOH Winner
Kevin
Next HOH
May 6th
Nominations:
Bobby and Brittnee
Have Nots
Zach, Bobby, Willow (Season slop pass)
POV Players
Kevin, Bobby, Ashleigh, Brittnee, Sarah, Pili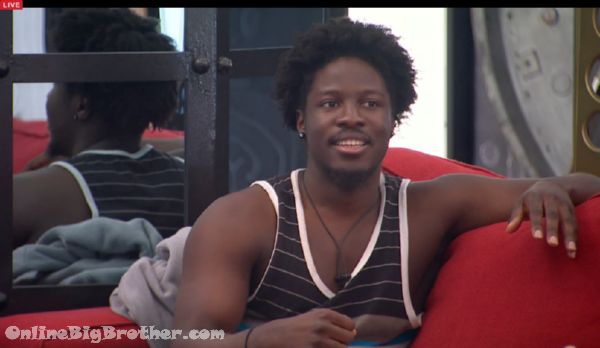 5:57pm Living Room conversations about the differences between Men and Women (It's a 30 min conversation Godfrey and Sarah talk a lot)
Godfrey says the girls in Zimbabwe are no different than the girls here.
After the conversation is over they thank each other. They enjoy each others conversation.
Godfrey tells Sarah "You have a lot of ideas some the world's not ready for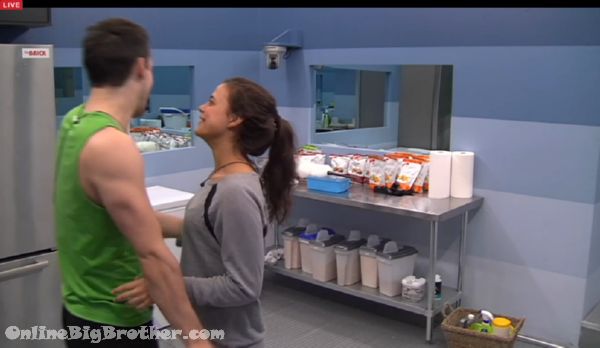 6:00pm Storage room Kevin, Zach and Pili
Pili and Kevin are trying to eat healthy but every day is a cheat day so far. Zach is surprised they are trying to do that while being in the house.
Kevin – I'm up a lot of weight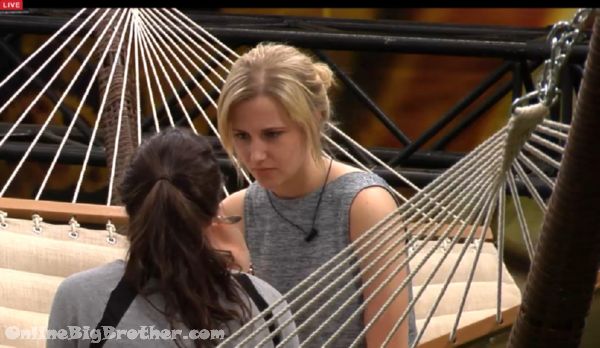 6:06pm Hammock The Goblins
Pili mentions Godfrey making it public that he's targeting the couples. Now Godfrey is closer to them because they saved him. Ashleigh points out that Godfrey is only close to Kevin/Pil. Pili thinks they can convince Godfrey to target someone other than the couple. Pili wants Godfrey to go next week no more being a pawn.
They count the votes to Keep Bobby, unless Sarah/Willow flip they'll get Bobby out.
AShleigh says Bruno and Bobby have lied to her, They never told her about the Jordan vote. "One of their alliance members was HOH and they went against them"
Willow rolls by to exchange batteries.
Ashleigh saying if it's an instant they will get rid of Godfrey.
Willow – Gods go first.. bruno will be all alone.
Willow says she would put Sarah up as a pawn just so Brittnee isn't so pissed.
Willow suggesting to try and get Brittnee and Sarah to turn on each other. Ashleigh doesn't know how they would swing that. Willow says they would have to get Brittnee to turn on Sarah.
Ashleigh implies Sarah isn't in her alliance.
They start talking about Bobby/Bruno turning on the chop shop first.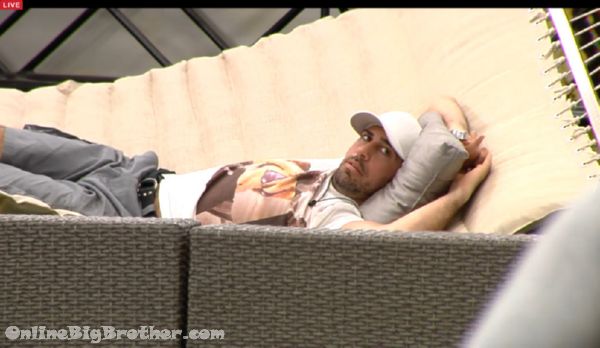 6:29pm AShleihg and Bruno
Ashleigh I can't believe it wasn't real .. I can't believe it, I almost pooped myself
Bruno – WOW WOW oh my god.. (Bruino just acting surprised about Bobby's veto being fake)
Ashleigh says Bobby threw a piece of a hanger in the shape of a "J" AShleigh thought it was a baby Veto at first.
Ashleigh – It was shaped in a letter J for jokes.. wasn't even in a V shape
Bruno is surprised Godfrey didn't go up because he's been so vocal about going against the couples.
Bruno says he's also surprised Kevin took that Shot at Bobby, "It just didn't make sense.. Bobby's not coming after the couples"
Bruno makes it clear that he's not coming after the couples he knows people are planting that but it's not true.
Bruno – "I'm working with you guys.. Eventually the 4 of you guys (Diapers) have to split.. I'm closer to you than them.. there has to be a time where you guys have to turn on each other and it'll be a lot sooner than you think.. Just letting you know Bud I'm with you"
Ashleigh – I know.. 100% right.. I know where you stand in this game.. Sarah and B they would never put a girl up.
Bruno tells her one of their allies is going home this week, Bobby is not going to target Ashleigh and Zach "I'm telling you it's not smart getting Bobby out.. "
Bruno stresses BObby is not coming after Zach/AShleigh down the road he will go after Kevin and Piliar especially now after they put him up.
Ashleigh wonders if they have the votes, Bruno, Zach, Ashleigh "We need 4"
Bruno – Godfrey maybe..
Bruno – I'm telling you i'm telling you Bobby is not coming after us.. I'm telling you ashleigh.. You know me and Bobby are close he is not coming after you.
Bruno – it wasn't you guys that put him up it was kevin.. who do you think he'll go or first it will be Kevin.. He's a loyal guy i'm, telling you right now.
Ash- yeah yeah I believe it
Pili joins them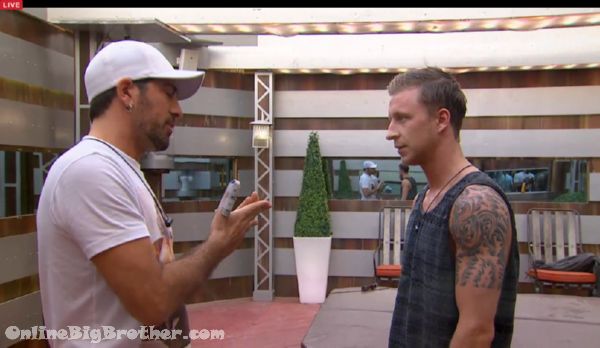 6:44pm Bruno and Bobby Hot Tub
Bruno – I'm working for you buddy.. I'm working Ashleigh getting in her head.
Bruno -I'm telling right now Bro we can wedge this bro .. the wheels are turning(Wedge between the couples)
Bruno – hear me out think think the right now the two showmances are together.. they are starting to crack bro..
Bruni explains how he's telling Ashleihg/Zach when the time comes and they have to turn on Kevin/Pili they will have Bruno's vote. He's also stressing that when the time comes Bobby is going after Kevin and Pili well before Zach and Ashleigh.
Bruno – I'm talking to them you don't have to say Shit.. I'm puttin work in
Sarah comes in "B's coming"
Bruno – I'm pumped now
Sarah – Ohh Fuck
Bruno – that lit a fire buddy they lit a fire..
Brittnee comes in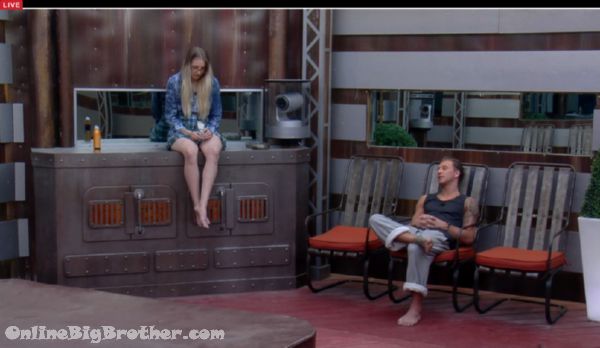 7:00pm Sarah saying how difficult position she's in being close to Bobby/Brittnee. Sarah thinks If it was Zach's HOH Godfrey would be the target. Sarah says Godfrey must have told Kevin he's going after Zach and Ashleigh instead of Kevin/Pili.
Bobby – I need to turn the showmance on each other some how.
Bobby leaves
Ashleigh – Going to try and pull Sindy eh..
ALLIANCES IN THE HOUSE
There are always a lot of Alliance but we've tried to make sense of it all.. Read our alliance help guide
If you are outside Canada and want to watch the FREE Big Brother Canada Live feeds sign up for a VPN service here https://www.hidemyass.com/vpn/r16399/. It's safe to use, easy to set up, and cheap. Need to know more check out this post explaining how to set it up.
[polldaddy poll=8834825]