POV Holder:
Andy
Next POV
Aug 17th
POV Used
NO
POV Ceremony
Aug 19th
HOH Winner:
ANDY
Next HOH:
Aug 15th
Original Nominations:
Jessie and Spencer
Current Nominations:
Jessie and Spencer
Last Evicted Houseguest
David, Nick, Jeremy, Kaitlin, Howard, Candice, JUDD
Have Nots
Aaryn, Helen , GM, Elissa
5:01pm Amanda and Aaryn
Amanda: "I want to solidify something with Ginamarie.. does she have any final deals with anybody"
Aaryn: "with me final 2.. "
Amanda wants to get a final 4 with GM, her, Aaryn and Andy.
Aaryn is is scared because when GM gets freaked out she'll spill the beans, "Everyone will know we are working together"
Amanda wants to make sure GM doesn't put her and McCrae up together.
Aaryn is certain she will not.
Amanda thinks going into next week they have all of their bases covered no matter what.
Aaryn brings up McCrae's plan that involved putting her up as a replacement nominee.
Amanda says she told McCrae no. McCrae is just trying to figure out a plan that will make people think they are not all working together.
Amanda adds that McCrae would put up Helen and Elissa he had suggested putting Aaryn up if the Veto is played. Amanda told McCrae she doesn't like that idea.
Amanda says Helen is getting evicted in the next two weeks no matter what.
Aaryn: "I will not put you and McCrae up no matter what "
Amanda says the same and she will make sure McCrae doesn't put her up, "It's too risky"
Aaryn wants Spencer gone before Gm. Amanda Agrees. She says if Gm gets power she needs to take out Helen.
Amanda now says Spencer or Helen have to go next week that is why Spencer must be nominated.
Amanda adds the only thing that could happen is if Elissa wins the veto and takes Helen down in which case Spencer goes home and they have two enemies in the house.
Amanda says the dangers of Spencer is he might put her and Aaryn up on the block but will not put Andy and McCrae. The dangers of Helen is she has numbers she can get ELissa to do her dirty work. Amanda: "It would be nice if Spencer won HOH he would not put us up this week he will put up Elissa and Helen.. if POV is used probably GM goes up"
Amanda doesn't like McCrae's plans they are too complicated and use too many pawns.
Amanda tells her that Andy, McCrae and Spencer are going to solidify their final 3 just to make it real .
5:04pm Bathroom McCrae and Spencer
McCrae: 'I'm thinking that maybe me you and Andy should make a final 3 or something.. f****ing boys alliance or something"
S: 'I'm down.. I was hoping for that anyways"
MC says him, Amanda and Andy are close but they never really talked about anything.
MC: "No one will see it coming.. Amanda I think I can beat her in the finals.. if we get to final 5 you can take out Amanda"
S: "Ya i'm down"
They agree to talk about it some more tonight
You can re-watch ever second on the feeds using the flashback feature.. It's just like a DVR and is super easy to use. click this link for a Free Trial —> Subscribe to the Big Brother Live Feeds
5:10pm Bedroom Spencer and Amanda
Spencer mentions how Jessie has been campaigning to Elissa and Helen. She tells Spencer there is no f***g way they are keeping Jessie. She points out how next week is a big deal in this game a Power move is going to be played. She warns him that the same people that are coming after her are the same that are going after Spencer. Spencer says if he wins HOH he's putting up Helen and Elissa. Amanda would do the something along those lines. She thinks Helen is much scarier than Elissa.
Amanda: 'If Helen goes ELissa will most likely come to me"
Spencer says once helen goes Elissa will have no insulation. They agree Elissa doesn't win anything so she's safer to keep in the house. Amanda reassure him that he's safe next week. Spencer is worried that someone will make a pu$$y move and put up GM and him.
Amanda tells him he isn't going anywhere this week and next week.
Amanda says she knows there was truth in Jessie, helen and elissa trying to get her out of the house a couple weeks ago. Helen just couldn't get the votes so she stopped the plan.
Amanda: "I trust you more than I trust Aaryn.. because I don't know what Aaryn will do with Ginamarie"
Amanda says she only trusts McCrae, Spencer and Andy.
Spencer says he likes Amanda in the beginning their game took different directions but now they are back on the same path. Spencer adds that Elissa and Helen want him out for personal reasons.
Amanda: "you are going to make it far.. you're not the big target anymore"
6:20pm Chit Chat
6:24pm HOH Everyone but Aaryn and Jessie
Amanda tells them about Jessie flirting with McCrae. Amanda called her out on it and ever since that Jessie has been gunning after her. Amanda brings up Jessie asking MC to hold her hair. She gives MC a hard time for saying yes. Gm says she did the same thing to Nick and she gave him a look and he put his head down and walked away from Jessie, "Ya he knows the snap and the look" (LOL)
Elissa: 'Nick was whipped from Ginamarie" (HAHAHA the look on Elissa's face)
Helen says she was so abused by JEremy during the first couple weeks she never noticed the showmances.
Ginamarie says Jessie would stretch and flare her a$$ out in front of Spencer and howard all the time.
Amanda Says Jessie told McCrae that the only reason McCrae is with Amanda Is she has big T!tS.
Helen thinks that is messed up that Jessie would have said that to McCrae. MC thinks that is what Jessie tells herself to explain why he doesn't like her.
Helen says Jessie is pretty girl and very nice she should have the confidence in herself. Amanda thinks JEssie had horrible social skills.
Helen points out when JEssie is on the ball she's a pleasant person to be around.
Amanda: "It's funny because a month ago I was thinking.. Jessie is in the best position in the house and she f**** that up bad"
MC: "I don't' know how she got on the show.. what made her special"
Spencer: "She's attractive"
Amanda thinks it's because she wanted a showmance so bad they threw her in the house with all these strong women.
Spencer: "she went after 5 of the guys"
7:02pm HOH group chatting about Big Brother Canada . Andy does the Gary slop freakout on the ground.
(We posted all the feed highlights for Big Brother Canada on YouTube check the posts out here )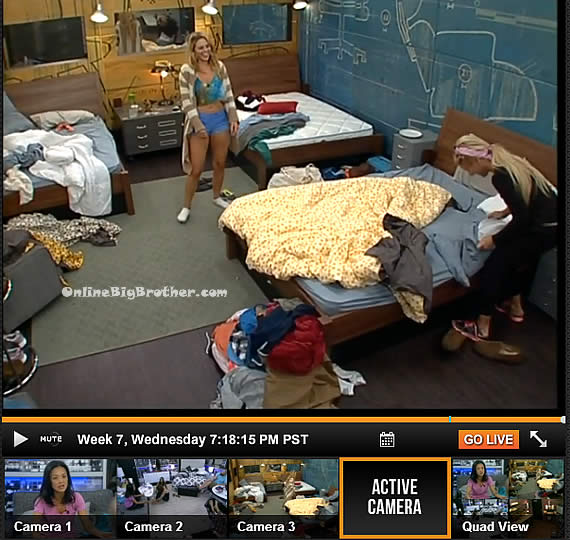 7:08pm GM and Aaryn replace Specner's and Amanda/McCrae's pillows with Mung bean sacks.
| | |
| --- | --- |
| [polldaddy poll=7309671] | [polldaddy poll=7320201] |