POV Holder:
Andy
Next POV
Aug 17th
POV Used
NO
POV Ceremony
Aug 19th
HOH Winner:
ANDY
Next HOH:
Aug 15th
Original Nominations:
Jessie and Spencer
Current Nominations:
Jessie and Spencer
Last Evicted Houseguest
David, Nick, Jeremy, Kaitlin, Howard, Candice, JUDD
Have Nots
Aaryn, Helen , GM, Elissa
7:20pm Kitchen Aaryn and GM
Aaryn says that they are still very much in the game, a lot of players in Big Brother history had to win competitions to stay in the game. They just need to win these competitions like they have been. She points out they have the majority of HOH competitions. Aaryn knows sometimes GM get down on herself sometimes she she Shouldn't they are strong and have a chance.
Aaryn gets called into the Diary room
7:44pm Kitchen GM and Aaryn
GM pissed that Spencer would vote out Nick she cannot understand why he did that .. what a little pu$$y. GM thinks Spencer will make another pui$$y move and put them both up if he wins HOH. Aaryn is expecting him to.
8:24pm Elissa and Amanda Bedroom
Elissa asks what the game plan is this week and moving forward. Amanda hints that they would want to backdoor Aaryn because she's so strong at the competitions. Elissa asks who would be the two people going up. manda doesn't know she'll need to talk to McCrae. Elissa suggests they put up Spencer and Ginamarie.
Amanda asks Elissa if Aaryn is who Helen wants gone next week. Elissa is pretty sure. Elissa wants to know if McCrae is 100% on board with backdooring Aaryn. Amanda says yes, adds they need to get together after the HOH is won.
Elissa: 'And you are dead set on Jessie this week"
Amanda: "Ya like 100%"
Elissa says if Aaryn makes it to final 2 everyone will vote for her. Amanda agrees.
8:35pm HOH Helen and Jessie
Jessie asks if she's talked to anyone about keeping her and taking her deal. Helen says it's a smart deal and she's talked to Andy about it.
Helen understands why Jessie was acting the way she was, "I totally understand your feelings you know this week being so horrendous you know"
J: "I guess that's what 54 days in an environment like this can do"
H: "It's meant to drive you nuts "
Jessie says she is the obvious decision to keep because Spencer is such a strong competitor.
Helen doesn't disagree thinks he can win any competition except a endurance.
Jessie brings up her worry is that Spencer and Helen are getting closer and she just doesn't want to see him screw her over like before.
She mentions that her and Spencer have had a torrid relationship but since Howard has left he hasn't done anything to her that would hurt her game.
Helen adds at first when she heard Candice flipping out on Spencer she was all for it but after she thought about it and thought about Spencer's family seeing it she felt bad for Spencer. "My heart broke for him". She says Spencer's family must feel the same way her family did when they saw the Jeremy footage.
Jessie points out that Spencer hasn't been in a position of power so you don't know what he will do if he wins HOH.
Helen says she stopped going after Spencer last week, "If the house wants him out that is one thing.. but after i watched him get yelled out like that my heart broke for him".
Jessie understands.. Helen says at this points it's not Jessie vs Spencer it's what would be better for her game.
Jessie thinks that the people she has talked to in the house say it doesn't matter who goes home. She thinks that the vocal people will get the saw this week.
Helen says she going to go with the house on this vote.. it was crystal clear for her but it's not anymore.
She needs someone else to make the call not her.
Helen tells Jessie if she is in the Big Brother house or if she is in the Jury house she can still make it positive.
McCrae walks in.
Helen tells Jessie she understands JEssie deal and agree it's a good deal but she's going with the house.
Jessie: "I appreciate your considerations "
Helen: "ten four"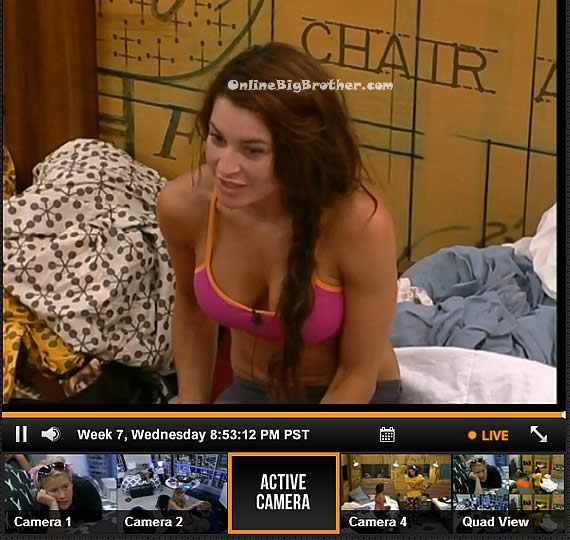 8:53pm Elissa and McCrae Bedroom
Elissa says Aaryn is a real threat to them in the final two because she's won so many competitions and so many people will vote for her in the jury JUDD being one of them. Elissa: "Anyone will choose her over Amanda, or me OR YOU"
MC: "To win"
Elissa: "Ya"
MC: "I agree.. she needs to be back doored"
McCrae says Gm and Spencer need to go up and they need to backdoor Aaryn. He's worried if she wins the veto and takes down GM
Elissa doesn't think she will save GM.
(this was the 3am alliance plan they wanted Helen and Elissa to target Aaryn and put up GM/Spencer this keeps the 4 members of the 3am retaining their numbers advantage in the chance that Helen/Elissa win HOH. 3AM do not plan on throwing the HOH so this is just a precaution)
9:05pm Bathroom Amanda and McCrae
Amanda says she likes the nicknames Aaryn cam up with. MC says that sometimes he thinks people that make up names are faking the alliance. Amanda tells him Aaryn is loyal as sh!t it's not a fake alliance.
McCrae knows she's loyal he's just telling her that if he wanted to try and convince people that something was real when it wasn't he would make up fake names.
A: "It's not fake"
MC: 'I know it's not I still think about it"
Amanda: "You have to believe in something sometime.. you have to have faith in something"
MC: "Ya"
Amanda: 'Your mood has completely changed.. what just happened in the past 20 minutes are you mad because I was talking about how you never shower"
9:23pm HOH
Aaryn does Any's makeup
Andy does Aaryn's makeup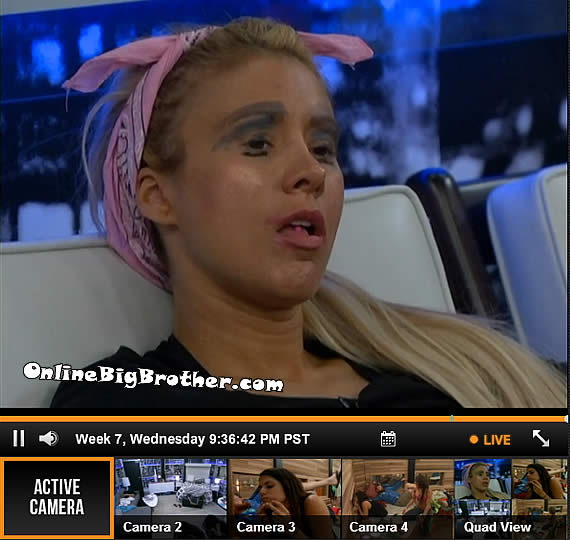 9:31PM Andy does Ginamarie's makeup.
Aaryn comes up and tells them they have to wash teh makeup off because they have Diary room sessions to film.
You can re-watch ever second on the feeds using the flashback feature.. It's just like a DVR and is super easy to use. click this link for a Free Trial —> Subscribe to the Big Brother Live Feeds
9:50pm HOH Jessie and Aaryn
J: "I wasn't going after you Aaryn I was going after GM"
A: "I told you how bad I wanted Candice out, you treated me like shit that week you ignored me you hung around candice the entire time"
J: "That bullshit I always said hi to you i never ignored you.. you were up here all the time with GM"
A: "You went from hating Candice to besties.. how do you trust someone like that"
J: 'OK aaryn"
A: "Honestly how"
J: "I'm not a hateful person"
Aaryn points out that Amanda is apparently the person she wants to work with now and she's throwing her under the bus, "it doesn't make any sense like who do you not throw under the bus".
J: "Who do you not throw under the bus"
A: "Who am I throwing under the bus right now.. NOBODY"
yeah it's not nice to be lied to
J: "Whatever.. I don't deserve this"
A: "you don't deserve to go home"
J: "No"
A: "Well I didn't put you on the block.. so tell Andy that cause I never put you on the block"
J: "I trusted him and he's been lying to me all week"
A: "ya it's not fun to be lied to"
J: "I didn't lie to you "
A: "you lied to me about the Nick situation .. you fu****g flipped on me you put me in the worst situation ever"
Jessie says Aaryn paid zero attention to her for the first 2 weeks of being in the house.
A: "this isn't an attention game .. you need attention 24/7.. I don't get attention 24/7 and I don't freak out about it "
Jessie points out to Aaryn than a minute ago she just said to her that Jessie was ignoring her all last week and she used that as an argument against Jessie.
A: "You treated me like sh!t that is different than ignoring"
J: "How did I treat you like sh!t aaryn"
A: "You just did jessie when you are safe you treat everyone like nothing but when you need people to grasp at straws"
Jessie says she has a real hard time believing that she treats everyone like they are nothing.
A: "and you call me out for being fake.. you were all up Elissa's a$$ during that Nick week.. you were all obsessed with the fact they were keeping you safe"
J: 'So now you are going back 5 weeks in time"
GM joins them.
Aaryn: "it's so obvious that you would put me up if you won HOH so why the fuck would I keep you here.. I guess we'll never know will we"
GM: "I do like this lipstick.. " (LOL)
GM leaves .. Jessie explains that her game has been a lot different than Aaryn's. she never won HOH's she needed to do whatever it took to survive. Aaryn says she udnerstands why Jessie flipped her vote.
10:30pm HOH McCrae, Spencer and Andy
Spencer says NIck had sniffed out a secret alliance before he was evicted. it was the Andy, Mandy, Candy alliance. McCrae remembers that can't believe he never brought it up.
Spencer: "I don't know if he was worried about it he was just aware of it"
10:57pm HOH
Amanda cannot believe JUDD never admitted to being the MVP. Amanda says he better have been the MVP because when she gets off the show and finds out it was America she will be like (See image above)
random chit chat.. They mention Ginamarie and her love for Nick. Andy jokes he thought he was goign to get Pandora's box and it would have been Nick GM would go on the attack for him.
Elissa: "If anyone gets Nick alone they should be worried"
Amanda: "who funny would it be if GM wins HOH and in Candice is in her Pandora's box and the rest of us get to hang out with Eddie Murphy"
11:15pm HOH Helen, Elissa, McCrae, Amanda, Spencer, Jessie
Helen and Jessie have just finished playing three games of chess. They ask Helen how the games went. Helen says they were close "Came down to the wire"
Jessie just leaves..
Andy: "She seems kinda pissed" (Hmm I wonder why)
Amanda doesn't think she did.
Helen: "Maybe because she just lost three games of chess"
Spencer laughs
Helen: "I'm just saying.. "
Elissa: "Is that why she was mad"
Helen: "I dunno"
Elissa: "She did seem mad"
Helen: "I thought about letting her win the second game because I didn't want her to be upset.. but then I was like.. she was making bad moves."
Amanda: "Were you guys talking game at all"
Helen: "Not at all"
Andy: "Ohh Jessie.. I feel if she stayed any longer she could get dangerous"
Amanda mentions that yesterday she was saying to Amanda and McCrae that she wanted to team up with them and this morning she was telling Helen she will do all her dirty work.
They all agree Jessie isn't trustworthy.
Helen says one of the pitches that Jessie gave her was let her stay in the game for one more week so she can get her reputation back.
Amanda: "She didn't have a reputation in the first place"
Helen: "She wanted one more week to have good camera time..and I said you are going to be in Jury house the camera will be there to"
Amanda: "You said that"
Helen: "Ya"
Andy: "Oh my god"
Helen explains she said IF you leave here and go to Jury the camera will still be on you just like it is when you are in the house. "IF" she gets evicted she can still rebuild her reputation.
MC doesn't really think they film too much of the Jury house. Elissa agrees. They say they'll have a camera man in the jury house for couple hours a day. MC says if Ginamarie is in jury there will be a camera man 24 hours. Andy: "Ginamarie and Candice go in this room to fight.. the fighting room" Elissa: "It's going to be a boxing ring"
Running it #BB15 pic.twitter.com/nmXh7h6QBj

— OnlineBigBrother.com (@bigbspoilers) August 15, 2013
11:49pm Amanada, MC, Spencer, Elissa, Andy
Amanda and McCrae have taken over the HOH bed..
12:14AM bedroom McCrae and Andy
McCrae fills him in on the plan to make a final 3 with Spencer. MC has talked to Spencer about it and he's fully onboard. MC says they have to meet with Spencer tonight and solidify that final 3, "We may have to stay up a little later"
Andy: "Does Amanda know"
MC: "Ya"
Amanda rolls in
Amanda tells them that Elissa knows that the plan next week is to backdoor Aaryn. She explains how they want to make sure Elissa uses the veto so they can backdoor Helen or if helen/Elissa win HOH they do not put up 2 of the 3 3am members. (That would be insanity if GM/Spencer are nominated Elissa wins the Veto uses it to save GM with the hopes Aaryn will go up. instead they put up Helen and Helen goes home)
Andy: "That works shit's about to get real"
Amanda: 'For realz"
Amanda tells him to talk to Helen soon
12:18am Bedroom Andy, McCrae and Amanda
Amanda asks them if Aaryn knows they told Elissa already (About the fake plan to backdoor Aaryn). McCrae says no. Amanda says Aaryn does not want to go up as a pawn. They agree none of them want to.
Andy: "The only way one of us can go up as a pawn is if the other three are voting"
Amanda: "Yup Exactly"
Amanda tells them that Aaryn needs to know and Helen needs to know. Once Specner isn't up their butth@le they need to tell Helen.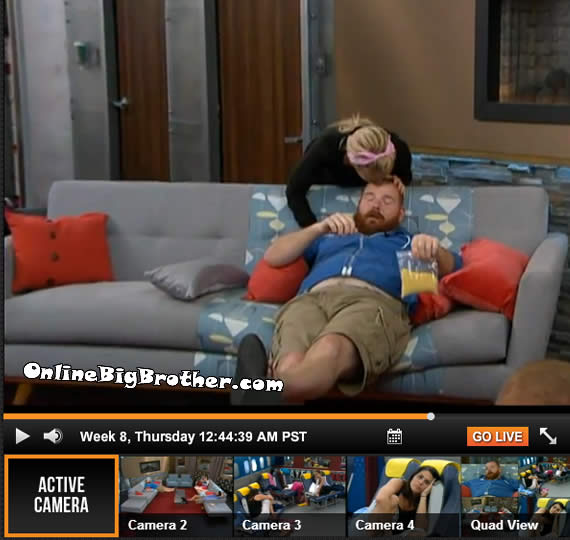 12:44am living room Specner, McCrae and Andy (The moving company 3)
Spencer telling the when he was a kid he so wanted to be part of the comic book world. He says there is a billion mother f**** out there that can draw. So what you have to so now is release a independent comic then go on the convention circuit. "Like home publishing type get it out there"
GM throws a bag of mung beans at Spencer. Spencer says he's going to hold onto the bag and wait until she sleeps, "I'm going to bust you in your a$$" (GM is pretty flirty with Spencer right now SPencer is implying he'll throw the bag of mung beans at GM tonight when she sleeps)
GM: "Just don't hit me in the face please"
Spencer: "I'm not sure I can tell the difference"
GM: " no no just don't hit me in the face you can hit wherever you want.
Just don't hit me in the face.. "
12:48AM HOH Andy and Helen
Andy tells her they need to find a time to grab McCrae and discuss their next move as the 3 person alliance.
Andy: "I trust him I think this is what we should do" (The feeds switched late on this conversation I assume Andy told Helen about the plan to backdoor Aaryn)
Helen: "I agree. .I Agree who is Spencer going to put up "
Andy: "I have no idea.." Andy explains that he asked Spencer flat out who he was putting up and Spencer told him he doesn't feel comfortable talking about that while he's on the block.
Andy: "I think he's a loose cannon right now. the good thing is I've gotten closer to him this week so I think he'll listen to me"
Helen is worried if Spencer wins
Andy understands but reminds her he can work with Spnencer.
| | |
| --- | --- |
| [polldaddy poll=7309671] | [polldaddy poll=7320201] |