POV Holder:
Andy
Next POV
Aug 17th
POV Used
NO
POV Ceremony
Aug 19th
HOH Winner:
ANDY
Next HOH:
Aug 15th
Original Nominations:
Jessie and Spencer
Current Nominations:
Jessie and Spencer
Last Evicted Houseguest
David, Nick, Jeremy, Kaitlin, Howard, Candice, JUDD
Have Nots
Aaryn, Helen , GM, Elissa
1:40pm Out in the backyard – Elissa is doing yoga. Meanwhile in the kitchen/bathroom – Gina, Spencer, Helen, Aaryn and Andy are talking about random things. Andy talks about his strategy to feed the fish my putting in small bits at a time to make sure they all get some. Andy says because some of the fish are a$$holes. Aaryn asks you are just figuring that out now. Andy walks away. Gina leaves the bathroom as well. Aaryn comments that Ginamarie clears the room with all her sh*tting and farting. Aaryn says so now we know who the racist one is..
1:50pm – 2:10pm Amanda and McCrae wake up. McCrae says if it didn't make me look shaddy as f**k I would sit and whisper around them all day long. Meanwhile in the bathroom Aaryn and Jessie are talking. Jessie campaigns to Aaryn about she will throw the HOH and then volunteer to go up on the block next week. Aaryn says yeah that's good or you could give someone your nominations if you won HOH. Jessie talks about how big of a threat Spencer is and how it will be hard to get him out. Aaryn leave to go to the storage room and tells Amanda that Jessie just told her that she will give her nominations to her/McCrae or Andy. Or that she will throw HOH. She said that she will also volunteer to go up on the block next week if she wins HOH. Amanda says it doesn't matter she is going home this week no matter what. Aaryn brings up that McCrae is saying he would put me up on the block. She tells Amanda to tell McCrae to stop saying that. Amanda says no he was trying to get me to do that and I told him no because no one wants to. No one wants to be on the rotation of going up. Amanda says he said he had a master plan. Amanda says you are not going up. His plan was if any of us win HOH, we want Elissa to not use the veto because if she thinks Helen will go up she wouldn't use it. So his plan is to make it sound like Helen isn't the target. But this most likely won't even happen. Amanda and Aayrn leave the storage room. Amanda tells McCrae in the kitchen that Aaryn is worried and nervous about going up. We need to think of a new plan.
Big Brother 15 Live Feeds: FREE 2 DAY TRIAL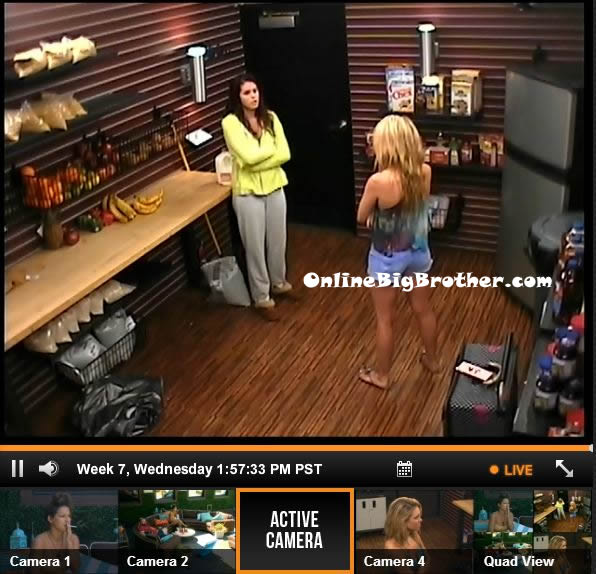 2:10pm – 2:40pm Out in the backyard – Amanda, Spencer, McCrae and Andy talk about movies. Meanwhile Helen and Jessie are cooking in the kitchen. Jessie asks Helen if she would like to play chess after lock down. Helen says sure anything to keep my mind off the game. Out in the backyard – They talk about hanging out in California after the finale. Amanda comments that she thinks the finale is on September 25th/26th. Elissa says they (production) said if you want to stay longer after the finale you have to pay for your new flight. They won't pay to change it. They discuss going to Vegas. Amanda says hopefully Nick comes. Gina says I know I am going to marry that kid in Vegas! I love that kid. I hope he isn't married already because I will have to kill the b*tch! Gina laughs. Amanda wonders if it will be weird to see him again. Gina says no. I'm sure my mom is already stalking him on facebook! Andy talks to Gina about wanting to meet Freddy. Gina tells him that Freddy has his LSD licence. (LOL WHAT?) Elissa says I wish we had kids here I want to dress them up. McCrae says you can dress me up. Amanda starts talking about fibromyalgia. Ginamarie tells her she though fibromyalgia was a type of milk. Amanda says ah no!
2:40pm – 2:55pm In the kitchen – Jessie hugs Helen. Helen asks her how she is doing? Jessie says that she is good and had fun last night. She then offers Helen her plan to stay were she will throw the HOH and volunteer to go up or offer up my nominations if I won HOH. Helen says that is interesting. I will think about it. Helen asks so there won't be any more of the Jessie from the other day. Helen says someone took the nice Jessie out of the game and put that one in. Jessie says we are calling her "KILLER KOWALSKI" (Her full name is Jessie Kowalski) Jessie comments that Helen is older is able to more easily handle the stresses of the house. Helen talks to Jessie about how there are much bigger things to worry about like your child being molested by a neighbour. That is the type of stuff I worry about. Helen looks at the camera and says hopefully that never happens to anyone. Amanda says it happens, it happened to me by a family member, when I was 3 or 4. Helen says that's horrible. Jessie says that's aweful! Big Brother switches the feeds to the backyard conversation on the couch. Gina tells them all I will marry Nick, you'll see! They continue to talk about movies. Gina says that the movie The 4th Kind is real. Andy says sorry to burst your bubble but that movie was represented to be real but was really fake.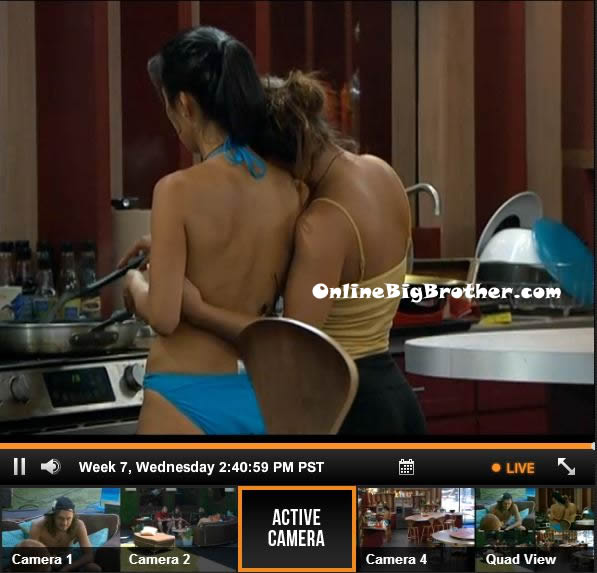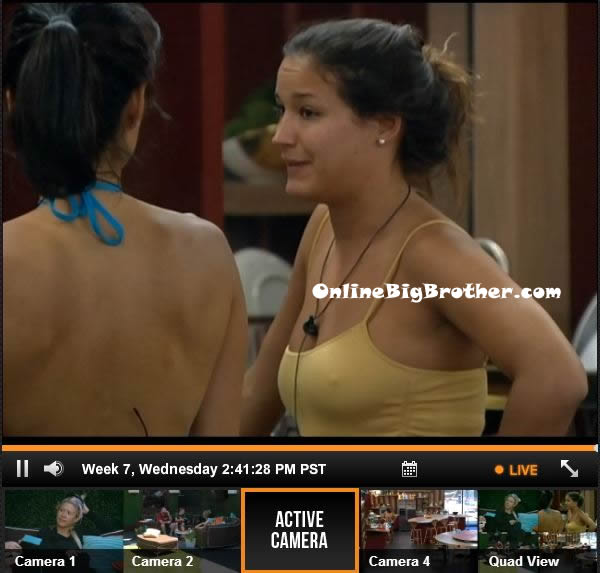 Use the Big Brother Live Feeds to FLASHBACK to SEE what they can't show you on TV: BB15 N!p Sl!ps / N*des
[polldaddy poll=7309671]