10:30am – 12pm Big Brother wakes up the house guests. When the live feeds return – Helen, Aaryn, Jessie and Ginamarie are in the bathroom. Up in the HOH room Andy is listening to his cd and staring off at the spy screen. Helen talks to Aaryn about how she isn't fashionable in here but that she is fashionable compared to her friends at home. Helen heads to the havenot room and her and Elissa discuss how they are thankful their time sleeping in the havenot room is over. Elissa comments that she wants to start washing all the sheets out in the other rooms. Helen heads out for her run. In the bathroom – Elissa and Aaryn talk about random things like their teeth, teeth whitening, etc. Aaryn continues to do her makeup and then heads out to the backyard to work out on the elliptical.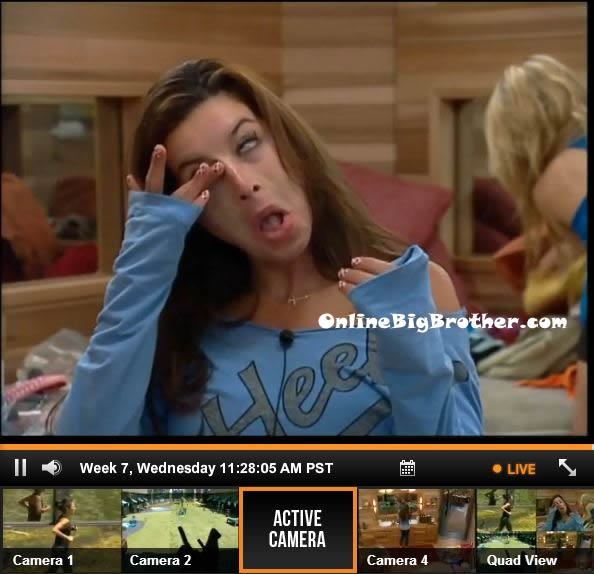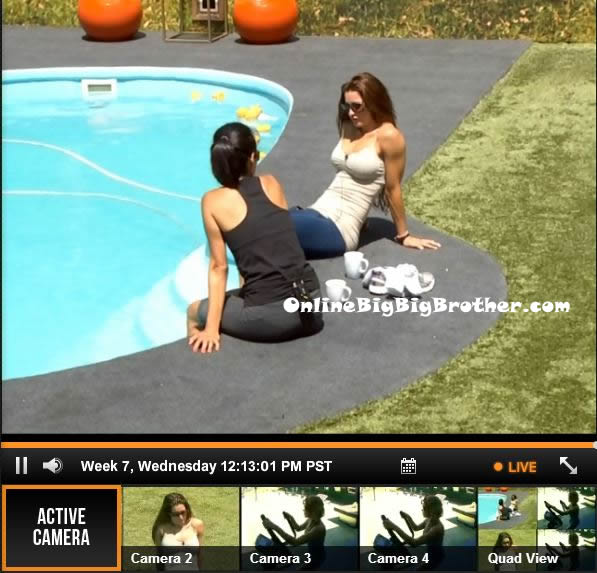 12:10pm – 12:30pm Elissa heads out to the backyard to join Helnen by the pool. Helen asks Elissa so what are you doing tomorrow? Elissa says it's Thursday and HOH. Helen asks and what are you going to do. Elissa says win it. Helen says yes! Elissa says I would put up Amanda and McCrae too. Helen says and we need to get Amanda out first. She would need to be back doored. If not it would be a week of hell. Helen says then you could put up Spencer and Ginamarie with the plan to back door Amanda. Helen says that we could then make a deal with Aaryn to keep us safe the following week because she is good at competitions. Elissa says she thinks Aaryn is still a threat. Helen agrees but says we will let other people take her out. Elissa says that Aaryn is tolerable right now but I think its only because of jury now. Helen says lets just worry about one thing, what are we doing tomorrow. Elissa says winning. Helen says winning HOH! They talk about what the competition could be and how Elissa should just keeping thinking about getting a letter from home and sleeping in the nice comfy HOH bed. Keep focused. Helen tells Elissa to try and not get nervous and gives her strategies for winning different types of competitions. Elissa says that she doesn't really get a chance to study because she has been thinking about her family. She says she didn't get to play the game she wanted to because people had a vendetta against me. Helen says not anymore. Elissa says Jessie still does. Helen says well she is walking out the door tomorrow. I want to win this HOH but I want you to win it even more because you haven't gotten one yet and I want you to see your family. Amanda is going to want to win HOH bad, she hasn't gotten it yet. We can't let her win it. If she does win it she will try to separate us and get one of us out. Helen says we need to talk to Amanda/McCrae and tell them that we aren't putting them up if we win it to try and make sure they don't put us up. I am just so afraid the more weeks that go by, Amanda or McCrae will put us up and one of us will go home. I am more afraid of Amanda winning it though. We just need to win it. They plan to study today. Helen says before we meet with Aaryn, lets have a meeting with the five of us first (Helen, Elissa, Amanda, McCrae, Andy). Helen says I just love how you are always ready to attack.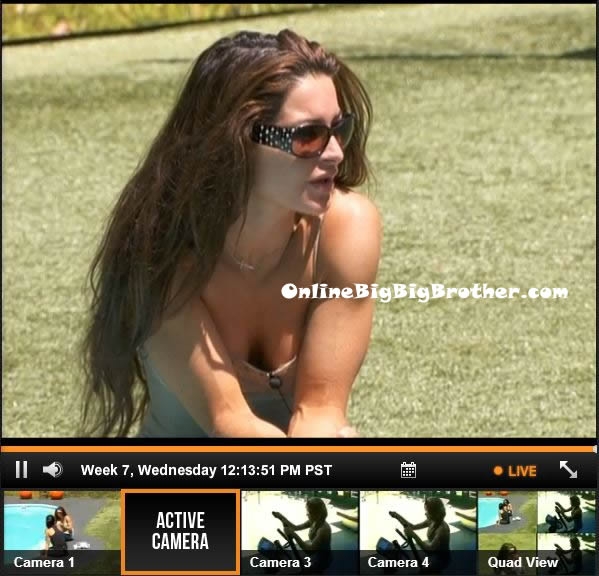 12:35pm – 1:20pm Elissa talks about her various properties that her and her husband own. The have a vacation home in Scottsdale Arizona, a cabin on a lake in Canada, etc. Helen and Elissa talk about visiting each other after the show ends. Helen comments that she and her husband need to find a house. Elissa says we are building a new house in Canada too. Andy and Ginamarie join them by the pool. Andy says that he is losing all hope that he will get Pandora's Box. Helen says it might still happen, however they may have gotten enough footage this week from Jessie's tirade. Elissa says she was really saltly, vulgar, nasty to me. Andy says just a heads up she came to me with a last ditch effort she is going to offer people that if they keep her this week she will volunteer to go up on the block next week. Elissa says so we would be in the exact same position that we are in next week. Helen says that would have been a good strategy had she not acted the way she did. Aaryn says that's because of pride. They all agree her plan won't work. Aaryn talks about how Jessie said Elissa called me a sl*t. Helen and Elissa both say that they wouldn't say that word ever. They discuss how they've tried to include Jessie and to help build up her self esteem. Helen says I just can't do it anymore. Elissa says I can't wait till the finale when I can tell her some information that would knock her socks off. Aaryn says even if people kept Jessie she wouldn't keep the deal to not win HOH, she would take that and use it as a big move. Andy says I just hope everyone respects my HOH and votes her out. Everyone agrees they will. They talk about having to constantly console Jessie. Gina says and I am the one that talks to her 6 times a day .. yeah I am the psycho one that is going to kill myself over Nick. Ginamarie laughs. They talk about how Jessie has no idea what she wants to do with her life and how she keeps changing her mind. Elissa says that she (Jessie) is 25, and by 25 I already had a couple houses, you know what I mean.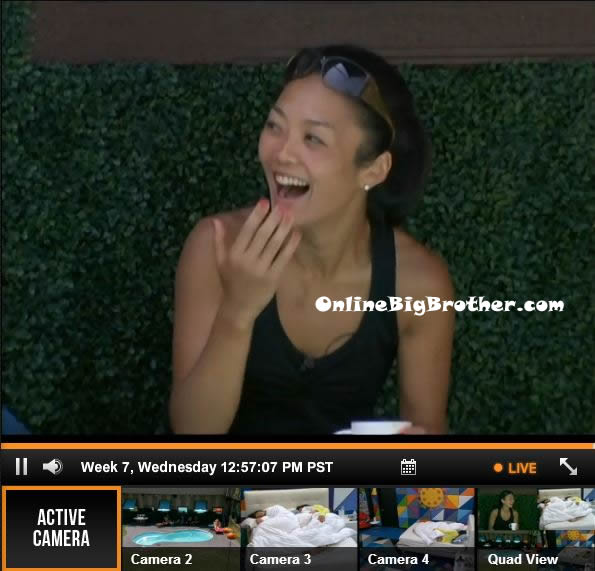 1:30pm – 1:40pm In the backyard – Gina tells Aaryn that she wants to win the HOH and if she does there is no way she will put Aaryn up on the block. Aaryn says at this point I can't make any more deal with people not to put them up because there are so few people left. Aaryn says the next few week are going to be me, you, Spencer unless you or I win HOH. Aaryn says and if someone wins veto then the other one of us would go up. If I win veto and we are not on the block then I wouldn't use it. If you are on the block and I'm not, then I would use it to take you off. Aaryn says we just need to talk to each other before we make big moves. Gina agrees. Aaryn comments to Elissa that the game is going to start getting crazy soon, now that we are down to the final 8. Elissa says I know, it's crazy that other seasons this happened so much sooner than us. Aaryn agrees.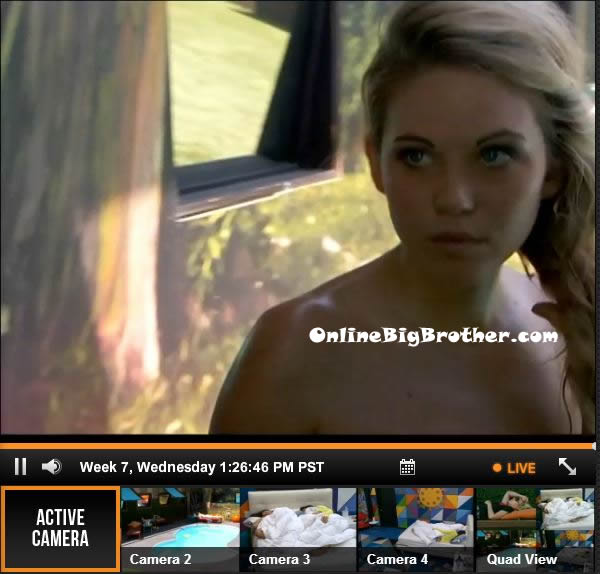 Use the Big Brother Live Feeds to FLASHBACK to SEE what they can't show you on TV: BB15 N!p Sl!ps / N*des
[polldaddy poll=7309671]