POV Holder:
Andy
Next POV
Aug 17th
POV Used
NO
POV Ceremony
Aug 19th
HOH Winner:
ANDY
Next HOH:
Aug 15th
Original Nominations:
Jessie and Spencer
Current Nominations:
Jessie and Spencer
Last Evicted Houseguest
David, Nick, Jeremy, Kaitlin, Howard, Candice, JUDD
Have Nots
Aaryn, Helen , GM, Elissa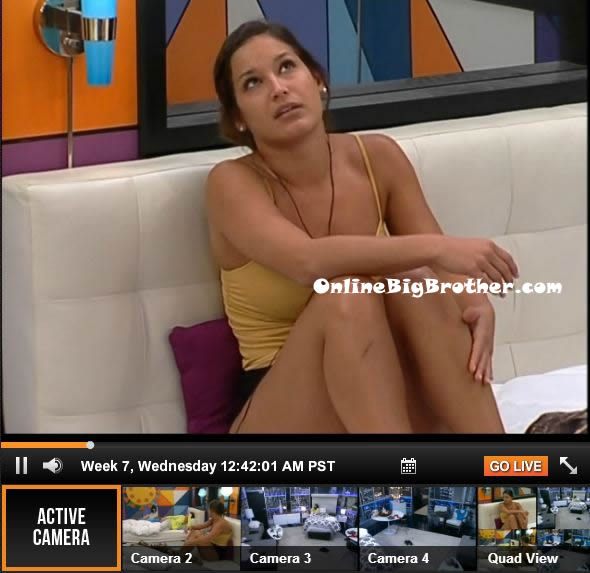 12:30am In the rainbow room – Jessie asks so what was the decision before the fight happened? Amanda says I always thought that it was supposed to be Spencer, at least that was Andy's plan and we planned to go with what he wanted. Amanda says if you can get the majority to stay then I would vote for you. Jessie says that Andy said that if it came down to a tie he would break it in my favour. Amanda says that she almost feels like its one eviction too late for her to work with Jessie. Amanda says from a personal standpoint, you dont help her game. Amanda says I know that you would want her out. Jessie agrees. Amanda asks if it was Jessie's plan to get me out, now's the time to tell the truth. Jessie admits that her plan involved Helen, Elissa, Amanda and McCrae. Jessie says now I feel like you are a new oasis, a new fresh start to work with because I don't think I could work with them anymore. Amanda says it is really you needing to talk to Aaryn and Ginamarie. Amanda says I am not talking to them for you, you need to do that. Jessie says okay thanks for listening. Amanda laughs and says good luck. Jessie says thanks I am going to need it. Jessie leaves. After Jessie leaves Amanda laughs with McCrae.

12:50am Helen, Andy, Gina, Spencer, Elissa are up in the HOH talking about random things like past competition and Survivor. The conversation turn to talking about Candice's eviction and Ginamarie's nomination / confrontation during the eviction. Gina says Candice had no class, get the f**k out of here. Spencer says he just never clicked with her, I tried to work with her but just couldn't. I tried to be nice to her just because of Howard caring for her. Gina asks did he really care about her though. Spencer says no it a love way but just that he wanted her to be comfortable in the house. Gina says but he wanted to f**k Amanda in the a$$, that doesn't tell me you cared for her. Andy says he would give $1000 of his stipend just to see what Judd and Candice are doing in the jury house. They talk about what the jury house is like. They all decide to head to bed and everyone but Andy head downstairs.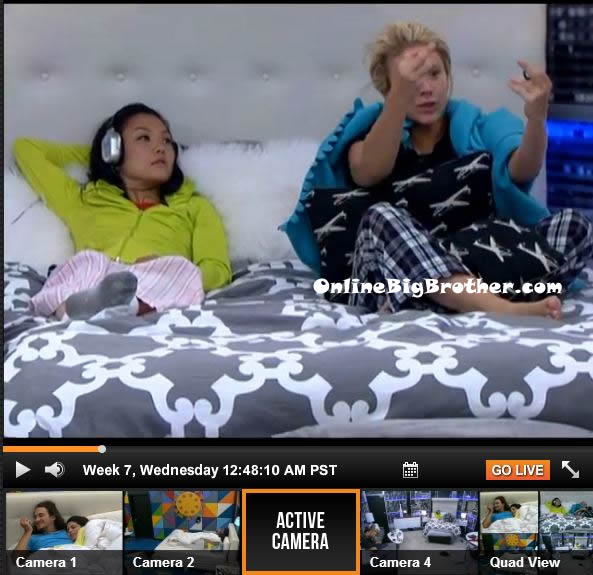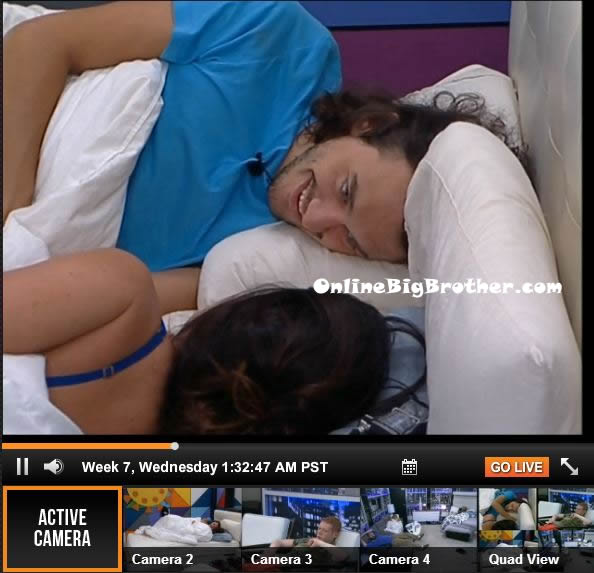 1:30am Amanda and McCrae are in the bedroom talking. Amanda says you and I are so different and have such different game play that I think we could get to the final four. Amanda says that people like McCrae better. Amanda questions if McCrae would even take her to the final two. McCrae says he would. Amanda says it doesn't matter anyways because when you get married all your money is our money. McCrae says that she would spend it frivolously – We need maids and monkeys butlers. Amanda say oh give me a break. Spencer joins them and asks if they had a fun time tonight. They say yeah. Spencer leaves. Aayn joins them. Gina comes into the room and finds a banana on the floor. She pretends its her pen!s and holds it outside her pants and then shoves it in her pants. Aaryn says ew.. that did not just happen. Gina then chucks that banana at Spencer laying in his bed outside the door. Gina then leaves and call Spencer a banana hammock. Aaryn goes to Amanda and McCrae and says you're the Enforcer (McCrae), you're the Mastermind (Amanda), Andy's the Agent and I am the Beast. (Survivor reference) Amanda says I like that! McCrae says I don't understand why I am the enforcer. Its ironical. Aaryn says that it's because everyone trusts you. They whisper about if Helen or Elissa get HOH then Aaryn would probably be the replacement nominee. McCrae says basically we have two weeks to go after and get Helen out. And if we vote to keep you everyone is going to know we are working with you so we would have to get her out the next week. Aaryn agrees and then leaves the room.
Big Brother 15 Live Feeds: FREE 2 DAY TRIAL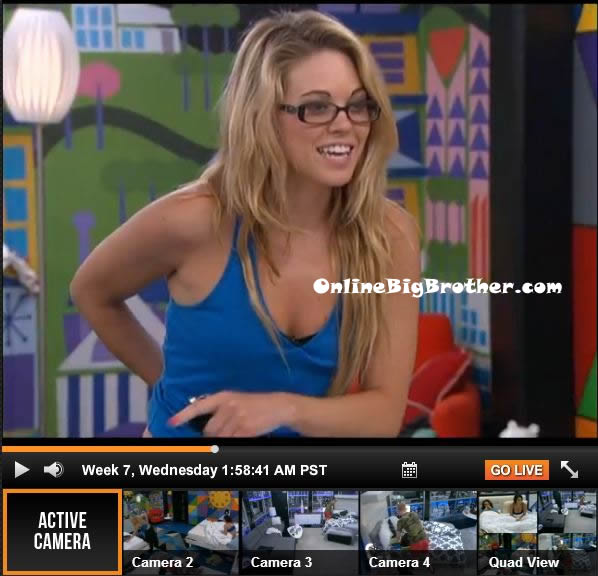 1:50am Jessie heads out to the backyard and puts her feet in hot tub to have a smoke. Andy joins her. Jessie says I have something that I have to offer. I know that I really messed up this week. Big Brother cuts the feeds. When they return – Andy says that he hasn't had a lot of alone time with people so I don't know where everyone stands. Jessie says that Spencer is laying low and everything that happened with the moving company is ancient history since my fight with Helen. Jessie says I just wanted to tell you want I was thinking of doing. Andy says no yeah I appreciate that and I can try and gauge people tomorrow too. Jessie says that she is sorry and that she was in rare form the last 24 hours, I think the house just literally got to me. I am sorry if I did anything to personally offend you. Andy says she didn't do anything to him and says that he feels like he missed most of it. Jessie says she is sorry because she should have had more respect for him as HOH. Andy says I told the house what I wanted but after last night I don't know. It's worth a shot. Jessie says I think the whole house could benefit from this. Andy says yeah well definitely talk to people and see what you can do. They both head back inside and head to bed.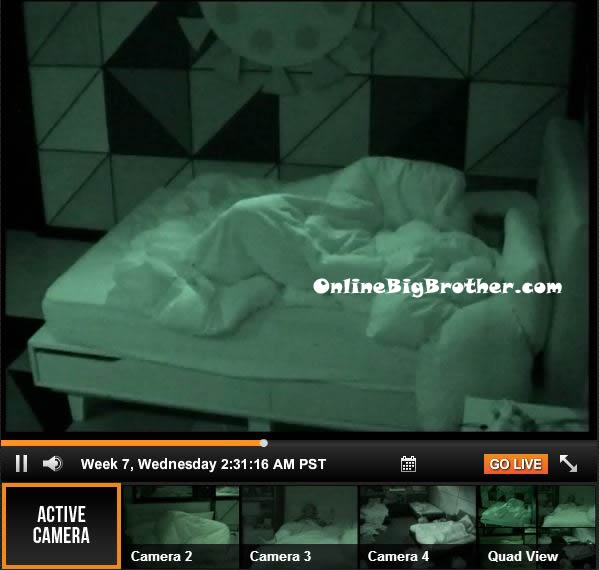 2:15am – 2:40am Amanda and McCrae are in bed making out. McCrae asks her what she is doing? You have a creepy face I think. Amanda says I am a newly wed. McCrae says he is going to leave his mic on, I feel like you want to talk. Amanda says I want to do something else, now take your shirt and mic off. Amanda asks what is wrong with you. McCrae says I am going to keep my mic on. Amanda says fine. Amanda says what is wrong with you right now, you seem like such a lug. Make out with me! You come to me I want you to make out with me. I want you on top of me. He gets on top of her and then she tells him to lay down. She grabs a condom and gets on top of him. They have $ex. Less than two minutes later she lays down beside him. Amanda says then says touch me, this isn't all about McCrae. They fool around some more. Amanda then says my hands smell like onions it's so gross. My husband, how does it feel to have a wife? McCrae says pretty crazy. She smells his hands and says he smells like onions too. Amanda says it's probably from me, it's weird.
Big Brother 15 Live Feeds: FREE 2 DAY TRIAL
6:20am All the house guests are still sleeping..
10:20am No wake up call yet. Still sleeping..
Use the Big Brother Live Feeds to FLASHBACK to SEE what they can't show you on TV: BB15 N!p Sl!ps / N*des
[polldaddy poll=7309671]