POV Holder:
?
Next POV
Aug 10th
POV Used
?
POV Ceremony
Aug 12th
HOH Winner:
ANDY
Next HOH:
Aug 15th
Original Nominations:
Current Nominations:
Last Evicted Houseguest
David, Nick, Jeremy, Kaitlin, Howard, Candice, JUDD
Have Nots
Aaryn, Helen , GM, Elissa
1:15am Aaryn and Ginamarie are sitting around the hot tub with their feet in the water. Aaryn says that she didn't see that coming. Gina says I know, no one did. Aaryn says I know he (Judd) was playing me, he was playing nice with everyone just in case the wind blew. Aaryn says that all the power moves that were made have been mine and I'm scared. Gina says yeah, don't worry you've got me and I've got you. It's just the people that were trying to switch things are going home. Aaryn heads inside to change into her bikini. Jessie heads inside as well to change and they come back out to get into the hot tub. Aaryn and Jessie talk in the Hot Tub. Aaryn says we survived making it to jury. We're guaranteed $13,000 but after taxes it will be like 6,500. Aaryn says I can't believe they (Candice & Judd) are in jury. Ginamarie comes over to put her feet in the hot tub. They talk about Pandora's Box and Aaryn tells Andy that if he gets it he has to open it or she will evict him next week. Jessie and Ginamarie discuss how Candice and her got into it during the Candice's eviction speech. Jessie points out that Candice felt she had to sit there and be quiet during the nomination speech. Gina says yeah she could have said something then, there are no rules you need to be quiet. Gina talks about Candice's comment about her living with her parents. Gina say yeah I broke up with my fiancé and lost my house. Gina says and who looks like the psycho now, not me! She does! And I put her up there on the block! And see the f**king key, I put you up there! How you like them apples! And I told her to get to stepping! Don't let the door hit you on the way out. Aayrn says that Candice said she respects everyone but me and you.
Big Brother 15 Live Feeds: FREE 2 DAY TRIAL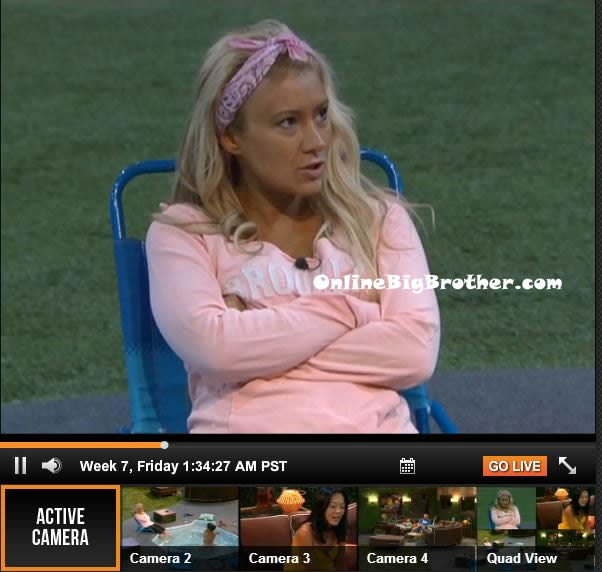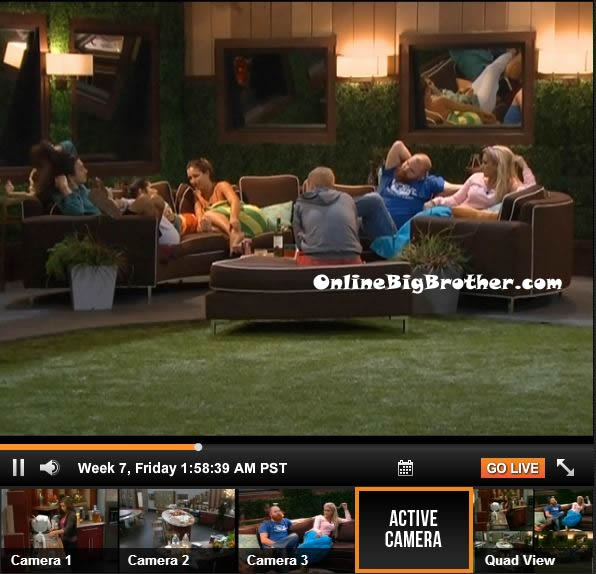 2am McCrae, Jessie, Amanda, Spencer, Ginamarie and Andy are all sitting on the backyard couch talking about random things like past seasons of Big Brother. Andy jokes and says so Helen, Elissa and Aaryn all went to bed early. That's a slap in the face and so they are on my radar this morning. They talk about how the nomination ceremony will be later in the afternoon. Andy laughs that his meetings with people will go pretty fast because I am not meeting with Spencer. Spencer says oh sh*t. Spencer brings up Kaysar Ridha from Big Brother 6. He says that he thinks they put a likable Muslim in the house because of everything going on at the time. I don't mean that to sound bad but you know what I mean.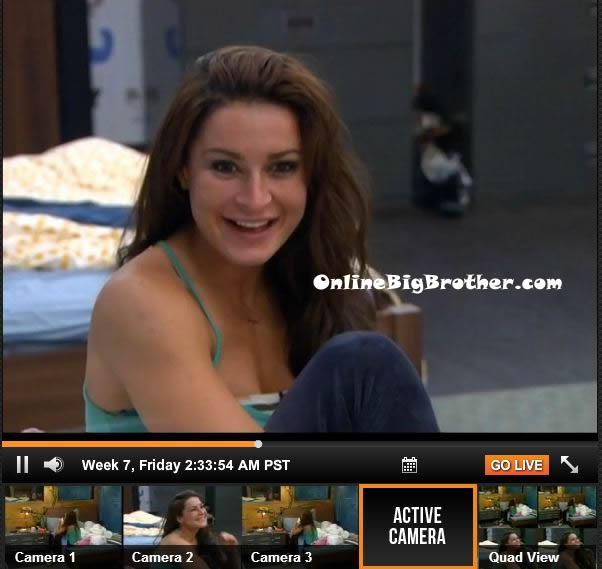 2:35am Elissa and Amanda are in the bedroom laughing and talking about Candice's keeping it real with Candi moment in the speech. Amanda asks if Elissa knew that Candice was going to do that during her eviction speech. Elissa says kind of. She was asking me if her words were fitting. Like if the word defamatory was the right word to use. Elissa says can you image Candice and Gina in the jury house together?! They laugh. Elissa says she is hilarious. Amanda agrees and says she was keeping it real, keeping it real with Candi! They both laugh. Elissa heads to the bathroom. Elissa and Jessie talk. Jessie asks if she thinks Helen has enough influence with Andy? Elissa says that she thinks Andy will do what the majority of the house wants. Jessie says she thinks she will be going up on the block again. FOR THE FOUTH F**KING TIME! Elissa tells Jessie she should start campaigning to stay then. Jessie and Elissa talk about how everyone needs to push for Spencer and Ginamarie to go up on the block. Jessie says that he should put up the last showmance in the house. Elissa says that she would be surprised if Andy would do that. I don't think there is any way Andy would do that though. Helen joins them. Jessie says if I go up against Ginamarie or Spencer then I will go home. Jessie says that she doesn't think Andy will make a power move like putting up Amanda and McCrae. Helen says she will talk to Andy about it, we may need to seize the opportunity to get rid of them. She says that she will talk to Andy tomorrow.
2:40am Out in the backyard – They discuss tonight's eviction and all the drama that happened. Spencer starts talking about how Ginamarie said to Candice as she was walking out the door that her mother doesn't even want her. Amanda says that she didn't think that was funny at all.
3am – 3:30am In the havenot room – Aaryn and Jessie are talking. Jessie says that she would not be here if Aaryn hadn't done that for her tonight. Jessie is pleading with Aaryn to help save her this week. Jessie hugs Aaryn and leaves the room. Elissa, Gina and Helen join Aaryn in the havenot room. Andy comes by to say good night to them. They all congratulate him on his HOH win. Andy leaves. Aaryn says that she is going to do whatever Andy wants this week. Aaryn says that Jessie is grasping at straws trying to get rid of Amanda and McCrae again this week. They talk about how Spencer is scary because they can't make him do what they want. They say that Jessie is more malleable. Aaryn says that she is going to talk to Andy tomorrow and only tell Andy to put up Spencer and Jessie. Aaryn says that she will probably push the target onto Spencer because she would rather Spencer go over Jessie this week. Aaryn says that she worries that if Spencer wins HOH she would come after her. Aaryn mentions that Spencer took it really hard when Judd was evicted. Helen says that she thinks Judd was the MVP and that he has been putting up Amanda. Elissa says that Judd was so pissed the girls were taking over the house. They talk about how Judd made final two deals with all of them. Aaryn says that Judd wanted her to win HOH and put Helen and Elissa up. Aaryn says that she knows Judd just wanted her to be the fall person. Helen says that she remembers Judd saying something recently that she thinks was a slip up. She says that he told her he wanted to throw this upcoming HOH because he didn't want to get blood on his hands. Aaryn says that Judd came up to her and kissed her the night of the party. Elissa asks Aaryn if it was a romantic kiss. Aaryn says no, not on my part! Helen says that she thinks Judd was trying to create a new moving company alliance with Howard and Spencer. Aaryn comments that Spencer is way more dangerous than Jessie is in the house. They talk about how there are only 3 guys left in the house. They all decide to go to sleep.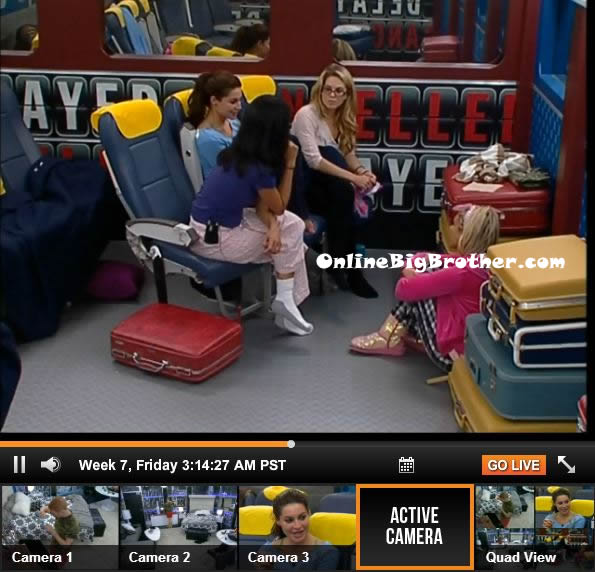 6:45am All the house guests are still sleeping..
Use the Big Brother Live Feeds to FLASHBACK to SEE what they can't show you on TV: BB15 N!p Sl!ps / N*des
[polldaddy poll=7309671]