POV Holder:
?
Next POV
July 26th
POV Used
?
POV Ceremony
July 28th
HOH Winner 1:
Frankie
HOH Winner 2:
 Zach
Battle of the Block Winner
 Nicole/Christine
Next HOH/ Next BOB
July 31/Aug 1
Original Nominations:
ZACH's Noms (Christine & Nicole) Frankie's Noms (JOcasta & Victoria)
Final Nominations:
?
Have Nots
Nicole, Caleb, Christine, Derrick
POV Players
?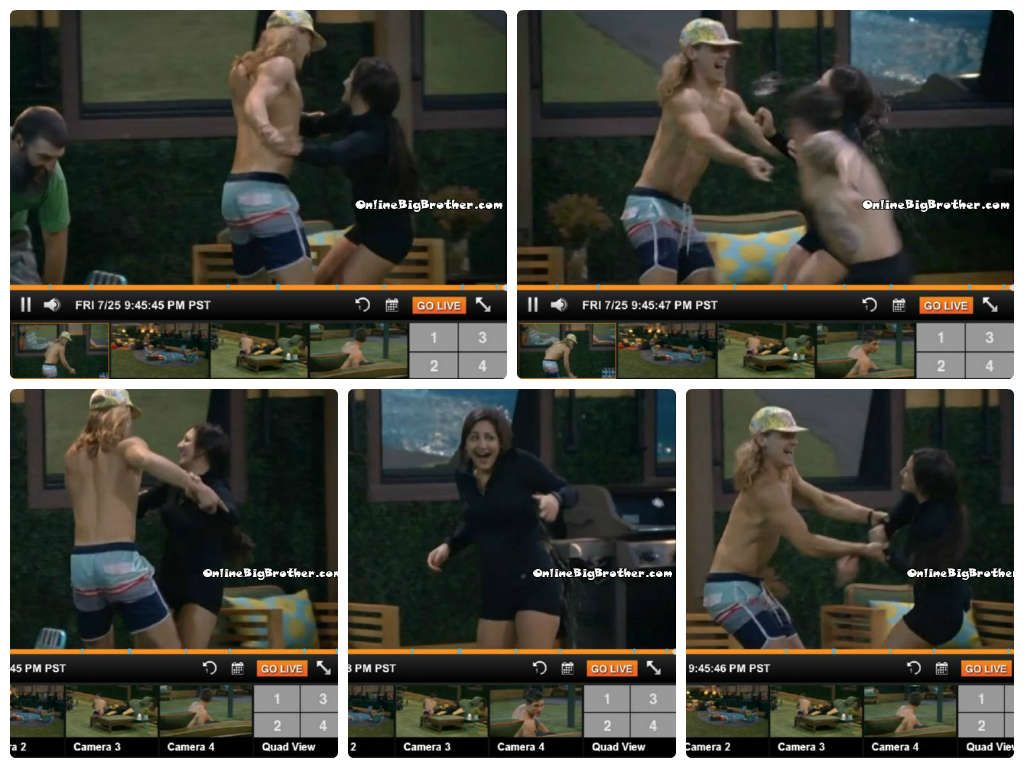 Victoria splashes some drink on hayden he runs her down and Caleb comes up from the back and splashes electrolyte drink on Victoria. (Not sure who started it could have been Victoria)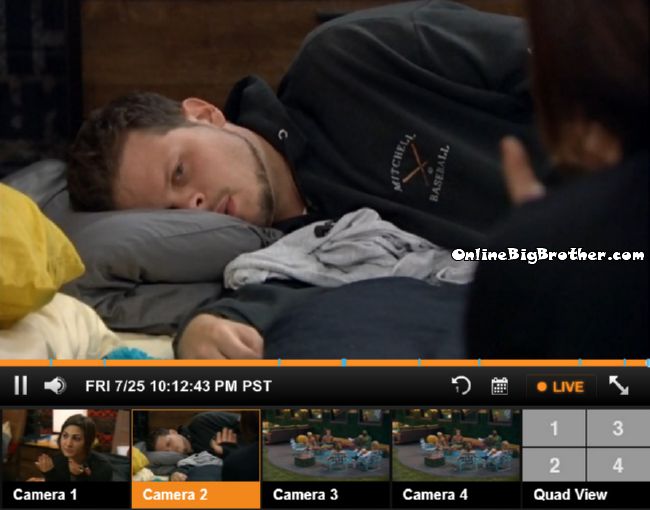 10:00pm Derrick and Victoria FIREROOM
Victoria doesn't want Caleb, Donny or Amber to win the power of veto. She mentions how Nicole gets jealous when she spends time with Hayden. Hayden is a brother to Victoria.
She asks him what people are going to do . Derrick doesn't know nobody ever talks game to him the only person that does is victoria. .
Victoria brings up Zach's nomination speech says it was crazy. Derrick explains that zach is putting on a show for everyone. He's putting on good TV he's probably in the diary room saying he doesn't mean all that shit he's just making it fun. Derrick says it's unfortunate that Zach's actions upset Nicole and Christine.
Derrick – you're going to be safe this week you're not going home
She hopes so she feels people who were close to her not long ago not her friends. " I'm just so emotionally drained "
Derrick says he didn't want to be picked agonist Frankie in the HOH "Obviously i wanted to win" he didn't care about the HOH power he just wanted to get off the slop the slop is the worst.
Derrick is going to go do his video for his family then head to bed. Derick doesn't want her to do anything, "You're on the block right now you have to be extra careful"
Victoria – I want to punch Frankie every time i see him.. Frankie he doesn't respect me as a player at all.
He puts victoria on the block 2 times "doesn't care about anyone but himself". Victoria thinks Frankie should have at least talked to derrick about his nominations because Derrick gave him the hoh. Derrick doesn't think he would give any names because that could come back to him. victoria appreciates that Zach told her the truth and didn't put her up, "He (frankie) doesn't care he's trying to avoid me right now.. he's buddy buddy with christine.. the other day he called me family .. how do you do that"
Derrick says sometimes people on the block campaign too much and talk too much look at brittany. Derrick stresses Victoria must chill.
He's instructing her to think positive and get ready to fight. He's not even fighting for his life tomorrow but he's still getting prepared he's conserving energy so he can win tomorrow for his family.
Victoria is worried Frankie will throw the veto. Derrick is certain Frankie won't.
Go back and watch everything from Day 1 with a Live Feeds subscriptionTry It Free! Subscribe now to the official BB16 Live Feeds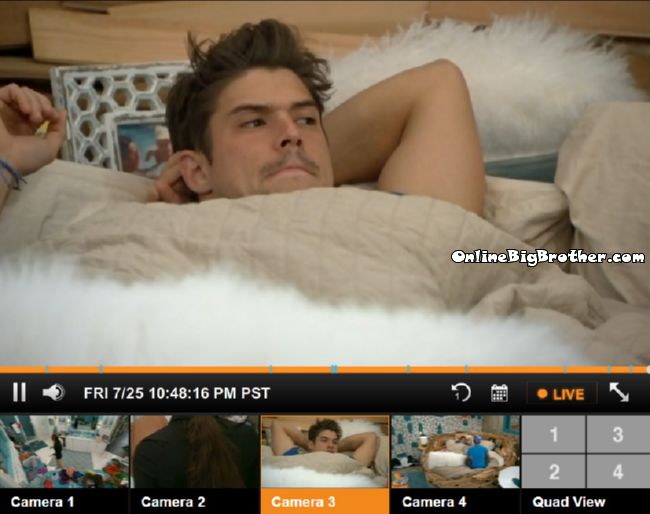 10:45pm HOH Frankie and Zach
Frankie wants to backd**r Amber but the vote has to be unanimous if it's a close one 4-5 he's f***. He can't have Beast mode cowboy after him during the double eviction week. "it would be the stupidest thing.. you can do it because you're b@lls out don't give a f*** but I can't'
Zach – If it ends up being Victoria and Jocasta we're sending Jocasta home right
Frankie – yes yes 100 percent no one is on board with that except for Amber and Caleb
Frankie -If given the opportunity to backdoor Amber I will do it but will do it with Caleb's blessing
Frankie is going to tell Caleb the honest to god truth about what Amber thinks about him. "I will tell him man to man.. just so you know I have been sheltering your feelings she doesn't give a f** about you and she talks sh1t about you we all know it's the truth the entire house knows it's the truth except for Caleb"
Frankie – Worst case scenario Amber wins it takes down Jocasta, I will try to convince her with every part of my soul not to use it
Caleb – well if she does use it who do you put up
Frankie – Donny
Zach – Donny goes home
Frankie – no Victoria goes home.. Donny is not going home
Frankie – if I back door Caleb…. it's just that he's not coming after me but Jocasta and Amber are
Frankie blames Brittany for Amber targeting him because of the stories she told Amber.
Zach -As long as Amber or Caleb don't win you are telling Caleb how Amber really feels about him ?
Frankie – yes
Zach – Yikes.. you got to do what you got to do though
Frankie tells him he has to repair things with Christine . Zach doesn't see the point she made at him for saying to nicole to not trust her which isn't true he never said that.
Frankie says he's lost Nicole's and Hayden's Vote because Nicole has a lot more pull on HAyden than he thinks he needs Christine back to recover votes in case he goes up..
Frankie says Jocasta and Amber are his main targets to him they are equal in priority
Frankie – you've seen how good AMber has been now that Brittany is gone
zach -She so fake man
Frankie – Ya she can win competitions over Jocasta
Zach – i'm in such a bad situation now I'm f***.. it's going to take luck for me to get to final 3
Frankie – that is why you need christine you really need her the way she votes is the way Nicole will votes and the way Nicole will votes is the way Hayden will vote, "You need Christine.. the easiest thing just for this week is mending fences I don't want your name going around this week"
Frankie says Christine and Nicole will put him up the way things are right now.
Frankei you don't have to go crazy i'm not saying s**ck her dck just make her feel comfortable to come up here for this week
zach ok dude
Frankie says if he backdoors Caleb nobody will be mad at him
Zach – it's a viable option
Frankie says he's a person fighting for him in this game it would be stupid to get rid of him
Frankie wants to turn Calb against Amber than Caleb literally will only care about Frankie "It's just a number for me"
frankie there is a large large large chance of Amber going home this week I want it to be in the best interest of the house.
Frankie – If i blindside Amber, Caleb, JOcasta and maybe Donny will come after me
Zach- not donny
Zach – Christine, Nicole and Amber want Amber gone solely for Cody's affection
Frankie says the only thing Caleb cares about is getting to the jury house with Amber.
Zach – if amber stay and wins you and I are going on the block.
Zach says if Jocasta wins she's putting up Frankie and derrick
up.
Zach – So if Caleb or Amber don't win Amber is going home.
Frankie – Yup
Frankie thinks Zach should do another one of speeches during the veto meeting
Zach – I'm going to sleep all day Sunday
Frankie leaves – Love you
Zach love you Bro
Zach comes back climbs in bed with Zach.
They think if they can survive this coming double eviction they are golden in the game (they just think it's double eviction no confirmation)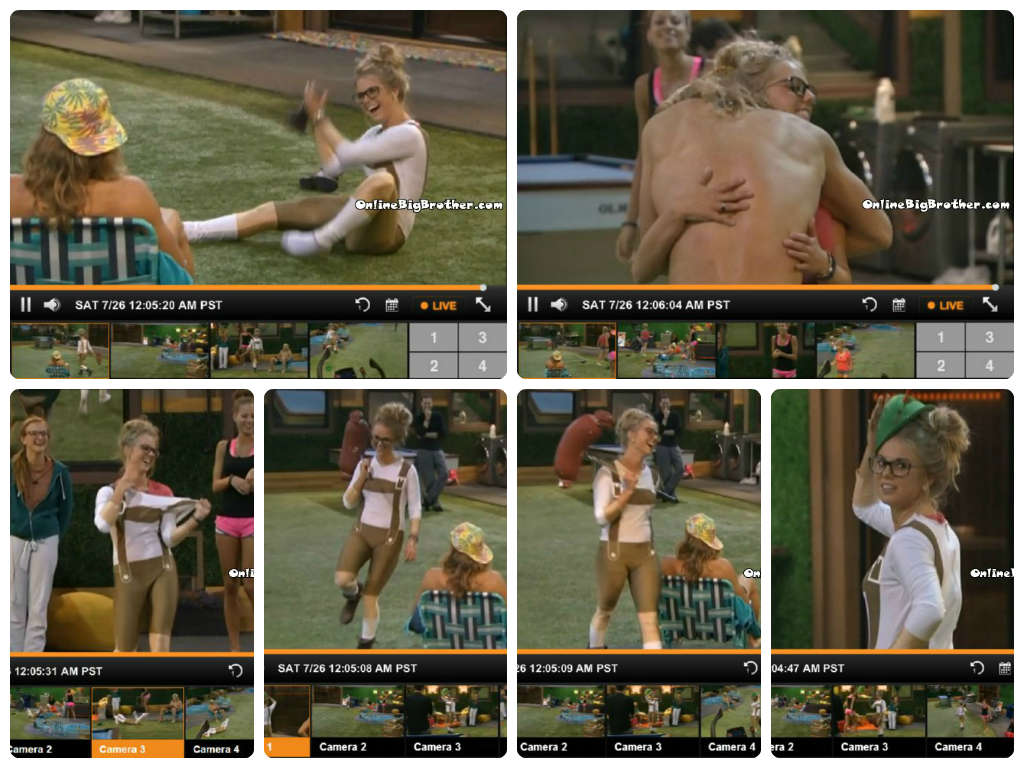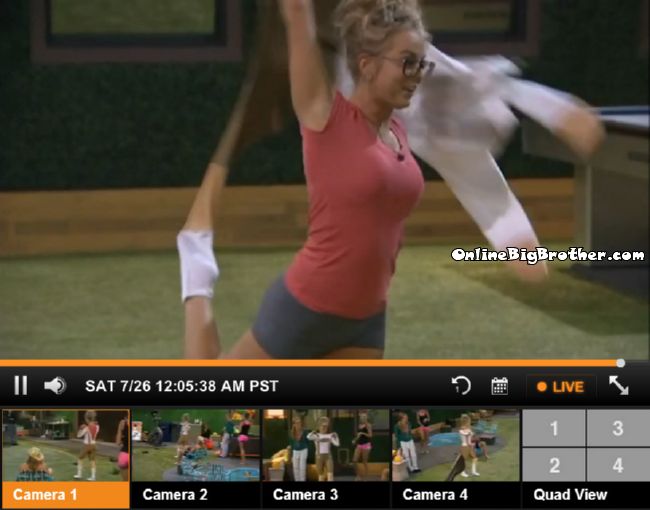 12:02am Germitard stripe show