POV Holder:
Victoria
Next POV
July 19th
POV Used
?
POV Ceremony
July 21st
HOH Winner 1:
Frankie
HOH Winner 2:
 Cody
Battle of the Block Winner
Jocasta/Amber
Next HOH/ Next BOB
July 24/July 18
Original Nominations:
Brittany/Victoria(Cody) Jocasta/Amber (Frankie)
Final Nominations:
?
Have Nots
?
POV Players
Cody, Brittany, Victoria, Caleb, Nicole, Zach
TEST out the Big Brother 16 Live Feeds for FREE with the 2 Day Trial!
6pm Up in the HOH room – Derrick, Brittany and Cody are hanging out. Frankie joins them. Derrick and Cody tell Brittany that they will be out there with her when she's kicking her 2400 goals. Brittany says I would die if I had to walk out the door in a Germ-itard outfit! I would have walked out the backdoor. Frankie says he was excited to see Nicole's Germ-itard outfit but now that she isn't getting it till later he might just go to sleep. Brittany complains that she stayed up all night and only got 30 minutes sleep this morning. Frankie says oh my god! Frankie asks her if she's a good kicker? Brittany says no. Frankie complains that his thigh hurts. Brittany says that she knows some one who gives good elbow jobs. Frankie says over the pants accidental elbow jobs. Frankie leaves. Cody says that he's heard a lot about the girls banding together and getting out all the guys. Brittany says if I won HOH I would put up Victoria, Christine, Nicole and I don't know who the other would be. Cody says we were tight. Brittany says Zach was telling me I needed to be malicious and make up lies. I am not doing that. Cody says that Zach is a wild card I don't tell him anything. Brittany says good. That would probably be the fourth person I would put up. Amber joins them. She complains that her "eye is peeing, its leaking on its own". Brittany asks is it pink eye?! Amber leaves. Cody tells Brittany I just didn't want you to hate the f**k out of me. Brittany says I don't hate you. Brittany says I just feel that I came into the house and was already by myself. Cody says the more you didn't talk to me the more I believe the things people were saying. Cody asks why do you trust Amber? Brittany says I didn't until recently. Cody says the only thing with Caleb is he is so straight up and honest.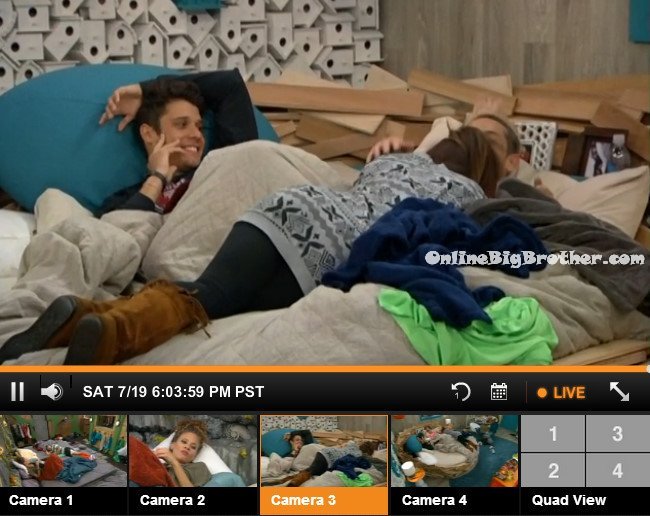 In the earth room – Caleb is talking to Amber. Caleb tells Amber that he thought about taking the trip and that he would tell Amber he would take her but that he figured she would say no. Amber says I was born in Germany I would have loved to go. Caleb says hey 5G's we could go on a cruise together! Caleb says he wants his next relationship to be where god put here there in front of him for a reason. Caleb says that he wants to be with someone that will fight and do anything to break down his guard. I have a huge guard up and I want the girl I want to be with to want to fight so hard to be with me. Amber says that in her last relationship she did that but that she messed up and it just didn't work out. Caleb says that he last girlfriend hates him and won't even talk to him. Big Brother blocks the feeds.
Watch the ENTIRE SEASON of Big Brother 16 for ONLY $26.99 – TRY it For FREE!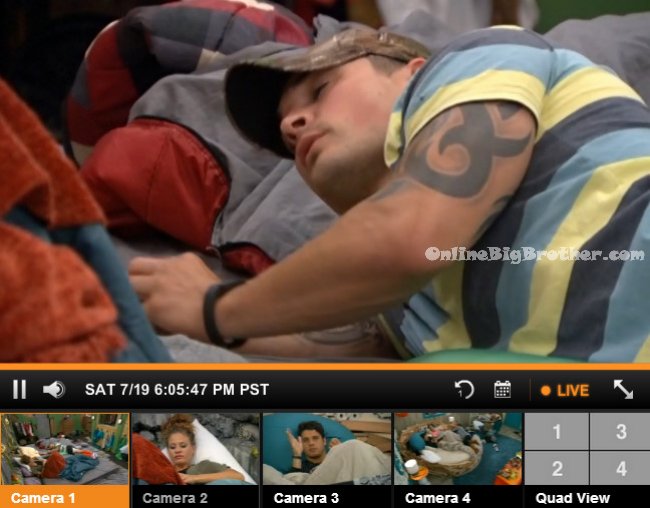 6:20pm In the kitchen – Nicole, Christine, Caleb, Donny, Frankie, Derrick and Amber are talking. Amber asks how long Nicole has to wear her the Germ-itard for? Nicole says 7 days. Caleb talks about how he wished he had know what the cost of the Germany trip was because then he would have taken it. The camera switch to Nicole, Derrick and Hayden in the fire room. Derrick says he really hope Donny goes up on the block. Cody has to put him up. He will put him up. He won't make a deal with her because then it would look like what Devin did. Derrick says she would be campaigning for Caleb or Zach to go up because they won stuff. Regardless of who he puts up, we have the numbers. Nicole realizes that she will be in the Germ-itard suit for the photo booth again! Hayden says you're just living big brother. Zach and Frankie join them. They talk about how Brittany is up there getting Cody to fall in love with her. Nicole says oh no. Frankie says look at Devin he hated her and after 2 hours up there he was in love with her. Frankie tells Zach you're the biggest a$$hole in this house go up there and make yourself comfortable! Zach says let me put my a$$hole face on, oh no wait it's already on!

6::35pm – 6:50pm Zach heads up to the HOH room. Oh what's up Brittany fancy seeing you up here! How about this every time you miss a goal I laugh in your face! Cody says you're an a$$hole. Brittany says how about this when you walk out that door I laugh in your face! Zach says I'm not sending you home. You've got my vote. Cody tells Zach to knock it off. Zach says Brittany you're the reason I am taking a beautiful girl to Germany and I thank you! Brittany leaves. Cody tells Zach that he is being an a$$hole and I don't like it. It's not nice. She knows she is going home and you know her personality she will go and cry about it. It's not nice. Zach says they told me in the fire room to come up and be an a$$hole. Cody asks who did? Zach says Frankie, Derrick, Hayden. Zach says okay I'll stop. Frankie joins them. Frankie asks if Cody is in love with Brittany now. Cody says no. Did you make a deal with her? Cody says no. They talk about how the get a $1000 a week in stipend money. They think the week after next will be a double eviction because that's when people would start going to jury. Cody tells Zach just don't be a d**k to her. She is going home and there's nothing that will change that.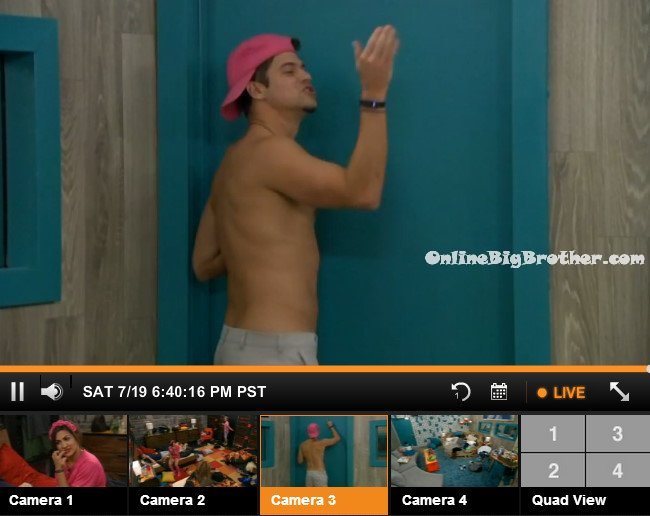 6:55pm – 7:15pm Cody is worried about having to tell Donny that he is putting him up. Derrick tells him he'll be fine. Zach says you could make a deal with him. Cody says that will never work. Zach says what about this crazy idea.. I go up to Donny and tell him that I got wind he was going up and said that I would volunteer to take his place. Derrick says no way. We're not putting up an alliance member because people will vote you out. Zach says okay. Zach says think about how good of a player you would be if you convinced Victoria not to use the veto. The conversations turns to talking about how annoying they think Caleb is. Cody says he wants to stab his eyes out when he talks. Cody asks who do you think Amber will try and get me to put up. Frankie says I swear to god that if Caleb had won the veto, Amber would have convinced him to use it on Brittany. Its better that Victoria won it. Cody brings up how after Nicole nominated Donny he said that he trusts her more than anyone. Derrick says exactly it all in how you word it. Derrick laughs CALZONE! First one out in a soccer challenge! Cody says that Amber looked f**king hot today!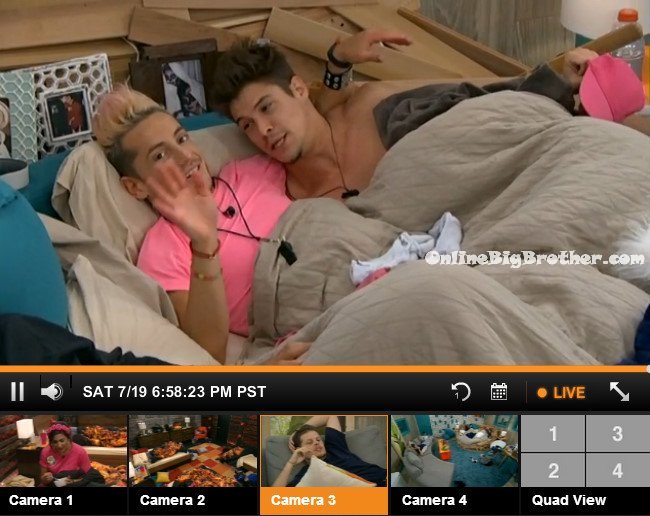 7:20pm In the kitchen – Jocasta says that it didn't make sense for Nicole not to take the veto. Caleb says that she was up there trying to make a deal with Nicole to say that if I don't take this from you will you pull me off. Caleb says that Big Brother came over the loud speaker and said you can't make deals. You need to pick one. Caleb says and I told Victoria to do what is best for her game. They asked me Caleb do you want the veto and I said I don't want it. I am safe, I don't need it. Jocasta says if Nicole had taken the Veto then she wouldn't have gotten the unitard. Caleb says it worked, I showed up and won something. I didn't win the veto but I could have. When it comes down to it I really won it all, if I would have wanted it. The person that needed it got it. Caleb says at the end of the day I won 5G's and I am going to go home and finish the chopper I always wanted to finish.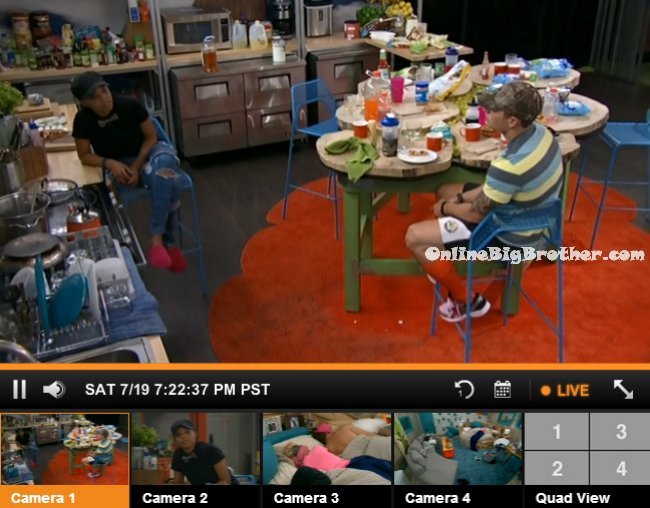 Caleb comes up and tells Zach I will give you 5G's for the Germany trip. Zach says I will do it! I am not going to go to Germany! Caleb says I am going to ask in the diary room if we can switch. Derrick says because Amber is from Germany? Caleb says yeah I would take her. Zach says I will give you a verbal agreement that I will do it. Zach says I want to use the 5 stacks for a cheap Prius. They shake on it. Zach says I am making an agreement with you, I will do it but I might not. Zach says I don't want to go to Germany. If you go you get the girl in the process. Derrick says yeah if you take her to Germany you are definitely getting laid!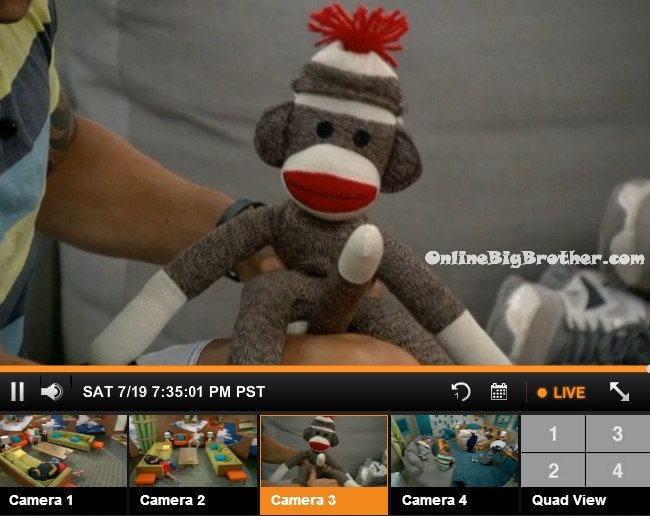 7:30pm – 7:40pm Cody is called into the diary room – Heading into the diary room he says that he's worried his punishment (Cody gets kicked in the a$$ every hour for 24 hours) is starting now. When he comes out of the diary room he says that its going to happen when the lock down is over and they want everyone out there for the first one. Cody says when it happens you're going to know because its going to be loud.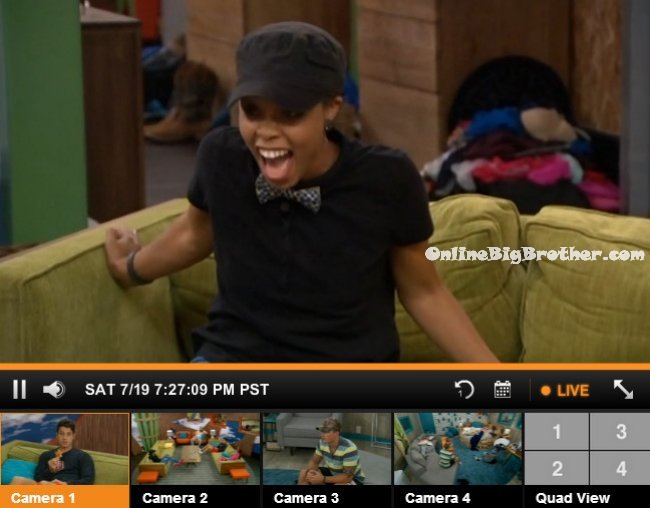 7:45pm In the fire room – Jocasta is talking to Nicole asking why she didn't take the Germany trip. Hayden says yeah Germany is the number one spot I want to go to in the world and she had the opportunity to make that happen. Hayden pretends to be Nicole and talks in her accent. Jocasta asks Hayden would you date Nicole outside the house? Hayden says yes. Jocasta asks Nicole and she says yes but I don't want him to know it.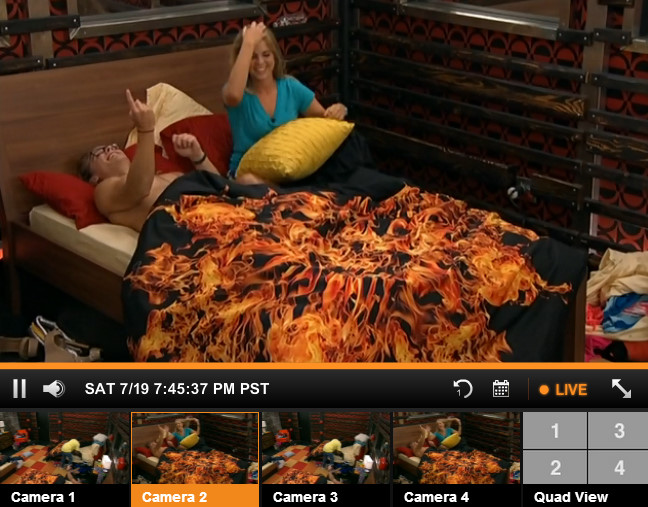 In the kitchen – Frankie, Caleb, Cody, Victoria, Brittany, Christine, Donny and Derrick are talking. Frankie says that he asked if he could use Cody's butt kicker and they said no. Just think in the next episode they're going to have a montage of you getting you butt kicked.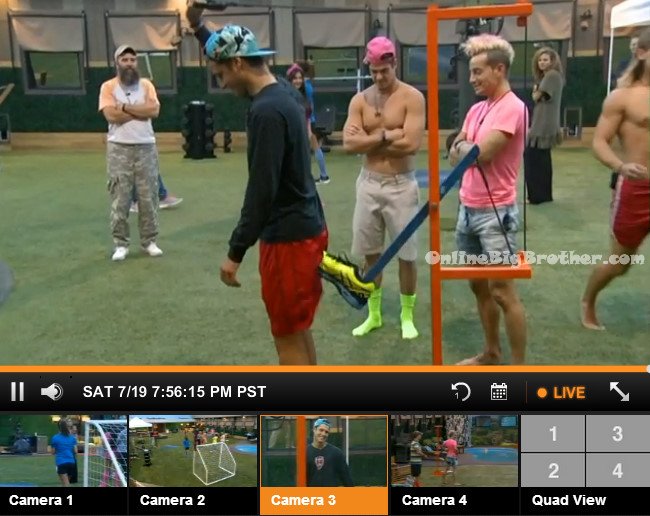 7:50pm – 8pmBig Brother opens up the backyard and all the house guests pile out side to see Brittany and Cody's punishments. Brittany has to kick 2400 goals over the next 24 hours. Cody has to have his butt kicked for 24 hours.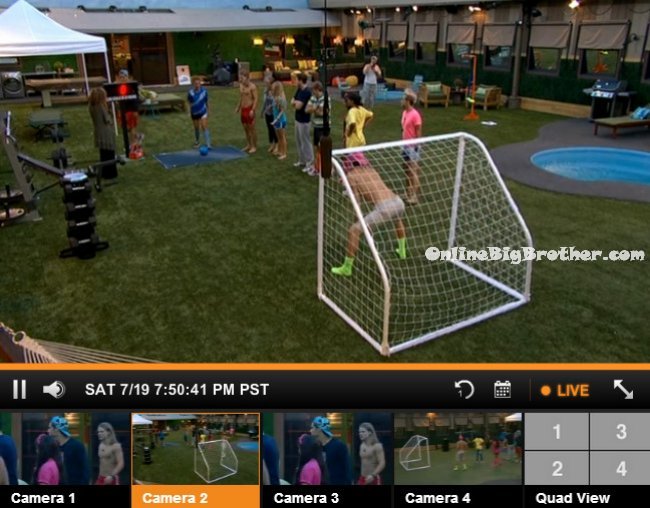 Alliances (Some Of these are dead)
Zankie = Frankie/Zach
Bomb squad = Caleb, Amber, Frankie, Derrick, Cody, Christine, Zach, Hayden
Team America = Donny, Derrick, Frankie
Nicotine = Christine/Nicole
Not a showmance= Hayden/Nicole
Los Tres Amigos = Derrick, Cody, Zach
The bottom Feeders = Derrick/Nicole
We hate Devin = Christine and Zach
Outsiders = Brittany, Victoria, Jocasta, Donny
Old timers = Jocasta/Donny
Stalker = Caleb/Amber
Quad Kings = Derrick, Zach, Cody and Hayden (still being built)
Trilogy = Nicole, Christine & Hayden
The Detonators = Derrick, Frankie, Zach, Christine, Cody
Final 2 Deal "The HITMEN" – Cody & Derrick
[polldaddy poll=8194643]
[polldaddy poll=8192326]