POV Holder:
Victoria
Next POV
July 19th
POV Used
?
POV Ceremony
July 26th
HOH Winner 1:
Frankie
HOH Winner 2:
 Cody
Battle of the Block Winner
Jocasta/Amber
Next HOH/ Next BOB
July 24/July 25
Original Nominations:
Brittany/Victoria(Cody) Jocasta/Amber (Frankie)
Final Nominations:
?
Have Nots
?
POV Players
Cody, Brittany, Victoria, Caleb, Nicole, Zach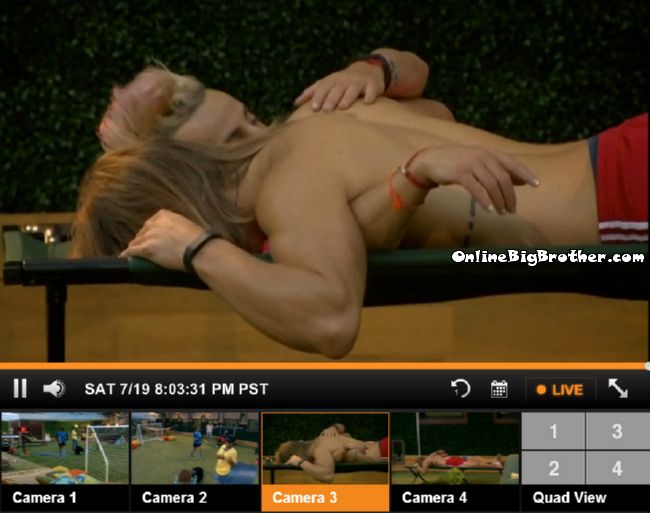 Hayden – You smell good
Frankie – It's my deodorant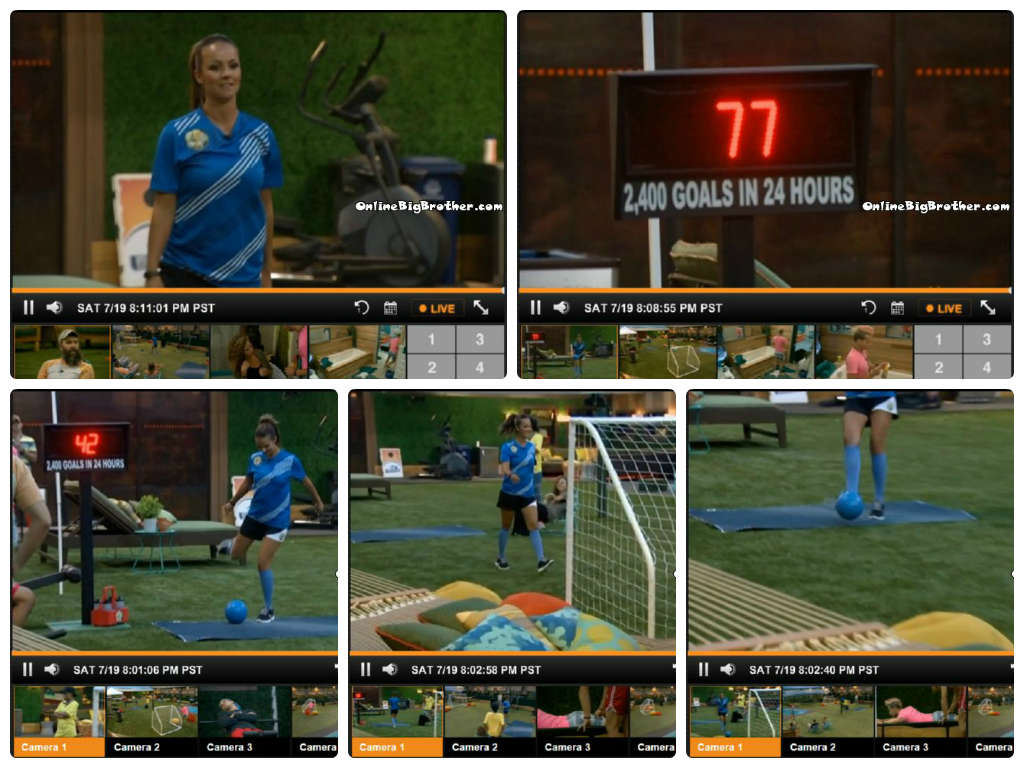 8:10pm Brittany working on her penalty 2400 goals in 24 hours. If she fils she doesn't get to play in teh next Power of Veto competition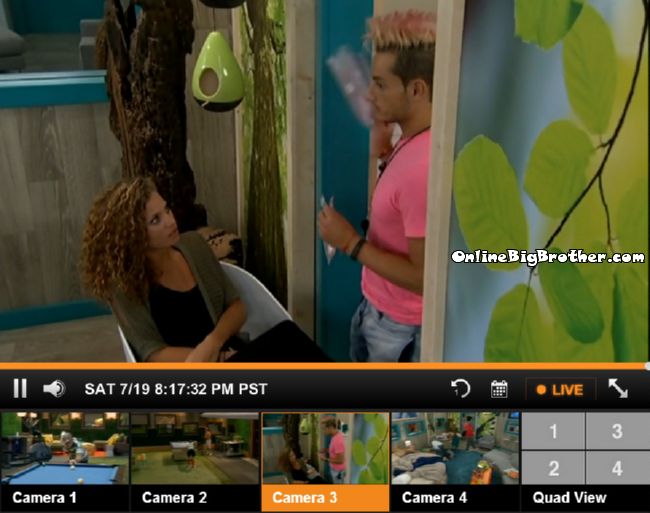 8:09pm HOH Frankie and Amber
Amber says she heard people in her alliance are "Throwing " her name out there. Frankie says it's because of Brittany being the instigator.
Cody comes up, AMber mentions her name is being "Thrown out here" Cody asks if this has to do with Caleb. Amber says no. Amber says she only sees her and CHristine as the girls in the alliance and Christine is sitting back and taking it easy. She feels like she's doing more than CHristine and taking all the risk.
Frankie says that Christine will start pulling her own weight when there's a mental challenge, She'll be the one running around scrambling.
Amber sees all the guys talking and when she's in an alliance she doesn't want her name being thrown out "It hurt my game as well"
Frankie points out Amber is good with people outside the alliance this is why she doesn't hang out with the alliance as much. . Amber says of course it's to benefit the alliance.
Frankie doesn't want her to freak out over this. Amber says she's not freaking out she's just not getting it she never mentions other peoples names and their games to harm them.
Frankie tells her the 8 person alliance is broken up into two pieces, Zach, COdy, Christine and Hayden on one side and Amber, Caleb, and Frankie on the other.
Frankie – "I think Derrick is probably in the middle"
Frankie mentions if Zach wins HOH he's not safe. .
Frankie instructs her to cultivate her relationship with Caleb
Amber asks Frankie how close he is with Zach.
Frankie says Zach as a friend they are buddy buddy
Amber – In the game
Frankie – I don't trust him
AMber – he's already thrown us under the bus that is what scares me.. He's hurting Cody's game as well
Amber asks him who they are voting out. Frankie says Brittany.
Frankie says next week if it's double eviction it'll be Victoria or Jocasta . Frankie warns her once those two and Donny are gone it's going to be literally 2 groups of 4 brawling it out and the person in the HOH will have all the power. Frankie adds every week there will be a HUGE game move backstabs and blindsides every week but they have to get there first.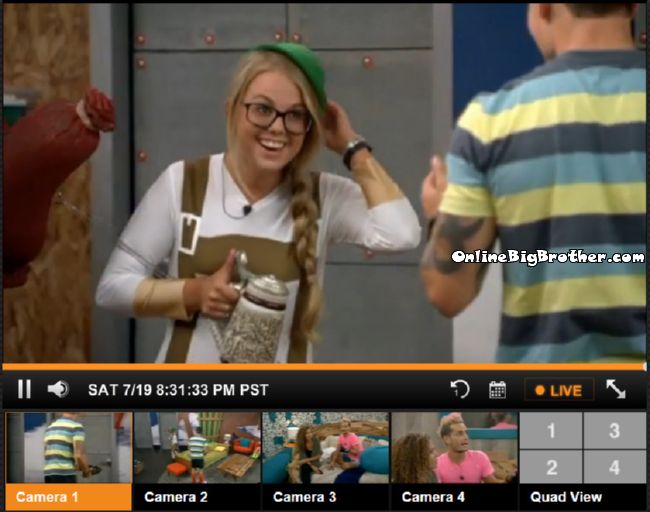 Nicole gets the GermiTard There's beer in the stein.
With a live feed subscription you can go back and rewatch all the events we highlight in this blog.
Try It Free! Get 24/7 access to the house for 48hrs before you decide!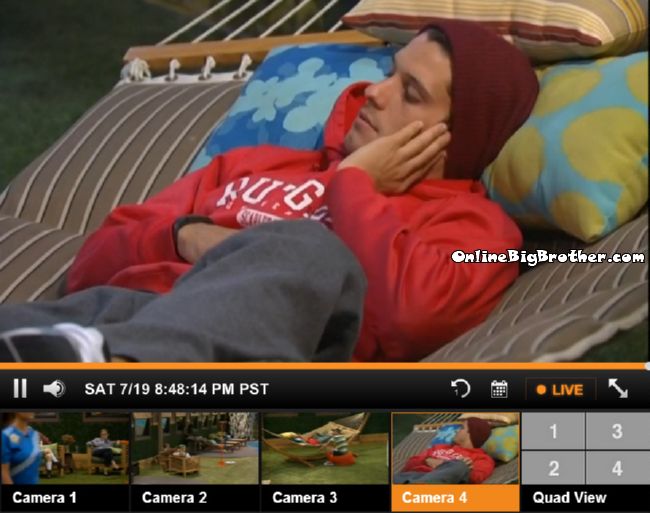 8:47pm Caleb and Cody
(Prior to this conversation Caleb talked to Frankei in the HOH told him id Brittany can complete the penalty she deserves to stay. Frankie tells her no way is it going to happen)
Caleb saying it's a shame they have to send home the person who is fighting so hard to stay in the game. Cody agrees says this is the hard part of the game.
Caleb says if Brittany make the 2400 goals it really show you something makes you feel bad. Caleb points out how she's a mother of 3 kids and to fight so hard.
Cody says Brittany is going to get to a 1000 and take break.
Cody says Brittany told him "what do you think my dad thinks of you right now"
Cody – That f***ing sucks
Caleb doesn't understand why she would say that.
over the speakers it says Brittany has 23 hours to go
Caleb – she's supposed to do 100 an hour and she's already at 250
Caleb would hate to have a player like Victoria make it far, "Victoria and Brittany who would you have sent home"
Cody – Victoria 100%"
Cody says Amber did tell him she would be fine going up against Brittany because she knew she would be safe. (Amber told Caleb she never said that)


8:56pm The Gmeritard tells them her stein will re refilled with Beer or Apple juice as long as it's beer coloured "I think they will give me apple juice most of the time.." . She takes a drinks "It's not light is it.. ugh"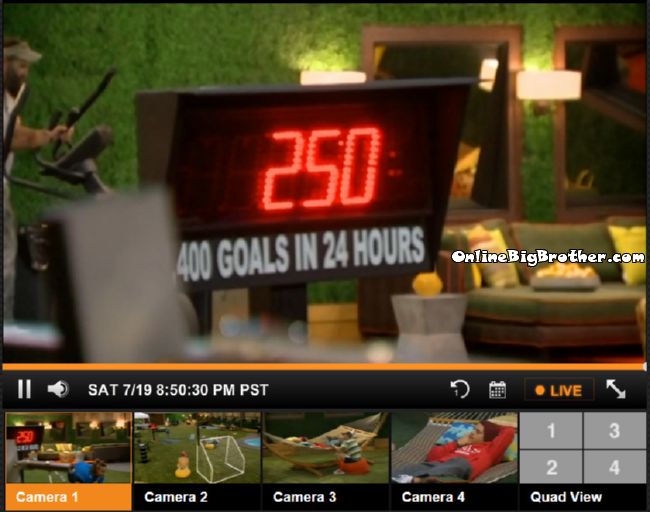 8:50pm 1 hour down 250 Goals scored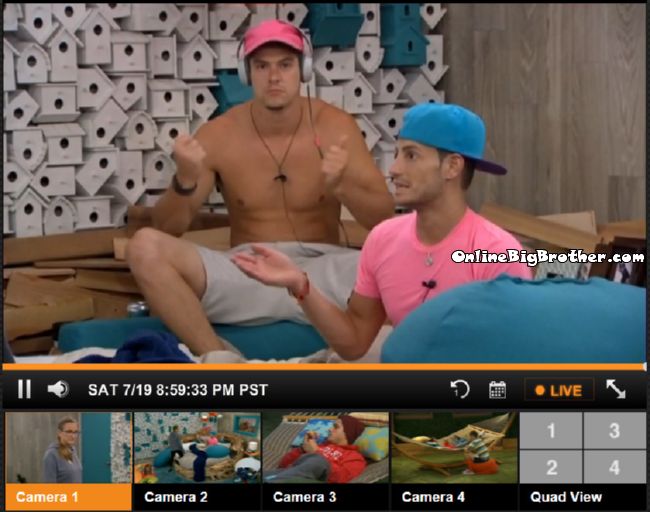 8:57pm HOH Frankie, CHristine and Zach
Zach saying "They" are doing whatever it takes to keep Brittany
Christine says the girls in the house are catty as hell she is so tired of them.
Frankie says he talked to Amber and told her she's making alliance with people outside the 8 that is why people are freaking out.
Frankie and Zach both mention Caleb going around saying if Brittany makes the 2400 goals she deserves to stay.
Frankie – "I said Great and she's leaving"
Frankie told Caleb if you are campaigning for people against eh 8 you will be a target. Zach brings up that Caleb told him "Brittany isn't coming after us she's against Christine and Nicole"
Frankie – Christine is in our alliance you dumb F***"
Frankie is telling everyone "Anyone who votes outside the 8 persona alliance becomes a target"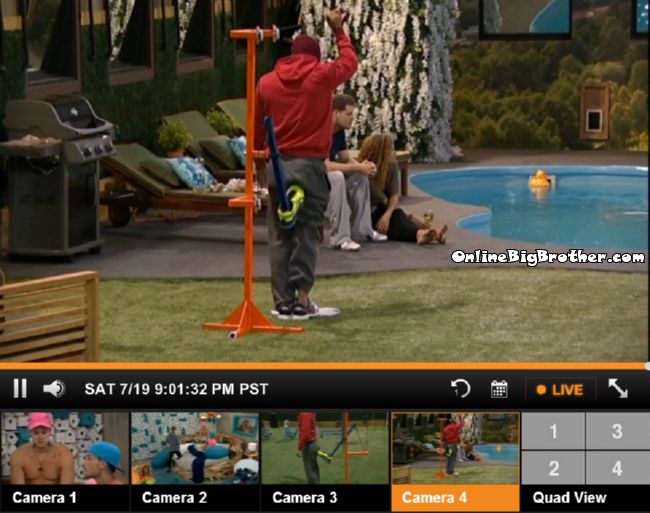 9:02pm Cody gets called to do a penalty kick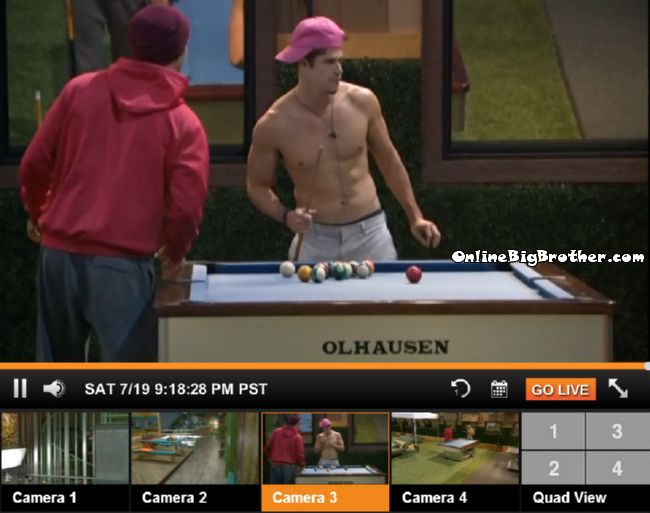 9:19pm POOLTABLE Zach and Cody
Cody is pissed at frankie, say cody is trying to get out of this week with no blood on his hands he's talking to Amber and putting the blame on other people.
Frankie threw cody under the bus saying to Amber the reason she went up is because of Cody.
9:33pm Backyard Caleb and Derrick
Caleb says Amber told him she's not voting Brittany to go home. Caleb told her than she's going to be the target next week if that happens. Amber wants more girls in Jury because it will help her in the end.
Derrick – "Bingo"
Caleb says In ambers defence she thinks we will all gang up on her and she's gone.
Derrick thats true but would she be in the house if they weren't here.
Derrick says he would love every single person in the house to get the money but that is not the case. "Amber could win the whole thing.. She may.. I'm saying she may"
Caleb doesn't' think the jury will give the win to Amber over him.
Derrick says he only trusts Amber because he trusts Caleb. Derrick adds if Caleb left in the game derrick would stay loyal to her because he knows that is what he wanted.
Caleb – "Me, you, Amber.. really the only three I trust.. Really"
Derrick – "If he puts up who I think he is putting up .. Donny.. she won't have the votes he deserves to be here he's a beast"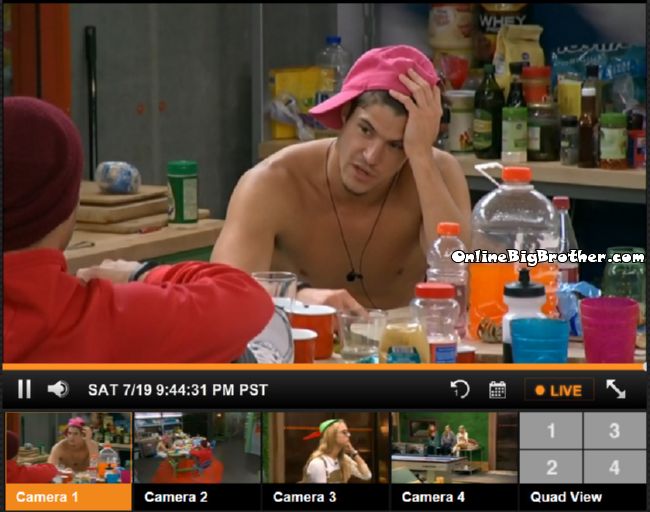 9:44pm Kitchen Cody and Zach
Cody says Frankie is throwing his name under the bus to people outside of their 5. Cody adds Amber did say to him she didn't mind going up as a pawn. points out that Frankie put AMber not Cody he's trying to put the blame on COdy.
Zach can't stand Amber calls her a Snake.
Cody "How much more of a Snake is she than Frankie.. like in that situation how much more of a snake"
Zach doesn't think Frankie did it on purpose.
Cody – Oh my God Zach.. c'mon don't try to play.. he smart he's not stupid.. he's so smart he knows exactly what he's doing"
Cosy – "He's trying to playing it like he's Mr Goodguy"
Alliances (Some Of these are dead)
Zankie = Frankie/Zach
Bomb squad = Caleb, Amber, Frankie, Derrick, Cody, Christine, Zach, Hayden
Team America = Donny, Derrick, Frankie
Nicotine = Christine/Nicole
Not a showmance= Hayden/Nicole
Los Tres Amigos = Derrick, Cody, Zach
The bottom Feeders = Derrick/Nicole
We hate Devin = Christine and Zach
Outsiders = Brittany, Victoria, Jocasta, Donny
Old timers = Jocasta/Donny
Stalker = Caleb/Amber
Quad Kings = Derrick, Zach, Cody and Hayden (still being built)
Trilogy = Nicole, Christine & Hayden
The Detonators = Derrick, Frankie, Zach, Christine, Cody
Final 2 Deal "The HITMEN" – Cody & Derrick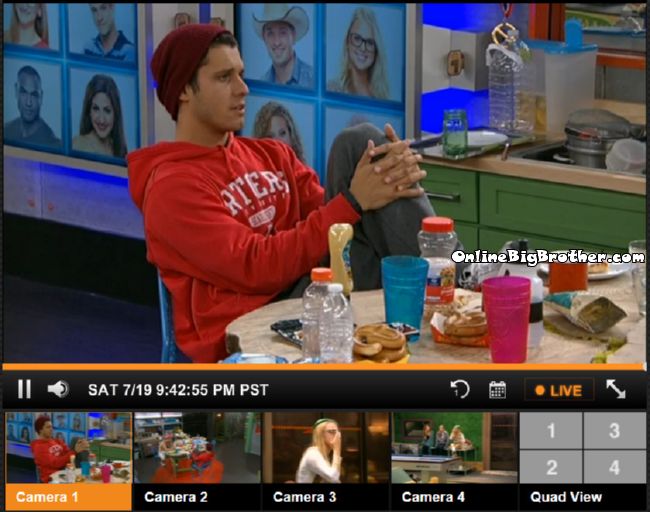 [polldaddy poll=8194643]
[polldaddy poll=8192326]