POV Holder:
Victoria
Next POV
July 26th
POV Used
Yes
POV Ceremony
July 28th
HOH Winner 1:
Frankie
HOH Winner 2:
 Cody
Battle of the Block Winner
Jocasta/Amber
Next HOH/ Next BOB
July 24/July 25
Original Nominations:
Brittany/Victoria(Cody) Jocasta/Amber (Frankie)
Final Nominations:
Brittany & Donny
Have Nots
?
POV Players
Cody, Brittany, Victoria, Caleb, Nicole, Zach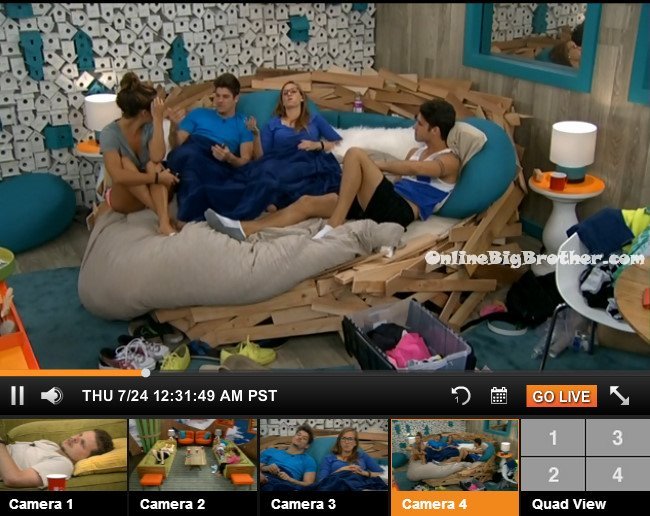 12:30am – 1:20am In the living room – Frankie and Derrick are talking. Derrick says I love you buddy. Frankie says we will be friends inside and outside the house. The cameras switch to the HOH room where Christine, Cody and Zach. Christine tells them that Victoria admitted to liking Hayden. Zach says I am starting to really sweat Victoria. I think I have a better chance with Amber. They tell him he has a better chance with Victoria. Zach says I used to not like Victoria but after our blow up we've become really close. I am not going to say I like like Victoria because I like like Amber right now. Zach says I just feel like Amber and I are prefect for each other. Brittany says Chirstine and I will hook up before you and Amber do. Zach says that's probably true. Brittany tells him he should jump in bed with Amber right now and start nibbling on her ear. Zach says I actually love Amber. Christine says stop why is everyone always talking about Amber. Cody says I don't! Zach says I would spend every dollar in my Chequeing account for her but that's after I transfer most of my money from Chequeing to my Savings Account. Brittany says if Big Brother gave us enough alcohol it might happen. The conversation turns to talking about if next season would be Fans vs Favorites or Favorites vs Villains. Derrick joins them.
Watch the ENTIRE SEASON of Big Brother 16 for ONLY $26.99 – TRY it For FREE!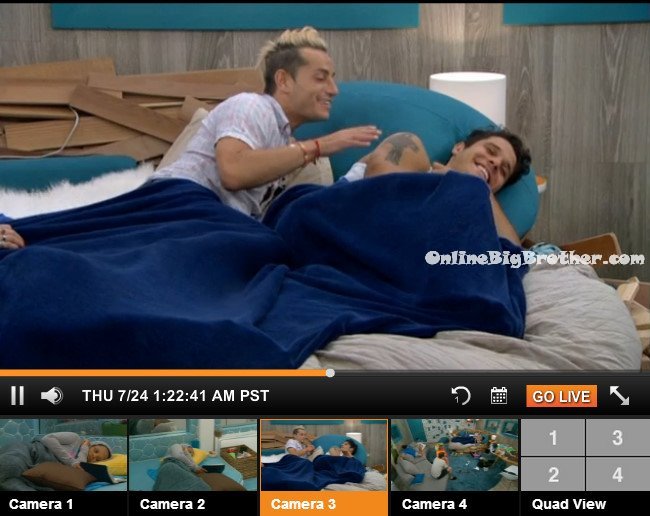 1:20am – 2am Frankie comments on how being in here he will have time to deal with the tragedy of his grandfather dying. My family literally feels like everything is the end of the world until it isn't. That is why I wish I could be there with them. The fact that they didn't want me to leave means something to me and that I won't. Christine says she would have been heartbroken if you left. They talk about random things.
2am Up in the HOH room – Zach, Derrick, Victoria, Brittany, Frankie and Cody are up in the HOH room. Zach, Derrick and Victoria are talking about medicine and doctors. Zach discusses his 2 knee surgeries. Frankie comments that he's going to sleep down stairs. He says he's tired. They tell him they'll leave so he can sleep.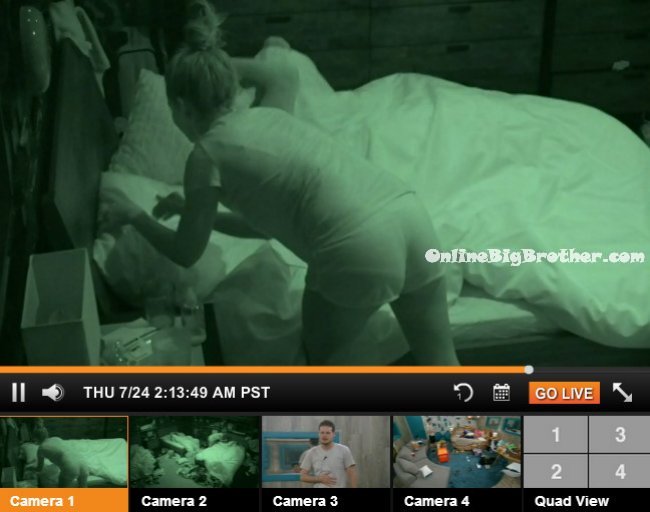 2:15am Victoria and Brittany try to prank Derrick by smearing Vaseline on his pillow and sheets. In the kitchen Derrick tells Victoria that he knows something is up with her because she's been giggling. He knows she is trying to get him back for him grabbing her leg last night in the dark and scaring her. He tells her that if she's done something to him he will not let her sleep for the rest of the game. Derrick heads into the fire room and feels all over his bed and says oh you mothaf**ker! He leaves and goes to the kitchen to find Victoria he tells her he's not going to let her or Brittany sleep all night. Brittany goes to lay a towel over the Vaseline so that Donny wont roll on it. Derrick heads up to the HOH room and locks the door. Brittany and Victoria come up and knock on the door. Frankie, Cody, Zach and Derrick watch them on the spy tv. They laugh when Victoria look through the mirror. Zach and Derrick put shaving cream all over their hands and open the HOH door. Zach goes after Victoria and Derrick goes after Brittany. They get them and then all run into the HOH room. Derrick gets Brittany again in the HOH bathroom and then he gets Victoria.
Big Brother 16 Live Feed FREE TRIAL – Use the FLASHBACK feature to watch everything you've missed!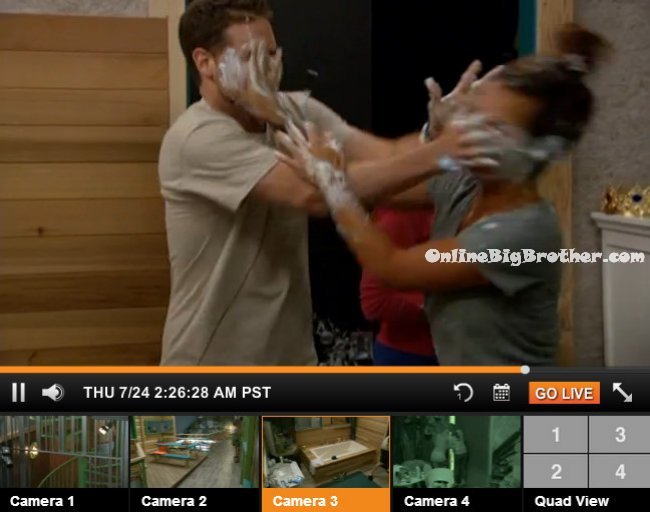 2:30am – 2:45am Frankie says that Brittany is walking around saying she didn't even do anything and Victoria just told me that it was Brittany who put Vaseline on Derrick's bed. Cody laughs. Brittany comes in to wash up. Frankie tells Brittany and Cody should just shower together. Frankie and Zach asks Cody if he would hook with Amber? Cody says not with Caleb in the house but says maybe if she's gone. Brittany leaves the room after showering. Frankie says she messed up her exit she should have let her boobs slip out of her towel. Cody says she is so f**king hot!! Frankie tells him to go hook up with her. Cody says no I can't its just not me. I can't hook up with her and send her home the same week! Frankie says you don't even have a vote. Just tell her if it comes to a tie you'll vote to keep her. Derrick comes up and says that he knows it was Brittany who started it. He says that he is holding back from dumping ranch dressing into her suit case. Victoria comes into the HOH and says she's scared. Cody says don't get involved in something if you can't handle it. Cody tells her that she started it and needs to get ready for war! Victoria is worried about leaving the room. She tells them that they are taking this way too far! They joke about taking all her clothes so she won't have anything to wear for the live show.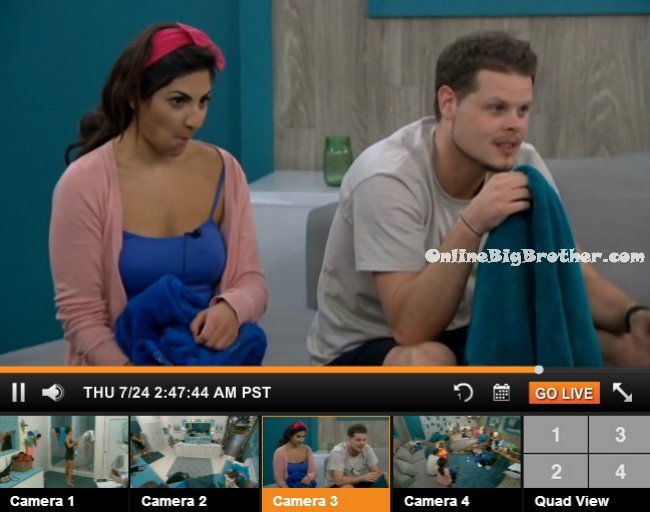 Brittany comes up to the HOH room and they all tell her they know it was her who started it. Brittany asks really!? What did I do? They tell her Victoria told them she started it. Brittany starts getting mad yelling really Victoria?! Really!?! You're going to blame it on me?! Big Brother blocks the feeds..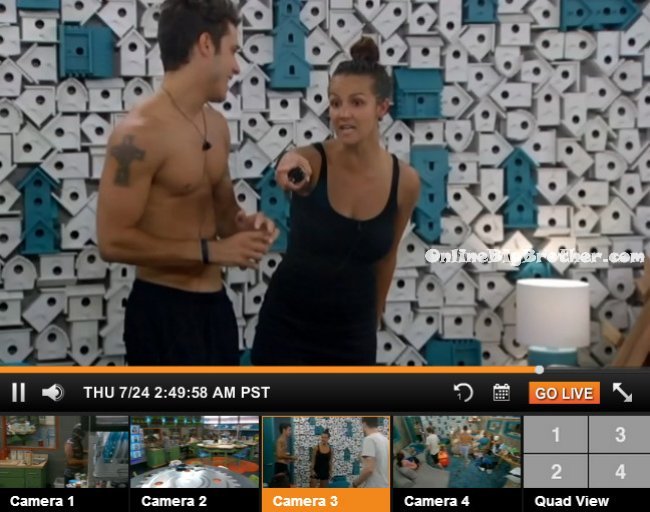 WATCH the next 48 hours for FREE – Big Brother 16 Live Feed TRIAL!
3am – 3:55am When they return – Frankie, Zach and Cody are talking about needing to win HOH. Zach says if Caleb won HOH I would be on his a$$ like sucking his D**k 24/7. Frankie says MMmm yeah I like that! Cody asks if its just one HOH would you just put up Caleb? Zach says no. Cody says I would. They talk about how they're glad tomorrow is finally here. Its been a small chess move week. Zach tells Cody he should have nominated Caleb. Cody says if Caleb puts me on the block I would tell him he is a f**king punk and he better send me home. Frankie says no, you know what you do if Caleb puts you on the block! You f**k Amber! Cody says yeah I would be all over her sh*t! I wouldn't f**k her because I don't think she would be into that being on tv but I would be all over her. I would put him through hell. They notice on the spy tv that Caleb is cleaning with Amber. They laugh at how he's only cleaning because she is and how they've never seen him clean before. They talk about how they're running the house right now. Zach says after we send Caleb home next week we will have the numbers till there are only us 5 left. Unless for some crazy reason 2 of us are on the block. Frankie, Cody and Zach go to sleep.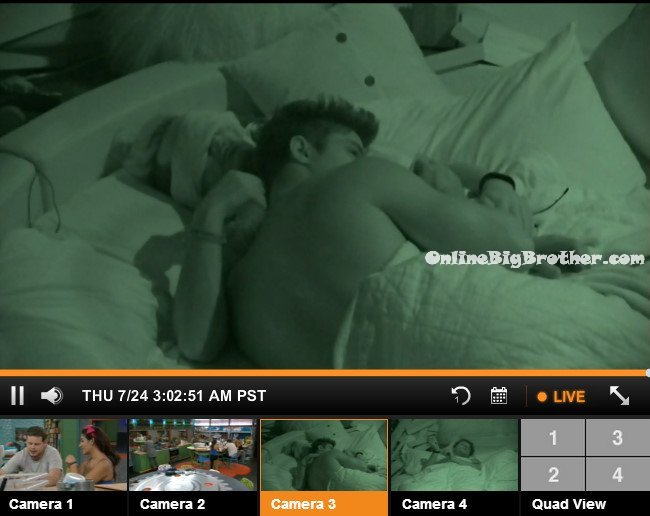 4am Caleb and Amber continue to clean the kitchen. Cody, Frankie and Zach wake up. Cody and Zach head down stairs to get something to drink. They head back up to the HOH room and talk about how they can't really sleep all day because of the live eviction. Zach tells Big Brother he is sorry for telling them to f**k off. Big Brother blocks the feeds again.
Cody says that he legitimately can't get a full boner wearing a condom. Zach asks Cody how many people he's been with. Cody says not a lot 14 – 16. Cody talks about his first time. Zach asks how long did it last for? Cody says like 2 minutes. Zach says that his speciality is the jack hammer. Frankie asks them if they've had s*x in the a$$ before. Cody and Zach both say no. Cody comments that he just remembered this is all live and that people are listening to everything they say.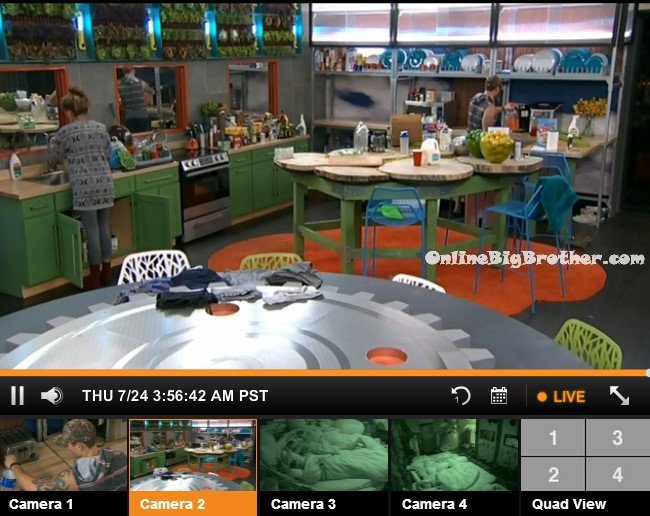 4:25am – 6am In the kitchen – Caleb, Derrick and Amber are talking. They think if Donny wins HOH he would put up Christine and Me (Derrick). Derrick says but he has to win HOH over everyone on our side. Caleb says that he told Brittany that at the end of the day Amber and him want to keep her but if everyone else isn't then they can't vote to keep her. Derrick explains you can't tell Brittany she's going because she might say something and then you have to defend yourself after she's gone. Caleb says I am voting Brittany out. Derrick tells Amber she really needs to win HOH tomorrow along with one of the guys. Derrick says Julie said expect the unexpected .. and nothing happened. Something is happening tomorrow. Derrick tells Amber not to tell Brittany she's going home becuase she could throw you under the bus on the way out. Derrick heads to bed. Caleb and Amber continue to clean.
Up in the HOH room – Frankie, Zach and Cody talk about sports and Broadway. Cody says I feel like we're going to be friends for life. Frankie and Zach agree.
The conversation turns to talking about Amber and Caleb. They talk about the date they went on and how Amber said she would have rather been with us but that it was the best date ever for Caleb. Zach wonders if it could it get any worse? Frankie says Ummm he could propose to her. Cody says Caleb told me he went into diary room and asked for something. Zach asks like what? Frankie says he asked if he could buy her ring? Cody says yeah. Big Brother cuts the feeds. When feeds return they're talking about cost engagement rings are.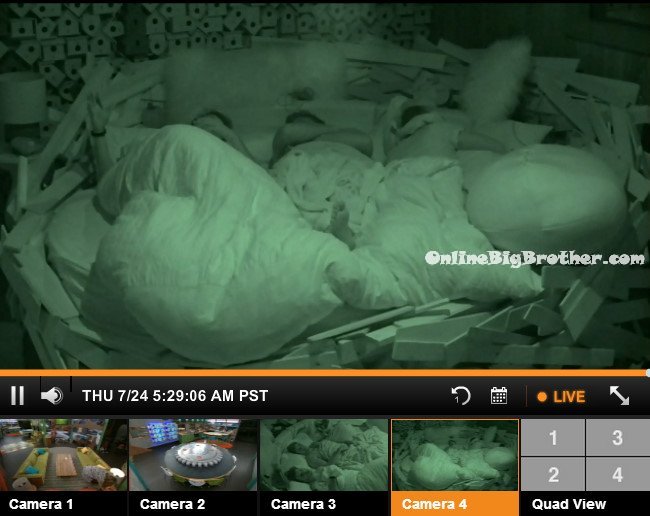 Alliances (Some Of these are defunct)
Zankie = Frankie/Zach
Bomb squad = Caleb, Amber, Frankie, Derrick, Cody, Christine, Zach, Hayden
Team America = Donny, Derrick, Frankie
Nicotine = Christine/Nicole
Not a showmance= Hayden/Nicole
Los Tres Amigos = Derrick, Cody, Zach
The bottom Feeders = Derrick/Nicole
We hate Devin = Christine and Zach
Outsiders = Brittany, Victoria, Jocasta, Donny
Old timers = Jocasta/Donny
Stalker = Caleb/Amber
Quad Kings = Derrick, Zach, Cody and Hayden (still being built)
Trilogy = Nicole, Christine & Hayden
The Detonators = Derrick, Frankie, Zach, Christine, Cody
Final 2 Deal "The HITMEN" – Cody & Derrick
One way to support this site that doesn't cost you anything extra is making your Amazon purchases through the links below Amazon.com OnlineBigBrother Link
For Canada use link Amazon Canada OnlineBigBrother
More polls here https://www.onlinebigbrother.com/big-brother-compendium/big-brother-16-polls/
[polldaddy poll=8198814]
[polldaddy poll=8194643]