POV Holder:
Hayden
Next POV
Aug 2nd
POV Used
YES
POV Ceremony
July 28th
HOH Winner 1:
Frankie
HOH Winner 2:
 Zach
Battle of the Block Winner
 Nicole/Christine
Next HOH/ Next BOB
July 31/Aug 1
Original Nominations:
ZACH's Noms (Christine & Nicole) Frankie's Noms (JOcasta & Victoria)
Final Nominations:
Amber & Jocasta
Have Nots
Nicole, Caleb, Christine, Derrick
POV Players
Frankie, Victoria, Jocasta, Donny, Hayden & Christine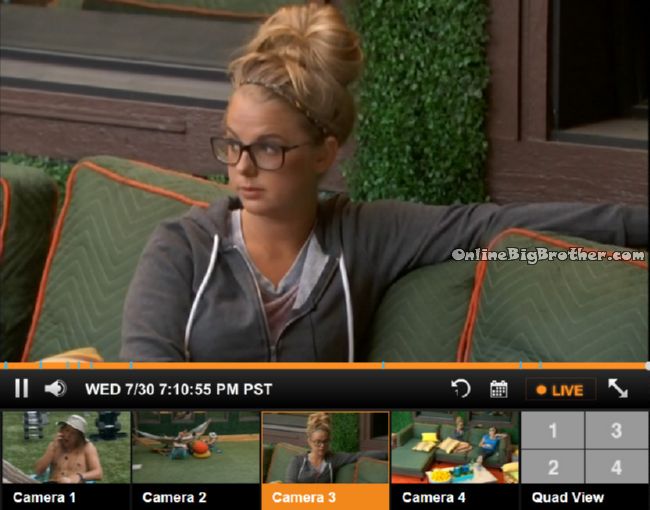 7:11pm Nicole and Christine
Nicole is stressed out about the double eviction
CHristine I talked to Zach he said he's putting up Victoria and Jocasta
Caleb is making up stuff he was telling people that Nicole told him the first HOH not being aired. Derrick joins them.
7:17pm Kitchen Frankie, Cody and Derrick
whispering about Hayden coming into the alliance late and not really being part of the original six.
Cody says Caleb is running his mouth too much saying he;s going to throw a competition
Derrick doesn't' think they should send Caleb home.
Cody is pissed that Caleb keeps saying he's throwing the competition .
Derrick says he has a better chance of winning the lottery while he's in the house than Caleb putting one of them up.
Derrick ads that people are egging Caleb on saying the first HOH doesn't get a basket.
Derrick says caleb is just being stupid he's not going to throw any competition
Frankie steps outside,,
Cody – Bro Hayden talked about in a double evict backdo*ring Frankie
Derrick – If hayden is adamant about getting out Caleb something is up "
Cody – He said to my face in a double evict it's Frankie or zach
Derrick is worried that their numbers because they are starting to dwindle.. they are getting out people
Cody – Caleb is a number.
Derrick says Hayden is one of the smartest people in the house, he's trying to get them to pick their numbers down. Derrick soon they will not have the numbers anymore.
Derrick mentions that Hayden was not the original 8 if Derrick was him he would be doing exactly what HAyden is doing. Derrick adds the house knew there was a 8 person alliance in the house that is still here.
Derrick warns them if they lose one more person they lose the numbers
Cody – WE're f***d
Frankie points out they've gained Caleb back so they should try and persuade the other people to not back door him.
Derrick looks at the memory wall "we've sent home two of our own people"
Derrick says Nicole and hayden are tight reminds him that Nicole lied to their face.
Take Advantage of the FREE 2 day Trial to watch all the drama!
(Nicole's "lie" is a bit confusing.. Nicole told Derrick that Frankie made up the entire story about Amber telling her the guys are in an alliance and they are picking off the girls one by one. THe actual truth was that Nicole told Frankie that. Derrick is really worried about this lie he uses it a lot to shine the target on Nicole)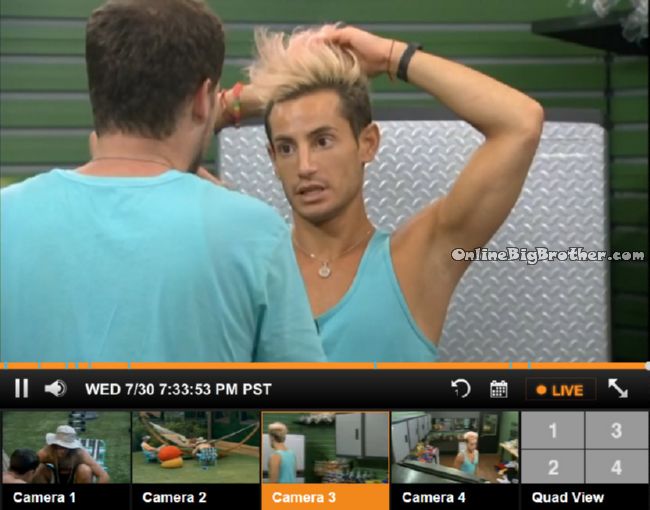 7:34pm Frankie and Derrick Storage room
Derrick brings up Nicole's lie to Frankie. Frankie says he told her to say that it covers her a$$. Frankie adds that Nicole came to him and they talked it over what she should say to people.
Derrick Nicole wasn't talking sh1t because she talked to you first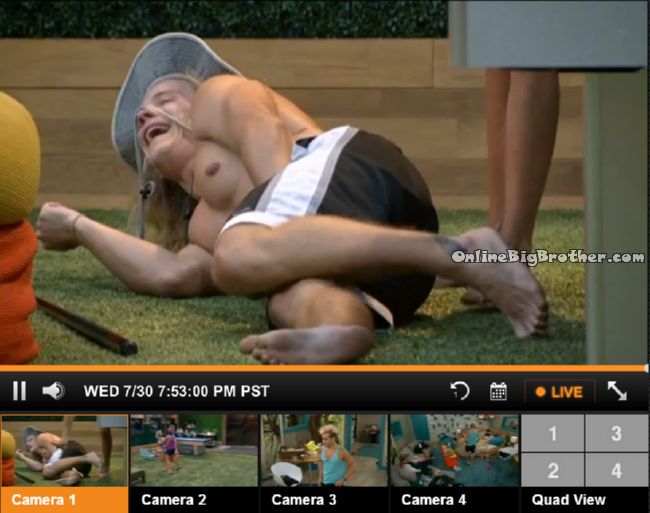 7:51pm Cam 1 Hayen and Nicole
Playing pool when it's Nicole turn the cue ball bounced off the pool table hits HAyden right in the pouch and bounces back into the pocket.
Hayden – I have a new ball in the genital family it's called the white ball..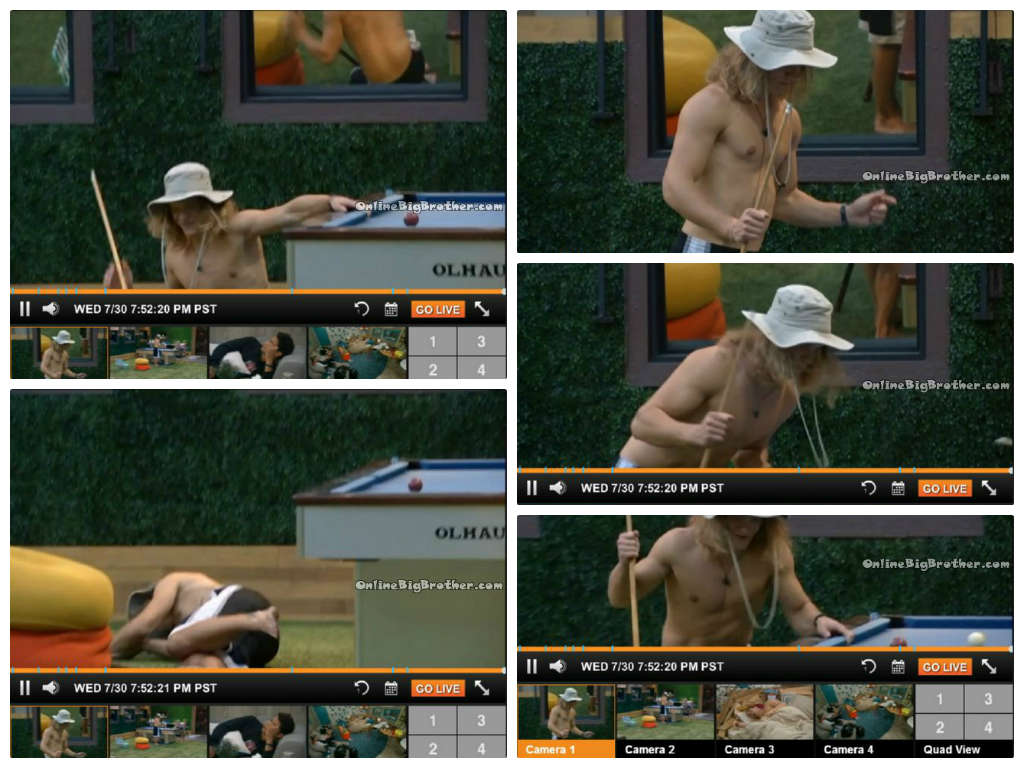 7:58pm HOH Frankie, Cody Derrick, Zach and Caleb
some wrestling.. Derrick is able to convince Caleb in the event of a Double eviction to not throw the first HOH,.
8:13pm HOH Everyone but Donny, Jocasta, Amber and Victoria They are trying to build up their fitness readings my holding their bracelet and moving their hand back and forth. Of course this leads to M@sterb@te talk.. HAyden shares with them that he can M@sterb@te left and right handed because he's broke his right wrist twice.
Hayden brings up "MeatSpin" and how a friend of his emailed him the link
Frankie -It was hot right..  The HOH door open Zach says if that is Victoria he's going to hang himself. Amber and Victoria come in. Frankie gives COdy a butt massage While Christine rubs Cody's head. (See image they are basically rubbing him all over)
8:26pm Pool table Zach and Derrick
Zach – Do think Jocasta knows she's staying
Derrick thinks she's starting to get the idea. Zach can't believe Amber thinks she's staying.
Derrick – Maybe Jocasta doesn't know
Derrick says Amber has no idea she is going. "Caleb is so on board"
Zach this week worked out perfect
Derrick – this week with double eviction we gotta survive it.
Zach thinks they will survive it
Derrick – Not if Jocasta wins it
Zach – ohh
Zach tells him he has a photographic memory he's totally going to win the "Time to get Loopy" HOH comp.
Donny joins them.
Going back to the HOH we see Cody clipping the microphone to his nipple.
Derrick Slowly moves away from Jocasta #BB16
9:09 Cam 1 Pool table Frankie and Caleb
Caleb says he's going to get up on THursday night when Amber gets evicted say "Amber before you leave I'm the king of this Castle and uhh at the end of the day i'm the only one that's been keeping you safe i'm the reason you are hear"
Frankie tells him to make it much shorter
Amber joins them. for a bit. When she leaves they go back to talking about Caleb's speech
Caleb – man she's so blind she has no idea literally
Frankie – man Caleb she's unbelievable she's a real piece of work
Frankie – Amber as you are walking out the door I want you to know I was the one keeping you safe now i'm the one sending you home because you were targeting me how could you do that
Where is the vote
Amber's going home 9-0
Alliances
Zankie = Frankie/Zach
The Detonators = Derrick, Frankie, Zach, Christine, Cody
Final 2 Deal "The HITMEN" – Cody & Derrick
Trilogy = Nicole, Christine & Hayden
Team America = Donny, Derrick, Frankie
Old timers = Jocasta/Donny
Nicotine = Christine/Nicole
(Defunct or unknown status)
Bomb squad = Caleb, Amber, Frankie, Derrick, Cody, Christine, Zach, Hayden
Not a showmance= Hayden/Nicole
Los Tres Amigos = Derrick, Cody, Zach
The bottom Feeders = Derrick/Nicole
We hate Devin = Christine and Zach
Outsiders = Brittany, Victoria, Jocasta, Donny
Stalker = Caleb/Amber
Quad Kings = Derrick, Zach, Cody and Hayden (still being built)
More polls here https://www.onlinebigbrother.com/big-brother-compendium/big-brother-16-polls/